News
An inspection of Hammond's £6k 850CI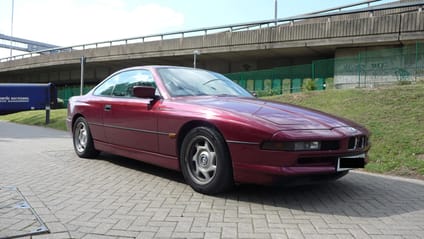 You may remember that Richard and Jeremy had a bet on the show. Would seven thousand pounds - enough to buy a brand-new Nissan Pixo - be better spent on some rather more exotic, if old, metal?

Jeremy's CL600 quickly racked up a four-figure repair bill, but Richard's venerable 8-Series BMW has yet to develop a problem...

This roused our suspicion. Has Top Gear done the unthinkable? Has Top Gear done something... well?

This demanded further investigation. So, while the TV boys were in a Very Important Meeting, we pinched the 850CI's keys, grabbed the closest camera then took for it a crafty inspection.

Click forth for our discoveries. Some were good. Some weren't.

Advertisement - Page continues below

Looks alright, doesn't it? That's because it is. Kind of. Rust and dents are curiously absent, though the nosecone leaves a lot to be desired. Like not being made out of filler or held together with a staple.

Though that's probably the worst of the bodywork woes. There should be a grill here, too.

Advertisement - Page continues below

But the doors are remarkably rust-free. As are the wheelarches, wings and bonnet.

We may know why. Colossal amounts of overspray on these plastic wiring insulators point to a recent paint job. As does the under-the-arches nosecone repair, come to think of it.

We had a quick prod at the exhaust, too, but it looked pretty new...

...which is largely because it is. A rummage through the service history - which included lots of interesting call sheets from breakdown recovery services - revealed it'd had a new 'un a few years ago.

Advertisement - Page continues below

All the lights still work. And the pop-up mechanism operated without any nasty grinding noises. Less so the brakes, which have definitely seen better days.

We jumped inside and found the mileage readout. Could this be a tad optimistic?

Advertisement - Page continues below

On the plus side, it's got CUPHOLDERS! The funky little BMW torch is still in the glovebox, too.

And there's an original, state-of-the-eighties Motorola car phone. It powers up and everything. But hold it against your ear for more than a few seconds and it gives you a terrible headache.

All the other equipment works, too - E31s are renowned for terrible electrics, but Richard's seems OK. Though we're not sure what once filled the hole next to the clock. Or what it did. Nothing important, probably.

CDs! Remember them? The 850 does. The six-disc changer works and everything.

We checked the toolkit, too. Which was missing a few bits...

...like this spanner we found tucked under the boot carpet.

Note the lovely bronze sheen on the inlet manifolds. Nothing inspires confidence like an oily V12.

Luckily, someone had remembered to put some in the engine. Though the auto 'box was a shade drier, which could explain the clunky shifts...

Washer fluid bottle also dry.

All told, it's not bad. Does smell a bit funny, though.