List
10 cars that cost the same as a Valentine's date
But are at least twice as fun. We've measured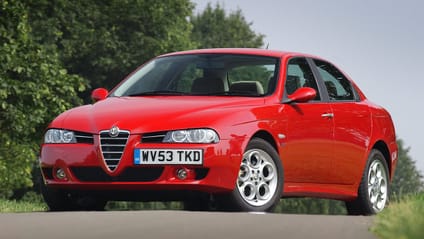 Ah, it's that time again. Well, unless you're a member of the Eastern Orthodox Church, which means that Valentine's Day doesn't come along until July. But for the rest of us, it's here, and ready to be an unholy pain in the derriere for another year.

See, here's the problem. If you don't have anyone special in your life, Valentine's Day is nothing but a reminder of just how sad and lonely you are. If you do have someone special, Valentine's Day is a great way to spray a few hundred of your hard-earned pounds, getting fleeced on flowers (seriously, they cannot possibly cost that much), searching for a card that doesn't also work as an emetic, booking a table somewhere at inflated Valentine's rates, taking a cab both ways so you can split a bottle of bubbles, then ordering a second bottle of bubbles because the conversation has dried up due to the fact that you've lived together for a decade and have pretty much run the well dry in that regard.

So here's Top Gear's excellent solution. Take the money you would have spent on a seriously bad time and spend it on, well, an entirely unserious good one. Involving old rot boxes... and a very liberal interpretation of how much dates cost.

Advertisement - Page continues below

The genius of our plan is thus: the car you currently have is most likely one you care about dearly – you wash it, wax it, vacuum it, wince over potholes and park strategically at Sainsbury's so some blithe idiot doesn't thoughtlessly ding your door on their way to buy some Chesterfields and some snacks with E numbers in them.

Now, look us in the eye (but not really, that would probably involve a gigantic lapse in both your cybersecurity and ours) and tell us that you're going to feel solicitude for an old Focus you bought third-hand. We found a 2003 Focus Ghia (i.e all the toys that 2003 could offer) with just 79,000 miles listed for £995. That's 995 quid for the original, probably best-handling Focus, with a 2.0-litre engine, five-speed manual, and complete carte blanche to just go and have fun.

Alfa Romeo 147 / 156 Twin Spark

Rorty petrol engine, manual gearbox, Italian styling and the opportunity to use 'brio' entirely too much when talking about your car. What more could you want? Er, reliability, you say?

Indeed, the thing that killed this generation of Alfas as a second-hand proposition is the price of upkeep. And we know this from VERY personal experience. Ball joints go, as do suspension bushes, control arms, gear linkages... Alfa's engineers threw a lot of top-end stuff at the 147 and 156, but the overlords at Fiat made them do it for about six euro per car. So stuff wears out.

The good news, at least from your point of view, is that you can get an entire 156 for peanuts and then drive it to destruction, because, while these worn parts mean that it'll creak and groan as you do some stern-faced driving up and down a B-road, it'll keep working for a good while. We found a decent mileage 156 Twin Spark from 1998, with the seller asking £1,695 ONO. Get in there and give them a bit of "Hold out yer 'and", a la Mike Brewer, and you might grab a bargain. Or earn a slightly awkward silence.

Advertisement - Page continues below

Pity the rest of the world, that they did not bask in the glory of the original Ford Puma. Yes, it's just our little corner of the globe that got to enjoy the Yamaha-developed 1.7-litre engine, brilliant styling and close-ratio gearbox. Ok, sure, it was all based on a Ford Fiesta, but since when has that been a bad thing? Besides, it got stiffer suspension and a wider track than its Fiesta donor car, which made it a properly good steer, as people who mime opposite lock in conversation would say.

We found one with hardly any miles at all, for just over £1,000. Go on, tell us that some fancily arranged fish and a bottle of fermented grapes is even close to the same value.

Yes, you really can get an MX-5 for the cost of a Valentine's Day... well, extravaganza, if we're honest. But if you did some hot-air ballooning, followed by a lavish dinner and a hotel room, you could easily run up a bill like that.

Why not embrace your inner misanthrope instead and buy a small Japanese roadster, then drive off into the countryside to enjoy the world's best company – your own? We found a pair of MX-5s, both 1.8-litre manuals and both with so few miles that it's almost an imperative that you add more.

If you're game and hate the obvious, we also found an example of Toyota's mid-engined MR2 for £1,200 and MG's almost definitely worse MG F for about the same money.

So, who wants 220 horsepower's worth of warbling V6 for £1,650? In even better news, you get a whole Ford Mondeo thrown in there for free – manual gearbox and all.

OK yes, you won't be getting the best of the breed. It'll have the early five-speed gearbox, some tired bits and pieces and, this being the United Kingdom, rust, but spool up that 24-valve V6 and tell us that you care.

There's an easy formula to help quantify how much fun you're having while driving. Is your head in the breeze? Then multiply that amount of fun by 1000. Yes, we've already featured the MX-5, which is about the most fun you can have for this amount of money, but what if you're just wrong about a lot of things and don't want one? Well, we can still find a way to snatch victory from your self-imposed, gaping maw of defeat: Euro convertibles!

We found a Ford StreetKa convertible for just £750. This was a car that Kylie Minogue launched at the Paris motor show, for £750! OK, so the engine's not the greatest in the world – 94 ready-for-the-knacker horses and a red line of 6,000rpm does not a sweet driving experience make, but you still have Ford Europe suspension and handling, and 10 miles of headroom.

If that doesn't strike your fancy, how about a Volvo convertible? It might smack of the golf course, and it might drive about as well as a man playing golf with a whiffle bat, but it's a turbocharged, manual convertible for £1000! Find better value than that, you'd have to cut a path of death and destruction through a Black Friday sale at the mall.

We've also spotted a Benz SLK230 with an automatic gearbox and a mostly rust-free hard top for £530. Bargain Hunt? Pah! They know nothing.

And if that still doesn't do the trick, how about an estate-agent-special Mini convertible in suspiciously even black paint for the low, low price of £720?

Advertisement - Page continues below

Our love for the Panda 4x4 is well known. And we found one for £1,795. OK, so it does have 122,000 miles, but we've seen old-school FIRE-equipped Pandas with 300,000 plus on the odometer, so we're very nearly confident that this could do similar miles.

Add one of those MX-5s to the mix and you've got the best two-car garage money can buy, if that money runs out at £3,000.

Don't think that a parsimonious purse means that you have to stick with something boring and middle of the road. Depending on your a) bravery, b) optimism and c) number of concussions, you can do the mental gymnastics involved to own a Saab 9-5 for £900, a low-mile Rover 75 turbo for £995, ultra-reliable Lexus LS400 for £650, or an almost entirely unreliable (yet suspiciously good-condition) MG ZT for £1200. Your cup runneth over with four-doors that very much went their own way... except for Rover and MG, which went the exact same way, if you catch our drift.

Advertisement - Page continues below

Say what you will about the rest of this list, but these Deutsche coupes are feeling pretty uber alles to us. We found an original (and, in our minds, the most aesthetically pure) 225bhp Audi TT 1.8T, with five valves per cylinder, a manual gearbox and generally silver paint for £1000.

Or if that's not your cup of Schnapps, you could try a Mercedes CLK320, with 220bhp and wondrously Nineties five-spoke alloys, for £1,600.

We've seen some pretty interesting metal for hire – Jensen Interceptors, Jag E-Types, Morgan Plus-somethings – and it's very nearly as tempting a prospect.

Sure, you only get the car for a day, but otherwise, the benefits here are manifold – no need to spend on taxing and testing, no need to find anywhere to park it... just pick up a classic car and head out to whichever part of the world does it for you in terms of great roads and scenic outlook. Our pick is Snowdonia, of course, so we can meet you out there, if you'd like to. Oh, you would like to? Well, it's a date.