List
Here's every Batmobile worth caring about*
*and some that you might not care about. Your guide to a TV/movie icon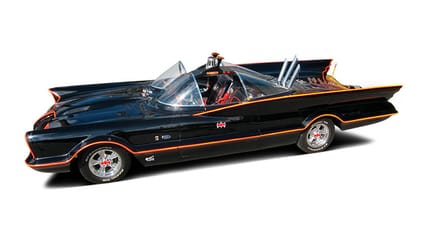 A red teardrop coupe. That was the very first 'Batmobile', though it was never referred to as such. Making its first ever comic book appearance in 1939 was a "specially built high powered auto" driven by The Batman: a cross between a 1938 Talbot-Lago teardrop coupe with the front grille from a 1937 Ford Coupe. The car, not Batman. Batman was definitely not a cross between a 1938 Talbot-Lago coupe and Ford Coupe.

So, from the very outset, Batman was a proper helmsman. A vigilante with a taste for opposite lock. And, it seems, a soft-spot for the romance of 1940s open-air motoring: the very first car referred to as the 'Batmobile' that followed this teardrop coupe was actually a bright red convertible that looked like a cross between a Cord and a Graham 'sharknose'.

All topped off with a little bat symbol on top of the bonnet and a supercharger underneath it. Because Batman.

And thus, the legend of the Batmobile was born. It went through various comic-book incarnations (including a stream of cars with actual Batman masks as the grille), the live-action versions opting for a 1939 Cadillac in the first ever serial broadcast in 1943, and then a '49 Mercury.

Then a bomb dropped, because in 1965, the first - and arguably most famous - Batmobile of all landed, driven by Adam West and featuring in the jolly, podgy and hilarious television series. Batman would never be the same again (until Tim Burton arrived).

So, as the new issue of Top Gear magazine - out now - celebrates 25 movie car icons, here, we bring you the brief history of one of TV/cinema's most iconic. Basically, all the Batmobiles you need to care about.

Advertisement - Page continues below

The first ever 'Batmobile'

So this is it, the very first instance of a 'Batmobile'. Appearing in Detective Comics in February 1941, Batman's first-ever proper car was a red convertible with a design based on a Cord 812.

There were no gadgets. No shields. No cannons. Nothing. Just a small golden bat symbol on the bonnet, and a reinforced nose which would help Batman smash through buildings. Some things never really change.

Just imagine the romance of open-air Batmanning: the wind in your cowl, the tortured screams of a maimed criminal stuck to your bonnet, the wailing of police sirens...

The many ones from the comics

It would go through a trillion iterations in the comic books, but it wasn't until the mid '60s that the Batmobile really pummelled its way into the public consciousness.

Advertisement - Page continues below

The one from the 1943 serial

Simple, really. For this first ever live action Batman serial, run once a week, Batman used a 1939 Cadillac convertible both as his Batmobile and as Bruce Wayne's car. Roof down? It's Wayne's plaything. Roof up? It's Batman's company car. Time to get serious.

The one from the television series

It started out life as a Lincoln Futura concept car from 1955, which customiser George Barris bought for just $1. Following a meeting with Batman television producer William Dozier, Barris was entrusted with $15,000 and a deadline of just 15 days to come up with a proper 'Batmobile'.

The one from the television series

The one from 1989's Batman

Though Tim Burton, the director of 1989's feature-length Batman movie, professed he was a huge fan of the 60s television series, he later took inspiration from Batman's darkest comic book works when finding inspiration for his film.

Which meant everything went dark, including the car. Rumour has it Ford was bidding for the design and build, but it fell to the film's set designer Anton Furst who had championed the car since the film's conception.

It was built in 14 weeks, first as a small clay model, and then sculpted out of polystyrene in full size. Except nobody thought about getting in through a door, so one of the designers took inspiration from a Harrier jump jet's sliding canopy.

Advertisement - Page continues below

The one from 1989's Batman

The body was made from fibreglass, the chassis was custom-built and packed a Chevrolet Impala V8, ground clearance was just six inches, the front lower lights were fitted from a Honda Civic (mounted upside down and painted yellow) while the rear round lights came from Ferrari.

It had a grappling gadget and of course, a pair of Browning machine guns for good measure, too. Oh, and an afterburner.

The one from the first Batman Film That Shall Not Be Named

You know the one. The less said about the film, the better. The car? Director Joel Schumacher took inspiration from the man who designed the terrifying xenomorph from Alien, the late, great H R Giger.

Three moulds were layered on top of each other to build the Batmobile. Underneath was a high performance 6.2-litre Chevy V8 race engine, with 'plenty of horsepower' on tap, together with a rollcage too. Over 8,000 man hours were swallowed up to build both cars for the movie.

Advertisement - Page continues below

The one from the second Batman Film That Shall Not Be Named

Yeah, it happened again. This time, the Batmobile took inspiration from the Jaguar D-Type and the Delahaye 165, and ended up being about 30ft long. It sat on a NASCAR chassis and again used a Chevy V8 racing engine stuffed underneath, for a road-tested top speed of 140mph.

It even rode on special Goodyear tyres with subtle Bat symbols in the tread. Probably the only subtle thing about the entire film. Next.

The one from Batman Begins, The Dark Knight, and The Dark Knight Rises

Christopher Nolan took Batman back to the dark side with his epic trilogy, and grounded it in the real world. As such, his Batmobile took inspiration from seminal comic book The Dark Knight Returns, taking in military vehicles and indeed, Lamborghinis. The perfect blend, if you ask us, and a properly well engineered piece of kit.

The body is a mixture of carbon fibre, fiberglass and steel, built from scratch to Nolan's distinct design, though underneath sits a 5.7-litre Chevy V8 and Chevy gearbox producing 400bhp. "It's very reliable, and it gives that great sound as well, which I think is so indicative of the Batmobile," Oscar-winning special effects man Chris Corbould told TG.com.

The one from Batman Begins, The Dark Knight, and The Dark Knight Rises

It took five months to build all five 2.5-tonne monsters, each featuring 20-inch wide Hoosier front tyres and huge back wheels, while its ability to actually jump was tested around 20 times. "We could jump 60 or 70 feet and land it intact to carry on driving," Corbould told us. Yikes.

The Batpod from Batman Begins, The Dark Knight and The Dark Knight Rises

OK, so it's not a proper Batmobile, but technically, it keeps Batman, um, mobile. Plus, it's got guns up front, can drive sideways and jump. Power comes from a single cylinder water-cooled engine, geared for acceleration (not top speed), together with a steel, aluminium and magnesium exhaust system.

The Batpod from Batman Begins, The Dark Knight and The Dark Knight Rises

The body was built of carbon fibre and Kevlar, while the chassis was pure steel. Oh, and the tyres? Straight from the Tumbler.

The one from the third Batman Film That Shall Not Be Named

In 2016, we saw yet another Batman (in Batman vs Superman) and yet another Batmobile. It marked a move away from Nolan's military-grade Tumbler, instead taking on more cartoonish proportions. Underneath sat a 6.2-litre LS3 V8 from a Chevrolet Camaro - immediately up on the Tumbler then, which had a 500bhp 5.7-litre GM V8. It's rear-wheel-drive, with a three-speed automatic transmission fitted because it's rudimentary and bombproof. Ish. They made three in total for the film.

We had a shotgun ride in this very car a while back, which you can read about here.

The one from BMW that's not actually driven by Batman but is called a Batmobile

It would be remiss of us to forget BMW's very own Batmobile, the beautiful 3.0-litre CSL from the 1970s. This was a lightweight special built so that BMW could go racing with it (100 had to be made for the road), and as such, the whole car weighed just 1,270kg, thanks to Perspex side windows, thinner steel and aluminium for the doors, bootlid and bonnet.

Yes, it had a straight-six underneath producing 203bhp, but it was the wild aero wings that earned it the 'Batmobile' nickname. Though they helped with downforce, they just looked so right. This is a proper Beemer.