List
Ten £5k stars from the 80s and 90s that should be your next track car
Need some classic track wheels on the cheap? Step this way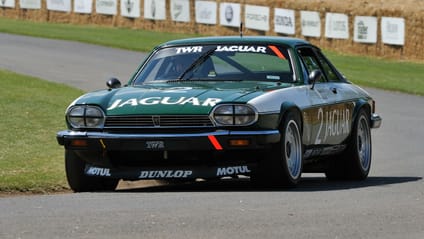 In case you've not been keeping up with the rolling news coverage, things have stopped. Pick a show, sporting match or community event you want to go to and chances are, it's cancelled. Even something as genteel and equanimous as a handshake is off the table now. What are we to do, wave?

Another symptom of this particular disease is the conspicuous absence of motorsport. Is it entirely understandable? Of course – it'd be a hard sell, even by our logic-stretching standards. But it still sucks to miss out on yet another thing we used to enjoy. By our estimation, if things keep going the way they have, 2020 will be the slowest year in motorsport since the Second World War.

So, just like back then, it's clear we're going to have to pull up our bootstraps (in this case, Alpinestars, but the point remains) and fight back. With some home-grown, grass-roots, quarantine-friendly motorsport! For maximum safety, don't shake hands after the race. A set of Noel Gallagher-approved forks will probably work wonders.*

*It almost definitely won't.

Advertisement - Page continues below

Mercedes C36 AMG

OK, you probably won't gain any cred for having the same badge on the front of your car that Lewis Hamilton has on his. Nevertheless, taking an AMG saloon to a track is unlikely to be an unpleasant experience, even if the AMG saloon in question has – get this – a six-cylinder engine.

But if there's something wrong with a hand-built, 280bhp straight-six engine, we'd very much like to hear it. And it's powering a little mid-Nineties C-Class, so nought to 60 is a sub-six-second affair, and top speed is an easy 150mph or more. And let's not forget that you'll already be rolling on lowered Bilstein suspension and AMG monoblock wheels.

Oh, and only about 5000 of these were ever made, so you can play the rarity card to every other AMG driver while you're at it.

Jaguar XJS 5.3 V12

It seems almost ridiculous now but, for the past 30 years or so, the XJS has been pretty unpopular as a second-hand proposition. Not even V12 engines, Cannonball Run records or the majesty of Tom Walkinshaw wrestling one around Bathurst to pole position in 1985 ever seemed to translate into strong used-car values in the late Nineties or the early years of the new millennium.

Now, however, we live in a time where everything with an engine is selling for at least twice as much as it should, and even the finicky, fragile XJS is seeing a ridiculous upswing in asking prices.

Counter all of this speculative nonsense by finding the cheapest working XJS V12 possible, then taking a few pages out of the Tom Walkinshaw Racing playbook by replacing the important fragile bits, throwing out the useless fragile bits, and heading out on track to set the air on fire with glorious V12 noise.

Advertisement - Page continues below

Toyota MR2

Do you know what this list is missing? No, not a sliver of common sense. That's coming in the next slide, promise. What this list is missing is a mid-engined car! Sure, you could have a Porsche Boxster for less than £5000, but you'd be getting a... let's say, unsympathetically treated example.

For as little as £1500, you can nab a clean example, with all of the excellent characteristics that make mid-engined cars so exciting, like great weight balance, sharp reactions and snap oversteer. But, seeing as they're only £1500 a pop, you could buy three and just jump in the next one when you bury yourself in the tyre wall at Cadwell Park.

Porsche 944

"Oh, wow, TG, what originality for you to suggest that I should buy one of the most popular track cars of the past 30 years. What next, an MX-5?"

Yeah, we know. And yeah, we're going to suggest an MX-5 later on. Because how could you overlook such brilliantly capable and staggeringly entertaining track cars? Well, if you're anything like us and could walk through the Sistine Chapel and somehow miss The Creation of Adam, you absolutely will. And you'll end up with a Vectra or something.

So to avoid such embarrassment, allow us to remind you that not all great Porsches are rear-engined. But the fact that most people think they are means we have access to bargainous track day toys with 50-50 weight distribution, rear-drive and huge parts support because of their ubiquity as track cars.

Mazda MX-5

Oh yes, what's next was indeed an MX-5. Welcome to the practical portion of this article; try not to die from shock. Or apoplexy.

Yes, just like the 944, the MX-5 is about as ubiquitous as a Costa Coffee. And, just like a Costa, it's inadvisable to drink anything that comes from an MX-5. But we, as ever, digress.

It's built to be as light, nimble and engaging as possible. And, aside from Lotuses, the scarce Alfa 4C and the transcendent Alpine A110, we can't think of anything else that's really built that way. Then factor in the price – you can routinely pick these things up for £2000 and head to the nearest track that afternoon – and you've perhaps the best entry-level track car in existence. Which is probably why everyone gets one, come to think of it...

Rover Mini Cooper

England is awash with these absolute gems of potential track cars, usually for somewhere between £3000 and £6000. Compare that to the cost of a 1965 original and it's clear that the Rover Group Mini Coopers are absolute bargains.

Do they look like utter pants inside? Well, let's see – how well do you think a cash-strapped late-Eighties English car company did trying to modernise a 1950s design? But this is one of those things that can be happily and cathartically remedied by tearing out every flimsy piece of BL-leftover plastic and chucking in some lightweight, race-spec bare essentials.

Minis have been track toys since people knew who Twiggy was, so parts and expertise will be available from any number of excessively bearded men who can teach you the entire history of Mini. Whether you ask for it or not.

Advertisement - Page continues below

BMW E30

Yeah, yeah – you saw this one coming too. But we're not about to tell you to get on the two-door bandwagon (seriously, those prices are just insane) or make do with the often-dowdy four-door. Nay, good sir; the object you are tasked with acquiring is the seemingly mythical but very real E30 Touring.

Here's the method to our ostensible madness: they're cheaper than the two-doors by a long stretch and, for the right kind of person – for the sake of argument, let's call them Top Gear writers – estates are always, always cooler than saloons. Perhaps best of all – there's room in the back for your track tyres. You are your own support car! What could be an easier sell to your significant other than that?

Lotus Excel

Yep, we found a 1980s Lotus for four grand. We'll take our Lifetime Achievement in the Field of Excellent Car Hunting award now, thanks.

OK, it's an Excel, and it's front-engined, not mid. And the interior is about as ratty as the cast of Ratatouille.

But it's one of the most reliable old-school Lotuses, thanks to an engineering tie-up with Toyota. The MkII Supra got Lotus's engineering nous and the Excel got a bunch of Toyota bits that helped it to, y'know, work. But don't fret – the Excel used Lotus's own excellent 2.2-litre all-aluminium four-cylinder. None of that Rover nonsense.

So, the interior of the one we found is a bit on the rough side, but that's just the perfect excuse to gut it entirely, install a race bucket and a delicious deep-dish steering wheel and head out to Brands Hatch.

Image: DeFacto

Advertisement - Page continues below

MkII Golf GTI

The MkI has gone all 'classic car' on us, leaving our £5,000 budget woefully inadequate in among a sea of investors – who, even with the inevitable economic implosion that CoVID-19 is wreaking, are unlikely to repeat the fire-sale antics that made the late Eighties and early Nineties an absolute gold mine for anyone with cash and a hankering for classic metal.

But that's OK! Well, it isn't. Not really. There's not a day that goes by that someone in the Top Gear office doesn't lament a car that was affordable a few years ago being priced beyond all comprehension without warning, rhyme or reason.

But it's not actively terrible beyond comparison! That's right – there's still a decent amount of MkII GTIs floating about for less than £5,000. We found a track-ready 8V car with a 16V engine and some tasty bits for a list price of £4,000. Shake hands at £3,500 and head to Silverstone before we manage to talk ourselves into it.

Oh, and if you're not a fan of the Golf GTI's ubiquity, we found a couple of exceptionally tempting Sciroccos and Corrados for the same money.

Hear us out: Rolls-Royce Silver Spirit

Fact: Charles Rolls (i.e. the first half of Rolls-Royce) raced cars in his university days. Second fact: this is a Rolls-Royce, a car descended from that very lineage. Top Gear logic: this is, therefore, a perfect track car.

It has a shorter wheelbase than the R-R Silver Spur, which therefore makes it the sportier version, and it has four-wheel independent damping, which can only mean the best possible traction at Castle Combe. There's the 6.75-litre V8 supplying adequate power and a simple, easily replaceable 4L80E transmission sending prodigious levels of torque to the rear wheels. There's a 24-gallon tank – good for endurance racing – and it must be the easiest car in the world to make a superleggera version. Just taking out every piece of walnut and swathe of leather would save you 250kg by itself...