Modified
Here are 12 of Ferrari's Special Projects cars
You want something a little bit more *speciale* than the rest?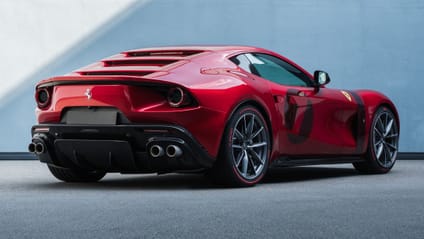 2009: P540 Superfast Aperta

Based on the 599 GTB Fiorano, one of the earliest outings for the Special Projects programme was based on the Ferrari designed by Carrozzeria Fantuzi for the 1968 film Toby Dammit. It was commissioned by Edward Walson, the son of the man who invented cable TV. "I had always dreamed of designing sports cars," he explains.

"When I saw Toby Dammit the decision came of its own accord: one day I would have 'my' Ferrari." Taken from sketchbooks to the road in just months, 20kg was added to the donor car (a coupé, as it happens) to stiffen the chassis. "This is the most special Christmas present of my life," said Walson at the time. We'll say. But how Santa got it down the chimney still remains a mystery. 

Advertisement - Page continues below

While the Superfast Aperta was conceived by Pininfarina, the Superamerica 45 was designed in-house by Ferrari for New York collector Peter Kalikow. Featuring a carbon fibre drop top and reshaped bodywork to reduce drag, the car was built so Mr Kalikow could celebrate his 45th anniversary since first becoming a Ferrari client.

It made its public debut at Villa d'Este in 2011, and at the time contained what Ferrari described as "a latest-generation touch-screen infotainment system." Five years on, we suspect the electronics may need updating even if the exterior does not. Such is the modern world.

Another effort from Pininfarina, although this time the buyer was slightly more well-known. It was of course none other than guitarist Eric Clapton, who lends his initials to the name of this unique set of wheels.

The car is said to be a vehicular tribute to Clapton's career (we're not sure how, something about "applying the right notes in the right places" when it was built), and was born out of the musician's desire to drive something inspired by the 512 BB but encompassed within a 458 Italia.

Clapton later called it "one of the most satisfying things I've ever done." High praise indeed.

Advertisement - Page continues below

Ferrari revealed the TRS as a one-off in 2014, although given that a silver one was spotted in July last year, there are those on the internet who believe there could be as many as three in existence. Who knows?

Based on the F12 Berlinetta but taking several leaves out of the 250 Testa Rossa's book, the TRS benefits from a reprofiled front wing and cheekily flashes the goods with a transparent cover revealing the V12's cylinders underneath.

The question isn't 'Would you pay £3 million for one?' but rather 'How quickly would you pay £3 million for one?'

As proportions go, those angles are pretty much perfect. Money well spent, whatever the price.

Aero touches aside, the car has other aspects that make it unique: those wheels for a start, which are exclusive to this machine and this machine only, while the light clusters at the front and rear have been modified from the original 458 Speciale base car as well. And the Italian Tricolore stripe? Mamma mia!

This doesn't have a Special Projects designation, but it is a) special, and b) most definitely a project. In fact, we'd proffer this is near the very top of the 'how quickly you'd want to throw money at a car' scale. Underneath is the 488 Spider, which is quite nice indeed. It's covered by a car that references Ferrari's road cars from the 70s and 80s. Stuff like the GTO, F40 and F50.

Only ten were built.

2016: Ferrari SP 275 RW Competizione

Any self-respecting Special Projects Ferrari has to reference one of The Greats. This one doffs its yellow hat to the 275 GTB, itself a front-engined V12. Hence, this rebodied F12 gets the engine and gearbox from the F12tdf, and a slighter wider rear track. And engine bay vents. And a fair bit of yellow.

Advertisement - Page continues below

A more suitable car to (quite literally) fix a permanent grin on your face, you won't meet. This Monza SP1 is an open-topped homage to Ferrari's championship-winning 50s racers – stuff like the 166MM – and it's wild.

Underneath sits the base of the 812 Superfast, replete with that 6.5-litre naturally aspirated V12 pumping out 789bhp. Consider the Monza SP1 weighs just 1,500kg and you get some idea of what 0-62mph in 2.9secs and 0-124mph in 7.9secs feels like. Top speed is 186mph. Yeah, best get a helmet.

Exactly like the Monza SP1, only with two seats instead of one, so your passenger can feel the same amount of fear you do. And inhale the same number of flies.

Advertisement - Page continues below

We're going back to what must be the very essence of Ferrari, at least for an entire swathe of devoted fans: the F40. Yep, this 488 GTB-based SP38 references the holiest of all Ferraris. Heck, there are even slats across the rear glass peeking into that V8, along with a rear spoiler that pays homage to the F40's tea tray. Quite lovely indeed.

Here's why this one knocks it out of the park: it's the most extreme yet because it's also the first to use a racing car as its jumping-off point, which is a genius move in itself. But it also means it's liberated from any road car homologation requirements, enabling all involved to do something wilder than usual.

Only the headlights, windscreen and 'underlying package of the 812 Superfast' remain; the rest is a subtle nod to such varying influences as science-fiction, racing heritage and modern architecture. Welcome, puny earthlings, to the V12 Ferrari Omologata.

It's the latest one-off coachbuilt special to emerge from Maranello, and is an exercise – says Ferrari – in "exploiting the proportions of the potent, mid-front layout" in order to deliver something altogether more unique.