Movies
No Time To Die: nine cars (and one bike) from the new James Bond movie
Finally, 007's latest adventure is here. Here's what you need to look out for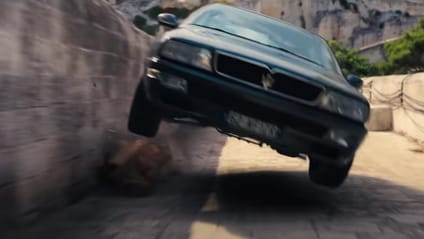 The new James Bond spectacle entitled No Time To Die features something called a 'DB5'. Apparently, it was a car a British company that goes by the name 'Aston Martin' was building back in the 1960s. You want to talk about civil service efficiency projects? Its least conspicuous employee has kept the same company car for six decades.

Anyway, this so-called 'Aston Martin DB5' will return. WITH MACHINE GUNS and SKIDS. Yeehaw!

Advertisement - Page continues below

We've missed the old V8, and what better way to signal an impending dust-up than by rolling out former Bond Timothy Dalton's rather delightful brute in a suit. Please try and bring this one back in one piece, 007.

Aston Martin DBS Superleggera

A brief shot in one of the NTTD trailers reveals Bond's new colleague Nomi rolling up in the enormously desirable DBS Superleggera (now, alas, simply called DBS). Forget chewing up the scenery, the DBS will almost definitely chew up its rear tyres. And fuel.

Advertisement - Page continues below

Land Rovers have played as integral a part in Bond's multiverse as the Astons, you could argue, so no surprises the shiny new Defender is getting its IMDB credits in early. Indeed, Land Rover even rolled out a special NTTD edition Defender.

Now, if only there was some clue as to whether the Defender is a goodie or a baddie in the new film…

Yes, that is an XF, this screengrab suggesting some form of mild disagreement and harsh exchange of words between the driver of the so-called 'Aston Martin DB5' and the Jaaaag. One suspects the driver of said XF might later retire and rethink one's life choices following deployment of MINIGUNS.

Various Rangies have starred in Bond films – Craig's 007 is certainly no stranger to them – but in no Bond film have we seen them fly. 

Toyota Land Cruiser Prado J90

Can we please raise a toast to the car co-ordinator and acknowledge this subtle bit of genius casting? An actual old Land Cruiser – the Prado – that sends a Rangie flying and later evades a helicopter. Pity the helicopter.

Advertisement - Page continues below

Yep, it's the bike doing that simply extraordinary jump up a flight of stairs, seemingly bound for the MOON.

Nothing but the briefest of brief 'blink and you miss it' cameos thus far of the incoming Valhalla; that £600k mid-engined V8 supercar with an eye on the Nürburgring record. And who did we spot standing in front of it? Why, Bond's boss, 'M'.

'Yes, but lap times around a German toll road are ultimately pointless,' M probably isn't thinking.

Advertisement - Page continues below

Fourth-generation Maser Quattroporte trying out the whole 'drive it on the doorhandles' thing.