Retro
Check out these 11 cars with famous names
When it comes to celebrity car badge endorsements, prepare to be horrified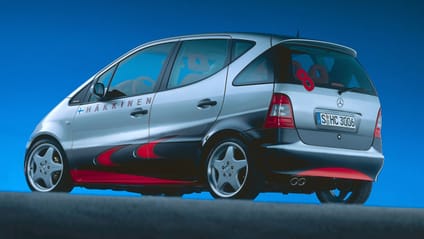 Fiat Stilo Schumacher (2005)

The Fiat Stilo Schumacher was a special edition car launched in May 2005 to commemorate five world titles on the trot for Michael Schumacher at Ferrari. Or if you look at it another way, perhaps it was the arrival of a special edition Fiat Stilo that finally broke the spell for Schumi. At any rate, just 200 examples of the 170bhp three-door hatch were made available in the UK, and all of them came in Ferrari red. Buyers could expect a fancy upgraded bodykit, a new hi-fi and a generous application of ABS and traction control. That would cost you £15,995, and for an extra £1,000 you could get yourself a car with judicious tweaks made by Prodrive. That involved upgraded lowered suspension, a new exhaust and larger wheels. There was no suggestion, mind you, that this fancified Stilo had been so much as wafted past Schumacher as he scratched his head trying to find ways to get past the upstart young Spanish driver Fernando Alonso.

Advertisement - Page continues below

Citroen C4 by Loeb (2009)

They think it's all crossover these days, but the first generation of Citroen C4 was a nice little family hatchback available in three- or five-door guise. It wasn't much to write home about if we're honest – maybe a postcard – but it did look distinctive and it had the virtue of a fixed hub steering wheel to give you something to talk about. And it could turn into a dancing robot too, if the adverts were to be believed. The car also spent four years competing in the World Rally Championship, in the hands of French star Sébastien Loeb. In 2009 Citroen came out with a special edition of the car to celebrate the fact that Loeb was the greatest rally driver of all time. Cripes, he still had another three titles to win after that. The C4 by Loeb cost £14,395 and came with a fancy spoiler, 17-inch wheels and a few fancy bits of metal trim inside. 

Mercedes-Benz A-Class A160 Hakkinen edition (1999)

You're a distinguished world champion F1 driver for a premium carmaker that hasn't enjoyed success in the top flight of single-seater motorsport since the 1950s. What do they honour you with? An A-Class? How insensitive to send the poor Scandinavian racing driver back home with a car that vaults into the air when faced with an intransigent elk in the middle of the road. To be fair to Mercedes, that little problem had been fixed by 1999, but within two years Mika Hakkinen had retired from Formula One. Coincidence? We think not. To be fair though, that paint job is the most amazing thing we've ever seen.

Advertisement - Page continues below

Range Rover Evoque Victoria Beckham (2012)

The Range Rover Evoque went on sale in summer 2011, it all went fine – a nice little premium SUV that went down a storm in certain areas. The launch in China in April 2012 had the benefit of a touch of star power, with Spice Girl and fashion mogul Victoria Beckham heading to the Beijing motor show to unveil her own special edition version of the car. That all seemed to go fine too – a nice little premium SUV with some fancy interior touches and a bespoke luggage set. What no one expected five years later was a smackdown from JLR's chief designer Gerry McGovern, who was keen to emphasise that the car was his work, and that Beckham had had minimal involvement. "I've forgotten more than that woman will ever know about designing – to be a car designer takes years," clarified McGovern somewhat unnecessarily.

Opel Calibra V6 Keke Rosberg Edition (1994)

He might look like a lost member of Abba, but moustachioed racer Keke Rosberg is famous for his fortuitous F1 title in 1982 with Williams, and siring another F1 champ, son Nico (2016). Other than that, though, he hasn't enjoyed considerable success. There was a brief post-F1 stint in the German touring car championship (DTM), and this special edition Calibra was launched to commemorate... well, not a lot actually, because Rosberg didn't do that well in the DTM at the wheel of an Opel. Perhaps it was his single podium finish at the fourth round race in Hockenheim that was worth celebrating, but Mercedes didn't feel the need to pop out a special 190E in honour of Keke's win and nine podiums in 1992, did it. Still, Opel Calibra V6 Keke Rosberg Edition buyers got Irmscher suspension and a rear wing as well as special seats with a yellow stripe on them.

Citroen Xsara Picasso (1999)

It's not easy to stick a Picasso painting on a teatowel, so you can imagine that the long-dead painter's estate has to be a bit imaginative when it comes to licensing out Pablo's name and raking in the cash. Who can be quite sure why Citroen even decided to name its compact MPV of 1999 after the Spanish master? Could it be the curious design of the car, which could cause the inattentive onlooker confusion as to which end is which? It did cause a bit of a problem within the Picasso family – the painter's granddaughter tried to sue her uncle because she wasn't really happy with the deal. Perhaps she was expecting something more like the DS. At any rate, the Picasso name was ditched for 'Spacetourer' in 2018. We haven't actually heard of him.

Toyota Celica GT-Four Carlos Sainz Limited Edition (1992)

Now this is a special edition car we can get behind – no fancy coloured seats or extra bits of interior trim to try and trick you into thinking you've landed something special. The Celica GT-Four Carlos Sainz Limited Edition was part of a run of 5,000 cars worldwide to comply with the World Rally Championship's homologation rules. This car came with a number of cheeky performance tweaks over the more standard road-going car, including a new intercooler, revised bodywork, a stubbier gearstick and triple cone synchromesh on gears two and three, whatever that did. 

Advertisement - Page continues below

Lotus Evora Naomi for Haiti (2010)

One of the strangest but most well meaning special editions in automotive history. Lotus let supermodel Naomi Campbell doll up a set of eight Evoras with themed stickers back in 2010 and she auctioned them off to raise funds for the beleaguered nation of Haiti following a massive earthquake that year, which left 1.6 million people homeless. The results of the auction were announced at the 2010 Geneva motor show, and the eight cars together raised around £1.4m for the struggling country. If you were a winner in the charity auction you did have to be careful come key handover, Campbell has had a tendency to throw things.

Mercedes-Benz SLR Stirling Moss (2009)

The Mercedes-Benz SLR McLaren was built between 2003 and 2009 as part of the long-running relationship between Mercedes and McLaren in F1. The car was built at McLaren's Woking headquarters in a sort of practice run for proper supercars, and this special edition in honour of the great Stirling Moss was intended as a sort of run-out special (although McLaren did do one last special edition in the end). The 5.4-litre V8 engine produced a heady 641bhp for a top speed of 217mph and a 0–62mph time of three seconds. Leaving off the roof from the standard SLR and swapping out a few items for carbon fibre alternatives meant the Stirling Moss saved a heady 200kg over the standard car. There were only 75 of the special edition cars made, they cost over a million US dollars and you could only buy one if you already had an SLR. Two SLRs! The car was a tribute to Sir Stirling's spectacular 1955 win in the Mille Miglia at the wheel of a 300 SLR, regarded by many as his finest achievement. 

Advertisement - Page continues below

Infiniti FX50 S Sebastian Vettel (2012)

There are very few people associated with our list of cars here who will admit to having had a hand in tweaking the things, but four-time F1 champ and all-round nice guy (apart from all that multi-21 business, but forgive and forget eh?) Sebastian Vettel was very cheerful about his part in spiffing up the Infiniti FX50 S SUV (the carmaker was trying to make a go of it in Europe and sponsored the Red Bull F1 team for a few years). The car got a 5.0-litre V8 engine, could do 0–62mph in 5.6secs and had a top speed of 186mph. It sat on 21-inch alloys, was 20mm lower on stiffer springs and had 46kg junked out of it somewhere. There was even a centrally mounted fog light in the back, like an F1 car. The Europe allocation was limited to 50, although that might have been ambitious looking at the sales figures. Especially considering the Sebastian Vettel special edition cost a whopping £100k. Vettel seems to have been a bit more careful since – he also got a Ferrari California T named after him in 2016 and it's not like Aston Martin to be shy about a special edition now, is it.

Chrysler Imperial Frank Sinatra Signature Edition (1981)

Lee Iacocca had recently taken over Chrysler and was trying to revive the company's fortunes – part of his plan involved resurrecting the luxurious Imperial model, a car that had done its level best during the Sixties and Seventies to cement the image of American cars as floaty oversized beasts. Iacocca came out all guns blazing, even enlisting his old chum Frank Sinatra to help shift the Imperial – the patriotic crooner was all about saving American jobs and even recorded a few special songs to promote the car. The icing on the cake was the 1981 special edition bearing the singer's name. The 271 cars came in Glacier Blue paint, said to match Ol' Blue Eyes' peepers, and came with a set of 16 cassette tapes inside a leather case so that you could enjoy plenty of Frank's music. Start spreading the news...