Retro
Eight things you never knew about the Mercedes 190E Cosworth
And no, not the fact that it was never officially called that. Other, actually interesting things!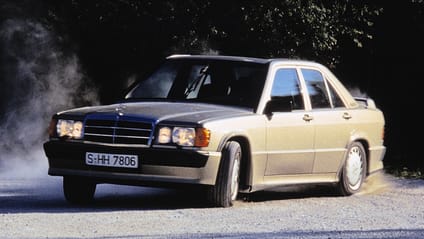 It was decried as a boy racer's car when it first came out

Deep air dams, side skirts, wheel arch extensions and a rear wing. Right now, that seems like page one, entry one in the How To Make A Performance Version Of A Family Car playbook. And, coincidentally, the same page and entry in How To Tart Up An Otherwise Humdrum Family Car To Look Like It's The Quick One.

But back in 1984, when the (deep breath) Mercedes-Benz 190 Einspritzen 2.3-16 launched, these aero additions were pretty much as gauche as it got. And this was in the 1980s, which everyone has down in their history book as the 'decade of excess'. Right.

Advertisement - Page continues below

The suspension was really, really advanced

Let's just lay this out now: a five-link rear end with self-levelling shock absorbers. In the early 1980s. There are modern performance cars out today that still go without tech like that.

The result of this was a ride and handling combo that could be best expressed as Blu-Tack: pliant and grippy in equal measure.

And wasn't Martin Brundle a massive fan of the chassis? We're sure some reputable source or other told us that.

It was actually pretty quirky for a Merc

You'll know about the dogleg gearbox – left and down for first – but what you might not know is that the quirkiness didn't stop there. The rear view mirror on the driver's side was a different size and shape to the passenger's, to make sure that blind spots were not an issue for the kind of detail-focused connoisseur that bought one.

And, despite being a four-door saloon, it was only a four-seater. That's because the rear seats were just as bolstered as the fronts, and, unless you had a cardboard cutout of a third kid instead of a, y'know, breathing, screaming and drooling one, there was no chance of strapping them all in.

And how could we go past the massive telescoping single windscreen wiper that extends during key parts of the sweep to clear more windscreen than two regular wipers? Let's just say it right now – we love 1980s Mercedes.

Advertisement - Page continues below

The engine was way better than you'd think for a 2.3-litre four-cylinder from the Eighties

The Mercedes M102 engine was, in the finest pre-Nineties Mercedes tradition, about as bulletproof as your average M1 Abrams. It was also massively oversquare – i.e. the bore was much larger than the stroke. So it was the perfect candidate for some of Cosworth's finest work. And we know how much we're saying in that sentence.

The 2.3-16's head was lightweight alloy, with huge intake and exhaust ports for the four-valve-per-cylinder setup. A 16-valve inline four is basically expected these days, but 35-odd years ago, it was proper F1-grade tech. Conveniently enough, Cosworth had a bit of form in that area.

Mandrel-bent exhausts, Mahle alloy pistons and a Cosworth-tuned ignition and fuel injection system meant that, with the rest of the engine untouched, the 2.3-16 could rev to 7,100rpm in road trim and make 185bhp from about 5,500rpm to redline. Yep, it had a flat power band.

It helped open the new Nürburgring

For a lot of of us, the Northern Circuit (Nordschleife, or Grun Hollë if you're being dramatic) is the Nürburgring. But that's overlooking the actually excellent (and much less hellish) Nürburgring GP circuit.

Let's head back to 1984, to the opening of the then-new GP track. A few ring taxis really weren't really going to cut it. But a field of former and future F1 champions, all battling wheel-to-wheel in identical cars to find out who's actually fastest, definitely did the trick. The winner you know – a certain Ayrton Senna da Silva. What's glossed over, however, is just how quick Niki Lauda was, and how many times the lead changed hands in the late stages of the race.

It's partly responsible for the existence of the BMW M3

As a keen 190E enthusiast, you'll already know that the 2.3-16 was developed to enter rallies and take over from the SLC, which, while a reliable runner (always good in racing of any sort), looked like a Miami drug dealer had taken a wrong turn at Albuquerque.

And you'll also know that Audi fired up the Quattro, so to speak (does anyone even get that reference anymore?) and rather rained on ol' Mercedes' parade by bringing another axle's worth of traction to rallies.

As the story goes, Mercedes was incensed and pretty much rage quit motorsport, but the engineers working on the 2.3-16 knew what they had cooked up, and started helping out privateer teams in DTM instead. And it was really, really successful. It just wasn't quite as successful as BMW's 2.3-litre, high-revving four-cylinder version of its small executive saloon. One wonders wherever BMW could have got the idea for that, dogleg Getrag five-speed and all.

AMG wasn't about to let Cosworth take all the glory

When Mercedes went to develop the 190E into a performance saloon, they didn't turn to AMG. That's because AMG was still an independent tuning house in those days. Hence the tie-up with Cosworth.

But AMG wasn't about to let a British company take honours in the power stakes, storied F1 history or not (and yes, it is weird to think about how successful AMG is as an F1 team now, but that feels like a dangerous digression that could go on for paragraphs).

So, for the updated, 2.5-litre engine (stroked, not bored, in case you were curious), AMG set to offering its services. Well, its main service, actually – MOAH POWAH. So the AMG Power Pack-equipped 2.5 was actually good for about 230bhp on the Evolution II model (pictured).

Advertisement - Page continues below

Yeah, the Senna race was cool. But 50,000km in 200 hours is perhaps even cooler 

Back before Porsche owned the Nardo speed ring (and the rest of the centre, in case you were curious), Mercedes would regularly rent out the high-speed bowl to set speed, distance and endurance records. The C111, one of the best concept cars ever, did 195mph for 12 hours straight around there. Which must have been the weirdest Venn Diagram overlap of exhilaration and tedium known to man.

Anywhos, Merc returned to Nardo with the 190E 2.3-16, covering a herculean 50,000km in 200 hours, and, if our maths is correct, blowing through three service intervals in the process. That's no way to treat a classic, guys.