Retro
The lowriders that are saving lives
Celebrate Pancake Day with Top Gear's guide to flat 'n' tasty... cars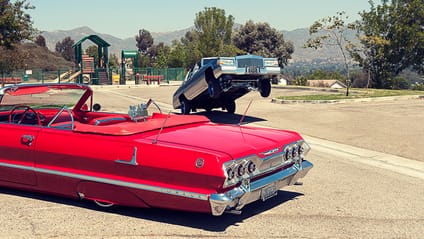 It's Shrove Tuesday - aka Pancake Day. Here's the time Top Gear met LA ex-gang members seeking redemption through cars…

"I'm Frosty. I'm gonna introduce you to my homeboys. They used to be knuckleheads like me, messing around with gangs, drugs and guns. Now we're into the lowriders, man. Old Memories Car Club. That's how we kick it"

Frosty is a poppet. He dangles an arm, etched with gang tattoos, from the window of his Dodge and dives towards East Los Angeles with the silk-wrung confidence of someone that knows every inch of these streets. When we arrive at a park in the San Gabriel Valley, the Listerine-blue ocean and valet parking of beachside LA hang lost in the rear-view mirror. There's a Chevrolet Fleetline Aerosedan parked under trees limp from the sun. Its running boards are an inch from the ground, and it's involuntary-noise spotless. Like it's passed through a Stargate from 1948.

"Welcome to the hood."

Pictures: Robert Yager

This feature first appeared in Top Gear magazine

Advertisement - Page continues below

Underestimate this place at your peril. In the last three years alone, there were 16,398 verified violent gang crimes in the City of Los Angeles, including 491 killings, 7,047 serious assaults and 5,518 robberies. And membership is on the up. The latest FBI research shows that there are around 1.4 million active gang members from more than 33,000 gangs in the USA. A 40 per cent increase from an estimated one million gang members in 2009.

But there's an unlikely faction rallying against the tide. "With these cars, we're keeping people away from gang life," says Frosty (left). "I used to run with the Westside Playboys. We did it all, man - drive-by shootings, selling drugs - cocaine, marijuana, heroin. I had a meth lab. We stole cars, bought guns... lots of guns. And the LA riots. I was there. In and out of jail, too. Federal prison. LA County. I've had years in the penitentiary.

"But I've done my time and lost a lot of friends. I've got to give back now. So I show people that there's a way out of gangs. My club takes the cars to juvenile hall, so the kids banging [being a member of a gang] can see that there's an alternative. We show them that it works. I used to be a knucklehead, but now I'm doing something positive. We want them to do the same thing with their own car instead of getting in trouble on the streets, and we help them achieve that."

Frosty is from Old Memories Car Club, San Gabriel Valley Chapter. And like all of the groups we've met today - the Majestics, So-Lo Riderz, One Bad Creation, Resurrection and Showtime - it celebrates the lowrider custom vernacular. Which is, ostensibly, cars with switch-operated hydraulic or airbag suspension so you can adjust the ride height on the fly.

Pre-1955 cars, usually GM and loaded with period options, are called Bombs, and nod to the first wave of customs in the Thirties. There are also Hoppers, built for chassis-snapping bouncing, often beyond six feet high. The rest, ranging from mid Fifties to late Nineties, are defined loosely as 'lowrider', 'low-low' or 'low'.

They're also illegal in California. Sort of. The state's vehicle code dictates that you can't operate a car modified so that any part is lower than the bottom of the wheel rims. On full drop, that's most lowriders - and the point of building one. As Frosty has it: "They just look better low." There's an issue with tyres, too. You can't get anything that fits 13-inch wheels - the lowrider's choice - with a load rating appropriate for plus-size American iron.

Advertisement - Page continues below

So-Lo Riderz Car Club member Freddy Ramos owns a Cadillac de Ville overwrought with eye-snagging decoration - money-green metalflake paint, strippers airbrushed on the boot, gold-plated spare wheel holder... this is not a car that subscribes to hidden meaning. We meet in the extravagantly warm Valleys area, located approximately three-quarters of a mile away from the sun, with members of his club, as well as One Bad Creation and Resurrection.

"If you're not hitting switches, or laying it real low, you're not really lowriding. And you've got to have thirteens. Some clubs just don't let you in if you have anything bigger - it's tradition. Most of the local cops leave us alone, though, even though we're in a bit of a grey area.

"I think it's because we bring a lot to the community. Some lowrider clubs work with the police department. Not as informants, but linking kids with cars, and looking out for people in the neighbourhood that could wind up in trouble. We do a lot of charity work, too - Easter basket drives and Christmas toy drives for underprivileged kids. People see bald heads, lowriders and tattoos and think we're bad, but the homies do all that good stuff, too."

Relationships with authorities aren't always as emphatically positive. Rick Burrell is a reformed Crip gang member and owns the Low Life Hydraulics shop in Inglewood. He says: "I get why police give us a hard time in this neighbourhood - it can be a tough place. I used to think lowriding and gang-banging were the same. I mean, even the car clubs were banging back in the Seventies."

Like most of South Central LA, Low Life is based in a mortician-grey low-rise. The street in front is a place of sliding eyes that read the tiniest instruction in a hand sign, a tattoo or a colour. There is a general feeling - more instinct than certainty - that getting on the wrong side of the wrong person here would be extremely irreversible, and end in a major disinclination to boogie.

"I see gang life every day," says Rick. "I see the violence. And I know that, nowadays, lowriding's completely different. These cars help people get out of that life, give them something positive to do with their time, and club members encourage that, and look for people they can help. It's a lifestyle. It might have come from the same area geographically, but it's grown away from that drama. We're against it. And it ain't cheap. Some of the cars out here are worth $100,000. You don't want some knucklehead messing around with your car if you've put that much in it.

"The police, especially cops from out of town, don't see a kid from the neighbourhood lowriding and realise that it saved him, it's kept him out of trouble, that he spent all his money on it, that he built it himself, that it made him a man. It made me a man. And got me a career. But when I'm on the boulevard, the cops see a gang-banger."

A short drive from Rick's shop is Central Driveshafts and Chrome. It's owned by the President of Majestics Car Club's Compton Chapter, 'Big' Rich Gomez, whom we find surveying his 1975 Chevrolet Caprice project. The engine's a fretwork of mirror-coated parts, and every lump and ruffle of sheet metal with a visual concession to utility has been pulled smooth, then shot with metalflake paint.

Form doesn't follow function - it dramatises it. "This is all custom," says Rich, unnecessarily. "We're building cars on a whole different level. And if you want to put something together like this, you won't have time for gang life.

"Our connection with some police isn't quite there yet. They still don't see a separation, and when people see a lowrider getting pulled over by the police, it gives us a bad name.

Advertisement - Page continues below

"But lowriding saves people. It saved a lot of people I know. A friend of the Majestics was in a gang, and he went to jail for seven years. Attempted murder, gun charges. When he got out, we talked him into coming to shows and got him to help put cars together. It took him a long time to adapt, but we supported him with advice, and kept him working on the projects. Now he's on his feet, he's got a job, and he helps us out on projects. It happens a lot. We lead people the right way with these cars.

"It's frustrating when people assume we're into that. Yeah, we all have our past, but we know that gang life only leads to two places - death or jail. That's why we don't allow anyone, however nice their car's turned out, to be part of the club if they have a gang affiliation. Once you're with us, you're our brother. And you're part of one big family. There are guys that would have shot each other back in the day, but nowadays they help each other build cars. All through lowriding."

Outside Rich's place, we meet Spike, who has agreed to drive us to his shop, Gator Customs, in a 1964 Chevy Impala lowrider. Paint sparkling in the sun like a stripper's nail varnish, it is, unequivocally, one of modern civilisation's all-time best ways of getting somewhere sitting down. Reflections from the metalflake dashboard overlay the sulphurous grey sky with a glittering disco filter, and the odd thrum of its modified 400bhp V8 manages to escape through Patrice Rushen's disco-funk classic 'Forget Me Nots'. It has the somewhat uncanny effect of making everyone in and around it exceedingly happy. There's waving and pointing. As per Cypress Hill video protocol, I try desperately not to smile.

Advertisement - Page continues below

"All you need to get kids away from gangs is take them for a ride, hit some switches and tell them that if they stop f*****g around on the street they can build a car - that they can have all this happiness. Seriously. It's all it takes. Just one ride can reform someone. And then these clubs continue the support, and give the next generation counselling, protection, a skill and a car-club plaque, which is like a badge of honour. Keep them off the street, get them on the boulevard."

After prodding around Spike's gold-leafed Chevrolet frames and chromed V8s, I drive through the gang neighbourhoods. A street has been closed, taped off by the LAPD, so I pull up and roll down the window. "Homicide," the policeman offers. And, before I have a chance to ask, "Could be gang-related." It's the fourth road I've seen blocked in the area.

Something Frosty mentioned earlier resonates. "Being in a lowrider club's like being in a gang - there's the same fraternity, and I guess that's why it attracts so many people that used to be on the street. That, and building cars we saw when we were growing up. But there's respect and satisfaction - you take something beat up and create something you can be proud of. It feels good, gives you confidence. Then you realise that there's other s**t you can do. In that way, lowriders save lives."