Retro
Why the Renault 5 Turbo is a hot hatch hero
A mid-mounted engine, the Miura's designer... and a legendary rally driver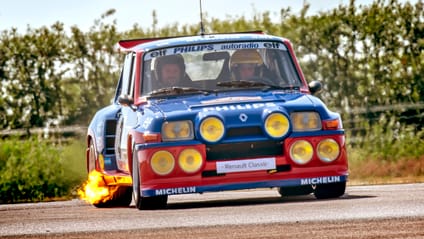 "I joined this business to drive cars for fun first, to make a show for people watching second, then to actually win third. If I could combine all three, then perfect!" With the Renault 5 Turbo, Jean Ragnotti combined all three to legendary effect on the tarmac rallies of his native France.

Among the first competition cars Renault ever turbocharged, it's now almost 40 years since the car was conceived as a mid-engined, RWD response to the Lancia Stratos's rallying dominance. The company may have an extraordinarily rich back catalogue of hot hatchbacks, but the 5 Turbo is unquestionably the most exotic, the most remarkable, the most implausible of the lot.

Advertisement - Page continues below

Humble, too. Its engine was a 1.4-litre four-cylinder unit that shared DNA with everything from the original Alpine A110 to old Dacias. However, the application of a turbocharger resulted in a 160bhp output that, in 1980, was enough to make it the most powerful production car to emanate from France.

Popping that engine behind driver and passenger – and in lieu of mundane old rear seats – necessitated a fabulously cartoonish redesign of the regular Renault 5 body, a task given to Bertone's Marcello Gandini. The man who also designed its Stratos arch-rival, not to mention dozens of other stone-cold classics, among them the Lamborghini Miura.

That his 5 Turbo is almost as revered as his V12 supercar says so much about what an intoxicating piece of design it is. But the road cars were a necessary by-product of the racecars, and thus it feels appropriate for us to start in the rally Cinq. And there's no better example than this 5 Maxi Turbo, the car's zenith and something that was pushing 350bhp when it won the 1985 Tour de Corse rally.

If you've attended the Goodwood Festival of Speed in recent years – or watched coverage of it online – you'll have seen it pirouetting in front of the house with abandon, with Ragnotti behind the wheel.

"The wheelbase is short but the engine is quite central, so it was well balanced," he tells me. "Except when you really wanted to be a show-off! The rear wheels were really wide and so on dust, gravel or in the wet you had to be an acrobatic stunt driver to keep on top of it. But it was very amusing and a fun car to drive."

Advertisement - Page continues below

"When I drove 5 Turbos for car shows I wore out many tyres," he adds, miming a donut motion. Aged 73, he now suffers back pains that have forced him to give up his acrobatic displays and even sell his collection of cars.

Which means, to my sadness, he's not the man tasked with showing me what the 5 Maxi can do around Circuit de la Ferté Gaucher, an hour outside of Paris. The man in his place doesn't speak a word of English, either, but by holding my thumb aloft – and using that donut mime Ragnotti's just taught me – we manage to communicate just fine.

What follows is a flame-spitting, tyre-squealing demonstration of just what a rambunctious ball of fun – and occasionally fury – the 5 Maxi is.

Being inside the car is a completely different experience to outside: the spine-tingling howl of its engine from an onlooker's perspective is immediately familiar from all the YouTube wormholes I've fallen down, but the chuffs, farts and whistles of its highly strung engine almost entirely smother that once you've squeezed inside.

My driver may be short of words, but that's to the benefit of his concentration. The dinky 1.4's lag is apparent, so extracting the best from this car is all in the forward planning, getting on the throttle before the apex so the engine is nicely wound up by the corner exit.

You'd forgive Renault for keeping this 5 Maxi as a mollycoddled museum piece, but experiencing it driven within an inch of its life is infinitely more gratifying. The side exhausts spit so much flame on the overrun that as we pull into the pits, a ball of orange is still in the air as my door opens; I'm convinced the whole thing must be ablaze. Thankfully, "that's just what it does". I suddenly love it even more.

With half the power and 100 per cent less flame, can the road car live up to such drama? Um, no. Sorry. Driving a Renault 5 Turbo has been something I've had very near the top of my bucket list for a very long time, with the rather important caveat that I might actually kick the bucket while attempting to tick it off.

I needn't have worried. This is a car of supremely modest power by modern standards (the 1,479bhp Bugatti Chiron proves French cars have come a long way since), and such is the lag in its delivery, you'll never stumble blindly into a situation requiring those acrobatics Ragnotti talks about. At least not in the dry.

Advertisement - Page continues below

First-generation 5 Turbos were famed for flamboyant interiors (see above...), but the more common 5 Turbo 2 we have at our disposal today demonstrates a comparatively restrained and luxurious cabin borrowed from the front-driven 5 Alpine.

That does make it feel like less of a head-banger – especially when the outside's painted a classy burgundy – but this is still one very engaging, visceral car in which you savour every second of the experience.

The steering is heavy, the gearchange tricky and even if it doesn't scare its driver, they'll need skill to extract its best. Despite its exotic layout compared with the vast swathes of front-engined, FWD hot hatches before and since, you drive it in a similar manner, tweaking the brakes or lifting riotously off the throttle to unshackle its grip in corners.

It's at this point the 5 does feel edgier, with some tangible mass behind you, but at no point does it feel spiky or spiteful. The Turbo just eggs you on to drive it harder and harder. It's hard not to love this one, too.

Advertisement - Page continues below

"The 5 Maxi is on level pegging with the Clio Group A as the most special car of my career," concludes Ragnotti. "But I don't miss competing. I started in 1967 as an amateur; I was a lorry driver at the time. I became professional in 1971 and my first contract with Renault came in 1973 driving the R12 Gordini. I've been with Renault ever since.

"There was contact from other carmakers, and I listened to them, but I really liked the atmosphere of Renault. Peugeot contacted me about driving the T16 but I said, 'Thank you, but no thank you.'" Yup, the 205 T16. The Renault 5 Turbo may have been the first hot hatch to swap its rear seats for a turbocharged engine, but it mercifully wasn't the last.