The Great Outdoors
These are the best driving roads in England
TG goes on a quest to find the finest 250 miles of English road. In an Audi RS4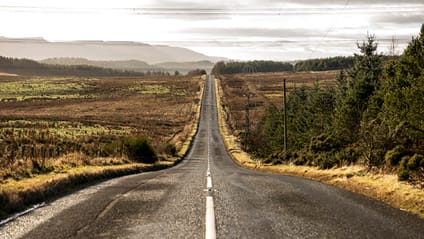 It's a quirk of human nature, but in a world made small by distance cheaply bought, we end up blind to our own back garden, familiarity breeding local contempt. It's not surprising. With roads that span continents easily accessed and even the most humble of cars capable of grinding out thousands of miles without exploding, the frame for a roadtrip has expanded, making the foreign not just convenient, but preferable.

But that needn't be the case. There are roads in the UK that can provide world-class driving, epic without the need for a passport. To prove it, TopGear set out on a lap of England to seek out the most interesting 250 miles of English roads.

We did not race or travel at dangerous speed but took the road less travelled, just to see what was at the other end. The only slight issue being that we only have three days before we have to get back into the office, and a very long way to go.

Obviously, given the fact that we're doing this in winter, conditions would almost certainly be uncertain. We would need something sensible and capacious, with excellent range. TopGear's 450bhp, quattro four-wheel-drive Audi RS4 Avant is very nearly one of those things. So we thumbed the key one morning at 4.30am in Stamford, Lincolnshire and headed out to see what England has to offer.

Pictures: Justin Leighton

Advertisement - Page continues below

Strange place, the fens. Long, straight roads across megafields full of indeterminate winter crops. Many, many trucks. It's dark and cold, and there's a flutter of snow on the verges. Not a huge amount of inspiration. Up to the A16 and then across to Louth, stitching the area together through back roads straight from a testing facility - subsidence dropping the margins so that the nearside of the car is constantly working at a furious rate while the offside slouches on smooth tarmac. If suspension has rough edges, these roads will prosecute. We up the pace on some arrow-straight fen lanes connected by random 90-degree corners, and let some of the RS's 450bhp loose. Wincing ensues.

The RS4 in Dynamic mode is bracingly stiff, bouncing about, yanking hard through the wheel. Deep puddles lurk in the potholes, the RS4 sending great walls of spray up and over hedges as it judders past, and it's only the clever quattro that prevents it bouncing its way into a cauliflower field. It's one shade off scary. We're only roughly 60 miles into the trip. Oops.

We hack up and across, flicker past Grimsby, over the Humber Bridge and stop for coffee. It is here I start to play with the settings on the RS4's Audi drive select adaptive damper system. This proves to be important.

THE NORTH YORKSHIRE MOORS

If the fens have a limited emotional range, the North York Moors National Park is overwhelmingly passionate in comparison. We trotted up the A1079 past Beverley and across the B1248 through Wetwang [cough] and Norton-on-Derwent, on our way to Kirkbymoorside and subsequently Hutton-le-Hole. Which is where we picked up the Blakey Ridge on the way to Castleton and found several miles of carriageway genius. The Moors are breathtaking. The views into the valleys make you think of tiny cottages, roaring fires and writing bad novels.

The Blakey Ridge soars across the top, uncommonly sunny today, flowing and long, and it's the first time I can really let the RS4 strut. Having delved into the car's brain, I've set the Individual settings for aggressive gearbox action, full-fat engine and throttle response, weighty steering and comfort suspension. UK-specific. The tweakery might make the RS4 slightly less keen to turn-in and more prone to a subtle dip of bodyroll, but it keeps the wheels in touch with the tarmac, and my spine out of my nose. On these swooping, sighted, slightly greasy roads, the RS4 resolves, becomes incredible. You don't even have to go fast to enjoy it, though the RS4 is keen for the 8,500rpm red line, and more than capable of dealing with the changes in grip. But watch out for the suicidally stupid sheep; they may look fluffy, but wouldn't do well accelerating from standstill to 50mph bolted to the front bumper of an Audi.

I know that I'm enjoying it when I realise that Justin the photographer is breathing heavily and trying to bury his head in a bumper bag of Revels. But we can't linger. As we reach Castleton, I'm ready to face Blakey again, but we have far to go, so we head on and out, and further north.

Advertisement - Page continues below

NORTHUMBERLAND NATIONAL PARK

Hello and goodbye to Newcastle, up the A1 to a place called Alnwick, overshooting slightly and ending up in Wooler, via the B6348. Back down the A697 and we run from Rothbury to Otterburn on the B6341, across the lower section of the Northumberland National Park. Epic stuff here, with big rolling sections that feel like the swell of the sea, except that the sea doesn't have potholes that feel like they might shear your buttocks clean off. Hit the B6320, and scythe off towards Kielder Forest, simply to feel the ghosts of rallying legends brush up against the pine trees. There's nobody about, excellent tarmac and glorious sunshine. Around Kielder Water from Yarrow, RS4 singing happy tunes to the forest, the odd logging truck dispatched with a burst of V8 yowl. Slowly through Kielder and then on to a tiny village with the inauspicious name of Deadwater. It's here that we enter another country (Scotland)entirely by accident and have to turn around and retrace our steps. The sun has started to dip, and fog shrouds the road through the glow. The RS4 has picked up a layer of road grime and salt, and I can't help but feel that it looks so much better filthy and used. But we need to press on.

Away from Kielder and towards Hexham to pick up the A686 through the Gilderdale Forest and on to Penrith. You can drive this road at 30mph and have an immense amount of fun. In fact, you're probably better off doing exactly that, because there are a surprising amount of mid-corner bumps and subsequent corners that can casually throw your car into a dry-stone wall. And dry-stone walls are the teeth of the land around here. They bite. It's tight, too, so there's not much room for error. The RS4 breeds confidence - there are few AWD cars that have such a grippy front end and resist understeer quite so well - but even an RS Audi has trouble when all four wheels accidentally become separated from the ground mid-corner. I manage to collect everything - more help from the quattro - and the Audi lands four-square and relatively softly, but there are several seconds of silence, followed by Justin's immortal line: "If you do that again, you won't be allowed Haribo ever again."

Penrith to Keswick in the Lake District via the A66, then the B5289 to Seatoller along the margin of Derwentwater. It's getting dark, and the Lake District is best driven in the daytime when you can appreciate the views across the glassy lakes. Also because the lanes and roads around here are tight and unforgiving, invariably wet and under lots of trees, meaning they get slippery with leaves. We head towards the village of Seatoller. Caution here, too because there's a small humpback bridge just before the village that looks so very innocuous but... isn't. We arrive at the Honister Pass at dusk. Not the best time to appreciate the jagged slash through the top of Buttermere, so we take a long-exposure picture and run the Pass at night. Which is more than a bit scary, because it dips and twists, is essentially a single-track road, and has no margins other than rocky streams, bits of infinitely dark lake and rocks. Loop up towards Cockermouth, and then back on the A66 and finally head south, flaring briefly into the Pennines before admitting defeat by fatigue and heading into the Peak District.

We wake in Bakewell, somewhere on the Chatsworth Estate and slightly confused. The temperature here is minus four, while further north had been in the plus-teens. So we gingerly pick at a few of the stunning Peaks roads, absorbing views shock-frozen and dusted with the diamonds of winter. It's busier here, though, and there are fewer chances to enjoy the drive, so we cruise and soak up the countryside. England, as familiar as we think it is, is constantly surprising. And gorgeous. We hack out and down, running across to the Welsh border and Shrewsbury. But there's a sense that all the really spectacular roads are away in Wales, and the area is entirely clasped in the grip of the thickest fog I've ever seen, so we find several leafy lines of brilliance and then crack on.

Advertisement - Page continues below

We arrive in Malvern still in the grip of the fog bank. A fog bank that renders the Malvern Hills - our destination - completely invisible. The fact that night falls at 4pm probably hasn't helped, and throw in the town centre's tendency toward Regency and Victorian villas, and it feels like we've fallen into some sort of Jack the Ripper novella. Unfortunately, it means that any other investigation of the local roads is also largely pointless. And demonstrates that the one thing you can't bet on in England is, obviously, the weather. You wouldn't get this in southern Spain.

Morning, and down to the B3135 into the incredible Cheddar Gorge, a slash of limestone cliffs sliced through the Mendip Hills like an enormous lightning strike. For some reason, I've never been here, and hearing the RS4's V8 bounce off the rocks is heavenly - though be wary, if you're first through there will likely be fallen rocks in the road. And there is a feral flock of Soay sheep resident in the gorge keen for an early-morning ambush. Again, you don't even need to go fast, because you realise why the Victorians loved this place; it's gorge-ous. Sorry.

Advertisement - Page continues below

After Cheddar, it's time to head west on the A39 across the top of Devon and Exmoor. There are views across the Bristol Channel to Wales, and the Porlock to Parracombe stretch is as complete a piece of driving as you can find in England. And it's long. And - at least on a weekday in midwinter - largely deserted. It's also technical and surprising and very hard work. If you really want to get a feel for a car, one run through here will tell you everything you need to know. Further down, and take the B3306 from St Ives to St Just (there are a lot of saintly names down here), and you feel the restrictive Cornish roads squeezing tight, but still with views that suck the cynicism right out of you. I'm learning the RS4. And I'm learning that when things get very tricky, this car is your friend. Justin has been asleep for the past 50 miles. Quite how, I will never know.

Not long after St Just, England runs out of actual land. Sennen Cove is pretty, wholesome and utterly Cornish. Land's End itself has a horrible theme park-ish carbuncle strapped to it, for no apparent reason. But as the sun sets, and we stare out towards the Isles of Scilly, it feels good to have come this far, and seen so much. But there's more to do - so we head back out and down, run past Penzance, St Austell and Liskeard, then on to Tavistock and pick up the B3357 across Dartmoor. This was probably a mistake. It's raining hard, and the local ponies are gathered on the road looking miserable. We then hit more fog, in the rain. You get the sense that these are good roads, but conditions dictate the pace, and there's not much to see.

Morning sees us whipping up through Marlborough and tracking some of the roads around the Vale of White Horse near Wantage around Uffington. Good, if unevenly surfaced roads, big bumps and changes in elevation, typical British countryside. Then it's down past Salisbury and its attendant Plains to a place called Mockbeggar, at which point we pick up a little road through the New Forest. Yet again, the area is a revelation. The road may be just a car-and-a-half wide, but the Forest is beautiful, and the wide-open spaces above it are a huge surprise if you're not local. There seem to be lots of tractors, though, so be wary of blind corners with JCB apexes.

Down the M20 towards Ashford and out towards Lydd on the Romney Marsh. It might sound like an odd place for a roadtrip, nuclear power station at the end and all - Dungeness B dominates the view - but once you get down near the lighthouses and take in the shingle beach and odd little wooden shacks, there's a romance to it. It feels odd and alone and remote in the south. Which makes it a weirdly special place to visit. Especially when you realise that the odd little shacks near the shingle beach are actually all full of expensive triple-fold doors and posh cladding - house prices down here are off-the-scale. Ironic for a little hamlet stuffed into the shadow of a nuclear facility, though the local seafood is apparently surprisingly hearty. The RS4 stands out quite a lot. I make a half-hearted joke about having our own V8 power station, but Justin just looks faintly disgusted. I think he's tired.

More M25 ensues, and the Dartford Crossing is surprisingly impressive in its way, a glittering arc across the river. I feel a bit like a tourist in my own country, everything appraised with fresh eyes. Up into Essex, around Ongar - the sun has set, and there's more snow on the ground. We find some brilliant Essex roads, but I lose the map, lose my way, and then have to resort to satnav. It's rather late, we're tired, and we head out past Colchester, hack cross country towards Cambridge and then finally have our fill, find the A14 and head home, completing the circuitous circle and the TopGear Lap of England.

Once, in a particularly insalubrious pub, an old man with a face like a wet leather satchel gripped my forearm, locked his milky blue eyes on mine, and enunciated very precisely: "Never forget to look up, son. Never forget to see what's around you." The utter drunken seriousness with which he imparted these pearls of wisdom gave me pause. I remember staring blankly at velveteen wallpaper and a middle-aged barmaid with a wide smile and deep cleavage, and thinking that the oracle of the Nag's Head had probably had enough votive lager. At the time, it sounded trite. After the past few days, it makes more sense than ever. I feel like I've rediscovered my own country, found a series of secret rooms in a house I've lived in for my entire life. The reality is that England has some of the most inspiring countryside and driving in Europe, if not the world. We have every type of road, and far too much weather. We have excitingly stupid wildlife, and views that make your jaw hit the floor while your brain struggles. But, best of all, we have the freedom to enjoy them, as long as we make the effort. And just think of all the amazing roads we missed. Put simply, we should heed the advice of small, drunk old men in pubs, and remember to appreciate what we've got on our doorstep. We should look up, and look around. And get out there and do it.