The Great Outdoors
The very best driving roads in Scotland
Tom Ford finds out if Scotland has any decent driving roads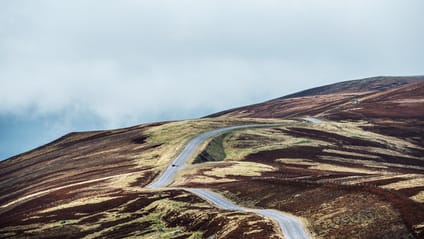 A lap of Scotland. Sounds simple enough, you would think. But, this being TopGear, it started... confusedly. An initial foray into the dark art of crowdsourcing TG reader opinion nearly melted the internet and caused a social media capacity blackout over Western Europe. According to TopGear readers, there are a lot of pain-of-death-unmissable roads in Scotland, which subsequently required a whole day of plotting and an entire pink marker pen to pull together into some sort of Saltire mega-circuit. But that rosy highlighter did not give its life in vain, and we ended up with the most tortuous, meandering, circuitous, deviant, beautiful ramble of a 1,643-mile route around Scotland ever created.

There's just one problem: the car. Because the perfect vehicle for this particular route would have to be capable of so many mutually exclusive disciplines it would need to be made of shape-shifting sorcery. After all, the Scottish lap would require it to be economical and comfortable (to get there and back in the first place), and big enough to carry kit without feeling several months pregnant. It would then need to magically transform into something small and lithe when the good roads made an appearance. Which inevitably led to thoughts of either a) an improbable high-performance diesel version of the Lotus Evora and a lack of spare underwear or b) a big diesel truck with something interesting slung on a trailer.

But then the lateral thinking took a back seat. You need to flap the wings you're given. So we decided to take the TopGear Garage BMW 640d Gran Coupe. It makes sense. This car is about compromise, but in the best ways. It can be a long-distance hauler with enough space for four (five at a pinch), and it delivers decent fuel economy (45+mpg, equating to a just under 600-mile tank range) and yet comes equipped with enough bhp (313 of them) and torque (464lb ft) and a rear-drive chassis useful enough to make life interesting when the roads turn twisty. Ok, so the roads might have to be plus-size for comfort, the 640d being on the big side, but you get the idea. So, one bitter-cold Tuesday morning, we loaded the 640d GC with kit, filled it with fuel and set off, with just a clipboard of pinkly-promising routes and a hankering for adventure. The Lap of Scotland had begun.

Only it hadn't, because Scotland is still miles from where I live in England. So the road trip had to wait some five or six hours until we'd dispatched a great wandery swathe of A1 to get to the Borders. Immediately, I knew we had brought the right car. We did it in one hit, with fuel to spare, backsides that retained circulation and with a stereo powerful enough to drown out Justin the photographer's prodigious snoring. In fact, you tend to lose bladder capacity long before the GC requires refuelling, and the way it hums through the anaesthetic of a motorway journey, those long tranches of got-to-be-done, is a joy. Diesel Rohypnol: you get there and don't remember how. It whipped us to Scotland like a large brown private jet, and you could sense the self-satisfaction from Carlisle to Coldstream.

Pictures: Justin Leighton

Advertisement - Page continues below

BORDER PATROL: FINALLY, IT BEGINS

Which, incidentally, is where we crossed the border, and the Lap began in earnest. Now, Coldstream (home of the famous Guards) sits on the northern bank of the River Tweed in Berwickshire and considers itself the gateway to the Borders of Scotland, which is why it felt appropriate as a starting point. There's a 'Welcome to Scotland' type sign, but no passport control or barbed wire, and the border guard consisted of a small brown terrier, who just huffed at our ankles as we checked maps. Coldstream is a gateway, though. There's a feeling of change as soon as you pass through that putative portal of Scottishness. Maybe the air's a touch sweeter, the verges a bit greener. Maybe it's just being excited to be here. But the roads open out after the little village, a taster of what's to come.

Immediately, I know we've brought the wrong car. The GC feels massive and a bit fuzzy around the edges, groping around for body control and unsure of where it might end up if pushed. But Borders roads roll and pitch through a heavy swell of green countryside and stone walls without the sudden random arcs of UK roads, so I prod the GC into Sport mode from the lazy confines of either Eco or Comfort+, the latter two better to use the adaptive suspension to round off the corners and soothe the bumps on the motorway. The car tenses up, becomes more eager on the throttle and less inclined to roll and heave. It feels faster - as if someone's just thrown a bucket of icy water on its face and a coffee down its throat. The big BMW shrinks. You may still be aware of the size, but suddenly you know where the edges are, and the 640d starts to lean into the traces and haul. The trade off is that now we know the exact texture of the road, hit a couple of unsighted potholes and suddenly wonder where the spare and jack are, the GC crunching through larger depressions with the finesse of tooth enamel on kerbstone.

But these roads are an encouraging welcome to Scotland. Not much fun in the streaming wet, mind, but well sighted. We pass the first few miles to Kelso on the A698 and then to St Boswells on the A699 in a happy blur, eventually picking out some side roads to Galashiels and looping around to catch the A7 up toward Edinburgh.

A822 CRIEFF TO DUNKELD: MILES AND MILES OF LOVELY

So far, so good. The A7's a bit ordinary compared to some of the stuff we've just driven up, but it does the job. There's a huge temptation to visit Edinburgh, but we have to crack on, so it's another long loop around the A720 to the M8, then the M90 to Perth - bit of a diversion, this - so that we can run the A85 towards Crieff before picking up the A822 to Dunkeld. Then it's the A923 to Blairgowrie, and across east, marvelling at the traffic-free roads and rolling hills. And there are miles and miles of good roads. Exceptional roads. Roads you don't really find anywhere else.

So here's the thing. Once you start obsessing about particular bits of Scottish tarmac, you want to drive them again and again. But on the Lap, we can't. So we hoick back, grab the A90 and haul to Stonehaven, barely pausing for breath. Having stocked up on Jaffa Cakes, we run the A957 Stonehaven Slug Road to Crathes and then Banchory, pick up an old military road to Aboyne and then whip our way up to Ballater, Tomintoul, Grantown astride the Spey and, finally, Nairn. It's a tiring trip at this pace, with little relaxation, but the views and glorious roads are definitely worth it.

Advertisement - Page continues below

THROUGH THE FOREST PARK TO NAIRN

It's up here through the Glenmore Forest Park to the east of Aviemore when it all starts to feel more... Scottish. The palette swaps spectra from green to brown, the roads start to tighten and constrict. The trees pull back, as if suspicious of going further north, and the bracken and gorse spread like a glorious infection. It's beautiful and worth a pause, but we've been taking too long, even at this pace. So we head down the A96 towards Culloden and Inverness, find the A9 again and run across the Dornoch Firth all the way up the eastern coast of Scotland via the A99 to Wick. Seems a shame to do it in the dark, but there's too much ground to cover, and too few daylight hours.

THE NORTH BEGINS. THE PROPER NORTH

Next day, it's up and out and the northernmost reaches. More miles, and we arrive at John O'Groats, more to say that we've been than for the scenery, which, when compared with the rest of what Scotland has to offer, is more than a little bare. Strange little eco-hut holiday homes huddle on the promontory of land, exposed and fearful-looking. Scotland being so chock-full of the divine, it just seems a weird place to invest in the view. But there's a charm to the land hereabouts, the summer weather adding to the sense of calm. Though I doubt it looks so appealing when a big storm decides to stomp its way in from the sea. The wide moor-like stretches lend themselves to fun roads - with long lanes curling around the countryside. Unfortunately, they're full of tourist traffic, so we spear off west in search of something a little less crowded. Within an hour, we find it. Oh boy, we find it.

REVELATION. IT DOESN'T GET BETTER THAN THIS

The A836 to Tongue is one of the best roads in Europe. I have never seen another quite like it. The sign announces that the perfectly surfaced, wide two-lane is the product of some excellent European funding initiative. And it is, by all that's holy, deserted. And this isn't some miserly scratch of twisty road, this is a good 20 miles of stunning. The big BMW laps it up, swooshing imperiously across the countryside, feeling made for it. We couldn't have picked a better car.

We slip neatly onto the A838, and eventually run across the stonebuilt causeway towards Durness, basking in uncommon sunshine. But as we scoot around the bottom of Loch Eriboll, I know we've brought the wrong car. There are single-track roads here, notched with passing places, and the 640d feels huge and bossy and flash. Mind you, there's not a car on the planet that could go fast in these conditions, the roads tight and furnished with desperate margins, jumbled with crests and dips that lie about where the road goes next. And there are other people. Middle-aged bikers on rented BMW Tourers. Swarms of grey packed into minibuses or mounted in small retirement-spec motorhomes, dawdling at the view. But you can't blame them - when the weather is good, this scenery becomes a thief, stealing your breath. The skyline keeps expanding, the horizon crowded with less and less Sapiens clutter, until it feels like you might just fall off the edge of the world and into the sky.

And then it hits me. So far, in 80 per cent of the Scotland we've seen, dullness has been notably absent. And that's the thing. In England we had to stitch together great driving or sightseeing roads with swathes of mind-rotting motorway. In Scotland, it's been incessant. We're not looking at 10 or 15 miles of glorious; we're faced with hundreds of miles of awe. A country's worth of magic. We're not even halfway through.

SOUTHWARD BOUND - THE INCREDIBLE WEST OF SCOTLAND

Of course, there's more. We head west and south towards Lochinver on the B869, taking weird little side roads, just for the hell of it. Drovers' roads, scored into hillsides by the hooves of sheep and cows. Immediately, I know we've brought the wrong car. Big, technological, bruising BMW does not want to inch its way down a farm track, does not suit the grime and the cow poo. Although it doesn't show on the brown paintwork. It takes time to pick our way through the backwaters, and though these little places are wonderful to behold, islands of perfect isolation, they certainly aren't good driving roads. So we take the A837 past Loch Assynt and south on the A835 towards Ullapool.

Advertisement - Page continues below

GOD KNOWS, BUT IT'S PRETTY

It's starting to get a bit silly now. We turn corners and are consistently ambushed by the glory of the view. Mugged of metaphor. Completely stuck for sensible simile. Brains become devoid of intelligence. Poets would be struck dumb, their inspiration adrift. How do you describe something so wild and free and enormous and brimming with portent?

"This place is well cool", says Justin, without apparent irony, and heavy italics. "Yeah, it's like... y'know... wow," I reply.

We've stopped by the side of the road, and the Highlands of Scotland are spread astride the view. The weather is cool and clear, and in the distance there's an electrical storm with the sun behind it, so that big, thick celestial shafts spear down through frowning black clots of cloud, occasionally lit from behind by striking lightning. Sod Hollywood. Special effects and CGI haven't got a patch on this. For a start, I can smell the ozone and feel the pressure in my ears. It feels like the end of days. We run as if it was, down through roads that lurk in the shadow of stands of pine, skimming by Loch Torridon on the A896, and running across the Applecross Pass (Bealach na Bà) before heading south to Strathcarron on the A890.

FORT WILLIAN BOUND - ALMOST TOO MUCH

The funny thing about the Highlands is that it isn't pretty, really. This beauty is fierce and wild and full of edges sharp enough to draw blood, the mountains sheer and craggy. The sky above is the colour of a mortuary slab, a uniform grey, except for the western reaches where it darkens like a bruise. It's getting late again. So we run the A890 and A87 to Invergarry, then the A82 to Fort William, and fall into strange beds in an even stranger hotel. I'm running out of things to say. My head feels like it's about to pop.

Advertisement - Page continues below

DUE SOUTH - BACK TO NORMALITY. ALMOST

Next morning, it's the A82, A828 and A85 to Oban, and, at last, the view starts to calm down. Still incredible, but less hysterically attention-grabbing. The roads below Oban, around Loch Melfort and towards Lochgilphead are great fun, but busier than we've been used to these past couple of days, filled with some committed bikers, and less highland than the Highlands. Back up to Loch Lomond, the Trossachs National Park and some classic scenery, busier again, then Balloch and Greenock. Greenock feels a lonely, industrial place, and we run through an inner-city-style estate, groping blindly for a road we found on a map that cuts across the Clyde Muirshiel Regional Park towards Largs. We drive out of the estate up what looks like a dead end, and within four hundred yards are back out on the moorland, slightly startled. Seems like surprise is commonplace on this trip. But these one-track roads really are too claustrophobic in the 640d, so we head down towards Girvan and then Barrhill, and cut across the Galloway Forest Park and run the old Queen's Way to Castle Douglas. And it feels like the show is coming to a close - the view becomes more familiar to me, more English.

STARTING EAST AGAIN: AND THE FINISH

Tired, it's a simple thing to take the A75 to Dumfries, the A701 to Moffat, the A708 to Selkirk, up to Galashiels and then across to Coldstream to close the Lap. Three days is all it took to skim the surface of Scotland, to briefly dash around the edges.

But it was enough to figure out that there's so much more to see. Wise to the fact that we know very little, have seen not enough. But I wonder how many English people obsess about running south into Europe for their road-trip escape, and forget to look up to Scotland first. To one of the most beautiful places in the world. Another country, but not so far from home.