Top Gear Advice
10 used cars to buy instead of the UK's 10 cheapest new cars
Low insurance groups, lengthy warranties... these are the cars you can get if you're willing to give that sort of thing up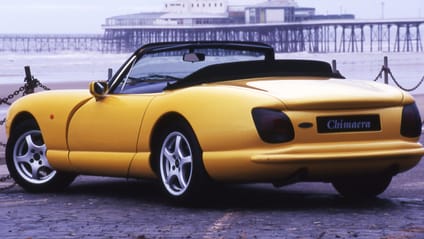 Instead of a Dacia Sandero – a Ford Fiesta ST

For £12,995 (or indeed £200 a month), you'll get a white Sandero, with steel wheels and an extensive standard fitout that includes a light in the boot, manually operated rear windows and a "normal door key". Don't get us wrong, it's still a fine car, with everything you need from a car (earning its 'Essential' trim level, you could say), but it's not one of the greatest hot hatches ever made, is it? 

The Fiesta ST, on the other hand, very much is. The reasons for such an appellation are extensive – and covered quite nicely here, if you're interested – but in brief, the ST perfectly blends subtlety, speed and old-school satisfaction in perfect proportions. Great-condition, low-mileage examples abound for 12 grand or less, leaving you £1,000 free for upkeep, petrol – or the extra £100 a month that a loan would cost you over a PCP on a Sandero. You would actually own the Fiesta at the end of four years, mind.

Advertisement - Page continues below

Instead of a Kia Picanto – an Alfa Romeo 147 GTA

For £13,400, the little Picanto offers pretty much what you'd expect in return – seven years of warranty, 66 horsepower, a five-speed manual, 14-inch steelies and a two-speaker stereo. It also serves up an appalling shade of yellow that Kia calls 'Honey Bee', but might more accurately be titled 'I Must Be Dehydrated'. 

What the Picanto does not offer – and what might be unreasonable to expect from it – is one of the best engines in the world, nestled just behind one of the best badges in history, propelling one of the most savage and sublime hot hatches of all time. 

Similarly, it'd possibly be beyond the pale to expect hand-stitched leather, or chrome intake runners feeding a 250bhp V6 animal that it takes the full force of Brembo brakes to rein in again. Or a passionate owner's club, whose members dedicate hundreds of hours and thousands of pounds to ensure that the cars on the road today are as good or better than the cars that left the factory. 

You do get that warranty, though. And that's something. 

Instead of an MG 3 – a TVR Chimaera

We are, as you'd expect, going to imagine that today's MG buyer cares more about the uniquely British heritage and engineering than it does a £13,795 asking price, Kia-rivalling seven-year warranty and mostly full complement of modern appurtenances. 

Which means, as you'd also expect, that we're going to pick something that's more in line with the ideal of British heritage and engineering, even if said engineering could often be less than ideal. 

And the TVR Chimaera is British in all the best ways, but also in every way that many modern interpretations of Britishness are not.

Advertisement - Page continues below

Instead of a Citroen C3 – a Citroen CX GTi Turbo

A rather reasonable sum of £13,995 gets you into the Citroen club with the C3, a suitably sedate, stylish and reasonably slow supermini that suffers in no way shape or form because of it. And that's lovely.

What it unfortunately isn't, however, is one of the big, bold and beautifully idiosyncratic Citroens of old – like the CX GTi Turbo. From the outset, the CX was meant to get a triple-rotor engine, but attempting (and failing) to solve the rotary's inherent issues was enough to actually bankrupt Citroen, leaving it under the auspices of Peugeot and without its intended engine for the CX. It had to plug on with old-school (if properly reliable) pushrod piston engines of... let's say potential potency. That potential was finally realised with the CX 25 GTi Turbo.

As standard, there's about 165 to 170bhp on offer – finally a match for the CX's abilities – but if that feels slow by modern standards (and you actually have a need for more), it'll easily do north of 200bhp with a slight adjustment of the turbo boost pressure. OK, so the GTi is not the last word in steering feel – driving without a physical connection between steering wheel and driving wheels will do that – but as a serene (and deceptively quick) tourer, it'll have the measure of modern limousines, let alone small hatchbacks.

Instead of a Volkswagen Up – a Renault Clio 200

When the Up first arrived on UK roads about a decade ago, it cost all of £8,000 to buy the base model. Given how the past decade has gone, it's perhaps unsurprising to find that even the most basic Up now costs £14,210. Even so, the better part of 15 grand is still quite a bit of cash to play with for those interested in a happy little hatchback.

Which the title has no doubt already given away. Perhaps in the future, the end of Renault Sport will create a frenzy for the 45 years it was in business, cranking out some of the best hot hatches we've driven. And also the latest Megane RS.

The Clio 200 is obviously the closest to the Up in terms of dimensions (and sheer happiness), and unless you can't abide the firm nature of the 'Cup Chassis' option, it's a perfectly comfortable way to burble around at low revs. But should you wind each gear out to 7,500rpm – the 2.0-litre only makes its peak of 197bhp at 7,100rpm – it becomes an absolute old-school thrill. And, being a product of Renault Sport, it's imbued with incredible grip and poise.

Instead of a Dacia Sandero Stepway – a Land Rover series. Obviously

If you're going to be an active, off-road, rough-and-tumble kind of person who knows the best way to lace their Merrells, layer their Icebreaker and pack their North Face, then why not get a vehicle that's every bit as rugged – and arguably nowhere near as pretentious? 

Yes, it's the Land Rover series – a vehicle born of necessity, designed for utility and free from frippery. How could it not appeal to the Thermos, enamel plate and titanium spork crowd? Even the series III is now well into the ULEZ exemption age of 40 years old, including the up-spec County Station Wagon versions that arrived in 1982. 

All of which means you can nab a ULEZ-exempt, go-anywhere seven-seater for the price of a Dacia Sandero Stepway. And yes, it'll have exactly the same affinity for press-on driving. But with fuel this expensive, surely it's worth taking your time?

Instead of a Fiat Panda – um, about that

The Fiat Panda is such a good thing – a cheap hatchback that somehow manages to work in the city, on winding back roads and along dual carriageways – that we're going to break with convention a touch and suggest... buying a Fiat Panda. 

Not the new one, mind. And that's for a few reasons – it's not actually new, you can't get the hilarious and idiosyncratic two-cylinder TwinAir engine anymore, and we're of the opinion that the very finest Pandas come with all-wheel-drive. 

So it's off to the nearly-new end of the second-hand market, to find a Panda (or Panda Cross, if you prefer) 4x4 with a TwinAir engine. And the good news just keeps coming: they're easily available for the £15,000 or so a new Panda will cost. They're also pillow-soft, hilarious fun and able to do more than 40mpg – even while revving the two-cylinder up as it basically begs to be. And what's more, getting a 4x4 version means the Panda's able to add muddy dirt roads, paddocks and proper off-road courses to its repertoire. Also Mount Etna, as it turns out.

Advertisement - Page continues below

Instead of a Hyundai i10 – a Mazda 3

What, exactly, drives a person to buy an i10? The extensive warranty, perhaps. Or how practical it is. Maybe absolute reliability. Well, afraid to burst bubbles here – the i10 isn't even in the top 10 of reliable cars over the long term, as we discovered. The Honda Jazz is, of course – coming in at number one – but just behind it is the Mazda 2, one of the most overlooked little hatches we can think of. Which is a £17,000 or so ask new, but you can easily find for £14,850 – a skerrick less than a new entry-level i10. 

But, even though we're still trying to be as sensible and practical as we imagine an i10 buyer would be, we're inclined to point them towards a Mazda 3. And why wouldn't we, when it boasts gorgeous design inside and out, a luxurious and cosseting cabin, and – as reliability reports prove – the kind of build quality and reliability that outdoes Toyota at its own game?

Instead of a Dacia Duster – a Subaru Outback

What could we possibly find that manages to dust the Duster? We've already featured the Panda 4x4, the newest Jimny is too expensive, and the Mehari – as generally indestructible and tremendous as it may be – might be somewhat beyond the pale for your average Duster buyer. After all, things like 'glass windows', 'right-hand drive' and 'more than 30bhp' are attractive selling points these days.

What about a Subaru Outback? Unlike the new base-model Dusters, it's all-wheel drive. And that's full-time all-wheel drive, too, as opposed to the front-drive-by-default 4x4 Dusters. You'd be amazed at just how far an Outback can go off-road, even in regular road-going trim. Add some steelies and chunky tyres for totally awesome looks... er, extra off-road capability and you'll be tackling actual 4x4 tracks. Really.

We're particularly fond of the H6-engined Outbacks, because a) it's a flat six, b) it can run on the cheapest petrol you can find and c) let's return to that 'it's a flat six' part of the equation. Just a handful of cars can boast such an engine. They were also the top of the tree in terms of spec, so you'll have all sorts of luxury inclusions to go with your 256bhp flat-six and permanent all-wheel drive. Oh, and about four to six grand to spend on off-road kit and petrol.

Advertisement - Page continues below

Instead of a Toyota Aygo X – an MX-5

Yes, the little Aygo has grown, quite literally, up. But, (almost definitely not) because that name was taken, the result is called the Aygo X. And it's... well, an Aygo, with enough ride height to not really worry about speed bumps anymore. When combined with a manual gearbox, it makes for a perfectly fine city car for people who've forgotten the Fiat Panda exists, but we can do better. 

For the nearly £16,000 you'll need for an Aygo X, you can take your pick of modern MX-5s, in both the more powerful 2.0-litre and arguably sweeter 1.5. In fact, you'll rarely need more than 14 grand.

And before you think we've left logic behind, consider the following. The MX-5 was actually rated as more reliable than the Aygo in a recent study, while both the 2.0 and 1.5-litre engines can actually hit – and exceed – their official fuel economy figures at about 41 and 47mpg respectively. As for boot space, the MX-5 has a pretty scant 130 litres, but watch it swallow three or four soft carry-on bags and then consider how often you really need to take more than that. And yes, the Aygo X does get more like 230 litres, but it's not like anyone's choosing them to move house.

OK, the missing rear seats. Well, the Aygo's only got two pews in the back, and they're bordering on cruelty for anyone bigger than Oliver Twist. So, if you find yourself in need of extra chairs and extra space on the odd occasion, the grand or two you'll save by buying an MX-5 should cover the cost of a few taxis...