Top Gear Advice
The beginner's guide to Aston Martin
The ins and outs (and ups and downs) of Aston Martin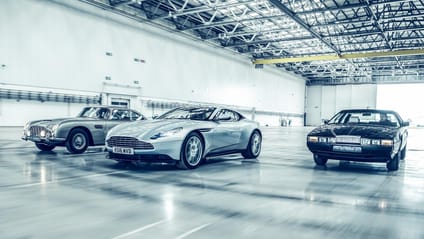 Who's Aston Martin, and when did it start making cars?

Aston Martin is a British luxury and sports car manufacturer, who seemingly exists only to supply gorgeous cars to Q Division of MI6... which never do seem to make it back in one piece. But, unlike dear James, Aston is a real manufacturer that makes really desirable cars, not hit-and-miss movies with cheesy one-liners. Looking at you, A View to a Kill.

Aston Martin has a fair few years under its belt, getting its start way back in 1913 when Messrs Lionel Martin and Robert Bamford plumbed an English racing engine – a Coventry-Simplex, in case you were curious – into an Isotta-Fraschini race car, which had been designed by none other than Ettore Bugatti. An auspicious start, you might think. Well, 1914 kind of had other plans, as Wikipedia will helpfully explain, and it ended up being 1919 before a production Aston Martin ever left the factory.

So where does Aston fit into the equation, you ask? Simple: Lionel Martin used to race cars up Aston Hill in Buckinghamshire. Now you know.

Advertisement - Page continues below

Where are Astons built, and how many does it build a year?

Aston's got a new factory out in St Athans in Wales, at an old ex-RAF base, but you'll still find the Aston flag waving in Gaydon and Newport Pagnell in jolly old England.

All up, Aston built about 6,000 cars a year in 2018 and 2019, but, with 2020 being the least predictable year we've ever lived through, let's go ahead and say the jury's out on its capacity this year.

The upcoming DBX should push sales higher, because everyone is still just doolally for SUVs, but Aston's noted the kind of sluggish uptake of Vantages, which is just lunacy for something that looks that good.

What cars does Aston build?

At the moment, Aston's got a lot of new cars about to come on stream in the DBX luxury SUV, and track-ready Valhalla and Valkyrie. But as it stands, you can buy the fearsomely quick (no, really) DBS Superleggera, the DB11 grand tourer and the Vantage sports car. You can also buy the Rapide, if you really want to. But it's about as old as the Ten Commandments and the market for top-end four-doors really isn't what it used to be.

If you happen to own many businesses, oil fields or bitcoins, you might be able to pick up one of Aston's collaborations with the thoroughly excellent coachbuilder, Zagato, which they do from time to time. You might also already be on the list for one of its Adrian Newey-designed superduper-hypercars. If so, lucky you! Please give us a call.  

Advertisement - Page continues below

What's the cheapest car Aston builds... and what's the most expensive it builds?

A cheap Aston Martin? Excellent idea! Let's get some vegetarian pork, dry water and remotely believable world leaders while we're at it.

The cheapest new Aston you can buy is the £120,000 Vantage, with its Mercedes-supplied 4.0-litre V8, gigantic front grille and steering wheel shaped like Edvard Munch's The Scream. It's a very entertaining thing to drive, of course, as Aston's sports car should be.

At the other end of the scale is the £2.5m Valkyrie, which is perhaps one of the most brain-scrambling combinations of figures and form we've ever seen. And then, to top it off, it's going to be road legal.

What's the fastest car Aston builds?

Well, that depends, really, on your definition of 'builds'. For instance, the Valkyrie's top speed of about 250mph is comfortably ahead of Aston's (admittedly never exactly slow) range. But deliveries have been delayed to 2022 on the back of another hard year for Aston, so it won't be publicly hitting speeds like that any time soon. So we look instead to the 211mph DBS Superleggera, which takes the honours for fastest Aston... for now.

Also, if we're talking purely fantastical movie cars, that rocket-powered V8 Vantage from The Living Daylights would probably take the biscuit, by dint of being, y'know, rocket-powered. And that has to be faster than a Valkyrie, Cosworth V12 or no.

And all of a sudden, we just had the best idea for a Top Gear drag race ever.

What's been Aston's best moment?

That'd have to be its association with a certain suave secret agent, surely. No other manufacturer is as synonymous with a fictional character as Aston, and no manufacturer that we can think of has had such a globally renowned icon as a brand figurehead.

And that association of the perfectly besuited gent and his wheels lent an otherwise financially shaky and not-always-cutting-edge company something that all manufacturers want: a dose of cool big enough to reverse global warming.

If you're of a pipe-and-elbow-patches disposition, you'll likely say something about its wins at Le Mans or something. Sure thing, bud.

What's been Aston's worst moment?

That's probably a tie between the seven times it's gone bankrupt over the 20th century, or the fact that it needed another bailout in January 2020 from Lawrence Stroll, Racing Point F1 team owner and father of Lance.

Or, y'know... the Cygnet.

Advertisement - Page continues below

What's Aston's weirdest, most surprising moment?

Was it when they announced they were building a boat, flying car, motorcycle and a submarine? Very probably. Frankly, at this point, we wouldn't be surprised if Aston announced that it was forming a Synthwave band, starting up a new social media service and planning to colonise Mars.

What's the best concept Aston built?

We were all set to pick the DB10. Truly. Maybe it was seeing it slither through Roman streets with James Bond's chosen stunt driver at the wheel, maybe it's the way it both preceded and somehow outshined the Vantage that its design hinted at. Or maybe it's because it just looks damn good.

But then we remembered the Bulldog, perhaps the most 1980s-looking car we've ever seen. And that's a bit odd, considering it was released in 1979. Eh, close enough. So, what made the Bulldog so cool, apart from its straight-outta-Tron looks? It was made to chase speed records, with a 700bhp, twin-turbocharged 5.3-litre V8 (remember, in the late 1970s) and a claimed top speed of 237mph. OK, so it only managed 190-odd miles per hour, but we don't remember that being all that slow.

Advertisement - Page continues below

Tell me an interesting fact about Aston Martin.

Interestingly, Aston Martin once did a booming side business in delicate porcelain replicas of old Le Mans race cars. This may or may not be a complete fabrication on our part.

But they do have a royal warrant to supply the Prince of Wales! And that's at least mildly interesting. Oh, and now that Stroll Sr owns Aston, expect to see Stroll Jr driving Aston Martin F1 cars in the future! Or not... it is Aston, after all.