Top Gear Advice
The beginner's guide to Fiat
Cars that make a virtue of being small and cheap? You know where to go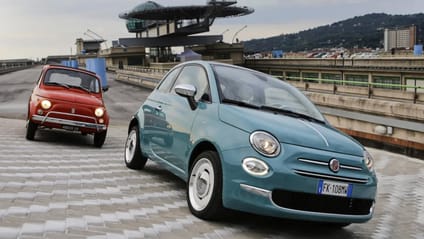 Who's Fiat, and when did it start making cars?

Fiat, or the Fabbrica Italiana di Automobili Torino, rather feels like a car company that doesn't need much in the way of introductions. It is, after all, one of the very first car manufacturers, with a history that extends back to 1899. That isn't just the black-and-white days; that's the 'hold still for a full minute while I take this photograph' days. 

As you might imagine, panning shots were probably not on the table for Fiat's first car back at the turn of the 20th Century, even if it only had four horsepower. 

Advertisement - Page continues below

Where are Fiats built, and how many does Fiat build a year?

Well, there's a fair hint in the name – in English, Fabbrica Italiana di Automobili Torino means 'Italian Automobile Company Turin' – but as you might expect, it's rather grown beyond Turin in the one or two years Fiat's been in business. If you choose to look, you can find Fiat factories in Poland, Brazil and Argentina, as well as a couple in southern Italy. Should you add joint ventures and so on, the list expands to the likes of Turkey, India, China and Mexico. 

In terms of build numbers, that's not really something that FCA or the new Stellantis omniglobalhypermegacorp tends to publicise. Total sales for the conglomeration, sure, but which brand did what? Not so much. 

Even so, we've found current sales numbers ranging from 1.1 million to 1.8 million Fiat-badged cars per year. And, when a single factory has built more than 2.5 million current-gen Fiat 500s (and nearly as many Pandas), we'd say those numbers are within the bounds of reason. We'd also say a hearty well done to the folks at Fiat Poland, because that's some hard graft right there. 

What cars does Fiat build?

In a word, many. And that's just keeping it to cars with an actual Fiat badge on the front. 

There'll be the ones with global recognition – Panda, 500, Uno, and Tipo – as well as offerings like the Mobi, Pulse and Cronos in South American markets. There are some joint-venture commercial vehicles as well, like the Ducato van, but we'd wager the 500 has the biggest global reach. As it probably should, to be fair. 

Advertisement - Page continues below

What's the cheapest car Fiat builds... and what's the most expensive it builds?

That rather depends on where you live, but the cheapest will generally be a Panda, 500 or Mobi. 

And the most expensive, funnily enough, also depends on where you live. A fair bet, where they're still offered for sale, would be an upmarket version of the bigger 500L or 500X. For someone in the UK, the priciest Fiat will be the all-electric 500e. 

What's the fastest car Fiat builds?

Fiat itself isn't renowned for quick cars these days. Some would say, with a few notable exceptions, that Fiat's never been renowned for quick cars, but the original point remains. So singling out the fastest Fiat would be like choosing the heaviest feather in a pillow.

Something with an Abarth badge is a better, if more obvious choice – the 695 Competizione is a fair bet, if you can sidestep Abarth's rebirth as an independent (y'know... ish) brand. 

What's been Fiat's best moment?

On balance, we'd have to say when it found such success with democratically priced, accessible cars that it had the wherewithal to buy storied manufacturers like Lancia, Alfa Romeo, Maserati and Ferrari. These are the companies that made Italy's name as the home of exclusive luxury and performance (well, for anyone who wasn't alive at the turn of the 20th century), so for Fiat to have been in a position to save them is a testament to how it does business. 

And yeah, that whole 'save' thing... we can understand if you, or anyone you know who loves Lancias, might not agree with that assessment.

What's been Fiat's worst moment?

As you'd expect from a company with more than 120 years in a fast-paced and unforgiving industry, Fiat – and the people who have run it over the years – have faced their fair share of vicissitudes. Dealing with some fellow called Benito Mussolini feels like a low point in anyone's history, but for the Agnellis to be kicked out of leadership roles because of it... Well, it adds injury to insult, to torture a metaphor. 

Advertisement - Page continues below

What's Fiat's most surprising moment?

A big part of being surprising is to do something suddenly and out of character. So really, the credit for Fiat's most surprising moment goes to something entirely outside of Fiat, and outside of its control: the 1973 Oil Crisis.

If you're not familiar with it, the gist is that for various reasons, petrol became extraordinarily expensive and scarce. You could almost say the change was sudden and out of character, if you're OK with petrol being anthropomorphised. 

It surprised precisely no one when sales of American metal with gigantic V8 engines suffered, or when Italian supercar makers hit the wall, but for Fiat – maker of small, efficient cars – to suffer seemed counterintuitive at least... and most surprising, if you will. 

What's the best concept Fiat built?

Oof. Now that's a £64,000 question. In terms of modern concepts, it's the Centoventi for sure – an electric Panda where you can swap and change out bits like a modular synthesiser – is something we'd have in our driveway tomorrow. But best ever? Eeerrrmm...

Our personal favourite would be the Panda 4x4 Strip from the Eighties, which basically took the brilliant Panda 4x4 and made its bodywork removable, like the Land Rover Series, as well as adding the longitudinally mounted bench seats and fold-down windscreen. 

You might love the original Fiat-Abarth BAT car (no judgement here) or go weak at the knees for the Turbina, but for absolute 'best' status... it actually has to be the cutesy Trepiuno concept from 2004. Yes, really. 

Fiat is famous for building cars for the people, so it stands to reason that its best concept became the modern Fiat 500 – an affordable, affable little car that went on to sell by the millions. A perfect measure of the 500's success in design, execution and price is that it became the cheap rental car you'd cross your fingers to get. Although a Panda would be good too, if you've got it. 

Advertisement - Page continues below

Tell me an interesting fact about Fiat.

After the shock of the 1973 Oil Crisis, Fiat was in serious need of cash. As was just about everyone, but let's stay on topic for once. 

So in 1976, Libya - at the time led by Muammar Gaddafi - spent $400 million to buy up around 10 per cent of the company. Libya would sell its stake for about $3 billion, just 10 years later.