Top Gear Advice
The beginner's guide to Mercedes-AMG
Aftermarket tuner turned in-house skunkworks and F1 juggernaut. It's been quite a journey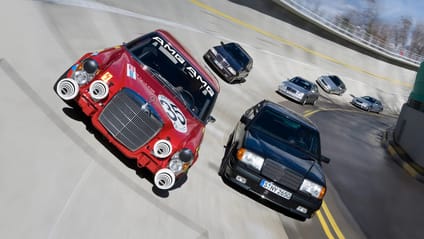 Who's AMG, and when did it start making cars?

If you recall our beginner's guide to Alpine, we compared it to AMG – both started off as an independent concern, taking the solid mechanicals of a major home-grown manufacturer and extracting something special enough for the whole world – and indeed said major manufacturer – to sit up, take notice and team up. And eventually buy the smaller company outright, then make it the head of its F1 program. The parallels are almost uncanny.  

Hans Werner Aufrecht and Erhard Melcher were both employed at Mercedes, where they developed race engines. But when Mercedes pulled out of motorsport entirely (look up the 1955 Le Mans disaster for a primer on that one), Aufrecht and Melcher were left with the skills, experience and desire to keep developing race-worthy engines. Aufrecht convinced Melcher to join him in a new business, adding his home town of Grossaspach (or Großaspach, if you insist on Standard German) and becoming 'Aufrecht Melcher Großaspach Ingenieurbüro, Konstruktion und Versuch zur Entwicklung von Rennmotoren', or just AMG for short.

As to when AMG started making cars... that rather depends on your definition of 'making'. AMG was building race engines under its own name in the 1960s, and fielded a heavily modified 300 SEL that you might know as the Red Pig in 1971. Through the Eighties, you had extensively modified cars like the Hammer, and by 1990, AMG was Mercedes' official racing partner, bringing home no fewer than 50 DTM victories with the 190 E race car. The first fully AMG-built car that we can recall is the CLK GTR from 1997. But what a way to start.

Advertisement - Page continues below

Where are AMGs built, and how many does AMG build a year?

AMGs are built in Affalterbach, less than 10 miles away from Aufrecht's home town in Grossaspach. Which is a nice little dose of warm and fuzzies, considering the leviathan that AMG has become. Or indeed Mercedes-AMG, as it's now known.

In terms of build numbers... well, about that whole 'juggernaut thing'. In 2021, Mercedes-Benz as a whole sold about 2.1 million cars – down five per cent on the year before, for all the reasons you expect. But even in that downturn, Mercedes-AMG sold 145,979 cars, a 16.7 per cent uptick over 2020.

What cars does AMG build?

If you want a list of every AMG-badged Mercedes, we'd be here all week. But to actually lay out the full cars that AMG builds at Affalterbach, that's actually a very short list: none.

Affalterbach is where engines are built, before they're taken to Mercedes and installed in the proper AMG cars. The V12s are shipped over to Pagani, for use in those delicious pieces of automotive exotica. And we'd do the same thing if we were Horacio.

Even the AMG One only kind of counts – while it was developed in Affalterbach, it's built in England.

Advertisement - Page continues below

What's the cheapest car AMG builds... and what's the most expensive it builds?

OK, let's go ahead and count the AMG One anyway, because a) it's called the AMG One, and b) it was developed by AMG as a road-going version of a race car that AMG also developed. That'd be the most expensive – quite comfortably, actually, given it's £2.5 million a pop.

As for the cheapest? Well, let's be equally lenient with 'build' and give it to the A45 AMG at £41,600 or thereabouts – which gets you the full-fat AMG experience, if not the V8 rumble you might expect to accompany it.

What's the fastest car AMG builds?

Without a doubt, that's the Mercedes-AMG F1 car. Taking the constructor's title in F1 for eight years running in Formula One is an unequalled feat in the sport's history, and that's despite a collective spend to break that streak that's probably closer to the billion-pound mark than anyone would like to admit.

In terms of road cars... you see where we're going here. Of course the road car based on the most dominating F1 car of all time is going to be pretty brisk. Although an honourable mention to the road-going CLK GTRs based on the endurance racers, which could hit 214mph back in 1997.

What's been AMG's best moment?

Again, we find huge parallels with Alpine, in that there's a decent argument that right now is the best moment for AMG. Like Alpine, it started independently, was brought in house and ended up in charge of its efforts at the pinnacle of motorsport. Imagine starting off as a racing concern, having that morph into more general aftermarket tuning, getting the call-up to be Mercedes' go-faster division and then being handed the reins of Mercedes' motorsport program. The mind boggles.

And, like Alpine, this moment would never have happened without some seriously impressive motorsport moments. For AMG, that's inarguably when a gigantic four-door saloon caused an even bigger upset at the Spa 24 Hours: a class win and second overall. The legend goes that it would have taken line honours as well, had it not needed quite so many stops for fuel and tyres.

What's been AMG's worst moment?

Bad moments don't really abound for AMG, to be honest. There's probably something there about a certain race director making a certain decision and how certain it is that it would have changed the outcome of a certain race.

But for anyone at the Mercedes-AMG Formula One team to have to say, 'We have eight consecutive constructor's championships, but only seven consecutive driver's championships, because of a weird decision by a race director' is hardly something that'll get you laughed out of a room.

Ending that eight-on-the-trot streak due to something as silly-sounding as porpoising, on the other hand...

Advertisement - Page continues below

What's AMG's most surprising moment?

How often do you hear that an aftermarket tuning company becomes not just a part of the main manufacturer (which is itself a pretty short list) but an integral part of the company, assuming control over its biggest marketing and development arm – motorsport?

And this time, not even Alpine counts – it built whole new cars based on Renault platforms and engines.

What's the best concept AMG built?

Like a few others – Lotus and, yes, Alpine again – AMG isn't really about the whole 'concept that explores the future design direction for the AMG brand' kind of guff. At least yet. We're watching you, buddy.

So, happily, this means we're going to be talking about an AMG concept that became reality. And we're going to have to hand it to the AMG Project One, which (eventually) became the AMG One. Converting a race car for road use is hardly a new concept (hi there, Ferrari F50), but doing it with a race car this complex and difficult to drive is something else entirely.

Advertisement - Page continues below

Tell me an interesting fact about AMG.

Back in the glory days of diesel, a number of manufacturers went hard on high-performance, road-going oil burners. The VW Group gave us a V10 leviathan, for instance, and BMW had its unnervingly quick tri-turbo straight six.

AMG, on the other hand, did its own experiments with diesel before arriving at a simple conclusion: a hard no. And why? Because "petrol engines have obvious benefits of sound, weight, agility and response". No arguments here.