Top Gear Advice
The beginner's guide to Suzuki
All the Suzuki trivia and history you could ever need in a single cheat sheet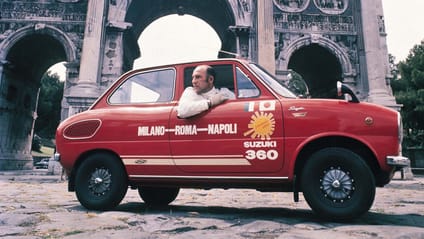 What's Suzuki, and when did it start making cars?

Suzuki is a car manufacturer, except when it isn't. You see, Suzuki actually makes a lot of things: motorbikes, ATVs, outboard engines for boats… it's the industry's Jack of all trades, so to speak.

It began life as far away from cars as you can imagine, founded by Michio Suzuki in 1909 as a manufacturer of looms. The business grew steadily over the next few decades despite economic turmoil in the 1920s, and even though things were going well Michio had ambitions beyond the weaving industry. In the 1930s he began experimenting with automobiles, even going as far as building a prototype, but World War Two put those plans on hold.

After the war, Suzuki's decimated business was allowed to resume as plans were drawn up to kickstart the textile business in US-occupied Japan. But demand for looms had dwindled and by 1954 the company changed tack, becoming Suzuki Motor Co., Ltd. A year later its first car - the 360cc, two-stroke Suzulight - went on sale, having been developed by a team containing just six people.

In 1990 it took on the name Suzuki Motor Corporation, and today it employs tens of thousands of people. All of whom probably owe their livelihoods to the efforts of those initial six.

Advertisement - Page continues below

Where are Suzukis built, and how many does it build in a year?

Suzuki's headquarters are located in Hamamatsu (where it also opened a plant in 2018), and the company has domestic facilities in Kosai, Sagara, Osuka and Iwata. It also has factories in 18 countries outside of Japan, including India, China, Thailand and several more across Asia, plus Hungary, Brazil, Colombia and the USA.

In 2019 the company built around 1,729,000 motorbikes and 2,966,000 cars, with two million of the latter being assembled overseas.

What cars does Suzuki build?

If we tried to go through the entire list of cars that Suzuki manufactures in different markets around the world, we'd be here all day. So focussing just on the UK, the number of cars Suzuki builds can be narrowed down to half a dozen or so.

The smallest car it sells here is the Ignis city car, although you probably wouldn't describe it as such on first glance. The Ignis is basically a miniature 4x4, twinning off-road ability with a footprint to rival that of the Volkswagen Up and Hyundai i10. So if you live at the top of a muddy hill but work in the middle of a big city, this is the car for you.

Next up is the Swift supermini, swiftly followed (see what we did there?) by the Swift Sport hot hatch. While it's decent to drive it's more of a warm hatch in reality.

Then there's the Vitara crossover, the SX4 S-Cross SUV, the Swace estate (Corolla Touring Sports rebadged) and the Across SUV. A while ago Suzuki and Toyota agreed to start sharing their cars, so the Swace and Across are based on the Corolla Touring Sports and RAV4 respectively. In keeping with the times, all of Suzuki's cars can be had with hybrid tech.

Advertisement - Page continues below

What's the cheapest car Suzuki builds? And what's the most expensive?

The Ignis is the cheapest car that Suzuki sells here in the UK, with prices starting from £12,499 at the time of typing. All versions hit 0-62mph in 12.7secs thanks to an 82bhp engine, and the entry-level SZ3 trim comes with air con, LED headlights, Bluetooth, a DAB digital radio and - weirdly - a CD player. Not that CD sales peaked 20 years ago or anything...

The most expensive car Suzuki sells is the Across SUV, which starts at an almost hilarious £45,599. The reason for the hefty price tag is that the Across is a plug-in hybrid as standard, so it can drive an alleged 46 miles on battery power alone. If you're familiar with eco-economics, that could be a handy money-saver for the right person.

What's the fastest Suzuki ever built?

The other reason the Across is so expensive is that it's technically the fastest car Suzuki's ever built. And by 'built', we mean 'replaced the Toyota badge on'. You see, the car's 2.5-litre, four-cylinder engine combines with a pair of electric motors for 300bhp, and by working together they propel the Across from 0-62mph in six seconds flat. That's more than two seconds quicker than the Swift Sport, a car that Suzuki had only previously bettered in terms of acceleration with the short-lived Kizashi saloon.

If we're going on top speed alone, then the fastest Suzuki ever built isn't a car at all: the Hayabusa motorcycle (2021 model pictured) peaked at around 194mph when it was introduced in 1999, shortly before bike manufacturers got round a table and decided it'd be best if they all limited their machines to 186mph (300kmh) before lawmakers did it for them.

What's been Suzuki's best moment?

Midway through the 1970s Japanese manufacturers began to overhaul MV Agusta as the undisputed kings of fast motorbikes. Yamaha won its first constructors' title in the premier 500cc class (now called MotoGP) in 1974, and two years later Suzuki achieved the same feat. And there it remained until 1982, winning seven championships in a row as the likes of Barry Sheene, Marco Lucchinelli and Franco Uncini claimed the drivers' crown in that period.

Suzuki machinery has also won the motorcycle edition of the 24 Hours of Le Mans on 13 occasions (just one behind record-holder Kawasaki), doing so for the first time in 1982.

What's been Suzuki's worst moment?

That has to be the creation of the X-90. In the early 1990s, someone at Suzuki had the bright idea of making a sports car that was easy to live with, and a concept aimed at testing the water for such a vehicle was drawn up for the Tokyo Motor Show in 1993. World, say hello to the X-90.

Except Suzuki interpreted 'Hello' to mean 'What a marvellous thing that we'd all definitely pay money for', and so it actually put what can only be described as a two-seater SUV into production. The X-90 was an unmitigated failure: it was slow, rubbish to drive, unrefined, unreliable and - for a number of reasons - not very practical either.

The X-90 was a sales flop everywhere and Suzuki killed it off after a year and a half. Today it's often found lurking in the middle of 'worst cars ever' lists throughout the internet. Good.

Advertisement - Page continues below

What's Suzuki's most surprising moment?

These days anything and everything is going electric. You might think it's a new phenomenon, but Suzuki was doing this stuff more than 40 years ago. In 1970 it created its first electric car, basing its one-off EV around its Carry Van to be showcased at Expo '70 in Osaka, Japan. The electric van was used to patrol the venue, and had gauges on the dashboard for remaining charge and amperage. Clearly it was ahead of its time.

Then in 1979 Suzuki (with help from the Musashi Institute of Technology) went one further by adapting its two-stroke-engined Cervo coupe for hydrogen fuel. Dubbed the Musashi III, it produced no tailpipe emissions and could reach speeds of 73mph. Both cars are now on display at the Suzuki History Museum in Hamamatsu.

What's the best concept Suzuki built?

If you Google the phrase 'Suzuki concept car', you'll be scrolling for an awfully long time. If some manufacturers have a soft spot for concept vehicles, the Suzuki has an addiction.

In the last decade alone we've seen the Regina concept, the Crosshiker, X-Lander and Hustler concepts, the Air Triser and Mighty Deck concepts, the WAKU SPO and HANARE concepts and the student-drawn Misano concept, among many, many others.

So you can take your pick when it comes to the best ever Suzuki concept. For us, it's hard not to love the Jimny Sierra Pickup Style of 2019: it had chunkier tyres, winch hooks, LED spotlights and was designed for people who enjoy "DIY and other hobbies". Sadly, it never made production. Probably because Suzuki learnt its lesson from the X-90.

Advertisement - Page continues below

Tell me an interesting fact about Suzuki.

How do you drum up attention as a carmaker? These days it's all about social media and collabs (probably), but back in the Sixties all you had to do was drive very fast on a public road.

And that's exactly what Suzuki did with the Fronte SS in 1968. To demonstrate its abilities the company hired renowned racing driver Stirling Moss and motorcycle rider Mitsuo Ito to drive the Autostrada del Sol - a 462-mile route with very few speed limits between Milan and Naples - as quickly as possible. The first 338 miles to Rome were chalked off in four hours and 27 minutes, and the pair completed the challenge at an average speed of 75mph, generating headlines around the globe.