Top Gear Advice
The beginner's guide to Vauxhall
It's not all Astras. Meet Britain's first 100mph hero and the car that riled the Mail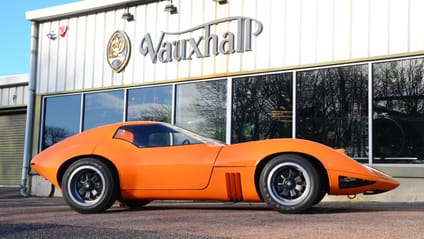 Who's Vauxhall, and when did it start making cars?

While now based in Luton – and making (some) cars in Ellesmere Port in Cheshire – Vauxhall was founded in Vauxhall, London. Sometimes the truth is just staring at you right in the face.

While the company was founded in 1857, it made marine engines for the rest of the 19th century before pumping out its first car in 1903. Which still puts it among the founding fathers of the automotive world, naturally. That first Vauxhall had five entire horsepower, two forward gears and a tiller in place of a steering wheel. "Still sounds more exciting than a diesel Astra!" we can hear you guffawing at the back.

Vauxhall actually has a marvellously diverse history for a brand focused on selling mainstream cars in just one country. General Motors bought Vauxhall out in 1925, and in the Seventies, it started to merge the company's products with Opel's. So while Vauxhall appears to have a trillion UK dealers and probably sells many of its Corsas off the back of "well, they're British, innit?", its products have been Germanic for a long time.

Until 2017, anyway, when PSA – aka Peugeot and Citroen – PayPalled two billion euros to the States and acquired Vauxhall and Opel from GM's increasingly loose and weary grasp. PSA has since merged with Fiat Chrysler, forming a huge carmaking conglomerate called Stellantis, which sounds a little like a shambolic Apprentice team, but is probably quite a good thing.

This all suggests Vauxhall is the gift at the end of a long, drawn-out game of 'pass the parcel' that's been going almost 100 years. Well, the music appears to have finally stopped and - as we're about to discover - maybe this London-born company was worth waiting for…

Advertisement - Page continues below

Where are Vauxhalls built, and how many does it build a year?

The Astra continues to be built in north-west England, but for how much longer it's hard to say. Brexit made the whole thing look a bit wobbly and now that Vauxhalls are slowing turning into restyled Peugeot products (no bad thing, as we'll get to), that's one we'll have to keep our fingers firmly crossed for the future of. The only other Vauxhall made in Britain is the Vivaro van.

Vauxhalls are exclusively sold in the UK, with the Opel badge used in other European markets, including the Republic of Ireland. In 2020 (hardly a vintage year for anything, let alone car sales) it shifted 95,444 cars, down on 2019 (obvs) with its market share shrinking from seven to six per cent in the process, suggesting that people are moving elsewhere.

But the Corsa continues to sell by the truckload – it was second in the UK's ten bestselling cars of 2020, pegged a mere 2,500 units behind the Ford Fiesta. In fact, with 46,439 sales, half of the year's supply of Griffin badges ended up on the back of a Corsa.

What cars does Vauxhall build?

Nowadays, it's a bunch of rebadged and retrimmed Peugeots. In essence, anyway. Vauxhall's health has hung in the balance in recent years – a subsidiary of General Motors sold in one solitary country hardly screams 'ASSET' – and so a buyout by PSA (and subsequent ascent to the mothership Stellantis) has proved vital in ensuring its future.

Being bought by one of its biggest rivals looked an odd move to begin with – like Arsenal buying up Tottenham – but the cars that have resulted are all decent. Just as Peugeots have become Actually Quite Good, so have the Vauxhalls spun from them. So you've got the latest Corsa (based on a 208) and a handful of crossovers such as the genuinely handsome new Mokka (with 2008 underpinnings) and the slightly duller Grandland (the 3008), all available with electric or hybrid options thanks to PSA's knowhow.

Beyond that you've rep specials like the Astra and Insignia; okay things, but hangovers of the pre-PSA days that'll probably morph into something else when replacement time comes. That Mokka, pictured above, apparently represents 'the future face' of Vauxhall, so we'd say the Astra (at least) has a bright future ahead of it.

Advertisement - Page continues below

What's the cheapest car Vauxhall builds… and what's the most expensive it builds?

It's a pretty snug range right now, beginning at £16,440 for a basic Corsa and topping out at a smidge over £46,000 for either a fully electric Vivaro people carrier or a 4WD Grandland hybrid. All very worthy stuff indeed.

So to sex this slide up a bit, we're going to bring your attention to what was recently the most expensive Vauxhall. See, until the Australian car industry ground to a halt, there was a delightful quirk to the Vauxhall range (and its GM ties) over the last couple of decades. In a brochure full of front-wheel-drive mundanity you'd find a rear-drive V8 muscle car, either the Monaro coupe or VXR8 saloon, both simply a Holden with some Griffin badges tacked on.

When the Aussie plants closed, Vauxhall ended this glorious era with a bang rather than a whimper thanks to the VXR8 GTS-R pictured here. It cost £75,000 – enough to seat 18 people if you spent it on an a Vivaro-e and two Corsas – but it also had 600bhp, making it a bargain alongside the BMW M5 and Merc E63 its power output matched, and which have long since stormed into six figures if you so much as look at the options list.

What's the fastest car Vauxhall has built?

Alright, stirring up the ire of the Daily Mail doesn't appear to take much at all. Certainly not these days. But the Vauxhall Lotus Carlton managed it not by marrying Prince Harry or wearing the wrong outfit to go jogging, but by slapping a humble Lutonian badge upon a 174mph super saloon.

There were calls for it to be banned – or at the very least strangled a bit – as if the regular family stumbling into a 1990s dealership with their eye on a lightly used Belmont might inadvertently tear out in something faster than a contemporary Ferrari 348. And whose £48,000 price, with 31 years of inflation applied, converts comfortably into six figures…

The best bit? Mike Kimberley, Lotus CEO at the time, claims that 174mph was a conservative claim to (only slightly) appease the baying media mob. "The campaign to try to supress the performance was surprising bearing in mind the supercars that were already available," he said. "We had to work hard to lobby our MPs and block attempts to put British cars and engineering at a disadvantage to our German and Italian competitors.

"I asked for and received the full support of Bob Eaton [President, GM Europe] in pressing ahead without restricting the Lotus Carlton's performance. That said, we did quietly lower the top speed in our publicity materials to 174mph from what we were originally going to claim – which was the full 180+!"

What's been Vauxhall's best moment?

We'd quite happily pop the Lotus Carlton on this slide, too. But that's not the only time Vauxhall worked together with Lotus, so let's celebrate the other major fruit of their relationship, the much less controversial VX220 sports car.

What you're eyeballing here is a Lotus Elise with a contemporary Vauxhall grille on it. Except it's a fair bit more than some smart badge engineering: the VX220 was a different fish altogether, tuned to feel distinct and reaching its zenith as the VX220 Turbo (the Elise has never dabbled with turbocharging). It was exquisite if a little tricky to drive, while arguably looking more chiselled and handsome than the Lotus it was a close cousin to.

More kudos goes to Vauxhall for what happened when the VX220's five-year production run ended; while Opel rebadged the Pontiac Soltice as a heavier, softer replacement, Vauxhall ducked out and let its little roadster's legacy remain unspoiled. It's a great second-hand buy now, providing you can find one that's not gone backwards into a farmer's field. Look for turnips wedged into the wheel arches, if you're reading this on a forecourt about to kick the tyres wrapped around those delectable snowflake alloys. Or read our buying guide.

What's been Vauxhall's worst moment?

The first decade of the 21st century was chock-full of fast Vauxhalls, actually. On top of the VX220, there was the arrival of those V8 Holdens as well as liberal application of the 'VXR' badge on more mainstream products. The Corsa VXR and Astra VXR were punchy hot hatches that made up for a lack of finesse with torque-steery frivolity. They were fun.

High on their own supply, Vauxhall's marketeers figured the turbocharged engines from those would easily transplant into its other products. Thus frustrated dads* who could no longer squeeze their family into a hot hatch could buy a Meriva or Zafira people carrier with the VXR treatment. Way to slice your new fast badge's credibility in half...

Though given the utterly baffling rise of the fast SUV as posh family transport, you could argue Vauxhall was merely ahead of the curve. Though only with liberal sympathy.

*We're not excluding mums, it's just quick Zafiras were advertised to a soundtrack of 'Daddy Cool'…

Advertisement - Page continues below

What's Vauxhall's most surprising moment?

Heard about the Vauxhall Firenza that's 6.2 seconds faster to 100mph than a Lamborghini Countach? Baby Bertha was a racecar designed for one thing only: to win the Super Saloon championship.

Two seasons later and she'd (yes, she's a 'she') won it twice on the bounce. In her first year in 1975, she won 20 of the 24 races she entered. The following year it was 10 from 13, with two retirements and a second. That season also happened to include six lap records, all bar one of them with an average speed of over 100mph.

In fact, Bertha was almost too successful – contemporary media reports talked of boring racing and, combined with budgets starting to get too much for most of the grid, the club racing focus shifted elsewhere. Bertha was retired in 1977 - her last appearance was at Thruxton, fittingly also her last win.

What's the best concept Vauxhall's built?

Vauxhall doesn't have a rich tapestry of concept cars to choose from, but like anyone who made cars in the Seventies, there are some glorious wedges among the small throng of motor show specials that have emerged from Luton. But we're reluctantly ignoring the startling SRV concept for this, the Hot-Wheels-car-made-real XVR, despite the fact that stands for the 'Xperimental Vauxhall Research', sending our punctuation pedantry into spasms.

A bright orange hot rod with pop-up headlights and gullwing doors, it's basically every Sixties kid's exercise book doodles made real. And yet it was ahead of its time. You'd think a Corvette-esque sports car would have a V8 lazily shoved up front, but the XVR used a dinky downsized 1.6-litre 4cyl that put a modest 74bhp through the rear wheels via a limited-slip differential.

A 100mph top speed wasn't headline news in 1966 – as we'll come to in the next slide – but driving something this slender within an inch of its life at wholly sensible speeds? Well, that sounds like something we want to do right this very second. As you'll likely be aware, no production car followed. Shame.

Advertisement - Page continues below

Tell me an interesting fact about Vauxhall.

Yep, 100mph in 1966 didn't elicit a ticker-tape parade through Luton town centre for Vauxhall's engineers, because they (well, their dads) had squeezed that top speed out of a production car in as far back as the 1920s. In fact, the Vauxhall 30-98 – sold between 1919 and 1927 – was the first 100mph car officially sold in Britain. And in turn, the first British sports car. Told you Vauxhall's history was diverse.

The stats are from another world entirely: its 4.2-litre engine produced 112bhp, good for 0-60mph in 29.8 seconds as well as that three-figure top speed if you ticked the right options boxes. 'First to 100mph' status pops it in a rather eclectic subsect of the performance car hall of fame, given the production cars to break the 200mph and 300mph barriers are the Ferrari F40 and Bugatti Chiron Super Sport.

"A centre throttle, extremely heavy flywheel and weak brakes by today's standards make the 30-98 a challenging – if very fast - car to drive on modern roads," says Vauxhall itself. So if the roads are a bit moist and you've run out of milk, we heartily recommend the safe option. Take your F40.