Top Gear Advice
Six times the Corvette has been an absolute giant-killer
You think the Z06 is Chevy's first time embarrassing the sports car elite? Think again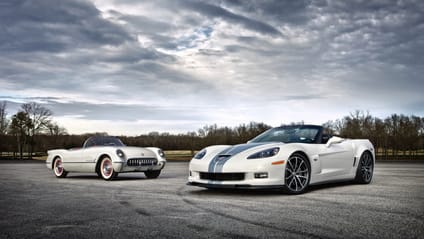 When the Z06 smashed Top Gear's lap time board

Not literally, of course. It would have damaged the fibreglass, for one thing. But when the Z06 came to our test track, had its rear tyres melted off and had a bunch of comparisons made between it and Robbie Williams (it makes sense in context, promise), it also wiped the floor with genuine supercars.

Now, you wouldn't be too surprised to hear the Z06 was faster than an EVO FQ400, faster than a TVR Tuscan, or faster than a BMW M5. What you might not expect is for the Corvette to be faster than a Koenigsegg and a Pagani Zonda. And yet it was, by more than a second. It was even faster than the Ferrari F430, which definitely wouldn't have been embarrassing for anyone in Modena.

Advertisement - Page continues below

When a Corvette was the fastest road car in the world for more than two decades

OK, so it wasn't just any Corvette – it was a specially modified one-off, built by Callaway to explore just where the limits of the C4 Corvette actually lay. And, with the 1988 Callaway Sledgehammer – no, you have that Peter Gabriel song in your head – it's fair to say they found it.

It turns out the limit is something around the 254.76mph mark, as found by John Lingenfelter. Yes, that Lingenfelter. And yes, that's more than 50mph faster than the Porsche 959 and Ferrari F40 that came before it, but also faster than the quad-turbo Bugatti EB110, the Jag XJ220 that came after – and even the McLaren F1. We don't want to pee in too many pools here, but it was also faster than the original Bugatti Veyron, by precisely 1.7 miles per hour.

That's right – back in the late Eighties, a road-going Corvette was doing Veyron-beating speed. Just let that percolate for a minute.

When the C4 ZR-1 had a V8 that was arguably better than a Ferrari V12

The LT5 V8 was a huge divergence from the American V8 norm – with dual overhead cams, four valves per cylinder and high compression, it was more like a Japanese or European take on the V8. Or, indeed, the British take. Lotus, more specifically.

General Motors didn't even build the LT5 V8 – Mercury Marine's engine-building division MerCruiser got the task of building from Lotus's blank-slate design. Apparently it's because comparatively few ZR-1s would be sold, so GM didn't want its engine plant to retool for a lowish volume powerplant. We're sure that it had nothing to do with the fact that MerCruiser were masters of all-aluminium engines and pretty much pathological about build quality.

In any case, the LT5's resultant 375bhp and 370lb ft put the ZR-1 right up the snuff of the Italian elite – even Ferrari's best effort, the V12 Ferrari Testarossa, had 10bhp more but 25lb ft less. And, as racers (and indeed Mercury Marine) found, a quick exhaust swap and a software remap meant the LT5 could deliver more like 420bhp. The official ZR-1 crested 400bhp a few years into the model run anyway, but top-end power only tells part of the story.

The LT-5, by all reports, was a savage animal after 4,000rpm but a faithful friend below it. Clever engine airflow management let the LT5 behave like any other American V8 at low revs, with 300lb ft of torque available at 1,500rpm and a mid-range pull that was "as wide as Utah", to quote a contemporary article.

So it'd work like a regular V8, was built to literal micron tolerances by master engine builders and was reliable enough that Mercury Marine a) put one in one of its boats and b) used a Corvette ZR-1 to tow it to boat shows. Do that with your late-Eighties Ferrari V12.

Advertisement - Page continues below

...and when that same ZR-1 claimed seven speed endurance records in one go

Yep, we said seven. To get it all across, we're going to have to take a break from wafting prose and engage bullet points. So, that's...

100 miles at an average of 175.6mph,
500 miles at an average of 175.503mph,
1000 miles at an average of 174.428mph,
5000 kilometres at an average of 175.710mph,
5000 miles at an average of 173.791mph,
12 hours at an average of 175.523mph, and
24 hours at an average of 175.885mph

...which is frankly potty.

And also a pretty interesting way to rack up 4200-odd miles in your Corvette.

When the racing Corvette absolutely destroyed a racing series

In the American Le Mans Series, which is an endurance racing series that unhelpfully does not feature the Le Mans circuit in it, the C6.R won all but two races in the 2005 calendar – including around one of our all-time favourite tracks, Laguna Seca. The following year, Dodge pulled the Viper from competition and the Corvette won again. Then Saleen dropped out the year after... and the C6.R won again. The year after that, Aston dropped out of the series halfway through the year when it was clear the Corvette was going to triumph a fourth time on the trot. After that, the American (we don't race at) Le Mans Series ditched the Corvette's entire class. Kind of like taking your ball and going home, no?

When the C8 Z06 just happened to have the most powerful naturally aspirated V8 ever made

Now this is a bit of a weird one. Making the most powerful naturally aspirated V8 to ever roll out of the factory and onto the road is one hell of an achievement – especially when that means the likes of bona fide engine masters like AMG and Ferrari are left in its wake. And with 5.5 litres, 670 horses and zero turbos, there's no argument that the Chevy LT6 takes the cake. But what if those manufacturers, whether by choice or by compulsion, ditched natural aspiration years before the all-conquering engine debuts? And what if your new engine comes at a time when the pendulum is swinging away from petrol power in any form, and its electric replacement is cresting four-figure power outputs... in four-door saloons?

Well, if you're the sort that seems to be insulted by the sheer presence of electric cars, you go and post comments on electric car articles about how you'll be buying one, and capitalise words for effect like you're writing a Daily Mail headline. If you're like us, and grew up worshipping at the altar of the Otto Cycle – then realised it was something of a vengeful and ruinous deity – you might be every bit as befuddled and conflicted as we are. If you're Chevrolet... well, you crow about it all the same. And really, it seems rather fitting that an American car should hold the V8 record, don't you think?