Top Gear Advice
Ten of the best used cars you can buy for less than £50k
Yes, it's consumer advice for the utterly minted. Because they totally need more help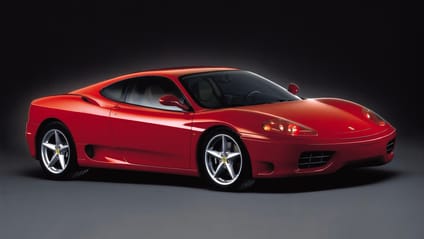 OK moneybags. If you have 50 grand just lying around for a second-hand car, after two years spent haemorrhaging money into Deliveroo and hand sanitiser, then we a) are really only entirely envious and b) could probably use a few pointers on that whole 'money' thing. But to be that good with money and to still come to us for used-car purchasing decisions... ever get that feeling when you think you're talking to someone, but they've actually just left the room?

In any case, if you have £50,000 to spend on a used car – even in this entirely doolally market – things are bright. Well, not in terms of the environment. Or politics. Or infectious diseases. Or hope for humanity as a whole. But in the used car market? As bright as an Australian bushfire, and much less likely to destroy everything you hold dear.

What's more, looking at this part of the market means you can often get the best of the breed – low miles, full service history, unblemished paint and perhaps even a sworn affidavit from the owner that he's the only one to have ever farted into the driver's seat.

Advertisement - Page continues below

1989 Porsche 911 3.2 Carrera G50

OK, OK. Yes, it's a Porsche 911. But it's a proper classic car, that you can use everyday, with full rustproofing from the factory and the least-recalcitrant gearbox ever fitted to an original 911.

By 1989, Porsche had done just about everything it could with the original 911. And, after 25 years of honing and tweaking the recipe until it was just so, Porsche released the very last of the first 911s. Or, to butcher the old Churchill quote, it was the end of the beginning, but what an ending. Sorry, Winston.

A bevy of brilliant BMWs

To state the obvious, BMW drivers tend to love driving. And for decades, the formula was pretty simple: a brilliant engine up front, putting its power down at the back, with everything kept in check by brilliant handling all around. These days, however, there are any number of BMWs for people who don't care about driving, and the formula to cater for those that still do has expanded pretty considerably. A front-drive hot hatch, for instance. Or a full-electric four-door that drives... just like a BMW four-door. Or perhaps a mid-engined, carbon-fibre supercar, with a 1.5-litre hybrid.

Fifty grand gets you quite a bit of second-hand BMW, to say the least. Regular roundel-badged and M Division cars of all shapes and sizes abound for that money, each following the basic precepts of BMW as we knew it. Among that number, it's worth giving special mention to the 1M, a parts-bin special that ended up becoming a BMW greatest-hits album. If one that's especially unforgiving of overconfident and under-talented drivers.

To slow things down a touch, then a touch more, then a whole bunch, there's the Z1. But when you have one of the most unique BMWs ever made, powered by a straight-six so smooth you could use it as negligee (wait for it to cool down first), it's never going to be a hardship to move out of the fast lane.

For our money, hypothetical as it may be, the best of the bunch has to be the i8. This is BMW riding high on a fistful of brave pills, taking another stab at the mid-engined supercar after the brilliant but underappreciated M1 and the dead-on-arrival Nazca C2, a victim of cold feet and long memories.

So we're talking about a car that's only the second ever mid-engined BMW, but also one made from carbon-fibre and aluminium, with a drag coefficient of just 0.26 and the ability to offer 370bhp – and 40 miles per gallon in the process. And butterfly doors, people. Butterfly doors.

Advertisement - Page continues below

Ferrari 360 Modena

But what if you prefer your mid-engined supercars a little more... traditional? That'll mean getting something from the spiritual home of mid-engined supercars, of course, and finding one of the few you can still get for less than £50,000. As much as 50 grand might be, it's still not 'take your pick of Ferraris' money.

But it is enough to get a properly reliable, mid-engined Ferrari, with full-aluminium construction and a howling, 400bhp V8 with five valves per cylinder. And it's actually properly reliable – not just by Ferrari standards, either. Many's the 360 owner who's gotten by with just routine maintenance. Crushingly expensive routine maintenance, of course, but you've got to give credit where it's due – a hand-built supercar without hand-built supercar foibles.

Is the 360 as pretty as the 355? Of course not. Is it temperamental at the limit? You betcha. But who among us can't say the same about themselves on either count?

Mazda RX-7 Bathurst

Then again, tradition is just a crutch for people without original ideas. Luckily, there's no such concerns here. With the most unique engine ever fitted to a sports car, a scant 1250kg kerb weight and a shape with more curves than whichever sexist reference you were expecting, the FD RX-7 is a single – and singularly – unique idea, wrapped in a rolling cavalcade of exceptional ones. Like 50:50 weight distribution, well-weighted steering and suspension soft enough for, y'know, the real world. Also, fitting sequential turbochargers to solve the Wankel engine's notorious lack of torque, allowing 230lb ft from low down in the rev range and 276bhp at the pointy end of it. Well, at least in the special-edition Bathurst model, which is still less than 50 grand.

Mazda's the only company to ever make the wantonly different and notoriously difficult Wankel engine work in production cars – a goal that took both NSU and Citroen to the wall and scared off manufacturers from GM to Mercedes – and the last of the RX-7s has claim to one of the best examples of the spinning-dorito breed. When the second turbo kicks in, VTEC doesn't even stand a chance. Er... yo.

Original Mini Cooper S

Yes, they're going for insane amounts. But what else do you expect? They're classic cars with more history than your average Ken Burns documentary.

We're trying to think of a car that was more universally loved than the original Mini. From top-tier racers to those who didn't give a hoot about driving, from superstars to shift workers, everyone loved the Mini. Sir Alec's creation may have been small, but its impact was massive.

And for our money (or indeed yours), the original late Sixties Mini Cooper S is the high-water mark, with the famed 1275cc engine and John Cooper's personal involvement. It's also the car that won the Monte Carlo rally four times on the trot – yet somehow managed to take home just three trophies. Headlight filaments, our broad backsides.

The Cooper S is the car that made Mini. And for £50,000, you can make it your own. Tempting, no?

Renault Clio V6

In terms of sheer impact, the Clio V6 is pretty much the opposite of the Mini Cooper S. Even finding people outside our little gearhead bubble who remember the mid-engined hatchback is becoming a real stretch.

Unfortunately, that doesn't make them any cheaper, as used car prices continue to follow watches, houses and Bitcoin into the stratosphere. And it's here, gasping for what little of the rarefied air remains, that speculators, car collectors and, y'know, regular people who like driving, all fight to find the last classic car bargain. And make you pay more for an old French hatchback than when it was new.

But none of this is really the Clio V6's fault; the fault lies in a system that rewards wealth with more wealth, and paucity of wealth with pauperdom. The fact is that even though its price is approaching painful, the Clio V6 remains as properly hilarious as ever.  

It's the sheer magnificence of a simple, yet entertainingly bad idea – take a practical hatchback, then make it a) entirely impractical and b) entirely doolally, just for the fun of it. So you have a 250bhp mid-engined, rear-drive maniac, with such a short wheelbase that you don't so much steer as pivot. And spin, generally. But keep it all on the bitumen and it's hard to imagine a more exciting way to get where you're going, short of being chased there by wolves.  

And it's worth remembering that this unhinged little thing came from a major car manufacturer. Can you imagine such a flight of fancy happening again these days? Neither can anyone else – that's half the reason they cost so much.

Advertisement - Page continues below

Subaru WRX P1

Let's say you want the excitement of a Clio V6, but also want to stand a much better chance of arriving in one piece. Following Colin McRae's motto of 'when in doubt, power out' likely won't cut much Grey Poupon in the Clio. But, thanks to Subaru's all-conquering all-wheel-drive system and Prodrive's uncanny nous with a suspension (among other things), you'd actually have a hope of avoiding the hedgerow in the P1. Even this undersells just how incredible the P1 actually is.

This was the car built to beat grey-import, special-edition WRXs and bring prospective buyers back to Subaru showrooms. The two-door body was basically the same as the rally-spec cars, useful aero mods from McLaren F1 designer Peter Stevens made it slipperier (and cooler) and the engine was night-and-day stronger throughout the rev range. Oh, and it weighed less than 1300kg. Needless to say, it pulled like a Hemsworth in a singles bar.

Not to over-egg things, but the P1 is one of the best road-going WRXs ever made, taking the foundations that made the regular WRX great and building on them in a way that both respects and improves the original article. It also remains a monumentally able – and entertaining – car across any road you care to point it down.

 

Some old German Army jeep

You knew it was coming. Putting the big G in one of these articles is like putting CGI bad guys in a modern action film.

For 50 grand, you can do the obvious thing and pluck whichever G55 AMG isn't currently repossessed or in the hands of your local mobster. But, as Arnold Schwarzenegger once told us, "the more basic a car is, the more fun you have". It's an evergreen sentiment, yes, but it's also from a man who knows his G-Wagens.

So, that'll mean picking up a G-Wagen as its inventors intended – a barebones, entirely utilitarian off-roader. But that does often mean picking up an ex-military one, and that in turn means it's been treated with all the care that you would expect from a bunch of trained killers in their mid-twenties.

Helpfully, Lorinser – yes, that Lorinser – is also in the business of Gelandewagen restorations, regardless of whether they have a Mercedes or Puch badge on the front. What this means for someone with about £45,000 and a pressing desire to drive simply is the entire and original G-Wagen experience, in a car that doesn't smell of Army pukes. Or indeed actual, um, puke.

Advertisement - Page continues below

Aston Martin Vantage 4.7

Full disclosure - you can get 4.7-litre V8 Vantages for less than £40,000. So why, you might be wondering, are they in the sub-£50k category? Well it's that old 'can' versus 'should' thing. Kind of like sending personal pics of your privates.

For less than £50,000, you're getting 2013 and 2014 model cars, with low miles, in good nick, with a manual gearbox. Put a bit of legwork in and you can even get the more powerful, harder-sprung Vantage S, if that's what engages Archimedean principles on your watercraft.  

Should you need a refresher on why you might want a Vantage – aside from its looks, badge and deliriously good engine note – we'll happily oblige. Lightweight bonded-aluminium construction, six-speed manual transaxle and dual-wishbone suspension front and rear. The V8 is dry-sumped, sitting low in the car for a better centre of gravity. It's a quad-cam, 32-valve job too, rewarding high revs – or, in the case of the 4.3, basically requiring them. The 4.7-litre adds low-down oomph, 430bhp up top and the ability to brag about having a forged crankshaft, but it's also when the Vantage stepped up from being a pretty little Aston to a proper sports car – that just happened to be a little Aston.

Only a bleedin' Bentley

And again we find ourselves with a cornucopia of cars that could earn a spot on this list and just a single remaining slot to offer. But if you've noticed a bit of a running theme here, it's that we tend to pick cars that make the most out of driving. But what about cars that make the most out of arriving? Yes, it's a cliche as old as monocles, but until you've ended a car journey more relaxed and refreshed than when you started it, it's best not to judge as harshly as we tend to.

As to the kind of Bentley you can get, well, you have 50 grand. The Bentley world, broadly speaking, is your entree of Oysters Kilpatrick, served on fine china. Perhaps at the Dorchester. Want a 6.0-litre Continental Supersports with more than 600bhp? Done. One of the newer models with the 4.0-litre V8? Simple. Any number of broadly interchangeable wedding-spec Bentleys? Too easy. Pre-Volkswagen-buyout behemoths? You betcha. A four-and-a-quarter-litre Derby Bentley from 1937? Eh, maybe a fixer-upper.