Top Gear Advice
TG's guide to coachbuilders: Pininfarina
Ferrari's favourite coachbuilder, design doyens and purveyors of electric hyper GTs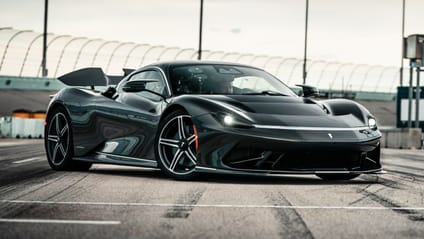 Who is it and when did it start?

This is Pininfarina, of course, the coachbuilder that even non-car people have heard of. And, of course, the very fertile ground from which sister company Automobili Pininfarina sprung forth in 2018. With some pretty spectacular results, we might add.

Battista Farina started the company in 1930 in Turin, and immediately got to work on Lancias, Alfas, Isotta-Fraschinis and Fiats. And, if you're wondering where the 'Pinin' part enters into things, that was Battista's nickname. Later on, he actually had his last name officially changed to Pininfarina, so his descendents are Pininfarinas, but related to the regular Farinas, including 1950 F1 champ Giuseppe 'Nino' Farina. Simple.

Advertisement - Page continues below

Where is it based?

On a scale of duh to no doi, just how surprised would you be if we said northern Italy?

Specifically, it's Cambiano, which is about eight miles south of Turin – close enough to fall within the 'Metropolitan City of Turin', in a Greater London kind of way. That puts it right on top of Fiat, Lancia and Alfa Romeo's traditional stomping grounds, and a four-hour drive from Ferrari – likely faster if you made the trip in a Ferrari.

What cars has it built?

Now that's a mighty long list. Ferraris aside, the most famous would be the Alfa Romeo Spider, while the most prolific would have to be the original Fiat 124 Spider and Peugeot 406 Coupe – both incredible designs gracing pretty affordable cars. The Ford Focus CC continues that theme, which is then immediately stopped in its tracks by a run of Ferraris and top-end Lancias.

Really, that's just a cherry-pick of the cars that Pininfarina's built, which have included the likes of Lancia, Fiat, Alfa Romeo, Cadillac, Bentley, Ford, Mitsubishi, Peugeot...

Advertisement - Page continues below

Has it built anything other than cars?

Built? A few things. Designed? Well, quite a few things. Should you choose, you can own, use or visit a Pininfarina-designed bicycle, train or football stadium respectively. If you're an athlete of note, you may have held a Pininfarina-designed Olympic torch. If you're not super into athleticism (we can relate), you can wedge yourself into a Pininfarina racing simulator. We could go on, and indeed do, just a little bit further down the page.

Can you tell me one of its best cars?

Oof. Now that's hard. Do we pick the Cisitalia 202, the firm's second car and yet one worthy of the Museum of Modern Art? Or perhaps Pinin's Streamline Moderne take on the Alfa Romeo 6C? Any number of famous Ferraris, including the 512 Testarossa, a car we actually had a poster of as a kid?

In a word, no. Being Top Gear and all, we're going to call it: the best Pininfarina design is the Lancia 037. It had the very largest of shoes to fill – being a direct replacement for the mesmerisingly beautiful and successful Stratos. And yet did, by honing the formula that made the Stratos (and indeed, the Fulvia HF before it) so successful: hiding a proper rally weapon under gorgeous styling.

After the FIA announced the new Group B regulations, Lancia had just two years to create something from scratch that'd fit the new (admittedly excellent) rules. The result was a greatest hits album for the ages: styling by Pininfarina, rally nous by Lancia, twin-cam engine by Fiat and extra helpings of power by Abarth. It even kept the game-changing Quattro honest, snatching the 1983 WRC constructor's championship from Audi's grasp and notching the last win for rear-drive rally cars, ever.

Of course, if you've just read all that and thought, 'No, you pillocks. It's the Battista' or perhaps, 'What utter cobblers. Did you forget the F40 exists?', we're going to struggle to argue with you.

And one of its worst?

Our vote goes to the Cadillac Allante. Not that it was particularly ungainly, or anything like that. It wasn't even Pininfarina's worst design. Going on looks alone, the Allante gives off a kind of American R129 Merc SL vibe, which is hardly a problem in our books. So why, you might be wondering, does the Allante get the ultimate thumbs down?

Well, long story short, the Allante was rubbish. A slightly longer story is that the idea – combining Italian design and American muscle – was sound, but then everything else was rubbish.

Specifically, that the basic floorpan of the Allante was stamped and put together in America, then shipped over to Turin to have Pininfarina fit the body. After that, the completed shells were loaded onto specially outfitted Boeing 747s – yes, really – and flown back to America to have the oily bits attached. So far, so doolally, but if the resulting car is great, it's a flight of fancy worth taking.

Except the Allante, as we might have mentioned, was rubbish. Aside from the fact it was front-drive, auto-only and slow, the Allante had reliability woes stemming from three separate assembly steps, countless hands in the kitchen and America's penchant for 'that'll do' build quality in the 1980s. The original V8 engines – which barely made 170bhp – overheated, the original brakes... broke, the digital dash blinked out almost immediately and early models leaked water into the cabin. There's more, but that's probably enough when you consider the Allante cost well in excess of 55,000 US dollars in the late Eighties, and usually closer to $60,000. That's the equivalent of spending about £100,000 at a luxury car manufacturer today and getting a leaky, broken, slow car in return.

By the end of its run, Cadillac had thrown the kitchen sink at fixing the Allante, even replacing the engine with its new 300bhp, 32-valve, DOHC Northstar V8 – a damn decent engine by all accounts. But it was too little, too late. The myriad failings, bemusing build process and ludicrous list price finished the Allante off for good, with just 21,000 sales over five years – a fraction of what Cadillac and Pininfarina had intended.

Tell me an interesting fact about Pininfarina.

In the immediate aftermath of World War II, Italy was not particularly popular with the countries who'd been on the receiving end of Fascism – be it Mussolini or Hitler's version. As such, Italian companies were excluded from the 1946 Paris Motor Show.

Battista and his son Sergio absolutely respected the fact that they weren't allowed in the Paris Motor Show, instead driving a couple of Pininfarina creations from Turin to Paris and parking them out the front of the Paris Motor Show entrance, where everyone heading into the show – apparently some 800,000 or more – could get a good look. Battista and Sergio Farina duly displayed their works out the front of the show for its entirety. On the last day, the show's secretary came out to them and offered a stand inside for the following year.

Advertisement - Page continues below

What's Pininfarina doing now?

What, apart from starting an offshoot company to build cars under its own name? Cars that just happen to be electric hyper-GTs, each one powerful enough to make you wonder if cartoon physics can exist in real life? Glad you asked.

Pininfarina's stock in trade, as you may have guessed by now, is design. So they're in pretty much any space that can benefit from a dab hand in that regard – architecture, automotive, aviation, appliances, and even some things that don't start with A. Like boats, for instance, watches, racing simulators and even public transport.

Didn't see anything on that list you like? Not to worry – Pininfarina runs a bespoke atelier. Got an idea and some walking-around money? They've got the design.