Top Gear Advice
Top Gear's guide to buying a used Ford Fiesta
There's a billion on the road (approx) but does that mean you ought to be driving one of them?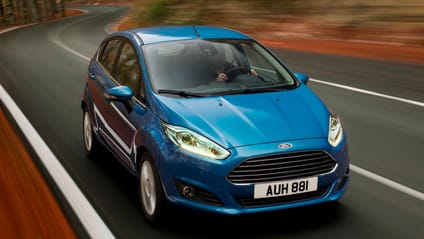 It's only Britain's bestselling car for yonks. Well, until relatively recently, when the march of the small crossover really picked up momentum and it got bustled out of the way. The Ford Fiesta is the face of affordable motoring in the UK – and has been pretty much since its 1976 conception.

Ford has sold well over 15 million of the things in that time, and the car is now in its seventh – and potentially final – generation. The savviest used buy is a sixth-gen car, though; made between 2008 and 2017, it offers a decent amount of tech and with prices starting below £1,000, it offers a nice counterbalance between the spheres of 'bargain used car' and 'actually quite nice'.

Advertisement - Page continues below

What's so good about the Ford Fiesta?

While the Ford badge perhaps sits lower down in the premiumness spectrum (it's a thing…), the Fiesta has an air of 'classless' about it. Not as much as a modern Mini, perhaps, but there's something about the Fiesta that makes it suitable for anyone with a driving licence. It's still among the favourite cars of the driving school, while you'll see plenty of retired folk tooling about in one, too. The wee Ford doesn't ignore those in between, either – fast ST versions please the enthusiasts while the option of a five-door body helps cater for young families.

What's so bad about the Ford Fiesta?

Being a car for anyone means it's also a car for everyone. You won't feel particularly unique or special driving a Fiesta. And if you learned to drive in one, perhaps you feel like you want to 'graduate' into something a little more mature or exciting once you buy a car for yourself. It's not like you turn up to your first day at work still wearing your school uniform. In truth, we're clutching at straws here. You'd need a rock-solid heart to dislike a Ford Fiesta.

Advertisement - Page continues below

What are the common problems?

Smaller hatchbacks like this tend to live in more urban areas – potentially at the hands of brand-new, inexperienced drivers – so it's scuffs, scrapes and biffed wheels you probably need to be most on the lookout for. On which note, maybe check the passenger footwell to make sure there are no extra pedals (or the ghost of some). Living your life as a learner car is a noble one, but one that probably brings a more stressed clutch and some accelerated wear and tear issues with it.

What engines and trims are available?

The Mk6 Fiesta straddled two different eras of mainstream car engines; the first examples, produced between 2008-2012, had an array of naturally aspirated 4cyl petrol engines, ranging from a 60bhp 1.25-litre to a 120bhp 1.6 in the hottish Zetec S model. They're all pretty good, but punchier performance came when the Fiesta entered the Ecoboost era with its 2012 facelift. This made it – and its maker – one of the first companies to start bolting turbochargers to almost all petrol engines. The 1.0-litre 3cyl engine offered up to 125bhp and is good fun.

Most fun of all, though, is the 1.6-litre 4cyl turbo you'll find in this era of Ford Fiesta ST hot hatchback. Offering up to 200bhp – and easily tuned higher by Ford-affiliated Mountune – it brought great performance to a truly great performance car. There were numerous diesels – including a hypermiling, 80mpg-plus Econetic – but stay petrol if you feasibly can.

Trim levels started with the relatively basic Studio and worked up to plush Titanium, sporty Zetec and high-performance ST levels.

The Mk6 Fiesta was tested twice by Euro NCAP, both at its 2008 launch and when the facelift arrived in 2012. Both times around it scored the full five stars. While this won't match the standards of a five-star NCAP score now, it's a ringing endorsement nonetheless. The second test came with a strong child occupant rating too – you're probably more concerned about safety if you've got little 'uns, after all. Just don't expect much (if anything) in the way of modern active safety tech.

How economical is the Ford Fiesta?

Expect 40-50mpg from the base petrol engines (more, if you're light footed). While those Ecoboost turbos claimed mid-60s mpg, they need working hard on slip roads and the like, so expect similar figures to the 1.25s they replaced – just with sharper performance and a more interesting noise. While the Fiesta ST claimed around 48mpg, you'll plummet into the high-20s if you're really wringing it out. The most frugal diesels claimed up to 88mpg, and you'll easily hit 70mpg or more in them. Partially because they're less interesting to drive and so you won't be travelling as quickly by choice.

Advertisement - Page continues below

How does the Ford Fiesta drive?

The short answer is 'very well indeed'. Better than anything at the same size or price point, in fact. Flick through any car magazine or website and you'll find Fiestas winning comparison tests at a rate of knots. No matter how much luxury, style or good ol' VFM its rivals countered with, the Fiesta's supremely fun handling almost always gave it the win. Even if you don't like cocking a rear wheel like a wannabe rally driver, there's merit to a car steering so sharply; it's easier and more intuitive to drive whatever your experience level.

 

How fast is the Ford Fiesta?

The answer varies wildly depending on your budget and which version you're talking. Find yourself in the 60bhp base car and you'll hit 62mph in almost 17 seconds then fall short of 100mph flat-out. But all other versions are notably swifter – even the next 1.25-litre engine up claims a more appealing 13sec sprint thanks to its extra 22bhp. At the furthest end of the spectrum is the ST hot hatch, which hits 62mph in 6.7secs on its way to a 143mph top speed in ultimate ST200 trim.

Advertisement - Page continues below

What's the interior like on the Ford Fiesta?

It's a car of a certain price point, so expect plastic. Rather a lot of it. But the dials were always quite cool in their design and the dashboard's keypad layout looked rather rad when the car made its big debut at the 2008 London Motor Show. This was a pre-smartphone age, and mimicking a contemporary mobile seemed pretty trick at the time. It's of little surprise that Ford tidied it up into something more forward-thinking come the 2012 refresh, though.

How reliable is the Ford Fiesta?

Most of the problems affecting the Mk6 Fiesta come from very specific issues on cars built during particular days and weeks, all of which have hopefully been fixed during an official recall. Poorly welded rear axles on 5 July 2011, for example, or dodgy rear seatbelt buckles made in autumn 2014.

Otherwise, it's a handful of diesel engines made between 2010 and 2013 that harbour the biggest and costliest potential problem  – if you're test driving a car from that period, make sure the engine picks up speed smoothly (no fluctuations in revs) and try to sniff out a tell-tale whiff of fuel as you drive. We'd recommend you prioritise petrol Fiestas regardless of this issue, though. They're simply more fun.

How much does the Ford Fiesta cost to insure and tax?

Insurance ought to be very attainable on all but the ST – and if you're over 30 and relatively un-crashy, that should slip under £500 a year too. Tax varies on engine size and age: at one end of the scale, those Ecoboost petrols and the Econetic diesels are largely completely free, owing to their sub-100g/km CO2 emissions. Other models slot into higher tax brackets, most petrol engines (ST included) costing £135-165 to tax annually. Best to check the specific model you're looking at and reference it against the tax band guide on the gov.uk website to be sure.