Top Gear Advice
Top Gear's guide to buying a used Ford Focus
And yes, it does involve more than us saying "just buy one, already"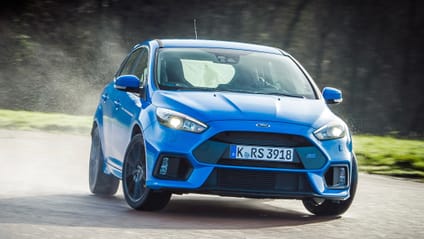 Being as brief and literal as we can, it's a car. A rather good one, as cars go, imbued with ride quality and handling prowess that was reliably the best you could get for the money – and often better than you could get if you spent any more. Even the basic ones seemed to be determined to take the misery out of being miserly, while the sporting ST and raucous RS grew from untamed brutes to unmuzzled B-road weapons. 

But the Focus was also something of an institution, a bedrock we all sort of came to rely on – and felt we could rely on to always be there – until the shifting sands of buyer demand put an end date on something we'd kind of assumed was eternal. Shame, really.

Advertisement - Page continues below

What's so good about the Ford Focus?

Quite a few things, from the simple joy of good ergonomics to the complex engineering of what Ford would call 'Control Blade Suspension' and 'Revoknuckle'. But as that's a list that even a laundry would refuse, we might have to do without a thorough nut-and-bolt assessment.

But that's OK, because the Focus was never about one thing, one piece of good design or engineering. We don't even know if suits still talk about synergy (or if they ever did the David Brent finger interlacing), but it's synergy, at its core, that makes the Focus great: the parts were generally good, but the car was much more than the sum of those parts. So we're OK to generalise, because we'll still get the point across. 

Like describing the handling – describing the complex interplay of camber, caster, spring rate and damping force is unnecessary when you can sum up the result with a simple 'Generally, it was brilliant'. In the main, in fact, it was absolutely brilliant – with the sort of feel (and dare we say, focus) that instils confidence in the machine you're controlling. Whether the driver used that confidence to explore ever-larger fractions of commitment, concentration and car control – perhaps even the fabled ten tenths – or just appreciated how solid the Focus felt on commutes and car trips, was really up to the driver and the spec level they'd bought. 

But the handling, which was arguably the Focus's main selling point (well, at least for people who share our point of view on what B-roads are for) never came at the expense of ride quality, interior comfort or... well, expense. In fact, if we had to point to one lasting effect of the Ford Focus, it has to be how it democratised good-handling, enjoyable cars. 

What's so bad about the Ford Focus?

In general, not a lot. But as we're basically salaried nitpickers, let's dive in regardless. 

Just for a moment, we want to imagine the Ford Focus is a rock band. The first album debuts with such a hit that it sends all the old-school bands into a spin, while they try to reconcile the fact that their new album is now old hat – and that the fresh band has brought something to the genre that it always needed and never would have gotten without them. 

The second album is bigger, heavier, without quite so much feeling as the first – even if the fundamental things that made the first album great are broadly unchanged. New, powerful sections and offbeat choices are major upsides, though, and no one minds a jot that the band is working with new Scandinavian producers. 

The third album feels perhaps a bit too broad, like the band was trying to appeal to every market, rather than keep things tight and specific. There's dabbling with new instruments and technologies which seemed to work in the studio but fared worse in the real world. It's still a good album, but there are a few tracks better avoided than endured. With that said, the third album also contains what has to be the band's most powerful and memorable track. 

The fourth album feels like a swan song. It feels elegiac. Even though it's a lighter, tighter return to form after the bloat of previous albums, the band (and its audience) both know that genre they defined and redefined is now dwindling into obscurity. 

So, presuming that this extended analogy likely doesn't address the specific problems and pitfalls you're trying to avoid, let's get down to brass tacks. 

Advertisement - Page continues below

What are the common problems?

The big one, the standout, the most infamous and easily remembered is the so-called Powershift transmission from the third-gen Focus. Which would, in the great tradition of situational irony, fail to transmit power. Or shift. There was also more shuddering than a Norwegian nudist camp and owners reported that they were picking up some seriously un-good vibrations through the steering wheel while driving. 

It was a serious misstep from Ford. This led to various lawsuits, compensation for the affected owners and the early retirement of the dry-clutch Powershift transmissions – and Powershift name. 

Ford wasn't alone in stumbling and fumbling a bit with dual-clutch transmissions and automated manuals, but its response soured a lot of erstwhile Focus fans – and resulted in a car best avoided. Which isn't particularly hard to do, if you're au fait with changing gears yourself. 

Other than that, it's generally little niggly stuff, or issues that could be more serious that were sorted out under recalls – a coolant leak from a thermostat, for instance, or clutch plates that weren't up to snuff. Generally, the reliability is on par with its main competition – the VW Golf – but maintaining and rectifying any issues will be cheaper, because it's a Ford. 

What engines and trims are available?

Depending on the year and spec, you can have anything from a titchy 1.0-litre three-pot up to a 2.5-litre five-cylinder, with power ranging from a tick over 75bhp all the way to the far side of 340 horsepower. There are also diesel engines. Which is great, if you like that sort of thing.  

As logic would rather dictate, the lower-spec versions tend to make do with lower displacements and cylinder counts, but there is an exception to the rule in there as Ford segued from the wonderfully idiosyncratic 2.5-litre five-cylinder to its (admittedly brilliant) 2.3-litre Ecoboost four. 

In each generation, the fastest Focus will always be the RS, the next best will be the ST, fancy ones will carry the name of an old Italian coachbuilder – Ghia, Vignale – and there'll generally be a Zetec that does (and has) all you could really ask of a hatchback.

Setting aside the caveats that everything's relative, everything's contextual and nothing is guaranteed, the Focus is a safe car to be in. 

The first generation Focus was a four-star car back in the Nineties, and the subsequent generations have reliably returned five-star Euro NCAP results. 

How economical is the Ford Focus?

Again, as much as this seems like a question that's custom-designed to elicit a caveat, the general answer is pretty economical. After all, it's a family hatchback, and having that whole 'a family' thing turns out to be a pretty expensive endeavour in its own right, before you add in a 6.0-litre V8 or something. 

The fourth-gen cars with 1.0-litre engines and six-speed manuals are the standouts here – without a single effort towards economy, we managed to get 48mpg. That's diesel-rivalling economy, with the added benefit of not launching an aural and olfactory assault on anyone unlucky enough to be within earshot or downwind. 

At the other end of the scale is, as you might expect, the 2.5-litre, five-cylinder turbo. More displacement, more mechanical losses from that fifth – and indeed fourth – cylinder and more of a focus (that one wasn't on purpose, promise) on fun over frugality mean that getting 20 to 25mpg is the trade you'll have to make. But it's a MkII Focus RS, of course it's worth it.

Advertisement - Page continues below

How does the Ford Focus drive?

As we alluded to (or indeed spelled out) earlier, the main drawcard, USP and main point of difference with a Focus is the way it drives. It's almost always better than the cars it shares a price point and body style with, and often better than cars that purport to be in an echelon above it. 

The caveat, as seems an almost contractual obligation at this point, is that the differential on the front-wheel-drive RS models is something that can, to put it gently, behave unexpectedly. To put it a little less gently, the thing can have a mind of its own if you're not careful and can seem like it's actively dragging you into the nearest culvert. The first-gen RS was the worst for this, with the second-gen car markedly better – despite being even more powerful. 

How fast is the Ford Focus?

Honestly? Exactly as fast as you want it to be. If you want a slow one – 13.5 seconds from zero to 62mph – you can have the 1.0-litre fourth-gen fuel sipper we mentioned earlier. Medium-paced options abound from Focuses running on diesel and petrol power, and only the first-gen Focus ST (the ST170) doesn't meet the modern definition of 'fast'.

For flipping fast, on the other hand, you're looking at the Focus RS, the zenith of which has to be the third-gen RS with all-wheel drive and the 2.3-litre turbo four. It was seriously quick right out of the factory, but – as quite a few tuners have found – there's even more up for grabs. Mountune, for instance, has managed to find a reliable 513bhp and 516lb ft from the 2.3-litre, which is moving towards the 'frankly potty' end of things. 

Advertisement - Page continues below

What's the interior of the Ford Focus like?

First-gen cars with the so-called New Edge styling were... edgy. The interior exudes that inimitably Nineties optimism and confidence, with bold shapes and lines that – in equally Nineties fashion – seem plenty dated now.

The second generation was much more clean cut and conservative, but you're still unlikely to confuse it with an Audi – from the ovoid air vents to the stereo, the Focus feels altogether more... well, you could say anything from 'youthful' to 'low-rent', depending on if you'd had your morning coffee yet.

Third-gen cars could be a bit overwrought, especially as ticked option boxes increased the features and frippery on offer, but fourth-gen cars got that very much under control with a clean, reserved and up-spec feel pretty much across the board.

But if ergonomics are more of a concern than aesthetics, we should note that the Focus started great and just got better as it went along. Case in point: TG's biggest staffer – who's pretty much a cross between Lurch and a lumberjack – fits OK in the first-gen car with some adjustments and allowances, but fits perfectly in every generation thereafter.

How reliable is the Ford Focus?

Very much a middle-of-the-pack finisher, after everything is taken into account. The now-infamous issues with the Powershift transmission drag it down, as do a few teething issues with new-model Focuses on each successive generation. On the other hand, the huge fleet of Focuses you still see are a testament to Focus's fundamentally solid and durable design. 

A decent rule of thumb is that the fewer parts a machine has, the fewer opportunities it has to go wrong, but even as complexity increased through the generations, the Focus has (teething issues and one dodgy gearbox aside) remained as reliable as a cross-channel ferry – if not the tides it rides on. 

How much does the Ford Focus cost to insure and tax?

Well, we'll start out with the bad news (because that's the kind of upbeat people we are) and point out that the most modern Focus RS is going to be group 40 out of 50, with the generations before it being only two or three groups behind. Which means the thirty-somethings who are driving an RS are also paying four figures a year to insure it. Or at least they should be.

At the other end of the scale, the entry-level fourth-gen Focus – with the 1.0-litre triple – is all the way down at insurance group 8. That means – unless their day job is commercial diver, RAF pilot, stuntman for Bear Grylls or something similar – a 30-year-old will pay £700 a year to insure their Focus. 

Which we have to point out still seems like highway robbery – the insurance cost on a ballistic, all-wheel-drive hyper hatch is less than a pound a day more expensive than an anonymous and anti-performance hatchback?