Top Gear Advice
Top Gear's guide to buying a used Vauxhall Corsa
The stalwart of the learner driver and a shoo-in for their first car afterwards. But should you buy one?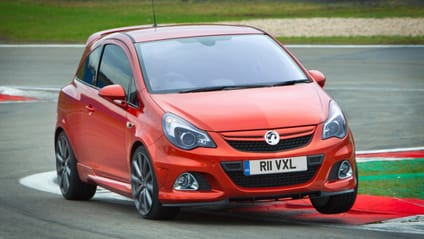 What is it?

One of Britain's bestselling cars. The Corsa as British folk know it has been around since the early Nineties, but the name originates from the Opel Corsa of 1982 – better known to us as the Vauxhall Nova. If you love a geeky model code, that original is the Corsa A, while the best second-hand buys are a Corsa D or E – those made between 2006 and 2019. While they're designated as separate generations, there's an obvious similarity in their shape. The D was such a success that Opel and Vauxhall didn't feel a pressing need for complete reinvention come replacement time.

Advertisement - Page continues below

What's so good about the Vauxhall Corsa?

It's the cheese sandwich in the automotive meal deal. It's the simple, straightforward choice that will slip into your life free of drama and with utmost simplicity in its operation. The point is well evidenced by the latest-gen car in its fully electric Corsa-e form; if you want an EV that's exactly like your old petrol or diesel car, one that makes the jump into EVs as painless as possible, it's the one.

What's so bad about the Vauxhall Corsa?

Have you every truly desired a cheese sandwich? Or does it just sate your hunger until you head to Nando's later? Its lack of drama is of little use if you really dig cars and want something that'll excite you every time you blip the key fob. It's so ubiquitous as a learner's car, too, that there might be a general whiff of immaturity about owning one. If you've just ripped up your L-plates it's surely nice to jump into something different to mark the occasion.

Advertisement - Page continues below

What are the common problems?

As dinky little urban transport you'll need to be watchful of biffs to the bodywork and wheels. Make doubly sure the car hasn't been properly crashed; even if it's been repaired well, this was a hugely popular car when new, so you're never going to be short of alternative options on the used market. Even in a slightly wild used car market – with prices pushed north by new car chip shortages – there should be enough competition for you to have some haggling power.

What engines and trims are available?

The Corsa D comes from a time when mainstream petrol engines were free of turbos (and thus shorter on torque and worse for fuel economy). Most are 1.0- or 1.2-litre, with around 60 or 80bhp respectively. These are the cars that'll snare you cheaper insurance as a new driver, but there are more powerful 1.4s and even 1.3- and 1.7-litre diesels if you so desire. In a car this dainty, diesel is arguably overkill, and increasingly problematic when it comes to entering low-emission zones such as London's ULEZ.

The Corsa E comes from the turbocharged era, and you'll probably want to favour the punchy little 1.0-litre 3cyl that rivalled Ford's Ecoboost engine. Though a lot of cars in the classifieds use an older-hat 90bhp 1.4-litre. It won't excite you, but then neither will the package it sits in…

Trims are too abundant to list and you're better focusing on the equipment fitted rather than the badge stuck to the wings. SXi and SRi versions sound cool but don't bring additional performance.

Is it safe?

Back in 2006, the Corsa D scored the full five stars at Euro NCAP. Come 2014, the Corsa E scored four stars, though given the evolutionary nature of the scoring system, it ought to perform similarly and will probably come with more safety equipment as standard. Again, check the spec sheet of the specific car you're looking at. Popping its age and trim level into a search engine should reveal all.

How economical is the Vauxhall Corsa?

If this is your primary concern, then perhaps those diesels deserve a proper glance. The 1.3-litre Ecoflex claims over 70 miles per gallon while nipping under the 100g/km threshold for CO2 emissions that, until April 2017, yielded free road tax. The 1.0- or 1.2-litre engines you're more likely to find for sale should top 45mpg in everyday use, and the larger 1.4-litre petrol shouldn't be much worse as it's likely to be less stressed accelerating down slip roads and the like.

Advertisement - Page continues below

How does the Vauxhall Corsa drive?

Fun is better bound in a Fiesta; the Corsa majors on making your life simpler. The focus here is on ease of use rather than putting a big fat grin on your face, with the exception of the Corsa VXR hot hatchback. It only got more entertaining as it evolved, Vauxhall (well, Opel) upping its tech to keep up with RenaultSport Clios and quick Minis. It didn't quite have their finesse and deft touch, but its more binary and aggressive approach to cornering had its own appeal.

How fast is the Vauxhall Corsa?

You're unlikely to be troubling acceleration records in most Corsa D and E models, but that's precisely why they've become a near default choice for first-time drivers. Lower powered Corsas will take 15 seconds (or more) to hit 62mph, but that's exactly what keeps insurance costs low. It's the 1.6-litre turbo Corsa VXR you need if you crave speed – with peak power ranging from 189 to 202bhp, it'll cover 0-62mph in around seven seconds.

 

Advertisement - Page continues below

What's the interior like on the Vauxhall Corsa?

There's a bigger step between the Corsa D and E generations inside than out. The former looks fabulously basic these days, but in the right trim you can still get a nav and media screen in the middle, albeit one that now looks dated. But there's a pleasing order to how it's all laid out and the heater controls are nice and chunky. Classy dials, too. The arrival of a new Corsa in 2014 brought a big step up in materials, perceived quality and the abilities of its new touchscreen system.

 

How reliable is the Vauxhall Corsa?

It's broadly a simple car to run, but there are a few things to keep an eye for. Electrical gremlins, for starters. Check all the windows, mirrors and central locking functions work before you buy. Likewise the steering should be light and easy – if it's not, the power steering motor is in poor health (a bit of a common thing), so walk away. Likewise turn down any car with a rattly engine. The timing chain fitted to most of the Corsa's engine options doesn't respond well to abusive driving and ownership; it vocalises its disgust by making a right old racket.

How much does the Vauxhall Corsa cost to insure and tax?

Insurance should be pretty decent on all models below the VXR hot hatch – if you can't afford to insure a bog-standard 1.0-litre Corsa, there'll be little that does fall in budget. Tax varies on engine size and age, but £30 to £165 per year covers most models. Only the 1.3-litre diesels slip into tax-free, sub-100g/km CO2 emission territory. The VXR naturally costs most; up to £265 if it's registered before April 2017.