Top Gear series 25
Everything you need to know about the Dodge Demon
The 'firsts', 'mosts', 'biggests' and 'fastests' that make this the ultimate Top Trumps card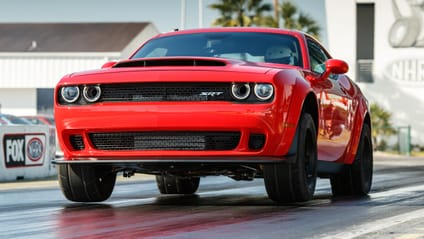 Ah, the Dodge Demon; star of episode four of all-new TG TV. It's an unhinged, drag-racing ultra-muscle-car that spanks the bonkers 707bhp Dodge Hellcat into second class citizenship of Muscle Car world.

How? Well, it's all thanks to 840bhp, 770lb ft of torque and some of the craziest drag tech ever put on a production car. And did we mention that it'll do wheelies? Yep, Dodge has gone mad and we love it. 

The Demon is the work of Dodge's most hardcore guys who are car enthusiasts of the highest order. They holed themselves up in a room, applied the logic of aftermarket but then massaged it within the restraints of American regulation.

You get the impression that working on the Demon project would be fun (beers at lunch, Dickies denim and lots of heavy metal) but they've also proven they're incredible engineers, given it's mad as a badger but will still keep the government happy. It even has the benefit of a warranty slapped on the windscreen. What's been achieved with the Demon is remarkable, as it's not re-written the rulebook, but fed it spine first into the shredder. 

The Demon has so many world firsts that Dodge's official press release would have been better written on a scroll rather than hectares of paper. And no matter how many times you read them, they never get any less impressive. 

To make them easier to swallow, we've galleried up all the Demon's incredible stats, world firsts and heavy artillery pub ammo to show you just how mad this wheelie-popping lunatic is. Seriously, if there's one car you need in your hand of Top Trumps, it's this one. 

Advertisement - Page continues below

It's the world's fastest production car from 0-60mph

Two point three seconds. That's how long it takes to get to 60mph from a standstill. With a roll-out, that time sinks to 2.1 secs.

For reference, the Demon is faster than a Bugatti Chiron (2.4secs) and the Tesla P100D with Ludicrous Plus (2.3 and a little bit). And that's with the Demon being rear-wheel drive only compared with those two cars' all-wheel drive platforms.

How long does it take to get to 30mph? One second flat. That's satanic. 

It has the highest horsepower V8 engine ever produced

Making it the most powerful production muscle car ever. That's thanks to 840bhp and 770lb ft of torque from the supercharged 6.2-litre HEMI V8. And before you start commenting that it's just a Hellcat engine turned up, it's not. 

The Demon's V8 has 25 major component upgrades including a new, larger supercharger (2.7 litres vs. 2.4 litres), new pistons, rods, valve train andfuel injection system, as well as increased boost pressure (14.5psi vs 11.6psi) and a higher rpm limit (6,500rpm vs 6,200rpm).

Advertisement - Page continues below

It's the world's fastest quarter-mile production car

Ready for this time? The Dodge Demon trips the lights at an insanely fast 9.65 seconds, at 140mph.

You want a comparo? The latest ultracars from McLaren, Porsche and Ferrari can manage 'only' 9.8 seconds. The Chiron might ultimately beat it when it finally appears. But for now, the Demon is the king of the quarter mile.

It's so fast the NHRA has banned it

Yep, because of that outrageous quarter-mile time, the NHRA (National Hot Rod Association) has banned the Dodge Demon for being too damn fast.

Why? Well, it's sent to the sidelines on a technicality that anything that runs under 10 seconds or over 135 mph requires an NHRA certified cage, which the Demon doesn't have as standard. But if you show up at an NHRA-sanctioned event and the best you can get out of the Demon is a 10.01-second quarter-mile, you're in the clear.

But as soon as you dip into the nines, or over 135mph, you'll have to weld an NHRA cage in the back. Otherwise, it's an early bath. 

It's the world's first production car to do a wheelie

Wheelies are something bikes do, not cars. Well, only the craziest drag cars.

Well, the Challenger SRT Demon is the world's first production car to lift the front wheels at launch. A wheelie, to you and I. Being able to see light under the front wheels at launch has sent it into the Guinness Book of World Records for the world's longest wheelie from a standing start by a production car. All 2.92 feet of it. 

It's produces more g-force under acceleration than any other car

Pulling wheelies doesn't happen without Mr Physics butting his nose into the situation. Lifting the front wheels requires a lot of shove, and results in your cheeks slapping the backside of the headrest as the car pulls 1.8g. Consider for a second what 1.8g of acceleration in the Demon would feel like. Yeah, our organs are screaming too. 

Advertisement - Page continues below

For $1 you can make it even faster

When you buy your car, you will be given a coupon. Don't throw this away. The coupon entitles you to buy the Demon Crate for the princely sum of $1. This kit, which comes in its own bespoke box of awesome, contains everything you need to turn your road Demon into a track Demon. That solitary dollar will get you;

A performance powertrain control module with high-octane engine calibration
A replacement switch module containing high-octane button
Conical performance air filter
Passenger mirror block-off plate
Narrow, front-runner drag wheels
Demon-branded track tools
Hydraulic floor jack with carrying bag
Cordless impact wrench with charger
Torque wrench with extension and socket
Tyre pressure gauge
Fender cover
Tool bag
Foam case that fits into the SRT Demon trunk and securely holds the front runner wheels and track tools

It's the first production car designed to run on 100+ high-octane fuel

The Demon Crate's powertrain controller allows you to magically run your Demon on 100-octane race fuel, just by pressing a button. All you need to do is source the stuff and slop it in the tank as the car measures the petrol's octane and, if it hits 100, resets all of the engine's timing to make the most of it.

In this beast mode, the Demon produces 840bhp and 770lb ft. And it keeps making that power almost irrespective of what the weather is doing. 

Advertisement - Page continues below

First-ever production car with a TransBrake

Unless you've spent your life at drag strips, you've probably not heard of a TransBrake. Basically, it's used to help improve driver reaction time at the Christmas Tree lights – as well as launch consistency by using the steering wheel paddle shifters as a trigger.

But it's more than that. It also locks the transmission output shaft to hold the car in place before a standing start. This lets you increase the engine speed up to 2,350rpm without overpowering the brakes, resulting in quicker power delivery and up to 15 per cent more torque at launch.

First-ever production car with a torque reserve

More drag lingo for you: torque reserve. It works in conjunction with TransBrake to get the Demon off the line like a dog egg off a shovel. It's active whenever the car is in launch mode, and you have more than 950rpm on the clock.

It works by increasing supercharger revs without torque overwhelming the brakes and spinning the rears. Basically, it creates more energy that can be released more efficiently for a what-the-hell-was-that type quarter-mile time.

With TransBrake and Torque Reserve buddying up together, the Demon has more than 8psi of boost at launch and up to 120 per cent more engine torque than without Torque Reserve. TransBrake also preloads the driveline with torque, leading to full engine torque delivery at the rear wheels within 150 milliseconds of you lifting your finger off the paddle. 

First production car with front passenger seat delete

To save weight, the Demon comes as standard with just one seat, the driver's. If you want the passenger seat you can have it added in for just $1. 

It doesn't have rear seats either

But if you insist on the rear seat, that'll cost you, yes, another $1. But if you don't tick those boxes, you will be driving on your own. How brilliant is that?

It has the largest functional hood scoop of any production car

To make big horsepower you need decent fuel, a big engine and one other key ingredient: air. And the Demon guzzles the stuff thanks to 'Air-Grabber', the largest functional hood scoop (all 45.2 square inches of it) of any car on the road.

The Air-Grabber is sealed to the air box, which is also fed from the driver-side by another natty device, Air-Catcher. That's a hollow headlamp and an inlet near the wheel liner. Combined, these give the Demon an air-flow rate of 1,150 cubic feet per minute, 18 per cent greater than the Hellcat and the largest air induction volume of any production car.

It's the first car to have a liquid-to-air intercooler chiller system

Making lots of horsepower and speed also makes a lot of heat. And heat is wasteful. So to keep things cool, Dodge has give the Demon a 'Power Chiller'. No, it's not a fridge in the back like a Bentley, rather it diverts the air-conditioning refrigerant from the SRT Demon's interior to a chiller unit mounted by the low-temperature circuit coolant pump.

Charge air coolant, after being cooled by ambient air passing through a low-temperature radiator at the front of the vehicle, flows through the chiller unit, where it is further cooled. The chilled coolant then flows to the heat exchangers in the supercharger, for more power. 

But every run down the strip generates heat, which normally builds up as heat soak. The Demon hates heat soak, so has an After-Run Chiller. Nope, not a fridge either. Rather when it kicks in, once the engine is shut down after a run, you can get ready in a hurry for the next run without waiting.

The After-Run Chiller keeps the engine cooling fan and low-temperature circuit coolant pump running to lower the supercharger/charge air cooler temperature, helping the Demon shed heat soak. 

First ever car to be fitted with drag radials

Grip is everything when launching a car, and the Demon has it in spades thanks to the tyres it wears. They're Nitto NT05Rs: street-legal, drag-racing tyres – a first for a production car.

The 315/40R18s are bespoke to the Demon, with a new compound and specific sidewall construction. They give a 15 per cent larger contact patch, and more than twice the grip of the Challenger SRT Hellcat, and stretch the car out by another 3.5 inches. When mounted on the lightweight 11x18-inch wheels it looks nothing but bob-on in our books. Sidewall can be cool as well, kidz. 

You can have skinny front wheels and tyres like a proper dragster

To save weight at the front end and throw it to the back for a better launch, part of the Demon Crate includes narrow, front-runner drag wheels. They're stored in the boot (with jack and pump) until you rock up at the track and swap them over for the fatties to start ripping up the strip. How cool is that? 

It's the first car to have drag-specific suspension

To get the front-wheel-drive record at the Nurburgring, VW tuned the Golf Clubsport S's suspension specifically for the German track. Dodge has played a similar trick with the Demon.

However, instead of tweaking it for an undulating rollercoaster of a track, it's done it for a long strip of straight tarmac. In 'Drag' mode, the Bilstein dampers and shocks alter to throw as much weight as possible to the rear for maximum traction. We're told this chucking of weight backwards improves rear tyre grip by 11 per cent, thanks to softer springs (35 per cent at the front and 28 per cent at the rear) and softer, lighter, hollow sway bars.

The Demon is more than 200lbs (90kg) lighter than a regular Hellcat. And here's how the weight was saved, in local currency. 

58 pounds: Removed front passenger seat and belt
55 pounds: Removed rear seat, restraints and floor mats
24 pounds: Removed 16 audio speakers, amplifier and associated wiring
20 pounds: Removed trunk deck cover trim, carpeting, spare tyre cover
19 pounds: Smaller, hollow sway bars
18 pounds: Removed mastic, body deadeners, insulators and foam
16 pounds: Lightweight all-aluminum four-piston brake caliper and smaller, 360-mm two-piece rotor
16 pounds: Switched to lightweight wheels and open-end lug nuts
4 pounds: Switched to manual tilt/telescope steering column
2 pounds: Removed parking sensors and module

Burnouts in the glass? Where do we sign?!

It brakes harder and faster than a Viper ACR

When you're trying to tear a hole in the atmosphere, you need brakes that can bring you back to earth again. Luckily, the Demon has powerful Brembos that sees it go from 60mph to a standstill 97 feet (29.6 metres).

It's faster than most supercars while in 'Eco' mode

Although the image above would make you think otherwise, like all Dodge cars, the Demon has Eco mode.

Fuel economy figures haven't been released yet (we're not expecting a lot to be honest), but Dodge has thrown it down the strip in Eco mode where it did an 11:59. That should keep Greenpeace happy. 

It won't take Einstein to make it go faster

Being a production car, the Demon is covered by Dodge's three-year/36,000-mile warranty and five-year/60,000-mile powertrain cover. Which is a bit nuts, considering how much power it has. But that just proves the engineers have faith in their work. However, if you're willing to invalidate your warranty, it won't take much to get even more face-bending oomph from your Demon.

First off, you can put even stickier slick tyres on the car so you can get the full 2,350rpm loaded up on the TransBrake. Then a smaller supercharger pulley on it to get more boost.

As there's a larger case now (remember, it's gone from a 2.4-litre supercharger to a 2.7), putting a smaller pulley on it will give more boost. Then you can pull the cats off to make it sound the knackers but never take on the road. And then fill it up with really high octane leaded fuel or an EA5 tune.

Then we'd recommend saying a prayer and holding on tight, as four-figure power isn't out of the question. Yikes.