Top Gear TV
Five wild all-terrain vehicles you can buy
Inspired by TG TV's fun with Formula Off Road? We've rounded up some stars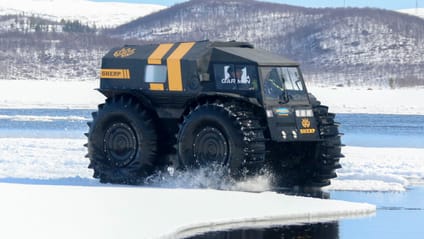 Advertisement - Page continues below

Can-Am Maverick X3

If you want something tough enough to act like a 2/3rds-scale Trophy truck, have cash to spare and a big enough garden/access to a desert, you can't do better than a Can-Am Maverick X3. From the basic 900 HO (n/a 90bhp Rotax, 18-inches of suspension travel front and back and a QRS CVT 'box) with side-by-side two-person configuration, to the X RS Turbo R (Turbo 172bhp Rotax, 24-inches of travel, diff-locks, CVT and Fox Racing suspension), there's something for pretty much everyone. And there are four-person variants for those of us who have friends they need to terrify.

Honda TRX500 Foreman

Traditional ATV-ness in the shape of Honda's bulletproof TRX500 Foreman. A small, rugged quad, the Foreman is a 475cc four-pot with high and low ratios, an auto transmission with manual selection and plenty of versatility. Basically, it's the kind of thing that acts like a tiny tractor on a farm (it can tow 600kg), for smaller workhorse jobs. No, it might not have the flash and speed of something like the Can-Am, but for farmers, foresters, game keepers and the like, it's one of those faithful companions that become a proper useful tool.

Advertisement - Page continues below

Sherp

The Sherp is a Russian-built, go-anywhere, amphibious ATV that's a lot smaller than it looks. Ok, so only 44bhp from a prosaic Kubota V1505-t four-cylinder snowmobile engine might not sound like much, but the top speed of 27.9mph can be achieved on pretty much any surface, from pack ice to mud, and it floats, so you can also wander through rivers and lakes at a walking pace 3.7mph. The tyres act as paddles on water, and it uses a rudimentary-but-rugged skid-steer system like a tiny tank. Own-length donuts anyone? The best bit is that the Sherp's huge 63/23-25 tyres operate at super-low pressures, meaning that wherever it goes, it treads lightly, leaving little or no tyre-track damage.

Argo

It's a TINY TANK and we love it. In fact, the Argo XTi 8x8 is a quad-tracked amphibious ATV that can literally go anywhere - you name a surface and the XTi has you covered. Purportedly for 'industrial users requiring a durable, robust extreme terrain tracked vehicle to transport people, equipment and supplies', the XTi comes with a V-twin 750cc Kohler engine, handlebar steering (simple stuff), and a weird-but-reliable 'Admiral' steering transmission. It can carry 590kg on land and 450kg on water, and has a top speed of 17mph and 3mph on either (and anything in-between), respectively. No, it's not designed as a thrill machine, but for those people who absolutely have to get to places where an off-roader just can't, this is the kind of thing you need: super simple, reliable, rugged.

Ripsaw EV2

So now for something really silly. An actual tank. Which means it doesn't get much more ATV than this. In fact, Howe and Howe's Ripsaw EV ('Extreme Vehicle' rather than electric) is a 'luxury' lightweight tank, and the fastest tracked vehicle ever developed. It's available to buy in limited production, and can cost upwards of half a million dollars, depending on spec. And yep, you can configure one pretty much however you want, from the EV3F1 single-seater to the EV3F4 four person.

Ripsaws come with petrol engines ranging from 500 to 1,500bhp, diesels from 500 to 1,000bhp and gearing to around 60mph. But that's 60mph up, over and across pretty much anything. And it's comfy, too - even the cockpit has its own air suspension system on top of the vehicle's own 16-inches of suspension travel. Tracks? Not just for trains.