USA
Top Gear's top 20 hybrids in the US
Want something super efficient but not ready to take the plunge on an EV? Don't worry, we've got you covered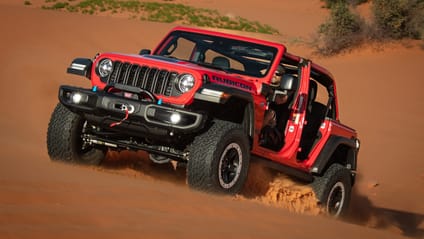 The BMW 3 Series continues to be the benchmark for compact luxury/sport sedans, and if you don't mind a bit of extra ballast, the plug-in hybrid 330e is a real peach. Useful electric range, plentiful torque, and a lower center of gravity only enhance this car's A-game.

Advertisement - Page continues below

Mercedes' ubiquitous GLE-Class SUV is a known commodity with upper-middle-class socialites. Adding a plug-in hybrid powertrain not only improves this luxury SUV's performance chops, it gives you access to the all-important "hybrid only" spaces at Whole Foods. Total win-win.

Lincoln Aviator Grand Touring

Lincoln's whole shtick is "quiet luxury", and there's nothing quieter than driving under fully electric power. The top-trim Aviator Grand Touring will let you cruise silently for up to 21 miles. Quiet flight not your jam? Then enjoy the Aviator's 494hp and 630lb ft of electrically assisted torque.

Advertisement - Page continues below

There's something extremely cool about crawling through the forest or climbing rocks in the desert under electric power, and the only way to do that is in a Jeep Wrangler 4xe. Take the roof and doors off and enjoy the sounds of nature.

Here's the thing: minivans are low-key cool. They're just as functional as large SUVs but are actually better suited to hauling people and cargo, and the Toyota Sienna comes standard with a refined and efficient hybrid engine. It's the ultimate family mobile.

Volvo's gung-ho about electrifying its lineup, and the XC60 crossover was one of the brand's first products to offer a plug-in hybrid powertrain. Combine svelte Swedish style with plush interior and electric power, and this is one compelling compact SUV.

The Lexus RX was a pioneer for luxury crossovers, and Lexus' parent company, Toyota, was a pioneer of mass-market hybrid tech. Put the two together and you have the hybrid RX, which is plush, refined, and efficient. Plus, Lexus offers not one, not two, but three different flavors of electrified RX, with both standard and plug-in hybrid options, depending on what suits your needs best.

Advertisement - Page continues below

Kia Sportage Hybrid + Sportage Plug-In

Here's another one-two punch of electric power. The wildly styled Kia Sportage has a solid hybrid option, with a turbo engine and electric assist, or a more powerful plug-in powertrain with some honest EV range. Either way, you're getting a cool and competent compact crossover that'll definitely turn heads.

Hyundai Tucson Hybrid + Tucson Plug-In

Kia Sportage a little too wacky looking for your tastes? Maybe the Hyundai Tucson is more your speed. It's still got lots of style, and offers the same hybrid and plug-in hybrid engine options. It's definitely a front-runner in the super competitive small SUV segment.

Advertisement - Page continues below

Here's another rad minivan, though this one has a plug-in twist. Chrysler offers its likable Pacifica with a plug-in option, giving you up to 32 miles of fully electric range.

Goodness gracious, the Hyundai Sonata is a looker. There's plenty to get excited about with the gas-only Sonata, but the Sonata Hybrid has a major ace up its sleeve: 54 mpg. For a midsize sedan, that's outstanding.

Honda's stalwart Accord has long been offered with hybrid power, but it's now the standard engine option on the sedan's mid-grade and higher trims. It'll crack 50 mpg in city driving without issue, and there's an absolute ton of room inside. Pair that with Honda's hallmark reliability and the Accord Hybrid becomes a no-brainer buy.

Toyota RAV4 Hybrid + RAV4 Prime

Toyota offers a ton of hybrids in all sorts of shapes and sizes, and its hot-selling RAV4 is available with two different types of electrification. The standard RAV4 Hybrid makes efficient driving a cinch, but the RAV4 Prime adds plug-in functionality to allow for longer stints of fully electric driving. Added bonus: the RAV4 Prime is quick as heck, too.

Want Prius-like efficiency but don't want to have to say "I drive a Prius" at parties? Yeah, we get it. That's why Toyota makes the Corolla Hybrid, a compact sedan that'll return 53 mpg without breaking a sweat.

A lot of automakers use plug-in hybrids for performance applications, and nowhere is that more apparent than in the Porsche Cayenne. You won't find a better-driving plug-in hybrid SUV anywhere else.

The sweet, supple S-Class is a top-notch full-size luxury car. Assuming you can ignore the allure of a V12-powered Maybach or screamin' AMG S63, the eco-friendly plug-in S580e gives this satisfying sedan an extra efficiency edge.

Kia Niro Hybrid + Niro Plug-In

The Kia Niro crossover is only available with electric power. The Niro EV is a real honey, but don't sleep on the standard Niro Hybrid or Plug-In. These compact CUVs are packed with tech, reasonably priced, and some of the most efficient gas-powered cars on the road.

Never mind a hybrid engine's efficiency benefits. In the F-150 PowerBoost, the hybrid powertrain makes this full-size pickup so much nicer to drive, and allows owners to use the battery to power external devices. The F-150 can literally power your house if needed. No other hybrid on this list can do that.

On the other end of Ford's truck spectrum, there's the clever little Maverick, a compact pickup that simply oozes charm. A hybrid option means this truck can easily exceed 40 mpg in real world driving, making it one of the most useful all-rounders you can buy – assuming you can get a spot on the already long waiting list.

Toyota Prius + Prius Prime

The original mainstream hybrid is still the one to beat. That's especially true now that the Prius has had a major glow-up, turning the once dumpy-looking penalty box into a car you'll genuinely want to drive. Whether you pick the standard 57-mpg Prius or plug-in Prius Prime, Toyota's OG hybrid is an incredibly efficient and attractive daily driver.