Weird
It's the Back to the Future Rolls Royce!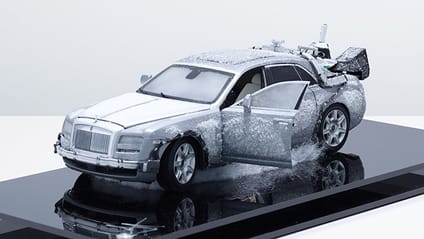 Yes, the car is everything the headline promised. Here is a Rolls-Royce Ghost made up as a potential time machine fit for Marty McFly. It's the Back to the Future Ghost, and it is excellent.

Before you ready your finest '1.21 gigawatts' quotes, however, a, um, small caveat. It's a scale model of a Rolls-Royce Ghost made up as a potential time machine; specifically, a 1:18 scale replica. At around 30cm long, it is therefore a very small slice of BTTF excellence.

It's just one of twelve model Ghosts developed by contemporary artists working in collaboration with Rolls-Royce, named 'Outta Time', and was designed by JJ Adams.

"The idea is to celebrate Rolls-Royce's past, present and futuristic design while adding my own pop culture touch and references as I do in all my works," Adams says. "It has a hover conversion and all the time travel exterior accessories as seen in the film."

All twelve Ghost models will be on show at RR in London's Berkeley Square, before being auctioned off at a private event at the RAC on 30 June, with all proceeds going to Breast Cancer Care.

"This revered group of artists use Rolls-Royce Ghosts models to create thought provoking works," explains Rolls-Royce's Richard Carter. "This has been an exhilarating collaboration which promises to raise valuable funds for a very worthy cause."

It's certainly thought provoking - can you just imagine a world in which Dr Emmett Brown manages to bag a Ghost to travel back to 1955? Heck, with the Ghost's 6.6-litre V12 on board, he'd probably not even need that pesky flux capacitor.

Cool thing, no? Have a click through for more of the RR charity Ghost scale models, and tell us your favourite in the commenty-bit below. Warning: contains quite a lot of arty weirdness.

Advertisement - Page continues below

Charming Baker's 'One in Eight'

"I read that one in eight women in the UK is diagnosed with breast cancer, so I have set the car in a clear block of resin, suspended in the middle of the block - floating, pristine.

"The whole block has been drilled 16 times, in a very orderly and simple grid pattern. Fourteen drill holes pass through the clear set resin only, two pass through the resin and the model car."

Richard Wentworth's 'Phantasmagoria'

"'Car' is a lovely word derived from 'chariot', but the mysterious word 'vehicle' has been my propellant for this work."

Advertisement - Page continues below

Gavin Turk's 'Ghost Story'

Turk is said to have taken inspiration from Planet of the Apes: he's inserted the RR into a tableau, where 'nature has reclaimed control over civilisation'.

"The model now finds itself host to a colony of fly agaric toadstools, an icon of fairy tales..."

Mark Wallinger's RR Ghost

"The aim was to raise public awareness of the new company and to show the reliability and quietness of [RR's] new car. The latest Rolls-Royce Ghost harks back to this original groundbreaking car [the original Silver Ghost].

"I have placed the modern Ghost in a small frosted glass vitrine to create a ghostly Rolls-Royce."

Maggi Hambling's 'Out of the Depths'

"The Spirit of Ecstasy, the iconic symbol of Rolls-Royce, may well be interpreted as a powerful angel of endurance and perfection. In my sculpture, she becomes an angel of hope, a conquering force, emerging triumphantly out of the depths."

Sam Taylor Johnson's 'RR Shades of Grey'

Yep, it's the same Sam Taylor-Johnson who directed the John Lennon film Nowhere Boy, and, um, Fifty Shades of Grey. Insert your own 'leather upholstery' gag below.

Advertisement - Page continues below

Yinka Shonibare's 'Mosaic Patterned Rolls Royce'

"I have covered the model Rolls-Royce in a mosaic patchwork of Dutch wax Batik fabrics. The mosaic is an extension of the customary way in which I work with African textiles.

"This way of working has formed the identity of my practice for a number of years. The work has the appearance of a domesticated interior design on a high-spec outdoor vehicle."

Angela Palmer's 'The Ghost'

"Working with detailed cross-sections of the car supplied by the design team at Rolls-Royce, I have engraved details onto multiple sheets of glass and presented these on a slatted base, creating a three-dimensional 'drawing' of the car.

"The Rolls-Royce Ghost floats ethereally in its glass chamber, but can only be discerned from certain angles. From the side, the Ghost vanishes and the viewer will see only a void before its image reappears as they move around the sculpture."

Advertisement - Page continues below

Andrew Salgado's 'Painter's Palette'

"The Ghost sat atop my palette for some time, where it was an extension to my canvas: the locus of possibility where I mixed, scraped, wiped, abandoned, and scooped paint. Over time, the Ghost became an extension of me and my work."

Natasha Law's 'The Sum of its Parts'

"I have painted the car entirely so it is as close to a blank canvas as I can make it. Onto this I have painted the shapes made by the clothing that a figure is removing.

"The figure itself is invisible but is suggested by the clothing as it is being manipulated by the figure."

Stuart Semple's 'Little Ghost'

Inspired by the White Stripes song, Semple's model is said to 'create the effect of the car being dipped in paint and frozen in time through modeling resin by hand'.