News
10 things we learned about the next Vauxhall Corsa
There's a new Corsa coming. We've driven it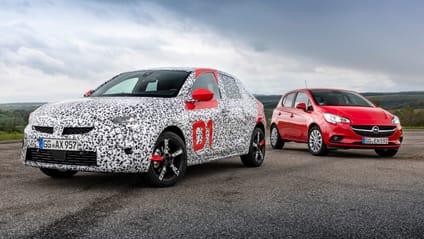 It's been rushed to market

Here's the new Vauxhall Corsa… wait, take your thumb away from the back button. Give me a few minutes to explain. Because if you don't drive yet, I can pretty much guarantee it'll be useful to know your way around the new Corsa. And if you do already drive, then as your extended family's go-to car guy, your Auntie Doreen is going to be asking you about this one. So pay attention.

Vauxhall/Opel is now owned by PSA Peugeot-Citroen. The latter has done well in recent years by streamlining its product portfolio. Now they're doing the same with Vauxhall, reducing the numbers of engines and platforms three fold. Just two platforms and four engines across the entire model range.

The new Corsa shares its underpinnings with the recently launched DS3 Crossback. At least it does now. PSA's takeover happened less than two years ago, at which time Vauxhall/Opel was putting the finishing touches to the Corsa it had developed under General Motors guidance. That was canned, and this new one rushed through in under two years. It'll go on sale at the end of this year, replacing not only the current car, but also the smaller Adam and Viva models. They're victims of the PSA cull.

Advertisement - Page continues below

It's going to look very different

OK, it's hard to tell at the moment, which is the whole point. However, the profile suggests a very conventional shape, with a less sloping, one-box design than the old Corsa. It's also much lower overall (down 48mm), the intention being to improve dynamics by lowering the centre of gravity and sitting the driver lower in the car to enhance the sense of comfort. It does mean that you have another 28mm to drop into the seat, which might not suit all Corsa drivers.

It's five door only (more cost saving) and the engines aren't going to set the world alight. There's a naturally aspirated 1.2 with 75bhp (steady…) and a 1.2 turbo with either 100bhp or 130bhp. It doesn't look like we'll be getting the latter in the UK. Here's hoping the VXR department hasn't been culled too. There's even a diesel, a 1.5 with 100bhp.

There'll be an electric one

That's right, and it'll probably be the first one that Vauxhall takes the wraps off. Although we're reliably informed that the visual differences between electric and internal combustion will be minimal.

Vauxhall speaks of 'multi-energy propulsion' – basically giving buyers the choice of petrol, diesel or electric. This is possible because PSA's CMP (Common Modular Platform) is fully e-compatible – it'll soon underpin the next-gen Peugeot 208. Sales of the electric version will start after the internal combustion cars, likely in spring 2020. If you're only doing local trips it may well be the one to have. No word on power, performance or range just yet, but given PSA has announced that future fast 208s will be e-powered, we can at least assume it'll have a sizeable battery.

Advertisement - Page continues below

It weighs less

OK, this isn't going to be true of the electric version, but the rest of the new Corsa range is commendably light. You can see the figures above, and in total the new Corsa is over 100kg lighter than the outgoing one. In fact Vauxhall claims it's the lightest car in its class, the base model weighing 980kg. Which helps both agility and efficiency.

It has an interior

What's it like inside? Your guess is as good as mine. Well, my guess is probably slightly better as I lifted the camo out the way to see what lay beneath. Apart from the gearlever there's nothing too obviously from the PSA parts bin and the seats and driving position are actually very comfortable. Quality seems good, there are separate heating controls (PSA tend to bury them in the main screen menus) and the dials are all easily legible.

Rear seat space is tight despite a longer wheelbase, while boot volume is up from 285 to 309 litres.

It feels pretty good to drive

We drove two of them – a red 100bhp manual and a yellow 130bhp auto. With paddleshift as standard. It felt pretty good actually. The stand out for me was the low NVH levels. It stayed, flat, level and quiet on ropey roads.

The intention, claims Opel, is not to rival the Ford Fiesta for vitality. They want it to be more relaxing than that, easier to drive, less tiring, to major on comfort and stability. That's a bit of a cop out, as light, small cars lend themselves to feeling nimble and alert. This one is more mature. Not instantly fun to drive, but satisfying and undemanding.

There seemed to be a difference between the two, though. The yellow car, about 40kg heavier thanks to its auto gearbox, felt more planted and settled on the road, the suspension that bit better bushed. But then these were development cars and by Opel's admission, still had a bit of suspension and dynamic tweaking to be done.

It has engines

Well, one, plus a diesel that'll be along shortly. It remains to be seen what the appetite is for small diesels in Europe since the particulates backlash, so it's safe to assume most will be after the 1.2. Which is fine. Actually quite torquey, but there's no point taking it beyond 5,000rpm – it loses energy and momentum.

Beyond the fact it has 100bhp, Vauxhall isn't yet announcing the CO2 and economy figures, but has revealed that all versions have lower CO2 than the current best-performing Corsa (which isn't saying that much as that's the 1.4 90bhp with 125g/km).

They've worked hard on the engines though – not for power obviously, but to reduce internal friction, improve turbo response and introduce idle coasting to save fuel in the automatic. Extensive aero work includes active shutters in the grille so that all versions have lower drag than the best of the old ones.

Advertisement - Page continues below

The auto is the one to have

The manual gearchange is decent enough. Most PSA manuals are, on the whole, dismal affairs, crunchy and awkward. This is better than that: the shift is light and easy, although the gearknob is still too large (a common Vauxhall issue) and an over-light clutch means the bite point is barely distinguishable.

If you can do it, have the auto instead. This is an eight-speeder, and has paddleshift as standard. At a stroke it makes the Corsa feel more mature and sophisticated, refinement is better and it's easier to drive. The fact it features paddleshift as standard means you can interact with it if you see fit. The shifts are smooth and responsive. No word on what it'll cost as an option, but it'll be worth considering.

You can have it with Matrix LED headlights

DS and Mini already have these, but Vauxhall/Opel is claiming the technology as a first for the mainstream, non-premium B-segment. The headlights work in partnership with a camera that detects other traffic and then switches off or moves the LED beams, so it can stay on mainbeam, and illuminate the sides of the road when there's other traffic coming towards you. If you've used this system in any other car, you'll know how effective it can be. And how irritating when it momentarily malfunctions and mainbeams the car in front.

Advertisement - Page continues below

It's an important car

We knew this already of course, but it's worth reiterating that while we might find it hard to care unduly about a small, ordinary supermini, the broader car market cares a great deal. What we would call superminis, but the car manufacturers like to refer to as the B-segment (because they're run by finance people), accounts for 2.8 million sales per year in Europe alone.

At the moment the Corsa has eight per cent of that, which is approaching a quarter of a million cars a year – numbers that should swell if Vauxhall can convert existing Viva and Adam buyers into the new model. Moreover, the Corsa accounts for pretty much a quarter of total Opel sales across Europe. They need to get this car right.