Modified
Here are some of SEMA's hottest hot rods
If you like your muscle cars with lots of power, you've come to the right place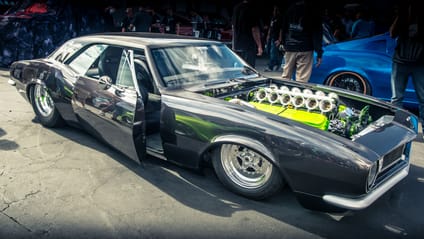 V12 LS–Powered Chevrolet Camaro

Yes, that is a very green twelve-cylinder engine. It's taking up pretty much the whole of the front end of this slammed, suicide-doored Chevrolet Camaro. 

But this isn't just some straight swap eight-for-twelve jobby, it's a 12-cylinder LS engine born out an eight-cylinder's design. Don't believe us? Well, just count 'em. 

It's the work of crazy Austrailian brothers Matt and Shane Corish and began life as two LS1 blocks that were chopped and welded together (four were binned, obvs) to make a V12 that's nearly nine inches longer than an eight-cylinder LS. 

Because of four extra cylinders, the LS V12 displaces a whopping 519ci with a factory LS1 bore and stroke. So, if you want to get your hands grubby, there's room for a lot more go out of it.

Currently, the engine pushes out 650 lb-ft and 717 horsepower with an aggressive custom billet cam and crankshaft. But the rest of the engine uses factory parts, including the pistons, rods, bearings, valvetrain. 

Best of all, you can now buy them off the shelf for $35,000. Perfect for plumbing into your parents' Peugeot, then. But if they kick up a fuss about it being a cut and shut job, tell them that instead of being one and a half LS engines welded together, every sold version is cast from a single-piece block.

Advertisement - Page continues below

Madam V

The rules of resto-modding normally dictate that modern mechanicals have to be embodied within an older chassis. Thing is, the Ring brothers don't like playing by the rules. 

So for this year's SEMA, instead of putting new Cadillac parts into a classic Caddy, they went and did the complete opposite by shrinkwrapping a heavily-modified '48 Cadillac body around a Cadillac ATS-V's innards. Literally all of them. Only three pieces were not carried from the new, old car into the old, new car. Those being the two side airbags and the centre brake light. 

To make it happen, Jim and Mike Ring cut the body off an ATS-V, stretched the chassis by 14 inches and then scratched their heads to work out how to get the modern mechanicals in and talking to each other. Once that was done, they grabbed the panels from a 1948 Cadillac Series 62 Coupe and plonked them over the modern underpinnings.

So this is a 1948 car with all the safety and personality of a modern performance car. There's a 464bhp twin-turbo V6 under the bonnet, plus an eight-speed automatic gearbox and all of Cadillac's electrical nannies. Handy, as the first thing the new owner plans to do is put winter tyres on it and take it up to the mountains. 

Inside, it looks exactly the same as a standard ATS-V, which your brain can't quite compute when you see the outside of the car. Either way, it's very cool indeed. 

'51 Ford Coupe

Sometimes it's the little details in cars that really show if someone has gone all-in on a project. 

If you can tell that some poor soul has gone to painstaking effort and expense to make a part – which, most of the time is never seen – gorgeous, you know the bigger, more obvious parts of the car are going to be in good nick too. 

Take this 51 'Shoebox' Ford Coupe for example. It's built by Wicked Fabrication and Byers Custom and has exquisite execution throughout. 

The Ford body has been heavily modified and sits on a custom Art Morrison chassis with new-fangled (for a car of the Fifties) independent suspension and a quick-change rear end. 

But steering clear of the new fad of dropping a brand new engine in the bonnet, these guys went old school by overhauling the 368 cubic inch V8 out of a '56 Lincoln and mated it to a five-speed T5 transmission.

Just soak up those details. There's a completely new interior with Daytona-style two-tone contrast leather seats, a Spyker-esque transmission tunnel, a wooden Nardi steering wheel, and fire suppression system nestled in lovely leather where the rear seats would normally be. 

However, for the first time in ever, the boot is what got our attention. The time and attention to detail taken to fit a spare magnesium wheel and Goodyear tyre strapped down in glorious leather proves why this has been such a Rodder's hit. 

Advertisement - Page continues below

"50/50" 1969 Chevrolet Camaro

If you want your muscle car to look menacing, black-on-black-on-black is arguably the best colour of choice. And nothing is rocking it better at SEMA 2016 than this 1969 Chevrolet Camaro.

It's the work of Rob Phillips and his team at PCHRODS. Christened 50/50, it's meant to straddle the line between luxury and performance. A Camaro that wants to have its cake and eat it, basically. 

Fitted with an LS3, quite a lot has gone on under the hood including adding an ASA camshaft, Hamburger's performance throttle body spacer, Holley Performance HP EFI, and Billet Valve Covers created by the Ring Brothers hooked up to a six-speed transmission. Then it was set up on new springs and fitted with Forged Intro Wheels wrapped in BFGoodrich rubber and a set of six-piston calipers were fitted to help it stop. 

Inside, there's a custom carbon fibre dash and enough finely sourced and fitted leather to make you gently weep with want.

1969 2+2 Fastback Mustang

We believe you internet folk have a phrase for this 1969 Ford Mustang. 'Hnnnng', isn't it? 

With shaved drip rails, custom handmade tucked bumpers and that lovely silver paint decorated with CNC machined badging and vents, it's incredibly fresh fodder for the eyes. 

The engine is box-fresh too, being a 5.0 Coyote V8 from the new Mustang but dropped into its great, great, great, great, great's grandfather's body.

1970 Dodge Charger

This is what happens when a Dodge Charger doesn't know what it wants to be when it grows up. It's one third NASCAR, one third low-rider and one third muscle car. But 100 percent awesome. 

Featuring a full-tube chassis, this '70 Charger has had three inches of metal removed to lower the roofline, while the body was sectioned by another three. 

Then, the front wheel wells migrated forward by two inches, its bumpers have been both shaved and tucked and custom door scoops fabricated. Underneath sits a 730-horsepower R5 NASCAR engine with custom intake manifold. Pretty serious bit of confused car going on here, then.

1957 Chevrolet

Whipple, the supercharger firm, used this delicious grey and red 1957 Chevy by Ironworks to be the model for its new blower kit. 

It's the first 4.5-litre front-feed twin screw supercharger ever fitted by Whipple. The blower sits atop an all-forged 427-inch LS that began life as an LS9 and, thanks to that twin-screw blower, produces a tyre-melting 1,200 horsepower.

Advertisement - Page continues below

1962 Chevrolet Bubbletop

Though, if you like your Chevrolet forced-induction to come in the shape of turbocharging rather than supercharging, Ironworks has you covered. This is their 1962 Chevrolet Bubbletop with a twin-turbo LS and some rather beautiful HRE wheels. So super or turbocharging, that's one for you guys to fight out below.