Adventures
TG's big road trip: Dacia Sandero across Norway
It's not what you've got, it's what you do with it. Tom Ford heads to Oslo in a Sandero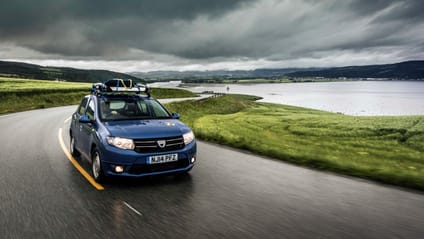 The coolest car in the world is a dark blue Dacia Sandero, on steel wheels, with a slightly aerodynamic Thule roof rack. I don't say this finger-combing a lustrous hipster beard and loading my fixed-gear wooden bicycle into the back, because this isn't some furiously anti-cool style statement. It's the truth. It's not because it's fast – our little companion has 89bhp from a sub-litre triple cylinder engine – or expensive, because you can buy a base Sandero for £5,995, making it the UK's cheapest new car. On finance, a bottom-rung Sandero costs less than some of the more comprehensive Sky Sports TV packages. It's not because it's pretty or cutting-edge or handles like a Lotus. It is because it is here, now. And it's a vector for adventure. My theory is that the coolest car in the world is the one in your possession. After all, you can go mental in a rental, and a Lamborghini you can't drive is just a pretty sculpture.

Photography: Justin Leighton

This feature was originally published in the October 2015 issue of Top Gear magazine

Advertisement - Page continues below

To prove the point, we find ourselves in Oslo in Norway, with nothing more than a blue Dacia on all-season tyres, some light spares and several bags of professional-strength Haribo. We are going to prove that drivers make adventures, not vehicles. Or we're going to get lethally bored, break down somewhere remote and get eaten by trolls. One way or the other, we'll see if you can have a blockbuster-movie adventure on a B-movie budget. Fingers crossed.

We begin with a little light realignment. Turns out that the roof rack was necessary – I've brought my own friendly troll in the shape of photographer Justin, and he's loaded the poor little Dacia with so much photography kit that the car is listing heavily to port.

A bit of load management – and a relocation of one of the spare wheels to the roof – and we're off, straight and level, with a full 103lb ft of torque struggling gamely to punt us down the road. Yes, it may feel slightly less epic than swooping off into the fjordlands in a noisy, expensive sports car, but there's something magical about the potential of any journey – something we tend to forget. And this feels, for some reason, like when you first pass your driving test. Fun. A lack of pressure. It also rings true when 30 seconds later I try to slot sixth from a five-speed gearbox and nearly engage reverse at 50mph. There is a heavy silence. Then laughter. Still, no damage done – that we can perceive, anyway – and so we head up and west, in search of Norwegian adventuring.

Advertisement - Page continues below

It's probably wise to acknowledge the fact that we go nowhere fast. But that's got less to do with our lack of power than Norwegian speed limits, which are low and rigorously enforced. In fact, I console myself about the lack of overtaking oomph by maintaining that anything more sporty would be frustrating and get us into trouble, or simply have me concentrating on other things than taking in the view. Justin eyes me uncertainly. We are heading down a seven-mile straight towards a dirty-looking glacier at 45mph. There are 1,700 miles left to go. This may take a while.

Some four hours later, after a brief and beautiful run up the Rv7, Rv52 and E16 roads, we're inside a mountain, and the first stop on our little tour. The Lærdalstunnelen. The world's longest road tunnel, some 15.2 miles chewed through the heart of a hill. It's a massive feat of industrial engineering, and to prevent literal tunnel vision – the hypnotic, crashy fugue state brought on by driving down a long, lit tube – there are three massive, brightly lit refuges along its length. And they're like installation art pieces – orange at the base of the walls, turning blue at the ceiling – that make this practical tunnel more of a weird agglomeration of art and engineering. Artineering. We stop and marvel a little. But Norway has more wonders to throw our way, and we have a schedule to keep.

Next stop, some five hours later on the Rv5 and E39, and it's another tunnel, reached via a combination of many smaller wormholes, and the common fjord-skipping ferries that form a vital part of the Western Norwegian road network when a tunnel just will not do. The ferries themselves are cheap, regular and serve mighty sausages, but the brief kilometre-long tubes that connect them have nothing on the one we're about to pour ourselves into: the Eiksundtunnelen. The world's deepest road tunnel.

Two record-breakers in a day. It's in Møre og Romsdal, and runs under the Vartdalsfjord, connecting Ørsta and Ulstein. It's also like driving into the bowels of the Earth, and dives for nearly 1,000ft under the sea, for 4.8 miles. At the bottom, there is a cave off to one side. We pause and feel the weight of water pressing down from above. A psychological pressure that increases when you see water running down the walls. The feeling is… not good. But it's another deeply abiding experience, especially when, after you climb out of the depths and into the light, it turns out that in the evenings around here, the mountains bleed gold.

Advertisement - Page continues below

Honestly, this is one of the most beautiful places on earth. Western Norway is brutal, in its way, and full of rain and faerie mists across the water. But it's also soaring, and majestic. It's a place of legend and stories – waterfalls cascading down the sides of every mountain, the roads carved along and through the valley floors. It's also a practical vision of the old saying "Water always wins" – because those waterfalls have become slow hammers on the valley sides, splitting and smashing with inexorable patience.

You feel very small here, especially in a little plucky Dacia, thrumming happily around. But it also feels free, and wild. And the Dacia, being practical rather than flashy, doesn't force itself upon the experience. It's something of a relief. It's also actually really rather good. If you get any satisfaction at all from fitness for purpose, then the Sandero will please you, in a quiet way. It may have been largely culled from old Renault Clio mechanicals, but it's the kind of car you end up giving a name. Charm, as it turns out, isn't always measured in horsepower.

Advertisement - Page continues below

Tired beyond belief, we eventually arrive in the town of Molde, feeling slightly overwhelmed and looking forward to a good night's rest. Norway, on the other hand, has other ideas. Apparently, Molde is holding its annual - and extremely large and famous - jazz festival. And holding it 50ft from my bedroom window. No wonder the rooms were cheap - we may as well have been trying to sleep in the brassy gob of a tuba. And no wonder the Mississippi jazzmen looked confused when I handbake-turned a small blue hatchback into the hotel entrance. The music is loud enough to rattle the windows, and at times descends into what can only be described as a parpy mélange of trumpetry. The tuba is sounding particularly distressed. A psychological unburdening through the medium of an enormous horn. It continues until nearly 4am. We get up at 5am.

The Atlantic Road is the only thing capable of lifting us from a near-trance state of tiredness. And it's more of the Norwegian predilection for making the industrial artistic. It's a swoop – a literal helter-skelter – of road that bounces across a series of islands from the Rv64 road, only an hour or so north of Molde. Widely regarded as one of the world's best road trips, it's shorter than you imagine, and filled with tourists in camper vans and on rented motorbikes. It's desperately pretty, but also too full – after time spent in Norwegian Zen and battered by Norwegian jazz, it feels crowded. So we move on quickly, glad to have visited, but with a more challenging route to investigate. A road I've always wanted to drive.

It's called the Trollstigen, connecting the town of Åndalsnes to the village of Valldal, part of national road 63. And it is, without doubt, one of the most spectacular driving roads in Europe. It's only about three hours from the Atlantic Road, and is usually only open from mid-May to October, but if you have breath in your body, you must go here. It may only have eleven hairpins, but to duck and weave under the waterfalls is something akin to a religious experience. And yes, even in a Dacia Sandero.

It's full of tourist buses when we arrive, so we retreat for the night and return at 4am. We're far enough north for it to be as bright as at midday, but the camera-toting hordes can't be bothered to be awake this early, so I have the perfectly surfaced Trollstigen to myself. Literally to myself. The feeling is difficult to describe. Joy and fear and excitement. Awe and childish glee. I traverse it several times – the back section is just as good as the climb, if flatter and faster, and it is here that I discover that there is no such thing as a boring car. Just a lack of commitment.

With no one around, I can play. Head into downhill corners and brake and turn at the same time – all the things they say you should not do – and basically get the little Sandero to lift-off oversteer, even in the face of its unswitchable electronics, underneath waterfalls you can feel thrumming through your feet. Laughter bubbles up through my chest. I can see Justin laughing as he takes pictures. It's raining – properly hammering it down – we're on a legendary mountain pass in a tiny car with no power and very little street cred, and I don't think I've ever had so much fun. The lack of expectation making every experience that much more intense. I traverse the pass eight or ten times. I see one other car. Nothing can beat this feeling. Nothing.

Eventually, after what seems like hours and at the top again, Justin and I walk out to the viewing platform that juts out over the top of the mountain. Standing at the top of the Trollstigen, looking at the view, my heart a little bit on fire with the beauty of it, I realise there is no better car. No cooler car in the world. Because we've just managed to see some of the world's most amazing places in a car that costs as much as some people spend on a single holiday. And we still have a car at the end of it. Like I said, a car might help an experience along, but drivers make adventures, not machines. And the best car in the world doesn't have to actually be frightfully cool. It just has to be yours.