Advertisement Feature
The 2020 LEGO® Technic™ range is a supercar lover's paradise
From the Bugatti Chiron to the app-controlled TG Rally Car, these are the ultimate building projects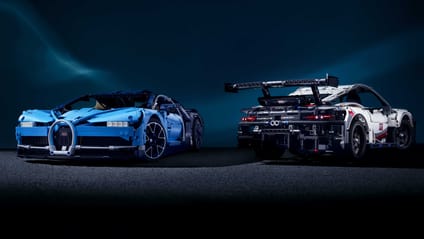 ADVERTISEMENT FEATURE by LEGO Drive What You Love
What is an advertisement feature?
 

2383

We all love a project, and there are few more satisfying than assembling an automotive LEGO® set. A love of all things automotive is something that grabbed you as a kid and never let go, and it's the same for LEGO lovers. The LEGO Technic range has a shiny, irresistible garage full of some of the fastest cars in the world, and new for this year is an extra special model with some badging that you might just recognise. Take a look...

Advertisement - Page continues below

App-Controlled Top Gear Rally Car

It's a safe bet you're a LEGO fan, an even safer bet that you're a car fan, and as safe-as-the-crown jewels-guarded-by-the-entire-English-rugby-team bet that you're a Top Gear fan. This, then, is the ultimate trifecta – the Top Gear Rally Car. Controlled using the LEGO Technic CONTROL+ App, it comes with a host of cool functions, including realistic sounds and real-time feedback. The app allows super-precise movement, giving endless play combinations. Choose from different control screens to drive forward, reverse, steer, accelerate, brake and tackle obstacles. There are inspirational videos and content in the app too. As for the car itself? It's everything a Top Gear car should be: muscular, brash and fun with a great big red spoiler at the back. You know you want it.

Dom's Dodge Charger

It was only ever going to be a matter of time before LEGO Technic took on an icon from one of the biggest automotive film franchises ever: Fast & Furious. This 1,077-piece replica of main character Dom Toretto's muscular Dodge Charger will have you drifting round door frames and doing donuts round coffee tables. Once you've built it, you can recreate the stunts we all associate from the movies thanks to some nifty features. These include moving pistons, double wishbone suspension, a wheelie bar to show off the car's best moves and (of course) put the nitro bottles in the trunk. And should there be what we'll call a cinematic pyro incident, there's a fire extinguisher in the cockpit too.

Advertisement - Page continues below

Land Rover Defender

Ever look at your LEGO garage and find it's in desperate need of some off-roading capability? Sounds like the perfect time to introduce the muscular, impossibly sophisticated 2019 Land Rover Defender model. Developed in partnership with Land Rover, this detailed reproduction captures the vehicle's beautifully crafted and sculpted surfaces. It also comes with a host of realistic functions, including All Wheel Drive with three differentials, independent suspension on both axles and a working winch. And it's the little extras that make this 2,500+ piece beast such a pleasure to build, from handling the very first bricks and assembling the skeleton of the car right through to attaching the stickers and exterior pieces. By the time you're done, it feels like you really have built a car to take on any terrain, anywhere.

Bugatti Chiron

Ever look at one of the world's fastest production cars and think "I could build that"? Perhaps not, but this 3,599-piece beast is well worth the time. Developed in partnership with Bugatti Automobiles SAS, the model captures the magic of the iconic supercar with its gleaming aerodynamic bodywork, logoed spoked rims with low-profile tyres, detailed brake discs and W16 engine with moving pistons. Open the door and you'll find a detailed cockpit, featuring a Technic™ 8-speed gearbox with movable paddle gearshift. The real touch of class comes when you insert the top speed key to switch the active rear wing from handling to top speed position. Lifting the hood reveals a unique serial number and a storage compartment containing a stylish overnight bag, because even in LEGO® world, supercars absolutely must come with increasingly obscure merch. It really is almost like having a Chiron yourself (so you can spend that spare £2.4m on something else).

Porsche 911 RSR

The icons just keep on coming, and this time it's a bona fide legend of endurance racing. Explore the timeless engineering and craftsmanship from one of the world's leading car manufacturers. This LEGO Technic replica model really captures the powerful contours of the 911 RSR, designed for endurance motor racing. Unsurprisingly, it's the little details that really make it. On the outside, there's a rear wing with 'swan neck' mounts, an extended rear diffuser and special side mirrors. The cockpit is a masterclass in micro-gadgetry, including a radar screen, working steering and a track map of the Laguna Seca circuit. Independent suspension and a six-cylinder boxer engine with moving pistons cap off this mechanical miracle of a model. Once you've finished building this 1,580-piece bruiser, it will feel like a member of the family. Now you just need to recreate the layout of the Le Mans circuit on the living room floor, and hours of entertainment lie ahead of you.