Behind the Scenes
Speed Week 2017: behind the scenes
Some less glamorous snippets from Top Gear's Performance Car of the Year contest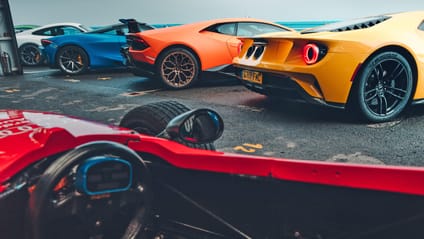 Knockhill's resident single-seat racer looks on at the supercars cutely calling themselves 'low'.

Advertisement - Page continues below

"My word, this trackday's really busy..."
 

Not Top Gear's on-track speed camera van to keep the staff in check, but how we capture some of the lovely videos you've seen.

Advertisement - Page continues below

They say the most exciting cornering photagraphy feels like an accident when you're doing it. That doesn't mean it should look like an accident, though...

With the wee Up GTI's handbrake properly tested, Mr Harris gets ready for his go.

The most valuable tupperware box in all of Scotland.

Top Gear camera car hero 1: the mighty VW Sharan swallowed an ungodly amount of equipment, while acting as a good balcony from which to survey our grid of cars.

Advertisement - Page continues below

Top Gear camera car hero 2: in Knockhill's peeing-down wet, the Audi SQ7 threatened to set the quickest laptime of the whole grid.

Social media guru Simon Bond holds his camera incorrectly for photographing a line of supercars.

Advertisement - Page continues below

While Tom Ford has literally no idea what to actually photograph.

When refuelling the Lamborghini Huracán Performante, that lottery stand becomes awfully hard to resist.

Popping out to lunch, Speed Week style. Think the GT isn't a practical choice for supplying the team with sandwiches?

Think again. The hypercar-table sub-niche has at last been filled.

Hmm, Civic Type R or McLaren 720S? Decisions, decisions...

"This," says editor Charlie Turner, "is how you'll carry your box of belongings home from the office if you crash anything."

Tea, butty, phone and radio. The four essential items for surviving Speed Week.

The McLaren 720S lights up the pit garage.

Neil Carey holds no fear when it comes to capturing the best track action.

The team look for the rain to stop before driving the Ford GT. They might be waiting some time...