Best of 2015
Here are ten cars we're looking forward to in 2016
From the Focus RS to the Honda NSX, here's what 2016 has to offer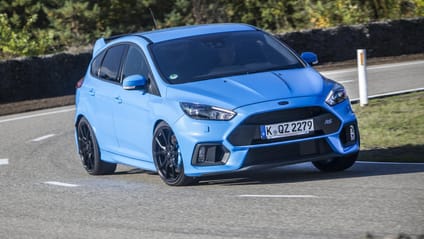 When we get it: Spring 2016

OK, so there's been more hype surrounding it than a new Adele album, but we have an inkling the new Focus RS has the talents to pull it off.

Just looking at the numbers is enough to get grown men all frothy: 345bhp, 4WD, 0-62mph in 4.7 seconds and a 165mph top speed are properly succulent, even measured against the 362bhp Audi RS3 and 376bhp Mercedes A45 AMG.

Yet one number towers above them all, and that's the Focus' £28,940 starting price. You may wish to read that again. Yep, you can have this rally-bred, drift-enabled maniac of a hot-hatch on your drive way for the same price as a boggo five-door VW Golf GTI.

Fret not, it hasn't escaped our attention that the Ford GT will also make its entrance in 2016, in fact we've thought of little else – our dreams are filled with shapely pontoons. However, that's not until the very back end of the year, so we're keeping a lid on our childish delight until then.

Advertisement - Page continues below

When we get it: April 2016

It's hard to put our finger on it, but there's something just so right about the new BMW M2. Perhaps it's the mini-M4 dimensions, or the subtly rippled bodywork, or the 365bhp straight-six engine. Or perhaps it's all three.

One thing's for sure, slow it aint. Lock away your inner purist and overlook the manual gearbox in favour of DCT twin-clutcher and it'll rip from 0-62pmh in 4.3 seconds. That's on a par with Audi's quattro-equipped straight-line bully, the RS3. We feel a drag race coming on.

BMW's homerun is not guaranteed, though. We suspect the M2 will be somewhat softer in character than its predecessor, the 1 Series M Coupe. On the other hand, given the 1M's psychopathic tendencies, that may not be an entirely terrible thing. If you want pain and suffering, may we point you towards the M4 GTS.

When we get it: March 2016

Anyone else feel like this one has crept up on us? Those sneaky so and sos at Bugatti only showed us their Vision Gran Turismo concept at the Frankfurt show in September, and now the real thing will be shown at the Geneva show in March. We're excited, but our brains need more time to compute the enormity of it all.

The Chiron is like David Moyes in many ways – the successor to a peerless legend – but while it won't court quite the attention of its record-cleaving forebear, it will have more than enough firepower.

Numbers? We still don't know, but the W16 quad turbo engine will live on, possibly with hybrid assistance and definitely with enough power to sail past the Veyron's top speed. Our best guess is around 1,500bhp and 280mph, but we're braced for a Bugatti-sized surprise.

Advertisement - Page continues below

When we get it: Summer 2016

It's a roofless version of a car we already know intimately, so what can possibly be so tantalising about the 675LT Spider? Well, it helps that the coupe it's based on is one of the very finest motor cars we had the pleasure of driving in 2015.

We also know that thanks to its super-stiff carbon tub the 675LT will lose little in the way of dynamism next to its enclosed relative, and gain much in the way of noise. Now that Ferrari has made the switch to turbo V8s and lost its trademark shriek in the process, there's an opportunity for McLaren to up it reputation for making great sounding cars. We suspect it'll take it.

There are, however, two problems: the price tag of £285,450 is a big fat chunk more than a Ferrari 488 Spider, and even if you can sidestep that issue McLaren is only building 500 of them. So you'll need to be quick on the draw – like pick up the phone now.

Porsche 718 Boxster/Cayman

When we get it: Spring 2016

First there were turbocharged but not-Turbo-badged 911s, then an all-electric sports car for 2020, and now Porsche has confirmed the Boxster and Cayman will switch to four-cylinder turbo power for 2016. These are trying times for beardy Porschephiles.

Porsche know this, which is why in a bid to sprinkle some magic on the downsizing news, it's added a 718 prefix to the names – a reference to its iconic racing car that also employed a flat-four engine.

But from where we're standing there's little reason to panic. Despite the loss of two cylinders, expect power figures for the standard and S models to increase to around 300bhp and 350bhp respectively. If they can make the new engines sound as guttural as the old flat-six and throttle response almost as sharp, you'll hear few complaints from the TG office.

When we get it: April 2016

The 3-Eleven is the fastest, most powerful and quickest Lotus around a track, ever. And your face is the windscreen.

But there's more, because while the old 2-Eleven made do with a supercharged 1.8, the 3-Eleven bucks the downsizing trend with a socking great 450bhp supercharged V6 propelling a mere 900kg. As a result it demolishes 0-60mph in less than three seconds. Lotus claims no car under £100,000 will lap the Nurburgring quicker.

There are two versions to choose from: a less-aggressive Road version at £82,000, and a Track spec costing £115,000. Be afraid. Be very afraid.

When we get it: March 2016

A brave new dawn for Aston, marshaled by its new CEO Andy Palmer, kicks off in the Spring with its very long awaited replacement for the DB9 – the DB11.

The eagle-eyed among you will spot that a digit has been leapfrogged, because DB10 was reserved for 007. Bond's wheels weren't entirely a marketing exercise, though, squint and stretch the DB10 and you have a fairly good idea of how the DB11 will look. Pretty, right?

We hear the V12 will live on, possibly with turbochargers strapped on for the first time pushing the output towards 600bhp and it's likely to use electrical hardware sourced from its tie-up with Merc. In other words, a sat-nav that actually works.

Advertisement - Page continues below

When we get it: April 2016

If you haven't seen the F-Pace perform its gravity-defying loop the loop at the Frankfurt motor show, stop reading this and do so immediately. Although clearly a spectacular marketing stunt to catch the eye of the world's media, there was a deeper meaning in there somewhere. Honest.

The F-Pace could well be the best driving, most dynamic SUV we've ever encountered – the car to make the Porsche Macan look like a pudding. We know this because the XE, with which it shares its all-aluminium underpinning and engines, is now right up there with the 3 Series as a driver's tool.

Ian Callum has worked his magic again endowing the F-Pace with a flowing, low-slung profile despite its raised ride height. Could Jag's first SUV be its ticket to the big time? We wouldn't bet against it.

When we get it: September 2016

Of all the metal on our 2016 wish list, the Giulia is the one that cannot afford to miss the mark. It's not just an exciting new model, but the rebirth of a brand that holds a large proportion of our hearts.

Hats off to Alfa for applying the go-big-or-go-home philosophy, liberally, for the Giulia Quadrifoglio. A 503bhp twin-turbo V6, part engineered by Ferrari, unlocks a 0-62mph time of 3.9 seconds – and that's for the rear-wheel drive version. A four-wheel drive version will follow.

Originally slated for a late 2015 launch, now pushed back to the first quarter of 2016, the signs are nervy. For now we'll give Alfa the benefit of the doubt - the priority here is getting it right, not rushed.

Advertisement - Page continues below

When we get it: Mid 2016

Yes, we have already driven the Honda NSX, but a few shackled laps of a track in Tokyo does not constitute a meaningful experience in one of the most fiendishly complicated supercars we've ever seen. We need more, we need rivals, we need to peel back the layers and ask the crucial question – would Aryton have signed it off?

We imagine he'd be happy with the numbers. A 500bhp twin-turbo V6 sits in front of the rear axle, supplemented by 47bhp motor attached to its flywheel and a further two motors (36bhp each) at the front, one for each wheel. After some complicated maths, the total output is 573bhp – think 911 Turbo, R8 and 570S.

Our worry is at 1,725kg its electronics have to be awfully clever to mask that mass most of the time, and because the notoriously perfectionist engineers at Honda took so flaming long to get this car out the door, has the styling started to date already? We are chomping at the bit to be proved wrong.