Best of 2018
The best retro-inspired cars of 2018
Here's Top Gear's guide to retro done right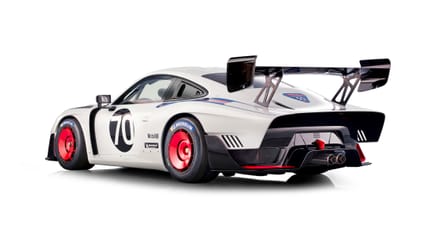 What is it?

It's the Porsche 935, and it takes only a small amount of historic motorsport knowledge to understand it riffs off the gobsmacking 935/78 racecar, better known as Moby Dick.

Revealed at the Rennsport Reunion at Laguna Seca as a 70th birthday present from Porsche to itself, it's unsurprisingly track-only, so you won't be rocking up to your local cars and coffee meeting in it. But, being non-homologated, you might also be struggling to find a race series for it. Instead, Porsche says it's "geared towards clubsport events and private training on racetracks".

Yet it's not a brutal racecar beneath. In fact, it's the current-gen 911 GT2 RS, with its 690bhp 3.8-litre twin-turbo flat-six engine driving the rear wheels via a seven-speed PDK paddleshift gearbox. Which makes it about 150bhp shy of Moby Dick.

Making it look altogether different from the GT2 RS is the carbon-reinforced plastic bodykit, which apes the swooping shapes of the 935/78 and lengthens the car significantly at the rear. You can't miss the new wing, either, which makes the standard GT2 RS's spoiler look – for the first time – rather meek. The 935 even has LED lights incorporated into the front spoiler, like the Porsche 919 Le Mans car.

There are nerdy racing nods all over the 935, in fact. A wooden gearknob is a knowing wink at the 917. The side mirrors are nicked wholesale from the current 911 RSR endurance racer. The protruding shotgun tailpipes are inspired by the 908.

The interior is vastly different to the one you'll find in a GT2 RS, with just the one seat (below a handy escape hatch), a welded-in cage, a Cosworth-supplied data logger and a complex motorsport wheel. But if all of that makes it seem intimidating, there's still comforting things like stability control, ABS and air-conditioning fitted.

Which also means the 935 weighs 1,380kg. That may be 90kg less than the GT2 RS, but it's almost 200kg more than a McLaren Senna, about the only car that presents itself as a potential rival in terms of price, power and intention. There's less personalisation here, mind; all 935s come in Agate Grey with the Martini livery optional. You'd probably be a fool to not tick that box.

Can I buy one?

If you're a gazillionaire with a Porsche dealer on speed dial, then yes, but you'll need around £750,000 and to be one of the first 77 people in the queue. Too slow? Don't fret – admire it from afar like the rest of us and buy a GT2 RS you might actually use, for a quarter of the price.

Advertisement - Page continues below

What is it?

The first in Ferrari's new Icona range that will sit above the regular models – y'know, everyday stuff like the GTC4 Lusso and 488 Pista – hence the £1.6m price. Inspiration comes from the company's glorious past – in this case, the 750 Monza that delivered wins in the World Sports Car Championship, back in the Fifties and Sixties.

The Monza is also aimed at a very specific type of customer – one who enjoys vapourising airborne wildlife with their forehead – because despite a token lip in the bodywork ahead of the driver, designed to deflect the airflow a bit, your face is very much part of the aero package. This is significant when the rest of the package is lifted from the 812 Superfast.

So, you get a 6.5-litre naturally aspirated V12 running through a seven-speed dual-clutch transmission and producing 799bhp – that's 10bhp more than the 812. There's four-wheel steering, too and, thanks to all-carbon bodywork and its decapitation, the car weighs 1,500kg – that's 130kg less than the 812… see where we're going with this? Yep, it's thuggishly fast: 0–62mph in 2.9 seconds, 0–124mph in 7.9 seconds and on to a top speed of over 186mph.

Customers can choose between a single-seater SP1 model, or tick the box marked SP2 at no extra cost if you fancy bringing a gung-ho friend along for the ride.

Can I buy one?

Yes! Well, no actually. Ferrari is making 499 of them and all are already sold to Ferrari's most loyal customers. Spot them by the large number of dead flies stuck in their teeth.

What is it?

A fully electric and future-proofed hippy mobile, just without windows or back seats. Or mildly hallucinogenic drugs. The original Volkswagen Type 2 van brought back to zero-emissions life.

A 48kWh lithium-ion battery is included as standard, although a 111kWh battery can be specced for those further-afield jobs, says VW, for a range of 310 miles.

There's a solar roof and wide-opening rear doors, plus a sliding door on the passenger side to optimise interior space for shelving and the like. Up front are three seats, although the middle one can be folded down to act as an on-the-move office with integrated laptop. The steering wheel also retracts into the dash when the Level 4 autonomy is in use.

Can I buy one?

Flower stencils and Daily Sports at the ready because, yes, VW has confirmed it will go into production in van, passenger and camper configurations, but we'll have to wait until 2022 to get our hands on one. It'll be one of 30 (yes, thirty) fully electric models that Volkswagen wants to have on sale by 2025.

Advertisement - Page continues below

What is it?

A 125cc mini motorbike with iconic design and idiot-proof controls. So probably the easiest and most amusing entrance into the world of two wheels. Put simply, it's the return of a legend – a freshly rebooted Honda Monkey bike for 2018. The Sixties original could fit in the boot of your car; the new Monkey bike is a lot bigger... still small for a motorbike, but not as diminutive as its granddad. Probably a good thing, given everything else has grown, too.

Can I buy one?

Yes, do so immediately. Costing £3,699, it's priced higher than the MSX125 Grom it's based on. But it's cooler, so worth it. Plus, there are finance options including PCP for £65 a month.

What is it?

It's that rare thing: a piece of retro design so well judged, with just the right amount of balls, to make everyone fall in love with it on first sight. Moments before they start checking finance options and whether they can fold their three kids plus accoutrements in the back.

Spoiler: you can't. The Jimny may look like a G-Class but it's actually about the same length and width as a Citroen C1, four-seat only and with the back seats up a mere sliver of a boot. But that's not the point – the Jimny is a feisty little tank of a thing, designed to use its size and agility to make it unstoppable off-road. So you get a ladder-frame chassis, three-link rigid axle suspension with coil springs, part-time four-wheel drive and a low-range transfer gear. It is, in Suzuki's words, "designed for professionals". Professionals at what isn't clear.

Powering it is a 1.5-litre four-pot engine good for 101bhp and 96lb ft of torque. No 0–62mph is given, presumably through fear of ridicule, but the five-speed-manual model is capable of a 90mph top speed. Principally because it's light, at just 1,090kg (manual) or 1,110kg (auto).

Can I buy one?

Could anyone stop you? The want is strong with this one. Prices will rise over its decades-old predecessor, though, likely to start around £17,000. And bear in mind it only scored three out of five in its NCAP test, largely down to slow-witted airbags. BUT JUST LOOK AT IT!

What is it?

It's the return of pop-up headlights. A quiet moment of triumph for a truly distinguishing feature, unfairly consigned to history. They belong to the rather tasty new Ares Panther, which is inspired by the Seventies De Tomaso Pantera.

Underneath sits a carbon/aluminium chassis from a Lamborghini Huracán, and a revamped version of that Lambo V10 – increased from 5.2 litres to 5.6 litres – producing 650bhp and 413lb ft of torque. The throttle response and gearshifts (from a seven-speed dual-clutcher) have also been sharpened, and we're promised the whole thing will sound very good indeed. "One of the most significant characteristics of the Ares Panther is its voice. The sound produced from the naturally aspirated V10 is nothing short of a roar," explains tech boss and big cat fanatic Matteo Vezzani.

Can I buy one?

Only 21 Panthers are scheduled to be built, each starting at €515,000. Ares Design has confirmed that all 2018 cars have already been ordered, with each one taking 24 weeks to build. Look out for Ferrari 250 GTO and 400i homages in the pipeline.

What is it?

A roofless, two-seater 911 GT3-based chariot that can trace it roots back to the 1954 356 Speedster. A tonneau cover provides some dryness in the event of a shower, while the body is borrowed from the Carrera 4 Cab, modified with a carbon-fibre double-bubble rear deck and carbon front wings. The chassis, engine and 'box are from the 911 GT3, so 9,000rpm, 500bhp, RWD and a six-speed manual. Quite the recipe...

Can I buy one?

Be our guest. No price yet, but Porsche will build 1,948 (the original 356 was signed off in 1948) of them, and production is scheduled to begin early next year.

Advertisement - Page continues below

What is it?

A rebirth of the Peugeot 504 Coupe, sharpened and puckered and finished with otherworldly precision. This is the car that really set the Paris show alight.

The e-Legend packs the full gamut of future buzzwords. Electric? Tick! Autonomous? Tick! Connected? Tick!

We'll start with the electric powertrain. Power and torque are rated at 450bhp and 590lb ft, enough for a 4.0-second 0-62mph time. That would make it Peugeot's quickest, most powerful road car. It'll apparently cover 370 miles on a full charge, too, and that's on the new, more real-world WLTP test. Even more staggeringly, you can extract around 300 miles from 25 minutes on a fast charger. Clearly, designing cars is more fun when the numbers are made up.

Now, the autonomy. Peugeot reckons driving is still important – no point having all that power and leaving it for the computer brain to enjoy – and thus the e-Legend comes with four driving modes, two of which involve actual driving.

Legend is a cruising mode, and Peugeot uses it as an excuse to hark back to the pretty Coupe that's inspired the e-Legend's looks, supplemented by an art deco wooden steering wheel and teal velour seats. Boost does what it says on the tin, bringing all of that 450bhp to life.

The autonomous modes are Soft (focused on relaxation) and Sharp, which brings all your social media hecticness onto the 49in wide screen inside, so that lovely time away from it all in a car simply becomes another portion of your day glued to the internet. When you're not driving, the steering wheel retracts away so as not to block any of it from view.

Can I buy one?

Peugeot says, "Its styling is a glimpse into the future." Which is French for: "Not a chance, mon ami."

What is it?

Our 2018 Speed Week champion, hurrah! But forget that it's a car with "wonderful poise and balance, a deft touch and a loose, limber energy" for one minute, and let's focus on that design. Specifically the quad headlights, bonnet sculpting, soft curve of the rear screen and pert rear end. An unashamed tribute to the Sixties original, yes, but one that stands up and then some as a piece of modern sports car design, too. So good they slapped the old name on it.

Can I buy one?

Oui. All 1,955 Premier editions sold out in five days, but there's more. Choose between Legende (modicum of comfort) or Pure (sod comfort, let's race) trim levels.

Advertisement - Page continues below

What is it?

Four years into the original 500's life, there came the 500 Jolly, aka the Spiaggina. Sold between 1958 and 1965, the 22bhp model didn't even have doors and cost twice as much as the standard car. Genius. Now, to mark the 500's 60th birthday, it's reborn thanks to Garage Italia and Pininfarina. Based on a 500C, there's one roll bar, no roof rails and a loading bay covered in cork panelling... You can even order it with a low-cut windscreen. Like a speedboat.

Can I buy one?

Yes, we said 'order'. This isn't a concept – it's going into production, available with any engine in the 500 range.