Best of 2018
Jaguar I-Pace: TG mag's EV of the Year
Jag's I-Pace goes boldly in search of answers to making EVs sustainable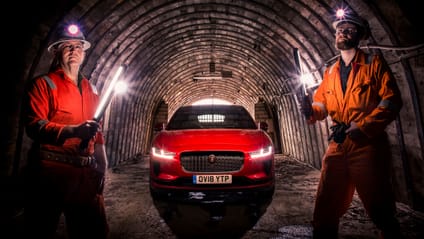 The Jaguar I-Pace gallops silently down the outside lane of the M5. Its seat is lightly toasting my back. My generic fruit-based device is charging under the armrest. The cause of my anxiety at this precise moment is not range. It's the contents of a metal case over my shoulder that's moistening my palms quicker than the heated steering wheel. TopGear is, and I don't think I'm overstating this, on a mission to save the world.

By the time you finish reading this sentence, there will be 15 more humans in the world than when you started it. Roughly, two people die per second, and five are born in the same instant. About 130 million humans join the race every year, as 55 million depart it, and by 2024, there'll be eight billion of us.

Words: Ollie Kew // Photography: Mark Fagelson

Advertisement - Page continues below

Who'll all need feeding, housing, educating. And they'll want to travel. Chances are, whether that vehicle is an old-fashioned private car or an autonomous, app-hailed pod, it'll be powered by electricity. We're going to need a big pile of batteries, and plenty of cleanly generated electricity too. Happily, humans are clever enough to find the sources for both lurking beneath our feet.

So, we're off to drill some seriously deep holes, entrusted with a special drill-bit, safely encased in the Jag's huge boot. It's less than a foot across and looks like the Devil's tungsten carbide-coated coffee grinder. Some responsibility, this. We're on our way to the front line of Britain's new energy age. Welcome to Cornwall.

Underneath my and photographer Mark's backsides lie 432 lithium-ion 'pouch cells': the I-Pace's underfloor battery pack. They're made by LG in South Korea, then built into the car's aluminium bodyshell in Austria. Jaguar is fiercely coy over exactly how much lithium goes into every I-Pace, but as a yardstick, a Tesla Model S 75D needs 63kg of lithium carbonate, equating to 12kg of pure lithium. The Jag's 90kWh battery is 20 per cent bigger still.

Today, global lithium production is barely above a quarter of a million tonnes a year, but come the middle of the next decade, that'll double. Tesla, Mercedes and Volvo's electric HGVs will need a battery 10 times the size of an electric family hatchback's. Not to mention batteries for 8bn iPhones. So, it's hardly surprising that everyone's hoping they're sitting on a large pile of it. A tonne will set you back £12,500. The lithium rush is on.

Advertisement - Page continues below

Meanwhile, our National Grid often depends on non-renewable sources. Plug it into the mains and to generate the electricity the I-Pace's battery feasts on, you indirectly emit 32kg of CO2 – not including the profanity-strewn exhalations brought on by trying to use certain charging networks at desolate service stations. London to Newquay takes us nine hours – through no fault of the car, I should add.

But the doom-mongering stops here folks, because we've got a solution, we've got some charge on board, and the reward for solving these conundrums is a massively rewarding way of motoring, if the I-Pace is a sign of electric things to come.

Of course it's blissfully peaceful, searingly quick (just ask the Tesla Model S 75D it smoked in one of our recent drag races) and supremely stable on a downpour-soaked motorway, where its 2.2-tonne kerbweight, centred somewhere around the door bins, gives it the sure-footed solidity of an oil rig embedded in the seabed.

What the Jag does is introduce some new and exciting elements to the EV situation. Steering and handling you can genuinely enjoy. Crisp, eminently modern looks that aren't afraid to challenge conventional proportions and detailing, but don't overcook the wanton need to be contrary. Tesla probably edges it when it comes to infotainment – the Jag's InControl Touch Pro interface isn't quite as slick to use as it is to look at – but it's a beautiful place to be, whether sitting in or standing next to it.

In the chicken/egg scenario EVs find themselves in, where they won't get cheaper or have more range R&D'd into them until we buy more, which needs the haphazard charging network to improve (which won't happen unless there's more demand for the cars), the Jag's superpower is that it looks fabulous, when an Audi e-tron or Merc `EQ C doesn't. Even wearing 'bowling club trousers' burgundy on heavy-set wheels, it makes folks coo with longing.

Handy, when you're rapping on the gates of a semi-abandoned mine and asking for a poke around. With time to spare before our mega-tool needs delivering, we've stopped at one of the old tin mines that litter this landscape. You spot them by the stone carcasses of the old head gear towers, stood stubbornly atop the landscape long after the industry that used them faded from this corner of Britain.

South Crofty mine in Pool is a prime example. Miners have been digging stuff out of the ground here since 1592. As recently as 1975, 200,000 tonnes of ore were being raised from more than 570 metres below the surface, yielding 1,500 tonnes of tin. It clung on longer than most, but as profitability waned, South Crofty finally fell dormant in 1998.

Thing is, if you know your geology, you know that tin and copper mines like South Crofty are often rich in water containing lithium carbonate. Lithium was discovered in Cornwall in 1864. Wasn't massively useful back then, when no one had a smartphone or an electric Jaguar, but now… now there's demand. Enough demand for the government to grant £850,000 to a project to reboot the mothballed facility.

We're shown to the locked-up mouth of the mine itself by Owen Mihalop, chief ops officer of the Canadian exploration company that's assessing South Crofty. He and his key-bearing colleague Steve arrive in full hi-vis jump suits, utility belts with breathing apparatus, flashlights, waterproofed boots and goggles. My jeans and cagoule aren't deemed appropriate attire for a deep-dive excursion, the spoilsports, but with a hard hat duly donned, we're allowed to nose the Jag into the sloping tunnel that disappears at a multi-storey-car-park angle 300m into the gloom.

Advertisement - Page continues below

The Jag's usually imperceptible pedestrian-warning hum reverberates around the echoey chamber. Steve explains EVs are an ideal replacement for the diesel-powered vehicles that work deep within a mine to shift spoil and men, but politely declines my offer of an, er, efficiency recce in one that'll do 0–62mph in 4.5secs.

The depths of the mine are long since flooded, but my best attempt to prove to Owen and Steve that the e-Jag is fully waterproofed and can actually wade as deep as a Land Rover Defender isn't met with enthusiasm. A dribble of water drips loudly onto my hard hat. Steve then points out the radiation warning notices, due to all the radon knocking around in the Earth, its decaying radioactivity powering the geothermal activity that could solve the second half of humanity's energy conundrum. You know those moments when you're suddenly aware how small and puny humans really are? This is one.

Completely forgetting to return their hard hats, we exit the mine and, blinking into the light, set about Operation Drill Baby Drill. South Crofty might be some time from pumping out fresh earthbound resources into the 21st century, but eight miles north, there's a project that's merely days away from plundering fresh renewable energy from ancient rocks. Treating Mark to a demisted window, some digital radio and warm air blasting into the footwell, I point the Jag toward United Downs Industrial Estate. You may have noted it on the front page of the Financial Times.

What you'll have seen is a 53-metre-high rig of metal tubing. It looks like a fairground ride from a collapsed Soviet state. We spot it looming on the hillside minutes before the Jag ventures into the compound. Originally based in Germany, just back from a job in Finland, this rig is a leviathan, yet is the tip of the iceberg. Because it's going to drill a hole – from a Cornish industrial estate opposite a tyre fitters and a scrapyard – that dives 4,500m deep. That's 14 Shard skyscrapers. Can't help thinking our drill bit is a tad small for what they've got in mind, but it'll be fine. Surely? They're the experts.

Cornish Lithium's geologist Lucy Crane gives me the GCSE geography brief for what the heck's going on. The rig will drill an 'injection well' down to 2,500m, then the main 'production well'. Essentially, you drill one shaft to pour water into, which then seeps into the hot granite rocks energised by molten activity deep within the Earth's crust. The production well captures the superheated steam generated and funnels it to the surface to spin turbines. There's your clean electricity.

The company behind this rig estimate the leccy harvested could power 3,000 homes in Cornwall. There's a target to make geothermal grow into a five per cent share of Britain's energy demands. Not bad going.

Advertisement - Page continues below

Cornish Lithium's boss Jeremy Wrathall strolls out of the site office to meet us. He notes the Jag is a cracking looking car. Sensible man. I proudly bestow upon him the weighty case containing the bijou drill head. "I expect you'll be wanting to bolt this to your big drill now or something?"

"Ah, erm, no… thanks for bringing over the pilot drill," he replies. There's a pause. Mark becomes suddenly and incredibly interested in the contents of his camera bag.

"Yes, we use these for the early exploratory bores," Jeremy continues. "This," he says, tapping a wooden pallet I'd failed to notice, "is what does the actual drilling."

Righto. We've brought down a baby drill bit you can contain in a cupholder, and the real thing takes a crane to hoist. Thought that much responsibility seemed too good to be true. The main drill head weighs 500kg. It cost £85,000, and it will last for 250 metres of Cornish granite. Then it's scrap and they'll hoist it out, connect a new one, and go again. Until they're 4.5km into the Earth.

That's the sort of short range that makes an EV's look more than generous. The I-Pace is realistically a 200-mile car, but that will grow, and fast. And like the pioneering projects it's carried us to, it's a shining statement of intent to put us all on the right path. And the 2,100 new humans born since you started reading this need that kind forward-thinking attitude.