Best of 2018
Lamborghini Aventador SVJ: TG mag's Noise of the Year
A 759bhp V12 in the angriest Aventador. In the snow. Only our expletives are louder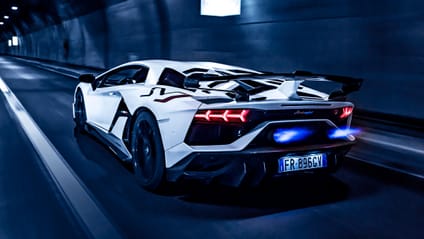 As we creep towards the 50th anniversary of The Italian Job, it's a truism that parts of this beautiful but ultimately unknowable country are indivisible from the Quincy Jones soundtrack. Let's ignore for now that it doesn't end well for the man in the orange Lamborghini Miura in the film's opening sequence.

The Aventador SVJ pulses with Miura DNA, not least in its 6.5-litre V12, the noise of which is reason enough to make it a 2018 Top Gear award-winner, although this is also the most powerful V12 Lamborghini has ever made.

Photography: Rowan Horncastle

Advertisement - Page continues below

The Boss (editor Charlie Turner, not Bruce Springsteen) selflessly volunteered to collect the SVJ from Sant'Agata, and many miles and hours later following a rendezvous near Turin, he's sitting alongside me rifling through his iPhone for 'On Days Like These'. Soon Matt Monro's swoonsome croon is filling the Lamborghini's cabin.

Charlie, who picked today's route, has a great sense of humour. We're on the SS36, heading north towards the Swiss border and the Passo dello Spluga – or Splügen Pass, if you prefer – an Alpine road that unfurls itself in spectacular fashion at an elevation of almost 7,000ft. Google it and you're taken direct to a dangerous roads website.

Danger? I'll give you danger. Danger is listening to the differential whine on a £360,000 Lamborghini on full lock in first gear on a road so twisty it seems to be feasting on itself, while the fog and rain battle each other for supremacy in the 'who's more elemental?' weather stakes.

And, yes, that's definitely snow out there, so we'd better factor that in as well, and crank the demisting up to 11 while we're at it. The SVJ's A-pillars, meanwhile, are so thick they almost go to Z.

Advertisement - Page continues below

There's so little forward visibility (rear visibility on the Aventador is a meaningless concept, regardless of the weather) that Charlie has resorted to giving me pace notes. It would be easier to thread the Lamborghini through the eye of a needle than drive it up here.

Meanwhile TG's indefatigable Rowan Horncastle follows behind in our Fiat 500L hire car, maintaining a Loeb-like pace compared with mine. Whatevs. The murkiness means that we have no idea how steep the drops are, so it could be worse.

It gets worse. We make it to the top, and dutifully lift the Lambo's nose to clear the slush as we peel off the road and splash towards our hotel. It's 22:30. The albergo shimmers like a mirage though the gloom, not quite as foreboding as the Overlook Hotel in The Shining, but not far off it.

The front door is unlocked, but the reception is shut. We dial the number and listen as it rings off the hook. I scamper up the stairs, trying every door. Only one is open, and the low light reveals clothes strewn about the place. Signs of life but no one's home.

Back in the hallway, I rummage through a cupboard looking for some blankets, and turn up a deflated football and a single padded glove. Charlie, meanwhile, has found another hotel a few miles back down the road we've just ascended. You know what? We'll take it.

The Lamborghini Aventador is not a car in need of extra drama, but in the SVJ, Sant'Agata has somehow found some tucked away in a corner. Despite having driven and conquered a few over the years – including on a Top Gear Speed Week around Clermont-Ferrand in 2013 – the moment you first climb aboard an Aventador sends every childhood memory you have of a big, hirsute, mid-engined Italian supercar galloping straight into your cerebral cortex.

Isn't this exactly how it should be? Scary, stupid, sensational. The doors scythe up. The sills are wide and awkward. The driving position, although much better than it used to be, still takes some getting used to.

The transmission makes its way past your elbows in a tunnel that's about as wide as the one that burrows under the River Thames in Rotherhithe. The windscreen is vast, and sweeps down towards a nose whose extremities you can't see. As for the view behind… fuggedaboudit. At least there's a reversing camera now, although if you're like me, you still won't trust what you can't see with your own eyes.

Similarly, your first few miles in the SVJ will be as faltering as Bambi's first steps. There is so much to take in, and you don't uncork 759bhp until you know how much and what sort of fizz there is.

Advertisement - Page continues below

From past experience, I'm not certain there's a road in Europe long enough to let the Aventador properly pop its cork, never mind that the SVJ now red-lines at 8,700rpm and is torquier at the top end. Test drives were conducted on the circuit at Estoril, where the car was reportedly doing 170mph at the end of the pit straight. Sheesh.

That's not to mention the new production-car lap record set at some track in Germany everyone's always banging on about (6:44.97). Yes, Lamborghini has thrown everything at the SVJ. And some more besides.

Which makes the edict from the office to go north to the Alpine snow line adventurous, to say the least. That route also involves a lot of significant tunnel action, which is a great way to explore the full bandwidth of the SVJ's 7.1 surround sound experience. Bring the noise.

But first, the rush hour. That might sound like hell on earth, but even this elastic ebb and flow is somehow special in a car like this. It's deliberately overcooked inside, much like the exterior, but mostly works surprisingly well, despite some notable idiosyncrasies.

The graphics on the main instrument display – including a graphic for the active aero – are too bright, and the MMI is prehistoric Audi. There's nowhere to stash your phone, so you rest it on the central screen where it heats up nicely and obscures the display. But at least it's next to the electric window switches, because that's the obvious place to put them. And you push to lower the windows, not pull. The single-shell carbon-fibre seats are fabulous, though.

Advertisement - Page continues below

What is SVJ? Super Veloce Jota, which basically means really f**king fast. Apparently Jota also references Appendix J of the FIA rule book, back when the Miura was being homologated for racing, but imagine using a rule book for inspiration…

(Countach is a Piedmontese profanity, a fact I recently double-checked with an actual Piedmontese person. Surely it's only a matter of time before they launch the Lamborghini Stronzo.)

So to the engine. It is part of a bloodline back to the Miura, but now has titanium inlet valves, its innards operate with reduced friction, and there's a lighter flywheel for even sharper throttle response.

The SVJ's ultimate torque figure, 531lb ft, is reached at 6,700rpm, 1,250rpm higher than on the lazy old SV. The torque curve is flatter, too. It hardly needs pointing out that this engine is normally aspirated – abnormally, in fact – Lamborghini pretty much now casting itself as King Canute in an effort to hold back the hybrid tide. Though sadly not for much longer.

The SVJ's aero package is the bigger deal, and more relevant to the car's repurposing as the apogee of track-going Aventadors (although by Lambo's calculations, only 45 of the 900 lucky sods who'll end up owning one will ever venture on a track – me, I'd buy an old Huracán GT3 and get friendly with my local Pirelli dealer).

Better to think of this as a tech showcase. Second-generation ALA – Aerodinamica Lamborghini Attiva – gives the SVJ 40 per cent more downforce than the Aventador S, pushing turbulent air beneath that huge rear wing, stalling it to increase downforce and reduce drag, but also separating the airflow left to right.

In other words, the SVJ has more downforce on the inside of a corner, which helps sharpen turn-in and means you need less lock in the entry phase, which in turn will also enhance your exit speed. There's active rear steering, too, which is less intrusive than the one on Ferrari's 812 Superfast. Giant carbon-ceramic brakes brilliantly erase all that momentum when you're in that phase.

I drove a prototype SV around the Nürburgring a few years ago, and had zero quibbles with its steering or turn-in. Can't imagine what the J must feel like there, especially if it's wearing the newly available Pirelli P Zero Trofeo rubber.

I know how it sounds, though. Italy has approximately 560 miles of tunnels, and introducing the SVJ to them is to broker a meeting between one engineering masterpiece and another.

Giving a Lamborghini V12 the berries in a long Italian tunnel is bucket-list stuff, and you don't even need to go particularly fast to unleash a noise few road cars in history can match. From 3,000rpm, the sound intensifies and swells through a baritone whose dynamics are perfectly attuned to the movement of your right foot.

Then the note hardens and sharpens in frequency, the linearity of response just untouchable. Even the car's weak link – the single-clutch ISR (independent shifting rods) gearbox – doesn't seem so bad, although whatever finesse you've acquired after a hundred miles or so goes out the window on a quick, sustained blat through the gears.

There's more head-banging than in the front row of a Slipknot gig. Lambo says the parameters on the four drive modes on the Anima set-up have been tweaked for greater engagement and precision. The SVJ's exhaust also emits a lick of blue flame, and up- and downshifts are accompanied by a variety of pops, crackles and bangs; they just can't help themselves. And neither can the driver.

The SVJ weighs 50kg less than the SV, for a dry weight of 1,525kg. It'll hit 62mph in 2.8 seconds, 124mph in 8.6, and its top speed is 217mph. These are the facts. But as the Aventador heads into its twilight years, this is a car that's so much bigger than all the numbers that surround it.

It's the greatest, the loudest, the baddest, the archetypal supercar. So while this award is nominally for the year's greatest noise, it's also freighted with a more heartfelt message.

Thank you, Lamborghini.