Best of 2020
10 unexpected ways to use an Aston Martin DBX
Aston's first SUV is going to have to work hard to impress some difficult-to-please people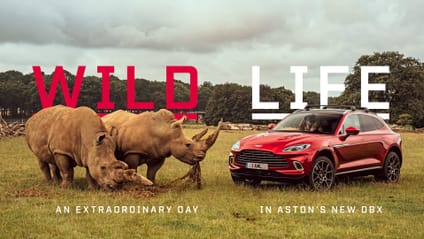 There's a rhinoceros in the rearview camera. The parking sensors are having a light digital panic, and I'm suddenly rehearsing the phone call I may have to make to Aston Martin, though there's probably no tick box for 'impaled by a rhino horn' on the insurance form. Luckily, I happen to be in Aston's newest and most rugged variant, the DBX SUV, so at least there's a fair bit of metal in which to hide. A comforting thought, right up until one of the glorious beasts – her name is Mirijam, apparently – ambles around to the front of the car and snorts softly, the kind of bass infrasound that reverberates in your chest and makes you want to go and hide in a cave, light a fire and start furiously sharpening sticks. Mirijam is a big girl, she's a foot away, and her horn – which must be approaching about two feet from base to tip, skims the bonnet. I forget to breathe. Mirijam, by all accounts, weighs more than the car.

Obviously, this situation is not normal, and probably requires explanation. Upon being offered Aston's new sports utilitarian for a scant 36 hours, I decided that in honour of the company's newly minted practical side, I'd go and engage in equally practical things. But this is a landmark car for a committedly upscale brand, the first SUV in its century plus of history, which means that those 'things' needed to be... extraordinary. So what might the kind of people capable of dropping £158,000 (without options) on an Aston SUV actually get up to day-to-day? Personally, I have very little idea. So I had to make it up.

Words: Tom Ford // Photography: Rowan Horncastle

Advertisement - Page continues below

08:00 Feed the animals

Obviously, you'd probably start the day by feeding your livestock and/or horses. But really rich people probably have special horses, and really rich people probably have extraordinary horses. A rhino is technically more related to a horse than a cow, which means that it is, again technically, an extreme horse. Which is why I found myself at Woburn Safari Park early in the morning, blinking the last vestiges of sleep from my eyes and trying not to get accidentally and amiably boinked by two tonnes of Southern White rhino. I then hand-fed a 14-strong herd of giraffe, because if a rhino is an extreme horse, then a giraffe is just a tall one. This is getting confusing already, and it's not even breakfast. Still, the DBX ambled along in Terrain mode – a slightly higher plot on the map of air suspension settings – enabling light off-road and megafauna interaction without the intrusion of a trumpet exhaust note thanks to the electronic flaps that allow for muffled, if not silent, running. It also remained undamaged, which is the only outcome that really mattered.

08:30 Drop the kid off at school

Next it was time to drop a child off at school, so I did what any posh parent would do, and packed one of my spare children into the DBX – complete with a travel trunk in the boot containing his necessary supplies – and dropped him outside the gates. Admittedly school isn't open (mainly because it's not actually a school, but the rather gorgeous Burghley House in Stamford) and there was no one there, but I like to think of it a) as an initiative test (if he can make it home, he can stay), and b) a regulation assessment of the DBX's generous enough 632-litre boot area. It passed. Though I haven't actually seen son number one for several days.

Usefully, the DBX has six drive modes (GT, Sport, Sport+, Individual, Terrain and Terrain+), so the back road yomp proved to be slightly more fun than you might expect of a car of this size. Reliably ferocious unless you go for one of the milder settings, in which case responses are dulled somewhat by the cotton wool of electronic interference, lengthening responses through throttle and damping, easing the insistence of the charge. But more of that in a minute.

Advertisement - Page continues below

09:00 Walk the dog

Then there's just time to walk the hound, making use of Aston's new and startling array of dog friendly accessories – including a branded dog bed, bowls, carrier and mobile shower unit (yes, really) – before heading off to my next appointment via a shortcut across some... um... 'fields'. Not something you'd usually mutter when driving an Aston Martin. But this is where the DBX starts to properly impress. Yes, the car is on all-season tyres and no, it's not a hardcore off-roader, but dropped into Terrain+ mode, which raises the suspension 45mm, tweaks the various differentials and throttle maps and sets the car up for lumpy country, it really can potter across some properly muddy geography. It'll wade to half a metre – there are breather pipes on the diffs – manage hillocks and rock scrambles and generally mountain goat itself about. No, most owners won't do it, but like most expensive and pointless things, it's nice to have the element in reserve. After all, not many supercar owners test their 200mph capability, but that's not to say that they don't like the bragging rights.

10:30 Check on the dinghy

After making sure of the 'utility' part of the DBX's SUV-ness, there was time to check out a potential new purchase. Now, a treat for me might be a new pair of shoes or T-shirt, but a DBX owner is probably slightly more upscale, so it was off to Fairline Yachts to assess the newest additions there. Now, Fairline is basically the Aston Martin of boat builders, putting together beautifully built UK motorboats that are neither sports nor super – the GTs of the waves. Its F-Line 33 is a £400k beauty that would seem to fit the bill perfectly –suave, sophisticated, and... big enough for parties. It was here we sought to see if the DBX fitted in with the correct design aesthetic, by parking it up with a big boat and seeing if it passed muster.

This will be polarising, but it's worth noting two things: one, the DBX looks far better and more authentic in person than it does in pictures, and two, it appears much smaller and tauter than most 'full-size' SUVs. Some of that is the fact that it's quite low – at 1,680mm, it's some 60mm lower than, say, a Bentley Bentayga – the other influences being the raked screen, long bonnet and pinched ducktail that apes the rear end of the Vantage. It's non-traditional, and takes some getting used to – I am not an 'SUV person', but I am also not the target audience. And accepting that, it resolves the more time you spend with it, and the important markets (likely the Middle East, China and US) will probably love it being a little more outré. And yes, it does look better in its lower suspension settings. My thinking is that it's a bit brave, and absolutely interesting, with some lovely little details like front DRLs that incorporate aero channels that cool the 410mm, six piston front brakes.

But this is where it's worth comparing it to a boat. Because a boat that looks like the Fairline is essentially three lines, and the DBX's bodywork can ultimately stand the same treatment. It's not desperately fussy, and actually adds muscle and tone to the usual blocky SUV shape. There are some more awkward angles to it (especially low from the rear three-quarter), but it isn't boring – and that's a very good thing.

11:00 Cover some miles

A quick blast up some motorway to get to my next appointment reveals that the DBX is a companionable, if not entirely fuss-free cruiser. It never quite apes a magic carpet, and there's always a slight undercurrent of big-wheeled thump to the ride, but it reveals overtaking opportunities unavailable to more mortal vehicles. The way the Merc-sourced 4.0-litre makes torque and power has been modified to better suit the X's characteristics, and I think it's pretty much spot on. Similarly, when surfing around, the nine-speed auto seems to manage perfectly well. You don't really notice it, and that's a compliment. The interior is leathery and lovely for the most part, but the interface for the display in the centre console is woefully slow, and the screen itself is a rectangle sat behind a more organic shape of trim – which looks awkward – a bit like the angular screens plonked in a Mini circular binnacle. The former can be updated, but not so much the latter. Still, it has beautiful seats and plenty of space – especially under the semi-floating centre console.

13:00 Go for a paddle

After that, there was time to help some friends transport – albeit a very short distance – their rowing boat. Unfortunately, the University of Cambridge Boat Club's Eight was a little longer than I assumed, sitting perfectly well on the DBX's official AM roofbars, but overhanging the vehicle a bit. To the tune of about 15 feet either end. Still, the visit also offered the opportunity to see if the X could handle some decently sized passengers... and the answer was a definite yes – although it's a four-seater with an occasional bijou cox, rather than a full crew. The roofbars can definitely support... stuff, though.

Advertisement - Page continues below

14:45 Shoot stuff

This being rich thing is exhausting – you can spend all day doing a great deal of nothing, so you have to carve out some time for yourself. As a bit of relaxation, most Aston owners would probably be keen on some shooting-slash-fishing, but I decided to calm myself with the inner zen of some target shooting, courtesy of the Silverstone Shooting Centre, basing my choice of venue on the fact that the SSC is where owner John Thorne (ex-BTCC racer) trains police firearms officers. It also came with the handy byproduct of seeing if the DBX could accommodate a prone adult male equipped with sniper rifle. Seats folded, I'm happy to say it does. Consumer testing right there.

15:30 Collect the toy

Suitably chilled, it was time to pick up the track car for an afternoon's circuit action at nearby Silverstone. Obviously, having a DBX means that you need a suitably insane track car, so on went the (optional) towbar, and I hooked up the track toy. Which just happened to be the development AM Valkyrie £2.5 million hypercar. All 1,160bhp 6.5-litre, 11,000rpm Cosworth V12 of it. Now, the DBX can tow some 2,700kg, but in practice, the Valkyrie feels like it's made of cobwebs and happy thoughts, and the only thing I could feel was the trailer. That and the absolute laser focus of Aston Martin personnel hellbent on making sure I didn't actually disappear with their prototype hypercar before the end of year launch... which meant that with a track booked and no actual track car to hand, I took to the circuit with the DBX.

Advertisement - Page continues below

16:30 Get some exercise

Now, track testing an SUV is usually an exercise in pointlessness and burning brakes, weight and height being terrible bedfellows when it comes to licking the outer reaches of the performance envelope. But the DBX really can lay claim to being a properly sporting thing. It's not slick with speed, mind. It doesn't feel like it slices through the air like a supercar, more a battering ram of performance with slightly less of the barn-door aesthetic than your usual fast SUV. But it roars and bellows in all the right ways, making it feel properly rapid. The box isn't the happiest on the track either, despite the paddleshifters behind the wheel. Responsive enough on upchanges, but really doesn't want to hammer a gear unless it's down in the comfortable end of the rev range.

In its most extreme mode, there's a defined sharpening of the responses, and the active centre transfer case can vary drive from 47/53 front-to-rear to 100 per cent rear-wheel drive in the blink of an eye, with the electronic diff in the back then pushing torque from side to side between the rear wheels on demand. There's also brake-actuated torque vectoring, and a 48V electronic anti-roll control system replacing traditional anti roll bars. Now this could make the DBX feel a bit stilted and digital, but it doesn't. There's a little lean, a little oversteer, and a feeling that whoever set the car up arranged it so that it felt like a real GT car – albeit one that's levitating a foot away from where it should be. But, and this is an interesting one, when in one of Aston Martin's more traditional products you disable the traction control and have at it, you get lots of oversteer. You also get reliable amounts of it, all the time. The DBX, on the other hand, has a tendency to second guess you, and tidy up your worst excesses even with the minders switched 'off'. That's safe. That's rational. But it's not the usual Aston way.

What it means is that while the DBX can dance around the track, it doesn't necessarily mean that it flows as well as a RWD Aston product. It's not a huge surprise, and it's not a disappointment as such, but I think you'll find the DBX more satisfying on an actual road, where you can push the car in safety, and get all the right feelings without any actual real danger of oversteering yourself into a field.

So what do we have? Well, during this exhaustive investigation into what makes up a decidedly unaverage test of Aston's most practical car ever, we have discovered that it hits pretty much all of the targets required. Something that sounds simple in principle, somewhat different in practice. It's physically practical in terms of space for people and things, despite being a much more svelte shape than the usual SUV hefty block, and it has a dynamic package pitched somewhere between an Aston Martin sports GT and a tightly tied SUV. It can handle a bit of off-road, play nice when things get faster, and generally behaves exactly as you might expect a from a tall Aston. It feels more quirky than it actually is, and that's not a bad thing.

20:00 Home time

I pull up to my 'house' at the end of the day and have to admit defeat. Woburn Abbey isn't where I live. I'm not rich enough to Airbnb here, or even afford the DBX I've arrived in. But I feel that we've covered all the bases when it comes to making sure that this Aston can compete in the shark-infested waters of fast SUVs. Is it perfect? No. Is it characterful and interesting, noisy and fun as well as practical? Yes. It's a damn good stab at being exactly what it was meant to be: the literal translation of the language of Aston Martin into an SUV lexicon. Astons are not perfect. They are not cars that you buy based on statistics, or tenths of a second, or PCP deals. They are cars that you buy with emotion, connection and joy. Will the DBX be Aston Martin's Cayenne moment, paving the way for more traditional models? I hope so. And on the basis of this experience, I think it's got a pretty good chance.