Best of 2021
What would you do with your last tank of fuel?
The recent petrol shortage got us thinking, so we asked some friends...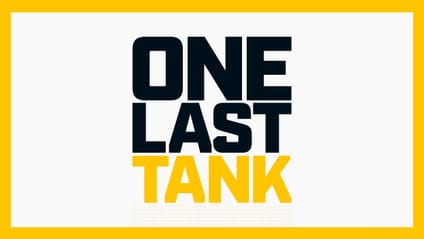 Chris Harris, the short one

I think I'd probably just go to the Nürburgring and drive around until it ran out. Probably a 997 [Porsche 911] Cup car that I've raced there before and just lap, lap, lap, lap until it ran out. In fact, I'd fit a 200-litre tank so it'd be a big old load of fuel. Failing that I'd go to one of those Norwegian lakes that's frozen in the winter, in a Tuthill 911, and just skid around because those are the two things I always cite as being the last experiences you'd ever need to do in a car.

Advertisement - Page continues below

Paddy McGuinness, the Northern one

I'd go economical, I'd go Ford Ka, full tank and drive it everywhere. Twice. It would get you all over the UK, and you'd probably still have half a tank left. I know what Harris would pick, probably something mad and ludicrous that would empty itself in a few minutes and go really fast, but not me. I like to use a bit of that *taps temple with index finger*.

Freddie Flintoff, the fearless one

I don't know which way to go with this one... OK, although I've never driven one – I don't even know if I'd fit in one – I'd go with the Ferrari Enzo. I just love the look of them. I remember when they came out and cost £450k and everyone thought they were daft, well they're £2m now. I don't even need a full tank of petrol, all I need to do is 38 miles because that's the distance from my house to Preston... and I'll never move again.

Advertisement - Page continues below

Andy Wallace, Le Mans winner

An era that sticks out is the early Nineties. I was driving for Toyota at the time in the TS010. On pump fuel it was only producing 650bhp, but we were using special brews in those days. Our race fuel was another 50bhp and our qualifying fuel was another 70bhp on top of the 50bhp. So from 650bhp to 770bhp for qualifying... only with fuel. We had to adjust the pedal positions for the heel and toe because throttle response was so much sharper. The qualifying fuel would arrive at the track in a 20-litre drum and you used a hand pump to pump this stuff in. As soon as it went in it was starting to rot everything – fuel tank, lines, even the machine you were pumping with. You would throw it in the tank, do your laps, then when you came back in everything – fuel tank, lines – were pulled out and thrown in the bin. First time we tested it was at the Yamaha track, so I'd take a tank of it around there.

Lando Norris, F1 driver

I'd go on a roadtrip through the Himalayas during the summer. Crossing mountain ranges and ridges along challenging roads would make for an awesome adventure. I'm not sure it's an experience for everyone given the Himalayas has some of the most dangerous roads in the world, but the breathtaking views would make the risks worth it. I'd love to do it in a McLaren, of course, but not sure how practical that would be for the conditions. So, a 4x4 is a safer pick to go off-road and tackle any tough terrain along the way. Just hope there's enough fuel to get back...

Marques Brownlee, YouTuber

I'm more of an electric guy, so if I had a tank of gas to burn it would have to be in some sort of crazy hybrid, and there's only one that sticks out: I'd put it in a McLaren P1 and just do track laps until it was empty. That's my number one dream car that I haven't had the opportunity to drive yet, and I'd hate to die without having had the chance.

Adrian Newey, F1 engineer

My first reaction would be to take a Lotus 49 and drive around the Monaco F1 track, but we may as well get the most out of the tank, so I'd take either a Porsche 917 or Ferrari 512 around Le Mans.

Advertisement - Page continues below

Catie Munnings, Rally driver

I'd have to split it up into quarters. The first quarter I'd take up to the ice lakes during the winter in the north of Sweden and Finland, right in the Arctic Circle. I'd take an Audi Quattro Group B, with some ice studs on it. Leaning against the snowbanks with the rear, to push you out of the corners and the absolute silence when the transmission goes quiet and all you can hear is the studs scraping against the crackling ice as it moves. The second quarter I'd take to some desert tracks in the Middle East, probably in a dirt buggy. Me and my Extreme E teammate Timmy Hansen got lost this year doing some training in Dubai and ended up on a camel farm changing a belt on a buggy for a few hours. Then I'd take an American V8 muscle car along a beach in California and pull up into one of the fast food drive-ins. My final quarter would be spent jumping over the 150 foot gap that Travis Pastrana created in Nitro Rallycross.

Carlos Sainz Sr, Rally driver

For me it would be an easy choice: I would pick a WRC car from the current generation, the best car there is, and I would go to the stage of Ouninpohja if possible and if not to a snow stage somewhere in Sweden. I would complete that stage as many times as I could. With the WRC, sure the future is there for the hybrids, but it's important to keep the DNA of the championship and that may not be fully electric.

Advertisement - Page continues below

Gordon Murray, car designer

It would have to be in my Series 3 Lotus Elan Coupe from the Sixties. A sublime little car to drive and I'd take it to the west coast of Scotland. I love it up there, the roads are fantastic and not too congested. However, when T.50 is in production, I have a sneaky feeling I'd put it in there, with that glorious V12...

Jamie Chadwick, W Series champ

If I only had one tank to burn in one car I would choose the Porsche 911 Reimagined by Singer – the Dynamics and Lightweighting Study. I am fortunate enough to drive modern racecars on track, so off track I'd have to go for something that has a bit of a classic vibe. Having spent a lot of time at Williams, the Singer is something that I'd have in a heartbeat. Any naturally aspirated 911 is a win for me and that, combined with the engineering and attention to detail of Singer, it's just the whole package, isn't it? For my final drive I would take it for a spin around the south of France; the countryside is beautiful there, I'd love to really open it up on those country roads.

Lee Mack, comedian

If I had one tank of fuel I'd go to the Lake District in my camper van, which is a VW Caravelle 6.1 that I recently had converted because I felt that a holiday wasn't a holiday unless you're going to the toilet behind a bush. It has a Roofnest Condor XL roof tent and a Slidepod cooker/sink in the boot, all of which means my family of five and crazy dog can be self-sufficient for some time, which is important given that one tank of fuel gets me there, but not back. The Lake District is the most beautiful place on earth (certainly within a tankful of fuel's reach) and if you have to be stuck with a barking dog, three arguing children and a wife who'd rather be in a hotel with a toilet, why not at least do it while looking at The Old Man of Coniston, which is a fell, not a euphemism.

Daniel Ricciardo, F1 driver

Let's deal with the destination first, got to be somewhere sunny, so we're talking down the Pacific Coast Highway in California... actually let's go with the Great Ocean Road in Victoria. I'm picturing like a vintage convertible car – top down, stick shift and the sun blazing and the wind blowing. No particular car springs to mind – if it was America, maybe an old Mustang – just needs to be something old and raw with a bit of feeling.

Ken Block, Hoonigan

I would take a current spec WRC car and go to my favourite rally stages in the world: New Zealand. With all the development and state of the art aero, these generation of cars are ridiculously impressive, so you could only get the best out of them on-stage. Why Rally Whangarei? Because of the nature of the roads. They have cambered turns that are totally unique and crazy fun. If it was my last ever tank, there's no more epic way to drain it.