Best of 2022
10 cars expected to rise in value in 2023
Want a hot tip for the new year? These are 10 used car heroes expected to go up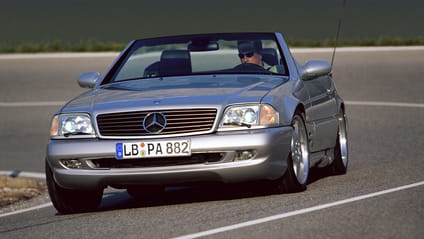 Audi TT Quattro Sport MkI 2005-2006

"There are various factors that make a car collectable, and the Quattro Sport has plenty of them," says Hagerty. Said factors include: the fact the QS is a limited edition model, it's from a 'prestige manufacturer', is a sports car and is "instantly recognisable and was aspirational when new". Don't expect a huge price rise, but do expect the value to 'creep up'.

Advertisement - Page continues below

The humble Seven provides "an inexpensive gateway into the vintage, pre-war car scene and also makes for a refreshing antidote to modern cars", according to Hagerty. They're going up but are still – at the moment – 'comparatively affordable'. The saloon's more affordable than the sports variants like the 'Ulster'.

Bentley Turbo R 1985-1997

"In 2022, values have been steadily rising, and are now back to an average of £15,400," says Hagerty. "They're popular at auction, with 57 so far in 2022 – compared to 44 in the same period in 2021. It's a slow riser but could be up to 2020 levels in the next 24 months." Lots of car for the money, of course, but Hagerty notes service history and condition is the key to future values.

Advertisement - Page continues below

"We're expecting values to increase slightly, probably keeping pace with inflation. It could, however, benefit from some high-profile sales – like the Group B homologation BX 4 TC that sold at Artcurial in July for €77,480," says Hagerty. They've only been tracking the BX for a year, but it's already gone up… by £25.

Ford Fiesta MkI 1977-1983

"The Fiesta's an instantly recognisable classic and the prices of performance models, like the Supersport and XR2, are already rising," says Hagerty. "Even for humbler cars like our 1.1 Popular Plus, prices are on the way up – a pre-Covid average of £3,625 has risen to £4,325, not much in monetary terms but still a 19 per cent increase."

What the humble supermini needs, apparently, is a whopping sale of a special version that'll drag up values across the board.

Lamborghini Diablo 1990-2001

"Get ready for things to change," Hagerty predicts. "45 per cent of owners are from Generation X (compared with 31 per cent across all cars), a group who are now at peak earning capacity and median quoted values have soared in 2022 from £214,000 last year to around £260,000 now."

"This revered British sports car is more affordable here than in the US – a standard S2 can be bought for under £20,000, where the median quoted in the US is around £40,000, and has soared recently, up by 34 per cent in the last two years," says Hagerty. Though the icon's appearances at auctions is rare, 'value trend lines' are pointing up.

Advertisement - Page continues below

Mercedes-Benz SL R129 1989-2001

"Prices have been on the rise for the cars that have been snapped up; the post-lockdown average of £14,550 has now risen to £17,475, a 20 per cent increase," says Hagerty. "Given its lineage and the obvious qualities a luxurious Mercedes roadster has to offer, the SL ticks many of the boxes that collectors look for." And things to look out for include mileage (low), service history (high), and engines (big).

"When we look at the 99 Turbo specifically, a different picture emerges. It shows a 20 per cent increase in value but remains a rarity," says Hagerty. Earlier this year, a restoration car sold for £5,600, and the company reckons a concours 99 Turbo will climb from its current value of £21,700 to around £30,000 within a couple of years.

Advertisement - Page continues below

Triumph Spitfire 1962-1980

"Values of all Spitfires were relatively static for some time but have started to increase notably: quoted values are up 27 per cent in the past two years," says Hagerty. Apparently that rise has been powered by early, concours-level cars that are obviously the most valuable, "nudging more than £28,100, while the Mark II is snapping at its heels with a top value of £26,300".