Best of 2022
Five new racing games you need for 2023
Here are the pretend cars you'll be driving over the next 12 months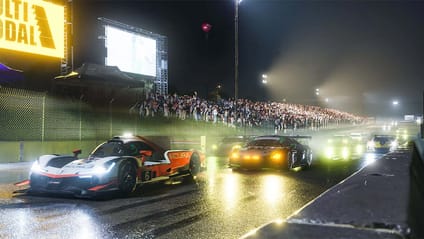 There's nothing quite like the start of a new year. The renewal of hope, the opportunity to take stock of your life and, most importantly, a whole 12 months' worth of new upcoming racing games to salivate over. 2023 will see the return of two huge racing game franchises that have been dormant for some time, a realistic pretender to Mario Kart's throne and no doubt much more that's yet to be announced. Here are the five new driving games for 2023 that we're most excited about, let us know yours in the comments below...

Advertisement - Page continues below

Wreckreation - TBA 2023

A sequel to Dangerous Driving, which itself was a spiritual successor to the old Burnout games, Wreckreation is less about the bit where you go very fast and more about the bit where you come to a sudden stop. Usually in a shower of metal, sparks and splintered glass.

The big addition to this game is a 400km squared sandbox, called Sledgehammer County, in which you can place obstacles and build your own looping tracks hundreds of metres above terra firma. As you progress, you'll unlock more and more outlandish obstacles to introduce to the open world, such as moving windmills and giant cows, leaving the entire thing looking less like a racetrack and more like a super-sized crazy golf course. This could well be the most fun you've had since your mum gave all your Hot Wheels track away.

Forza Motorsport - Spring 2023

While Forza Horizon has been busy partying across the planet for the last five years, and scoring millions of players in the process, this nuts-and-bolts rework of Forza Motorsport is the result of half a decade's quiet toil. As you'd expect from a Forza game, our first glimpses of the game have been visually spectacular, with cars that you could probably convincingly tell us were accurately modelled at an atomic level.

After a solid but unremarkable Forza Motorsport 7 back in 2017, we're good and ready for a triumphant return by the only sim with the gargantuan resources required to adequately compete with Gran Turismo. Well, until Elon Musk decides to start a game development studio for a laugh.

Advertisement - Page continues below

Disney Speedstorm - TBA 2023

Disney's answer to Mario Kart plumbs from the megacorp's extensive library of characters and if there's anyone who has a shot at taking the fight to Nintendo's all conquering kart-'em-up it's the House of Mouse. Essentially, if you've ever wanted to see Jack Sparrow from Pirates of the Caribbean fire a missile at The Jungle Book's Baloo from a moving vehicle, now's the opportunity.

The entire thing has a surprisingly gritty aesthetic for a kids' game, all muted colours punctuated with neon, which we're hoping will make it less embarrassing when we're caught playing it ourselves. To add to that temptation, the game is going to be entirely free to download and play, but we're expecting you'll have to spend money on additional content and customisation options such as kart decals and outfits. Perhaps we'll finally be able to persuade Donald Duck to put some trousers on...

Pacific Drive - TBA 2023

As you might have guessed from the spooky lighting and complete absence of obtrusive advertising hoardings, Pacific Drive is not a racing game. Instead it's a survival horror affair that has you customising and driving a modified station wagon through a surreal, supernatural Pacific Northwest, only leaving the safety of your vehicle when absolutely necessary. Your base of operations is an abandoned garage within what's known as the Olympic Exclusion Zone, and each time you set out in the car, the world and road layout is slightly different. Which is exactly how we feel every time we get lost in Milton Keynes.

What you don't have to deal with in Buckinghamshire's foremost commuter hub is bizarre Lovecraftian creatures, dangerous reality-bending anomalies and buckets of icky green goo. Well unless things have gone seriously downhill over there...

Test Drive Unlimited Solar Crown - TBA 2023

Long before Forza Horizon, there was Test Drive Unlimited, which offered many of the same thrills. It offered up a large open world, constantly connected online multiplayer for impromptu road trips and the opportunity to loaf around in expensive supercars like you've just sold a Silicon Valley startup.

In 2023 the original online open-world racer returns, this time developed by the folks behind the impressive official WRC games and set in Hong Kong Island and the roads surrounding it. While cruising around the more densely populated areas will be fun enough, we're really looking forward to heading up into the spectacular hills that loom above the city.

Your goal, aside from accumulating more supercars than a dealership in Knightsbridge, is to compete in races and events to secure the titular Solar Crown, which we're sincerely hoping is an actual shiny hat our character can wear.