News
Big bad Bug
The Bugatti Galibier has stomped all over the four-door ultracar niche. TG gets a close look at Rolls-Royce's worst nightmare…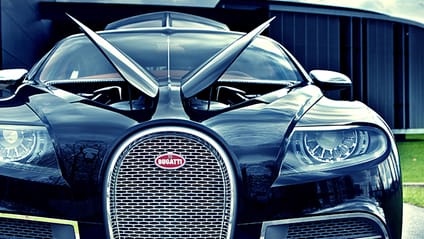 The Bugatti Galibier has stomped all over the four-door ultracar niche. We used 'gentle persuasion' to get a close look at Rolls-Royce's worst nightmare...

Words: Jason Barlow
Photos: Joe Windsor-Williams

Advertisement - Page continues below

A day spent at Bugatti's factory HQ in Molsheim is like going through Alice's looking glass. Veyrons in various states of undress are sprinkled about the place, an entirely odd sight that has you rubbing your eyes in disbelief to begin with but which soon becomes strangely normal. A matt-black Veyron? Hmm, interesting. A red one? Yeah, you know, whatever. There's a blue one over there... and a white one...

The guys on the (tiny) production line move around at a leisurely pace, gently pursuing perfection. Bugatti people must get normalised too, even as they spend four weeks bringing the world's most amazing car to life. This is fantasy land for 99.99 per cent of the planet's population, but for these guys it's the day job. Imagine.

It's clearly something that affects the bigwigs, too. "Bugatti is effectively an ivory tower built on top of another ivory tower," admits Oliver Schauerte, one of the VW group's top engineers, "or perhaps a pyramid with an annex at the very peak. But if we show a new Bugatti, then we should be realistic about what we are showing."

Realistic. This is an unusual word to use in the context of Bugatti's epic concept car, the Galibier, the reason we're here today. 'Realistic' is popping down to the shops for cheese and bread, or accepting that, on balance, it's unlikely that you will get to sleep with Cameron Diaz. It is not a 5.3m-long car that has an 8.0-litre, 16-cylinder engine, running two superchargers (instead of the Veyron's four turbos, for improved low-end torque), with a declared top speed of 217mph and a likely price tag north of £1m (assuming it gets the go-ahead).

Advertisement - Page continues below

Yet the Galibier is about as real and realistic as any concept car has ever been. It has a proper, functioning engine, and moves under its own steam. The bits that you can't see are as lustrously well-executed as the bits you can. Though most car companies go to inordinate lengths to ensure their motor show eye candy gleams in all the right places, the Galibier is off-the-scale. This might well be the most perfect motor car ever made.

Since we were last here, at a special preview prior to the Frankfurt show, Bugatti's monstrous and monstrously beautiful concept car has changed colour. Back then, it was a light blue with aluminium accents and featured a special and no doubt fiendishly expensive treatment that allowed the weave of its carbon fibre panels to show through. Now it's all-black, and all the better for it. (A Bugatti insider admits that the blue/silver carbon-fibre scheme was a 'distraction'.)

Black is a tough colour to pull off, and tends to swallow the filigree design details that make a one-off concept the mobile event it's meant to be, but not for a car as imperious as this. You can imagine Batman driving it, in Bruce Wayne mode rather than caped crusader guise, though photographer Joe Windsor-Williams amusingly plumps for a less appealing cartoon character. "It's Cruella Da Ville's car, isn't it," he says sheepishly. "If I was getting one, I'd order it in this colour but with loads of white spots all over it..." For a reverse Dalmatian effect, obviously.

Bugatti might even indulge him. Lord knows, these guys must be expert at fielding exotic requests by now. Designing and building cars at this stratospheric level is a strange business. It's almost about what you leave out, rather than how much you cram in. The party line is that this 'is the most exclusive, elegant, and powerful four-door automobile in the world.' Automobile, note, not car.

Following its press debut last September, the Galibier embarked on a tour of the world's moneyed hot-spots to gauge client opinion. All car companies conduct customer focus groups, usually to work out what sort of interior door-handle plastic they can get away with. Not for the Galibier owner recessed cup-holders or split-view satnav, though. They're shelling out for fastest, rarest, most expensive. They'll get their cupholders somewhere else. Like in their AMG Mercedes S63.

Apparently, the reaction has been overwhelmingly good, but a decision on whether to put the car into production is still pending. Bugatti's top brass are getting increasingly less good at hiding their desire to get on with it. "It's more than 50/50," Schauerte admits after much cajoling, and possibly fearing for his life (the decision rests with the VW board, remember, and ultimately with the group's saturnine kingpin, the legendary Dr Piech). So to help them out, just imagine you were in the market for an über-saloon, and fancied something a bit... less obvious than a Rolls or Bentley, never mind an S-class or 7-Series. Could you? Would you? 

Advertisement - Page continues below

Yes, if you want to make the grandest possible automotive statement. The Galibier makes a Phantom Drophead Coupe look like a Suzuki Jimny. As I say, rather than flattening the car's form, the black finish is the making of it. The Galibier is enormous, but watching it move at the far end of the factory elicits the sort of jaw-slackening emotion you'd normally get watching a Lear jet or super-yacht manoeuvring into position before decanting an Amazonian supermodel. And two of her friends.

While those are arguably the most useful contemporary reference points, the Galibier clearly takes its cues from Bugatti's back catalogue. The name is a lift from a Type 57 saloon derivative of the mid-Thirties, but the design is all about updating the art deco flourishes of the Type 57 Atlantic, one of the great masterpieces of any of mankind's creative industries. Though the surface decoration is pretty minimal - no mean feat given how much surface there is - the main highlight is the 'spine' line that bisects the car's entire length, bonnet, windscreen, roof, rear window and all. Bugatti's trademark horse-shoe grille stands proud at the front; viewed side-on, you can see just how far forward it's canted. You can see how big it is from any angle: very. As with the rest of the car, this is a plus-size Phantom. The LED headlights are fabulous, too. 

Advertisement - Page continues below

Personally, I prefer my super saloons to be saloons, and most Germans regard the hatchback as a rather proletarian device. The Galibier's sloping rear is about paying homage to the Atlantic, of course, rather than a subliminal show of solidarity to Europe's workers, and it tapers to an irresistibly convincing conclusion. Just to ram the point home, there are no fewer than eight exhaust pipes. (This is another nod to the Atlantic: apparently it needed extra ground clearance, so rather than two fat exhaust pipes, it got eight smaller ones.)

Its teardrop form suggests decent aerodynamics, and the substantial rear diffuser promises generous downforce. As you would hope and expect in a car that'll do close to 220mph. "There is lots of significant aero work still to do," Schauerte admits, "but the testing we've done so far suggests that the shape of the car will stay pretty much as it is. We have work to do optimising air flow around the car."

Schauerte remains tight-lipped about the Galibier's likely weight but says that Bugatti is targeting a figure that undercuts the other mega saloons - Phantom, Mulsanne - currently in the market. "We want to deliver a top speed of 350kph, which means that we need the car to be as light as possible. We'd also like the centre of gravity to be as low as possible, so that the driving dynamics are the best they can be for a car of this size." He also says that cooling this front-engined behemoth is much less of a challenge than it was on the Veyron, mainly because of the volume of air shovelled in at the front. The brakes are 400mm diameter carbon-ceramic jobs. It's all-wheel drive, and a regular torque-converter auto is likely to replace the Veyron's DSG.

Inside is like another world. "This is not a temple," Bugatti's director of design Achim Anscheidt told me last year. "We took a conscious decision to create a driver's car." To be honest, I'd be too busy fondling the interior to drive the damn thing. (There's a gloved man on hand to supervise our exclusive preview. This is not a car you'd fondle after eating, say, fish and chips.) The three-spoke steering wheel eschews the fashionably chunky approach, and - like the Phantom's helm - is a reminder that a skinny rim somehow makes a big, heavy car feel delicate. 

There's a TFT screen in the main binnacle, and even the typefaces for the numbers are graphically consistent. In keeping with the 'less is more, especially if you're truly minted' ethos, the dashboard - and it really is a dashboard, in the original equestrian sense of the word - features just two main dials, a power meter and speedo. The needles in the dials have little 'EB' logos at their tips. There's also a detachable TV screen, and Parmagiani Tourbillon time-piece, which can be removed and worn as a wristwatch.

But it's the leatherwork and marquetry that's most impressive. The seats are vast old-school chairs with a woven upper part that somehow folds into the headrests. There are leather door pulls, an ally spar in the windscreen that connects to the rear-view mirror, and a vast, polished wood and aluminium strip runs the length of the cabin with only discreet transmission controls to interrupt it.

At the risk of sounding like a terrible ponce, Bugatti may have redefined luxury with the Galibier. Or as the company President Dr Franz-Josef Paefgen remarks as he walks past en route to a very important meeting, "Wow. I'd forgotten it looks this good."