Adventures
Across Europe in the new Aston Martin DB11
2,500 miles, 15 countries and one new DB11: time to smooth over Brexit with the neighbours
"Bad decisions make good stories."
A wise man once told me that. Well, I say wise, it was actually Rowan Horncastle somewhere in the back end of Romania after several pints of Plop, or whatever the local lager was called. I shan't elaborate on where the evening took us from there, but the point is this: if there's even a shred of truth in Rowan's mantra, then this story was destined to be a winner from the start. Why? Because it began with a very poor decision indeed.
Advertisement - Page continues below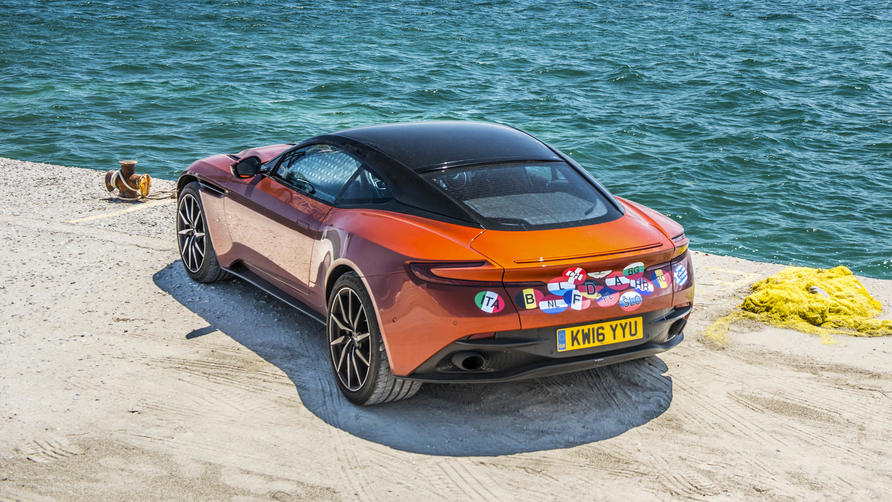 Words: Jack Rix
Photography: Rowan Horncastle
This feature was originally published in Issue 286 of Top Gear magazine.
"Wouldn't it be cool if we drove the DB11 to Athens?" an overly enthusiastic member of the TG team proposed. Really? When for £100 easyJet will fold you into an orange tube and have you there in less than four hours? A quick Google confirmed it was a road trip of frankly idiotic proportions, but support for it was swelling by the minute. And when we spotted an opportunity to serve our country in the ambitious but rubbish way only Top Gear knows how, it was all but signed and sealed.
Advertisement - Page continues below
This would be a post-referendum diplomatic mission, an opportunity to pass through as many European countries as possible and galvanise future trade relationships with our neighbours – not only by smiling, waving and politely sampling their strange cuisine, but by parading past them in a shining example of UK design, engineering and manufacturing at its very best. Oh, and it would be rude not to stop by some of Europe's best driving roads on the way through…
The journey would begin in Brussels, a farewell to our EU comrades, before passing through Maastricht in Holland – birthplace of the single currency. From there we planned to take in Luxembourg, France, Germany, Switzerland, Lichtenstein, Austria, Italy, Slovenia, Croatia, Serbia, Bosnia, Romania, Bulgaria, Macedonia and Greece on a 3,500km cannonball run via 17 countries. This hastily scribbled schedule was barring any unforeseen circumstances, of course, such as car trouble, surly border officials or the requirement for humans to sleep.
Still, it would be an adventure. Collins defines an adventure as: "a risky undertaking of unknown outcome," suggesting things were unlikely to go smoothly, but at least we had the tool for the job. The DB11 is Aston's all-new 2+2 grand tourer, designed to dispatch kilometre after kilometre with silken grace, but with the ability to summon up a ballistic turn of pace and decent agility when you swap your brogues for Alcantara Stig boots. A DB11 and a racetrack should ne'er meet, but if the road's open to the public, consider it monstered. This road-bias philosophy and front-engined, rear-wheel-drive formula are a thread from the DB bloodline, but the DB11 is the start of a new chapter.
A new, stiffer bonded aluminium chassis, mildly inflated dimensions over the DB9, new 600bhp twin-turbo 5.2-litre V12 engine, clean-sheet styling and a new electronic architecture supplied by Mercedes are the headlines, but it's what this car signals that's important: A fresh start for Aston, seven cars in the next seven years – including a new Vantage, Vanquish, DBX crossover, multiple Lagonda saloons and a certain AM-RB001 hypercar – and, according to the sums, a return to profitability.
This being a pre-prod prototype there's a red kill switch in the centre console that's been tempting us ever since our departure.
Aston has to build "the most beautiful cars in the world" (the words of its CEO, not mine) and sitting here in car park P1 at an endlessly grey Brussels airport it is, by and large, a beautiful thing – although massively spec-dependent. New roof strakes – available in bare aluminium, body colour or black (like our test car) – run from A- to C-pillar and can transform the car from elegant to gaudy in one click of your mouse. The proportions, however, are quintessential Aston. I prefer the rear, emblazoned with those boomerang LED lights, than the front, where the grille has a slight overbite, but it's classy in a way a Ferrari F12 just isn't, to my eye.
The DB11 even dips its toe in the muddy waters of aerodynamics. That Vulcanesque cut-off side strake looks means but also releases pressure from the front wheelarch, while at the rear, air is forced through intakes in the C-pillar, into the bootlid and out through a slit, creating a vertical jet of turbulent air that acts like a virtual spoiler. Whether it works or not is secondary to the genius of the idea.
Top Gear
Newsletter
Thank you for subscribing to our newsletter. Look out for your regular round-up of news, reviews and offers in your inbox.
Get all the latest news, reviews and exclusives, direct to your inbox.
More pressing than swage lines and surfacing right now is whether we can fit Rowan's three outrageously weighty cases of camera equipment and my one masterfully packed piece of hand luggage into the car. Aston proudly claims that a 65mm longer wheelbase, 28mm more width and an overall length increase of 50mm next to the DB9 frees up 10mm more headroom in the front, plus 54mm more headroom and 87mm more legroom in the rear. All you need to know is those rear seats are still more for bags than real people. Even little ones.
I shan't bore you with all the gritty details of our drive on day one – other than how similar Belgian, Dutch, Luxembourgish and French motorways look on a dank Monday, and how adept the DB11 is at making 100 miles feel like 100km. Instead, we fast-forward to 3pm and the spiralling D431 in the verdant Vosges region of France, where with 550km under our belts the DB11 appears to have jettisoned its magnificent V12 and replaced it with a diesel engine. This is not ideal.
We are on the ascent when it happens. It's as if 500 of the 600bhp have evaporated, the turbos are no longer spooling and the engine won't rev past 3,000rpm. We limp it to the nearest lay-by and dial the fifth emergency service – Aston's PR department. This being a pre-prod prototype there's a red kill switch in the centre console that's been tempting us ever since our departure. Now we're instructed to press and release it, and like magic we're back up and running… for precisely four minutes before it happens again, this time with an engine warning light and perturbing splutters from the exhaust.
As luck would have it, there's an Aston engineer three hours away, just south of Stuttgart, who scraps his plans and rides to our rescue. In the morning, we learn it's a software issue, not anything physically broken (huzzah!), and we're free to plough on. Just one problem, we are supposed to be in Innsbruck by now, but that's a further five hours down the road. On a positive note, it gives us plenty of time to assess the DB11's Mercedesified interior.  
There's a handmade quality to most things you touch, like the brogued leather on the doors and the stitching around the satnav screen. Flick the metal paddles with your fingernails, and there's a reassuring 'ting, ting', likewise the cold burred surface of the volume dial on the squircle steering wheel. A digital instrument cluster and an infotainment system lifted wholesale from Mercedes definitely bring the car up to date, but also cheapen it slightly – after all, anyone can have digital instruments these days. I'd prefer a physical dial with more detail for my £155k, at least for the tachometer. And is it just me, or are those doorhandles a bit, erm, phallic?
You sit low... very low, should you wish. You may notice a cornering shot with only my substantial forehead visible above the wheel. Don't worry – that's how I roll, and the visibility is excellent, besides the fat A-pillar getting in the way when you're pulling out of side roads. But look – it's an Aston, it's swathed in expensive materials and now the on-board technology is up to date and actually works. I'd call that a win. What we need to get to the bottom of is this new engine, and our next stop should have the answers.
We leave France and cut the corner of Germany, before dropping down through Switzerland, kissing Lichtenstein, blasting through Austria and turning right at Innsbruck towards the Dolomites. Made that sound pretty easy, didn't I? By the time we arrive at the peak of the Valparola Pass in Italy for an emergency pasta lunch, we've been driving eight hours straight, and I appear to have fistfuls of sand under my eyelids. What's kept me alert is endless tunnels, each a perfect opportunity to drop the windows and critique the sound of this new blown V12.
You can find the turbo lag if you hunt for it, but mostly you have unseemly amounts of shove constantly poised under your right foot.
First the numbers, because with 600bhp at 6,500rpm and 516lb ft of torque at 1,500-5,000rpm, it's the most powerful Aston to ever wear the DB badge. And for something weighing 1,770kg dry (10kg more than the DB9), 0–62mph in 3.9 seconds and 200mph flat-out is pretty damn impressive. Inevitably, though, it doesn't have the same depth of aural character as its 6.0-litre naturally aspirated predecessor. Climb past 3,000rpm, the point where the turbos really come on song and the thrust starts to peak, and there's a wall of sound – the kind only 12 thrashing cylinders can generate. It's a booming, snarling upsurge that's worth listening to all the way to the 7,000rpm limiter, but there's less complexity, fewer layers, no grumbles and bangs.
To begin with, I'll admit, it's a slight disappointment, but you can tweak the intensity of the soundtrack via the three driving modes – GT, S and S+ – and considering the more mature nature of the DB11 compared with the inevitably sharper Vantage and Vanquish models still to come, it's a promising starting point. As for performance, it's a big step on. You can find the turbo lag if you hunt for it, but mostly you have unseemly amounts of shove constantly poised under your right foot. On the motorway, the engine doesn't much care whether you're cruising at 50mph or 150mph, it ticks over silently, utterly unstressed. On a fast B-road, you find yourself instinctively asking for the next gear from the eight-speed ZF 'box at around 4,500rpm, because why gnaw at the bones when there's so much meat in the middle.
Although bewitching in its beauty, the Valparola Pass isn't a great fit for the DB11. Up here, the narrow roads, woven between soaring jagged towers and teeming with two-wheeled missiles, only highlight that a sports car the DB11 is not. It feels wider than its lane and rolls too much to be able to place with any accuracy in the hairpins. You can firm things up by dialling the adaptive dampers through three separate modes (also called GT, S and S+), and body control becomes noticeably tighter without nuking the ride, but this isn't the road for cutting loose, more for pretty pictures. Those in the bag we point our nose towards Zagreb, via Slovenia's impeccable motorways, for another 500km stint.
We roll up to the Croatian border around 10.30pm wearing our sweetest, please-don't cavity-search-us smiles, and hand over our passports. Up until this point, borders have been marked with nothing more than a blue star-spangled sign by the road, but Croatia is the first of the non-Schengen EU states. The officials demand to see an original V5 document for the car; all we have is a photocopy. Crap.
We plead, we beg, I offer Rowan as a slightly chewy human sacrifice, but they won't budge. With the original doc back at Aston's HQ in Gaydon, our only hope is to slink back to the Slovenian capital, Ljubljana, for the night, plot a new and even longer route through Hungary, Romania, Bulgaria and Greece, and pray those borders are manned by Aston fanatics. I'll be honest, after 19 hours on the road, being turned around at the eleventh hour has impacted on team morale. Conversation is sparse.
At no point does it feel overly stiff; this is a car designed to flex with the road, even in its most aggressive settings.
With a few hours sleep in the bank, our outlook is decidedly rosier. If we push our flights home from Athens back by 24 hours, we can do this; if we don't get thrown in a cell at the borders, we can do this; if we get a large amount of Red Bull and Pringles, we can definitely do this. We head east and sail through the unpoliced Hungarian border and into Budapest – our first big city encounter. The tourists and locals respond, taking pictures and grinning their approval as we creep across the extraordinary Chain Bridge, built in 1849 and rebuilt a century later. We thank them by playing George Ezra's topical chart-topper at full blast through the 1,000W B&O stereo. Childish, but necessary.
Once clear of the congestion, we bomb south to the Romanian border, and for a moment it's Croatia all over again. The official wants to see the original documents, and storms off to consult his superior. When he returns he's waving his finger wildly, clearly a Romanian signal for "Pants down, you're coming with me," but what's this? He hands back the passports and is actively encouraging us to boot it away from his booth. There'll be no burnouts here – the gearbox software won't allow it, but we give him a full-blooded launch before he changes his mind.
We awake in Resita, the town of paragraph one fame, and plot a cross-country route hoping to see small towns of mosaicked houses, stray dogs and moustachioed locals. Within minutes, I'm ecstatic that we did. In every sizeable road trip there is a turning point, a moment where a bond is formed or forever broken, and on the 57B south of Resita, the DB11 and I take our relationship to the next level. Wide, well sighted and with only a few horse-drawn wagons for company, the road barrels through wonderfully lush countryside and draws out the very best in the car. With the dampers and powertrain in S+, the DB11 shows how hard it can grip, and how responsive the throttle and steering can be. You have to manage the weight, brush the steel brakes a touch earlier than you think – slow in, fast out – but time everything right and there's an effortless flow to its movements – like a second row with the dexterity of a ballerina. Don't, and you sense the weight lurching to the outside tyres and pushing the suspension to its limits, but at no point does it feel overly stiff; this is a car designed to flex with the road, even in its most aggressive settings.   
On the other side of the border, the Bulgarian roads are a different story entirely. The main artery to the capital, Sofia, is narrow, riddled with potholes and we're forced to weave around behind slow-moving lorries watching our ETA on the satnav creep steadily up. We're due to meet the team from Top Gear magazine Bulgaria, who we've scrambled to help with some photography, and when we pitch up we're thrilled to find the road they've picked is smooth. So smooth in fact that it's like driving on epoxy resin. Traction control off, and I find myself executing perfect drifts at 20mph, whether I like it or not. For the record, I like it, a lot, and Rowan has to drag me away to reach our final hotel in Sandanski, just north of the Greek border.
The feeling when we're waved through by officials the next morning is pure relief; mission complete, we're into our 15th and final country. Now all that stands between us and hopefully some sleep, is a gentle run down the east coast and into the capital. Within 5km, we're pulled over by the police for speeding. Fortunately there's no mention of impounding the car, just a hefty fine that the policeman reduces from €350 to €100 because "I know it's difficult to go slow in a car like this." Consider it our contribution to the ailing Greek economy. We set the cruise for bang on the speed limit and tiptoe the final few hundred km, the trip computer clicking over the 4,000km mark an hour before we arrive in Athens for a photo call with the Acropolis.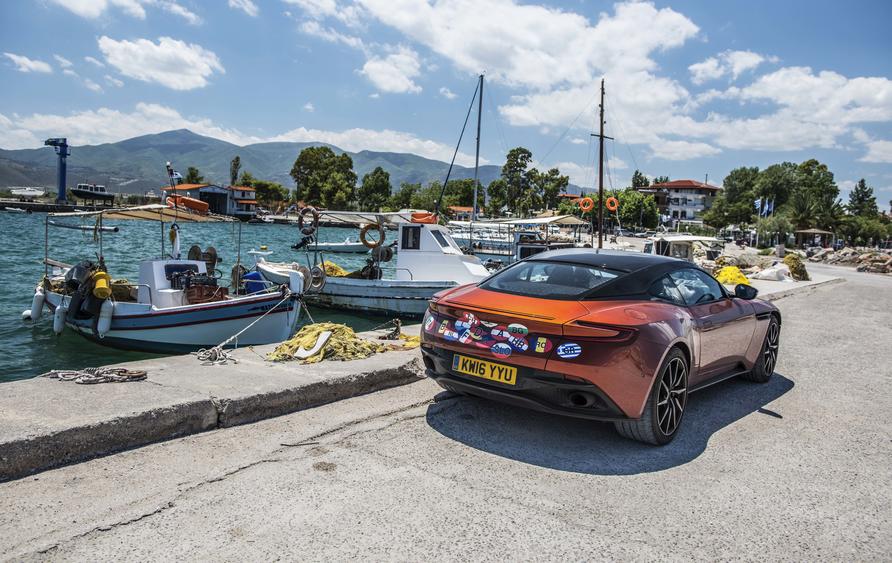 We are broken men. Don't get me wrong – the car, besides a minor reliability blip, has been a soldier and turned brutal mileages into manageable bite-sized chunks, but humans are simply not designed to sit on their backsides for five days solid. Could we have done this in a Ferrari 488, or a Ford Fiesta even? Probably, yes, but we'd have been in even worse condition at the end. And that's where the DB11's USP lies – that on the right road it can turn in a virtuoso performance, but also swallow countries whole at a steady 25mpg.
And what of our diplomatic mission? If nothing else, it's proved how liberating free movement is, and how stifling it could become should it be taken away. How remarkable that, as it stands, you can wake up, fancy a kebab, and drive to Greece. We won't be expecting a letter of thanks from Theresa May anytime soon for our contribution to the economy, but as far as the UK car industry is concerned, it's obvious our stock is still high. We lost count of the impassioned compliments for the car along the way, in a rainbow of different languages; one particularly adoring Athenian was even moved to tears when we parked up opposite his street stall. Europe as we know it might be changing, but even in the light of the company's brave new dawn, the universal love for Aston is not.