Big Reads
Across South Korea in a Hyundai Ioniq 6 and Staria minivan: a TG road trip
To understand the rise of Hyundai, you need to explore where it comes from... in two of its polar opposite new products
Midnight on a boat in the East China Sea. Or is it the Sea of Japan? Or the Yellow Sea? It's very strategically placed, is Jeju. That's our destination, an island an overnight ferry ride off the bottom of South Korea. So far the port experience has gone a long way to convincing me that Dover... you know what I'm going to say here, don't you? That Korea's industriousness and organisation has found slick new ways of loading cars and directing people, so the whole experience whisks past so fast you barely get a whiff of fish in the nostrils.
Er, no. I park up at the terminal in Mokpo and am instructed to unload any bags I want to take onboard. Then I'm told to drive the car onto the ferry, jinking it past reversing lorries, down ramps, past pillars before reversing it into place. I then stand there like a lemon wondering what happens next, while oilskin-clad crew chain it to the deck. I interpret the international language of gestures to mean "walk off the way you drove on", and dodge the loading melee of trucks, forklifts and containers all the way back to the terminal. I then pick up my bags, join the check-in queue and finally walk up the gangplank feeling slightly bewildered. 
Advertisement - Page continues below
Photography: Jonny Fleetwood
Not exactly slick. Lunch, on the other hand, had been. Octopus tentacles. I'd asked our guides to take us somewhere local. We ended up on plastic patio chairs selecting food from a fish tank. The table butchery nearly caused a stomach backfire. 
This is the side of Korea we know less about. We see and hear about the neon vibrancy of the place, the sheer can-do, make it happen energy. The TVs, phones, gadgets, the Samsungs and LGs, the rise and rise and rise of Hyundai and Kia. None of that is false, it's just that – as we know all too well – economies don't move at the same pace everywhere. We talk about levelling up the north of England. The Koreans want to disseminate Seoul's success southwards. 
Advertisement - Page continues below
As much as it is an island, Jeju is a project. Back in 2012, Korea's central government announced a plan to make the island carbon free by 2030, with all energy coming from renewables. It was an achievable spearhead: Jeju is to Korea what Hawaii is to the US. It's for recreation. Shaped like a suppository and about 45 miles from end to end, there's no heavy industry on this volcanic island. Less energy demand, lower emissions already. Solar panels have been fitted to many homes, 120 wind turbines installed in the sea around it, there are added incentives to buy EVs here (it has the highest percentage in the whole country now) and as many chargers as there are cars. No, you didn't read that wrong. This jolly holiday island is the perfect place to drive electric. 
So is Seoul. I was last here seven years ago, the whole city blanketed then by smog that was blamed on emissions from China drifting across the Yellow Sea. Things seem to have changed: today the views over this megacity from the 556-metre summit of the Signiel Tower are crystal clear, it's not clouds I'm looking down on, but buildings that sit like a cloud layer, steep hillsides appearing to poke up through the billowing urban sprawl. It's a reminder of how mountainous this country is. 
Downstairs a Hyundai Ioniq 6 is cramming in a few final electrons ready for the 300-mile drive to Mokpo. Seoul is in-at-the-deep-end driving. The pavement-less back streets are tight and littered with a detritus of scooters, cardboard, scaffolding and draping cables that contrasts heavily with the primped and preened main avenues. Out there it's the multilane traffic that'll get you. And carry on getting you.
Fifty miles. That's how far it is before I'm aware of being in the countryside. There are 10 million people in Seoul, 25m in the greater metropolitan area. It's like driving through a Scooby Doo backdrop, a constantly repeating loop of thick urban sprawl. The Ioniq 6 sees it off with panache. The light cabin is instantly calming, the control responses are measured, the satnav bong and whisper is delivered just so. I want the full experience, so leave it talking Korean, and tune in to local radio to experience K-pop in its natural environment.
It might be based on the same underpinnings as the Ioniq 5, same 77kWh battery and twin motor 321bhp set-up, but it's more sophisticated. The suspension damping and insulation is more akin to a Mercedes EQS, and like that (the only car that has a better drag factor than the 6's 0.21Cd), it slips easily through the air. Turn brake regen off and it'll coast for miles. Good for range.
So there's no need to recharge when I break for motorway snacks. This is the intention of course. The Ioniq 6 can travel 25 miles further per charge than the 5 simply due to aerodynamics. Restrain yourself to a 225bhp single motor on smaller 18s and max range rises from 320 miles to 382. In theory I can drive the whole way to Mokpo on a single charge, but I can't recharge on the ferry, so I've looked out a lunch spot. It's close to somewhere I've been before, the Saemangeum Seawall. If you like gigantic engineering projects, look it up, it'll blow your mind.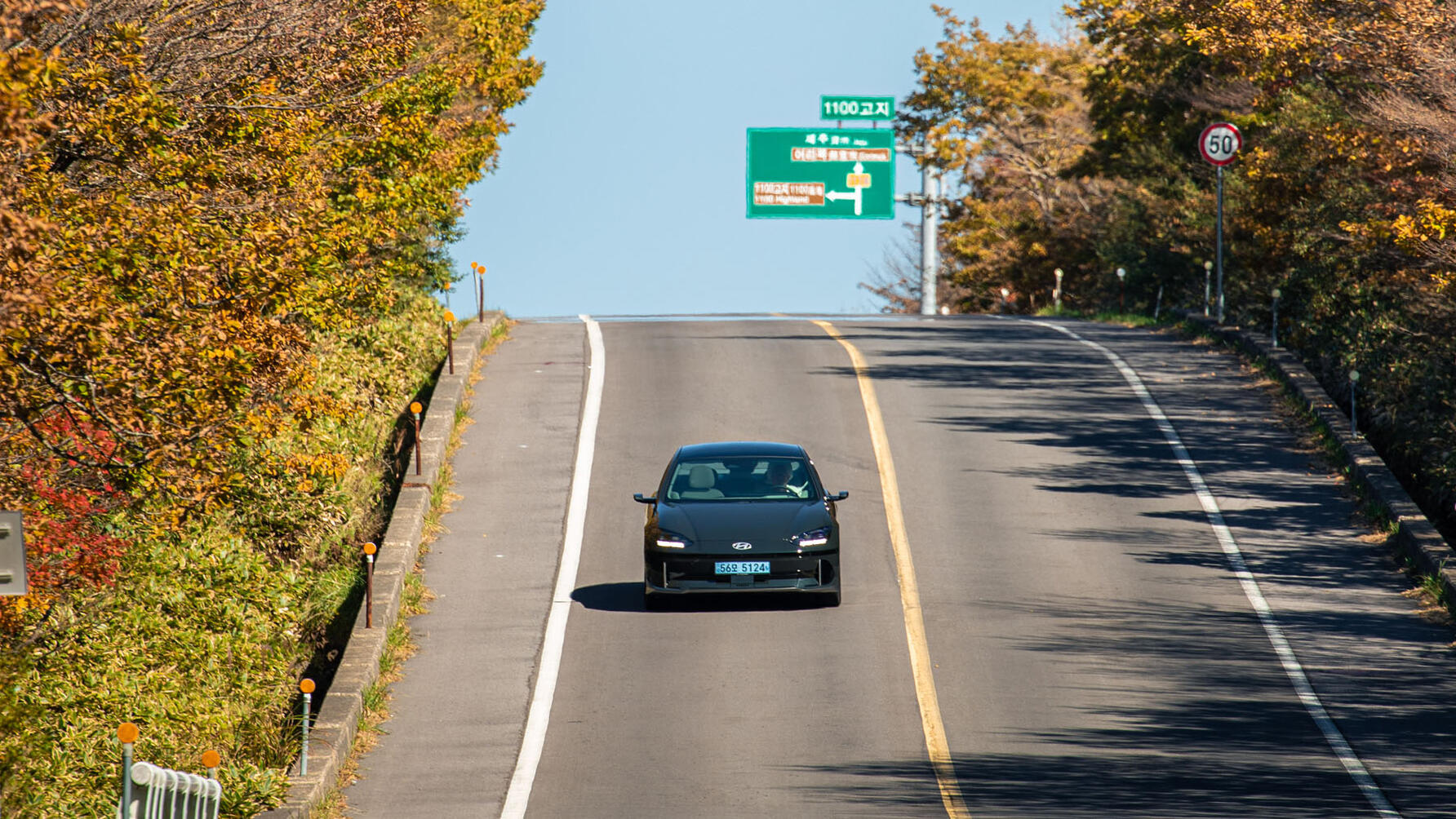 Korea isn't an intimidating or even particularly alien country to drive through. Many road signs are in English, the influences are more westernised than in China or Japan, the society is open and friendly and, well, contactless payments make things easy, don't they? And so the day continues, gently dusting distance, miles slipping past as easily as octopus slips down (once past the gag reflex) at Seonyudo, an island that is – was – several miles offshore until the seawall joined it up.
The EV charger there recognises a British credit card more readily than most UK chargers do, and proceeds to hose in power at 200kW. The new meeting the old. Despite the connection – both electric into the car and seawall to the mainland – Seonyudo feels like a place trying to make sense of itself, a rural fishing backwater that's now a haven for Insta-selfies. It's a stunning spot, a broad beach looking out on a dolloped chain of forested islands. We make the most of the opportunity, bag shots until sunset then drive to Mokpo.
Top Gear
Newsletter
Thank you for subscribing to our newsletter. Look out for your regular round-up of news, reviews and offers in your inbox.
Get all the latest news, reviews and exclusives, direct to your inbox.
When the sun rises I'm driving up Jeju's most dominant feature – Hallasan. A dormant volcano and, at 1,950 metres, the tallest mountain in South Korea. Above 800 metres it's designated national park and there's barely a soul here, just a sinuous road threading through lava colours as autumn runs down the flanks of the mountain. The Ioniq 6 is neater and more composed around corners than I expected, it manages roll well and the torque vectoring seems keen to prove it knows what it's about. It's capable and effective, moves the game on substantially from the vague 5.
A surprise lurks at the visitor centre. As befits a country with 70 per cent of its land area covered in mountains, Koreans are very outdoorsy. Hiking is a national obsession, even in the wackier parts of Seoul technical fabrics and walking boots dominate, while down here on Jeju, it's all about the camping. Until recently Hyundai – despite, including Kia, having an 80 per cent market share – hadn't tapped into this, but now it's turned the Staria people mover into a VW California-rivalling Camper. Just way more futuristic. Look at it! What a cracking piece of design, a lesson in how to give a box personality and charm when you don't have any heritage to call on.
But before we get too carried away, this futuristic wagon hides a dirty secret. Quite literally: it's powered by diesel. Looks like it should have an ID.Buzz-style EV powertrain, actually sports a 2.2-litre fume belcher. However there's another angle here. It needs electricity to power all its onboard systems. It's got a chunky battery to do that, but really wants to be plugged in... and the Ioniq 6 supports V2L discharging. Vehicle to Load. So the plan is a spot of wild camping, with the Ioniq 6 helping to keep the lights up and the diesel guilt down.
The van driving experience is obviously different. After two days of silent wafting, having to wait for a coil light and deal with vibrations and noise seems strange. The driving position is less upright and vanlike than a Veedub, the low window line is exposing, the auto gearbox slurs about lazily, it's top heavy and tilty around corners and at each and every one there's a rattle of cutlery and concerning sliding noises from the camping kit.
I make my way south west, the Ioniq 6 tagging along behind. It's aerodynamically astute, that car, but a successful piece of design? No, not in the same league as the Ioniq 5. The lines gather awkwardly at the back, the headlights are pinched. It's better from a distance, but overall the Staria is the more confident, exuberant piece of design.
Hallasan's hillsides give way to fertile farmland, mostly groves of citrus fruits, the fields often enclosed by black dry stone walls. Good use for volcanic rocks. But economically speaking agriculture plays second fiddle to tourism. We've driven here, but Seoul to Jeju is the world's busiest flight route, with up to 230 flights a day. Not a typo. Korea is prosperous, Seoul is chaotic, so this is the pressure release for some 15 million visitors a year. That has bought the pollution problems the government is trying to address.
The west coast isn't as blissful as I hoped. It's rocky and barren – the good beaches are on the north and south, but the sun sets on this, the China-facing, tradewind-receiving side. Wild camping used to be a big thing here, but over-camping means many spots have been blocked off. But it's November. I park up and prepare the van. The hook-up to the Ioniq 6 is easy, current flows in to help raise the roof, fold the back seats, make tea, charge phones, run mood lighting and pump tunes. It's a well thought through conversion, deceptively big and well packaged. 
The colours are belting that evening, the wind turbines churn and hum, running electric power from the car feels good. But I get cold and the cool camper has another dirty secret: the heating is by diesel, too. It's not the only energy issue. Jeju itself is lagging well behind plan. Only 25 per cent of energy is from renewables at the moment, and although the island has the highest proportion of EVs in Korea, that's still only six per cent market penetration when the 2022 target was 23 per cent. The electric switchover isn't going according to plan. Yet. The UK is proportionally further down the EV adoption road, buying 191,000 EVs last year to Korea's 90,000.
Be wary of betting against Korea. Things get done here. They see an issue and fix it. Immediately. Partly this comes from the national experience: I've written about this before, but Korea is a minnow, caught in the pincers of Japan and China, and used throughout history as their political football. Korea was occupied, considered part of Japan in fact, from 1910 to 1945. When it emerged from that, and the Korean war that divided this country at the 38th parallel, it had the USA standing firmly in its corner. And it came out swinging. There's a confidence, a certain chutzpah, to Korea's growth and development. You see it in Hyundai, in the energy switch – and in the tourism.
Keen to encourage holidaymakers to do more than lie on beaches or hike Hallasan, tax breaks and incentives were put in place to encourage the building of museums. And, get this, all you needed to qualify was a collection of at least 100 objects, a room, a thermostat and a burglar alarm. Many are upstanding and honourable. Some are gloriously silly.
So the following day I set out on a tour. Starting with such family friendly favourites as Chocolate Land, the Teddy Bear Museum and inevitable Hello Kitty Island, before moving on to some more rare groove stuff. The Seashell Museum is five times the size you think it could be given the subject matter, the Museum of Citrus smells wonderful and is an unexpected delight, the Toy Museum looks like someone's dumped a Blue Peter cereal packet artwork in a layby, Jeju Figure Museum is clearly a hobby that got entirely out of hand and since when was the Automobiles and Piano combo a thing? The Maze Museum we can't find, Pororo and Tayo mean nothing to me, Osulluc Tea Museum is teeming, while the Sex and Health Museum is empty. Given the state of the sculptures in the otherwise lovely gardens around it, it's only family friendly in the biological sense. Reader, I blushed.
My favourite was Greek Mythology. A couple of warehouses in the middle of nowhere, crammed with statues, pillars and a looming question. Why? The museum incentives have now been removed. But look at how eagerly they were adopted. That's the attitude here. It's the attitude that has allowed Hyundai to make such bold moves and achieve its remarkable progress. The Ioniq 6 gives it a convincing long range executive that equals or betters Tesla's Model 3, while the Staria (now available in Europe) could, alongside the ID.Buzz, help herald an MPV comeback. What of Jeju itself? Not everything has gone according to plan, but that's kind of the point. Jeju is Korea's test centre – see if things work here, then roll them out elsewhere. Hyundai now has plans to make it a centre for hydrogen adoption. They haven't levelled up electricity yet, and already they're looking beyond.