Retro
From the archives: a 2010 road trip in Aston Martin's new Rapide
Could a four-door, four-seat Aston really work? A 1,500-mile trip should tell us…
The simplest strategy is often the best. Aston Martin produces a big GT with four seats and four doors that it asserts is still a bona fide sports car. Top Gear responds by loading it with three large, grumpy, unreconstructed males and an unreasonable amount of luggage, and sets off to drive an absurdly circuitous route across Europe's most challenging roads. The aim? Deliciously facile: to find out if the Rapide is the blend of continent-crushing ability and mountain-road smiles-per-mile that Aston Martin says it is, rather than just a DB9 that's been artificially inseminated by a people carrier.
The problem is that 'four-door, four-seat sports car' doesn't scan, somehow. Can't be done. A four-door Aston Martin? If you add doors and luggage space, you subtract desirability: this is the first law of sports cars. So I prepared for the Rapide to be like an Aston, but with the sharp edges of lust filed off, the points of raw need worn down to nubs of pseudo-usefulness.
Advertisement - Page continues below
This feature was first published in Issue 202 of Top Gear magazine (2010)
Images: Justin Leighton
First impressions take that assumption out through the back exit and kick it until it loses consciousness. The Rapide looks eye-wateringly good in real life. From more than 20 yards away, you can barely tell that it's a four-door, such has been the artful integration of the extra portals. The windowline scythes neatly back and up, disguising the extra length slotted into Aston's basic V/H architecture that underpins all the cars in the current range. The bonnet is long, the tail short, the roof low, the haunches fat and muscular. Very cohesive, if a little big up-close.
You do, however, pay practicality currency for slinky execution. The rear pair of seats are small-ish leathery buckets, and accessed through the kind of complicated hole that you need special joints to fit through. Your mind is diverted by a beautiful little aluminium grab handle on the B-pillar that locates back into its perch by sucking on an extra strong magnet, but essentially this is not an elegant sweep of ingress, more a force-feeding of human limbs. If anyone near six-feet tall is in the front seat, the only way that you'll get a similarly sized body in the back is in pieces, via the medium of a chainsaw and a load of bin liners. Saying that, more reasonably sized adults (about 5ft 10) do fit, and with room to spare – a very weird thing to be saying about an Aston Martin.
Advertisement - Page continues below
The hatchback is also a nice little surprise, consisting as it does of a flip-up magnetic bulkhead that dams modest amounts of shopping into a completely enclosed rear space. Drop it flat, and you have access to the whole boot up to the headrests of the back seats, and if you have more lengthy items, you can drop the rear chairs at the touch of a button. Which leaves you with a pretty big loadspace. It's not square, or even, or low-load-lipped, but there's enough room for most needs – again a weird thing to be saying about an Aston Martin.
Top Gear, of course, used all the space. Photographer Justin Leighton's interpretation of 'pack light' involves two flight cases, six small bags, a compact barbeque, a man-bag full of novelty thongs and a single compact camera. Add to that creative director Charlie Turner's overnight bag and 5ft 11-inch body, my bag and corpus and Justin's actual self, and we stood in Aston's Gaydon HQ staring balefully at the Rapide and the kit laying scattered around it like an explosion in a hiking shop. To my surprise, it all fitted. Ok, so Charlie was essentially walled into the rear seat and we could hear the rear window glass creaking on right-hand corners, but never before has so much been crammed into an Aston without someone losing consciousness.
We had flights booked from Valencia in a couple of days' time – a decent 1,030 miles away from Calais. And so off we set on a little adventure, via a 'detour' that I sort of forgot to mention. Ahem.
France. A mind-numbing eight-hour grind down the autoroute to Bordeaux that offers plenty of time to assess the Rapide's high-speed ability and long-range comfort. A 90-litre fuel tank equates to an eminently reasonable 350-mile range, and the high-speed stability is of the licence-worrying variety that means you have to engage cruise control or risk a run-in with the gendarmes and their predilection for stratospheric on-the-spot fines and flights of stairs that appear in the back of police cars. We punch relentlessly through a horizon shaded like a bruise, the Rapide turning out to be very quiet, the laminated glass providing the kind of seal that allows conversation even when making what we like to call 'significant progress'.
Charlie is attempting to work in the back seat, though quite how he's managing to concentrate with his knees grating against his pelvis is quite extraordinary. The ride is slightly harsh, pattering over scarred tarmac, but dealing with larger bumps with a gentle grace that doesn't bode well for the upcoming twisty bits. But the Rapide does long-distance beautifully. We unfold Charlie from the back at the hotel hours later and he's not even slightly dead, and after 10 minutes of massage he can even walk unaided to the reception. The hotel is whatever comes under one star, and we settle down to sleep accompanied by the sound of overweight truckers watching satellite adult television.
Next day, and my companions have realised that we have, in fact, not driven down through France in the accepted manner to reach Valencia via the most direct route, and are now entering Europe's largest forest on the far western side and heading for Biarritz. There is some grumpy silence. The Fôret d'Aquitaine is huge, atmospheric and fairly unrelenting. "It's basically a massive Thetford" announces Charlie as we thunder through it taking pictures in the dawn light, neatly exorcising any romance I was harbouring about the lowering bowers. We get lost and fall out. Justin climbs a tree to take pictures, though part of me thinks he's just avoiding the frosty silence.
Eventually the satellite navigation lady fiddles us back on to the correct route, and we chomp through the claggy one-way system that comprises the faded glory of Biarritz. The Aston makes all the right noises, both figuratively and literally, burbling through the enclave with a tone that suggests hardcore brawn without being too shouty. The edgy coolness is slightly blunted by Justin's face being pressed hard against the rear window like some kind of disfigured sticker (there had been a mild collapse of the luggage wall due to a failure to follow shoring-up procedures as laid out in the BBC manual), but generally the Aston does subtle drive-by action supremely well. It passes.
Top Gear
Newsletter
Thank you for subscribing to our newsletter. Look out for your regular round-up of news, reviews and offers in your inbox.
Get all the latest news, reviews and exclusives, direct to your inbox.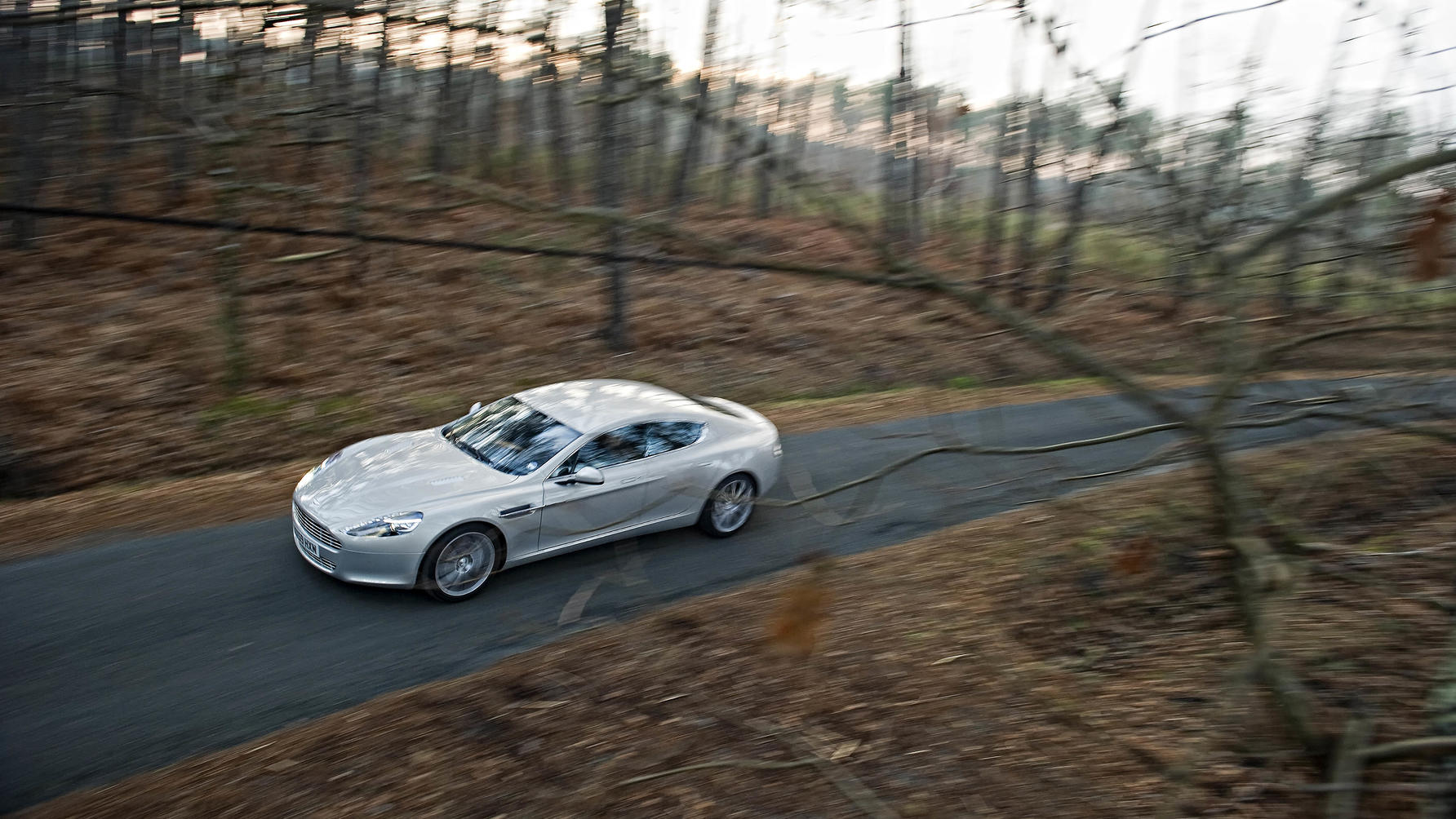 From Biarritz, we head out in search of some proper roads with which to beat the Rapide, down and right, via the Spanish port of San Sebastian. For ease, we run a little south, taking the A15 towards Pamplona before flicking up and left and into the mountains proper on the A21 and then some roads so local they didn't even have names. We're heading to a place called Ochagavia. And if you like driving, then it's in the middle of what is basically Disneyland for petrolheads.
The roads up here are best described as 'flowing'. You don't get the endless little cutbacks and junctions that we get in the UK, just big, wide carriageways that thread through the landscape, taking the natural forms for inspiration. Because they do that, you can, after a while, get a sense for where the road is going. There are tight corners, but they telegraph themselves early and maintain an arc so you can drive all the way round them. And there are big, gloriously sighted straights and S-bends between the twirly bits that sucker you into insane speeds, just for the joy of hearing the Aston's exhaust valves open above 3,500rpm. In sixth.
Which is too quick.
So now I'm having a crash. Ensconced in the Rapide's cabin, warm and wonderful and smelling of lightly oiled leather, I've had the heater up and the sun shining brightly through the windows. I have therefore failed to notice that the outside temperature hasn't risen above freezing, despite the sun's best efforts. So I have entered a large S-bend in the lee of the mountain going quite quickly. And there's snow on the ground.
Everywhere there is no snow, there is ice. The back of the Rapide swings gently right, probably managing no more than 20 degrees of yaw, though at this speed it feels like I'm on the lockstops. I mew into the steering wheel, and then make a noise like a cow giving birth as the entire car swings back the other way. The traction-control light flickers in a desultory manner, assessing the situation and then going back to sleep after deciding that with no traction to apportion, we're pretty much screwed.
At this point, I'm figuring out how I could sign a letter of apology using nothing but a head wand. This will hurt. It will be big. And then the Rapide grips, puffs smoke from the tyres and drives out of the second corner.
Now, usually I would pretend that I meant to drift the £140k supercar and carry on regardless. But I'm so shocked at my survival that I am forced to stop. Charlie and Justin – who are at this point following in a hire car for tracking purposes – stop and laugh. I feel the blood drain out of my face like a thermometer with a broken bulb. Close doesn't even come, um, close.
Up in the mountains proper, the Rapide is a revelation. The 6.0-litre V12 pumps out a healthy but not planet-shaking 470bhp and 443lb ft of torque. Weighing in at just under two tonnes (1,950kg), you're looking at posted figures that are quick, but not absolute: 0–62mph in 5.3 seconds and a more impressive 188mph top speed. But the best bit is that when you press the 'sport' button and energise both the throttle map and the gearbox, hit the damping control and harden off the springs and play with the paddles, the Rapide becomes an entirely different car. Noisy, aggressive, perfectly capable of bouncing off the rev-limiter. The 'Touchtronic 2' gearbox isn't the last word in shift-speed, but if you go with the flow of the car, you can completely forget that you've got extra accommodation bolted on to your backside. It feels like a DB9. Better perhaps.
The rest of the journey is spent in a fug of noise and machine abuse. Across a slice of the Pyrennees on the N240, a drop down towards Huesca at night. The smell of brakes that never seem to fade no matter how many stops, the howl of an engine let loose. We overnight in Zaragoza, and get up early just to do it all again, for no reason other than we can.
We finish in Valencia, 1,500 miles later, tired and elated. The Rapide is brilliant. The only car on the market that makes good on the promise of being a four-door, four-seat sports car. It's subtle, surprisingly practical and still an Aston Martin to the core. It's not perfect, but as far as satisfaction goes, it's as close as makes no difference. An Aston for all seasons? It's here. And it's brilliantly real.