Retro
From the archives: driving the 2013 SRT Viper
The Viper was slated for destruction, but in 2013 it was finally reborn as the SRT. Here's a throwback to our first drive
Do not be afraid. It might look much the same as the old car, but the 2013 SRT Viper is a much better, less terrifying driving and ownership experience in every way. There isn't one big reason for this, although the new Viper is fitted with electronic stability control for the first time. It's all to do with a list of detail upgrades and refinements that's longer than a whole school's Christmas wish list. Seeing it, sitting in it and now driving it, the quickest way to describe it is that the car now looks, feels and drives like Porsche or maybe even Ferrari has built it. There's that same air of handmade quality, craftsmanship and attention to detail.
Yes, in a Viper. Or rather Vipers. There are now two models in the mini-range: the entry-level SRT, which is shown here, and the more sophisticated GTS. The two cars share the main components, such as the engine and frame, but have some substantial differences. The SRT gets two-mode stability control – fully on or fully off – fixed setting suspension and a high-grade pleather vinyl interior. The $23k (£14.2k) more expensive GTS is fitted with four-mode stability control, so you can work your way up to crashing; two-mode Bilstein road and track suspension; a choice of gorgeous leather interiors (I can't believe I'm writing this about a Viper); a bigger, badder sound system; and a bale of extra sound-deadening material.
Advertisement - Page continues below
This feature was originally published in Issue 236 of Top Gear magazine (2012)
A Track Package is also available on both cars. Apart from shedding another 50lb of weight – Viper Jr is already 140lb lighter than Grandad Viper – this includes a set of only-just-solid Pirelli Corsa competition tyres, two-piece StopTech brake rotors and super-lightweight wheels. An SRT with this pack is the car you are going to see blitzing all the track records later this year. The Viper engineers reckon the new car is around a second faster per mile of racetrack, so expect a Nürburgring lap time – and new production car benchmark – of not much more than seven minutes when it happens.
Advertisement - Page continues below
But there's no need to hold your breath to find out how it's going to shave so much time off an already extraordinary lap. A close look in and around the car gives plenty of clues. Let's start with the exterior. The entire top section of the car – the new clamshell bonnet, the roof and the bootlid are now all made of carbon fibre, lowering the car's centre of mass and allowing it to corner that much flatter and faster. The doors are made of superformed aluminium, which is both lighter and stiffer than the composites they used to be formed from. Even the side glass is thinner to save weight.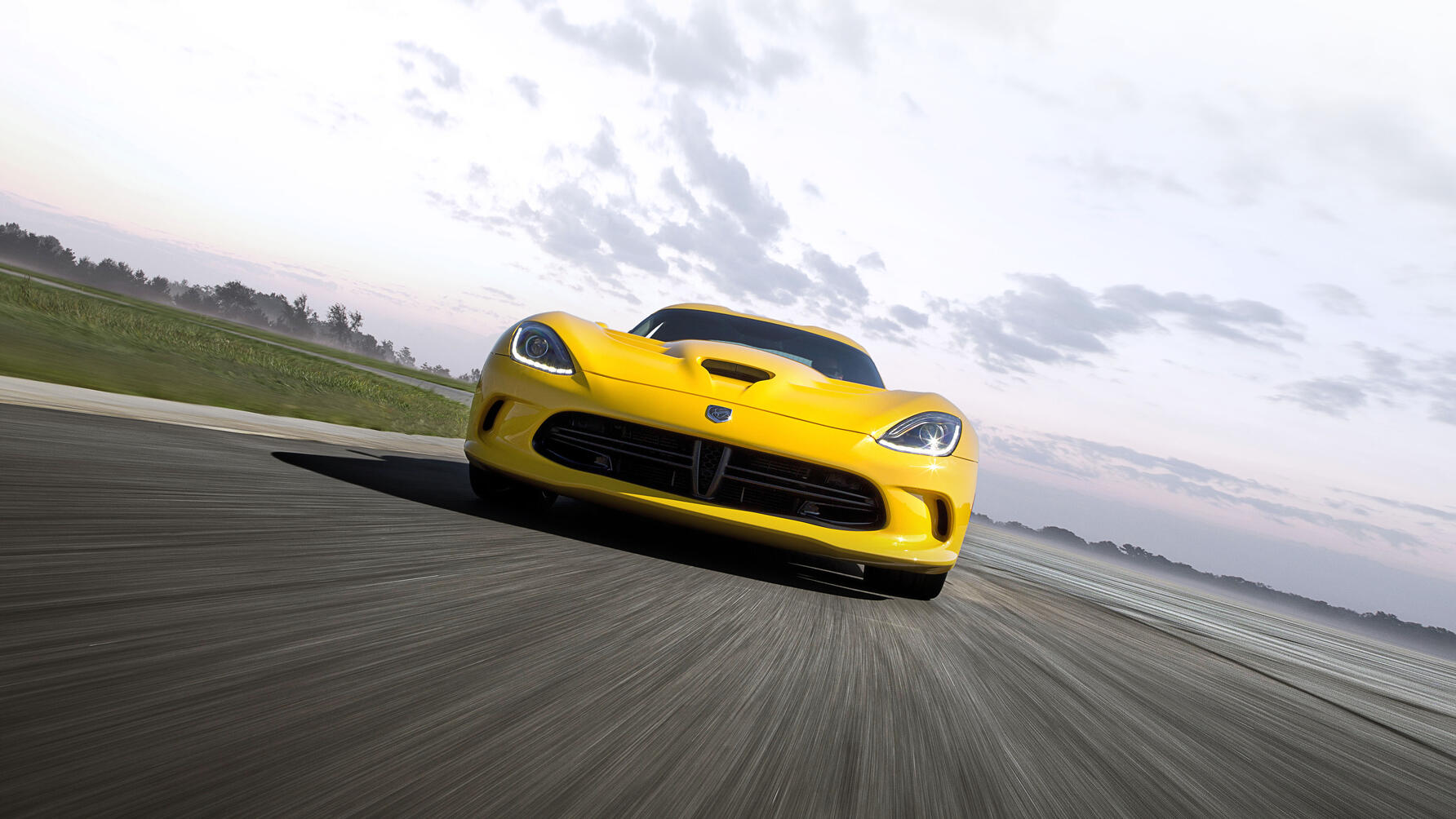 All these and a myriad of other detail changes, such as the aluminium engine bay cross brace, contribute to the new Viper being 50 per cent firmer than the old car. This greater ability to resist shapeshifting gives the new suspension a much easier time of trying to contain all the power, braking and cornering forces, and results in greater steering precision, a better ride and far more controlled handling. The SRT team did look at an all-carbon-fibre chassis, but after speaking with the Viper Nation, its league of loyal Viper drivers, it was decided that this was not the right route to take. So many of the cars make it to the track that more than a few make it into the barriers quite regularly, and steel – even the high-strength steel used here – is a lot easier and cheaper to repair.
I could tell you about all the detail changes to the suspension set-up, but you would probably fall asleep before you got to the end of the sentence. So let's just focus on the two highlights. The front track is now wider, and weight distribution is still near as damn it 50:50. The other chassis news is the new stability control system. Normally, we hate any kind of electronic intervention, particularly on a car as viscerally raw as the Viper. But this system is different. Instead of being designed by lawyers intent on ruining all the fun, the Viper's set-up has been designed and calibrated by SRT's in-house team of corporate Stigs to stay completely hidden until you get so terminally out of shape, the car saves the day.
And I mean terminally. Even with it in full-on mode, you can get on the power as early as you like in a corner and the car just digs in and takes it. Which is a world-first for a Viper. Try the same thing in the old car and, unless you were 100 per cent ready for it, you'd be staring at the bottom of a ditch 10 milliseconds after you thought: "Hmmm, let's give it a little more here..."
The newly sorted chassis definitely helps, but much credit has to go to the engineers who got this setting so right. And made it so easy to operate. No cryptic pushing and holding sequences here – just press the steering-wheel-mounted button to turn it on or off. The other bonus of this electronic system is there's now a similarly simple launch-control button, too. Can't imagine the paint on that switch lasting long.
The other towering achievement of the new chassis-control system is that it handles all the monster power and torque from the familiar but now totally reworked 8.4-litre V10 engine. Maximum output is now up 40bhp to 640bhp, and max torque is now a very generous 600lb ft. But it's the torque curve that really catches the eye. Even at just above tickover, this engine makes more torque than an M3 makes at full chat. How it does so isn't a mystery once you look under the bonnet. There's an all-new air intake system, new valves, pistons, rods, block, catalysts – the lot.
The only area of the Viper that feels like it's had more attention spent on it is the cabin. Instead of folding yourself into the squishy, comfy chairs, you slide onto the immediately more purposeful, tautly comfortable and all-business Sabelt-supplied seats. Whatever they cost, these are worth it. But they are far from the only interior upgrade. The dials are now a super-slick TFT panel, there's a central 8.4-inch info touchscreen, and a tasty multi-function steering wheel. The gearshift is now a little easier to reach and quicker in action, and the pedals are adjustable for reach, unlike the tiller.
So it now feels like a proper contemporary sports car, not an over-powered budget rental. But it's lost none of its raw, visceral appeal. Straight out of the gate, it feels lighter, more agile. All the controls, the hydraulic steering, the gearshift, the throttle response are crisper, so your lines are better, faster. Within half a lap, you feel confident enough to push it harder, faster than you do after five or more laps in the old car. You can now, like in a go-kart, feel exactly what the front and rear tyres are doing. So you can push each corner to the edge of grip under braking or acceleration. All now in the confidence that if you mess up, there is that stability-control safety net.
Top Gear
Newsletter
Thank you for subscribing to our newsletter. Look out for your regular round-up of news, reviews and offers in your inbox.
Get all the latest news, reviews and exclusives, direct to your inbox.
That was a revelation to not just us, but also Ralph Gilles, the boss of SRT, who had his first track laps in a new Viper right after we'd finished with it. Riding shotgun with him on his maiden voyage, Ralph, who has plenty of seat time racing Vipers, shared his first thoughts. "I'm so comfortable with the old car it's not scary to me," he says. "But you are definitely having to manage it, having a wrestling match with it. In this new car you are going faster without even realising it, which to me is evidence of a true sports car. We were proud of the myth [of the Viper being a handful to drive fast], but there comes a point where it doesn't make sense."
That point is the 2013 SRT Viper. Yes, it looks a lot like the old car, but one drive is all it takes to convince you it's completely different, and better too. It's still a beast you need to approach with caution. But now there's no need to be afraid when you do.