Retro
From the archives: Ferrari 360 Modena vs Aston Martin DB7 GT
Time to throw it back to 2003 when we took the DB7 and 360 on a grand tour of Europe's most historic racing circuits
The starter button glows red, warning of the impending cacophony that's certain to stir my neighbours from their sleep. Within the past 10 minutes I've staggered from bed to shower to kitchen to Aston Martin, convincing myself that it's seven-ish in the morning and that I should really get cracking. Then my glance catches the clock mounted in the centre console. It's 3.45am. Like a five-year-old unable to resist sneaking downstairs to peek at their presents on the night before Christmas, I've severely jumped the gun. The cause? The £104,500 DB7 GT that's waiting on my driveway. In comparison to the existing Vantage V12, it promises more power, larger brakes, tighter suspension, a carbon-fibre clad interior and visual tweaks that add a dose of menace to the DB7's already sleekly glamorous styling.
This feature was first published in Issue 116 of Top Gear magazine (2003)
Advertisement - Page continues below
Words: Peter Grunert
Images: Richard Newton
There's further reason for over-excitement. When dawn eventually arrives, a rendezvous is set to be made with a £103,275 Ferrari 360 Modena, the DB7 GT's closest supercar rival. The price tags and power outputs are similar, the Aston's huge bonnet housing a 435bhp, 5.9-litre V12, where the Ferrari packs a mid-mounted 400bhp, 3.6-litre V8. We're allowed to drive up to 1,000 miles in each, provided they're handed back by Wednesday afternoon. It's presently Monday morning, just.
Our admittedly optimistic aim is to venture off on a high-speed pilgrimage to six of Europe's most historic race circuits: Brands Hatch, Spa, the Nürburgring, Reims, Le Mans and Goodwood. We couldn't have found more appropriate cars for the purpose, some of Ferrari and Aston Martin's most heroic (and most horrific) moments having been played out at these tracks.
The trip should tally up to precisely 1,001.6 miles, according to a route-calculating website I checked the night before. So we'll need a short cut. And now, with apologies to my neighbours, the chance for further slumber ends as I reach for that starter button...
Advertisement - Page continues below
BRANDS HATCH
000.0 MILES
As I thread the imposingly black DB7 GT through the country lanes that connect my home to the M25, its sharpened throttle responses, tougher AP Racing clutch and the patches of ice lurking on the corners combine to focus my bleary senses. Even early morning commuters have yet to hit the snooze button on their clock radios when I reach the motorway, the Aston's mighty V12 turning over at barely 2,000rpm as I sit at a cautious cruise. There's ample time to wake photographer Richard and arrive early at Brands Hatch – London's home circuit just off the M20. 
We're loitering until 6.00am before someone appears to have cranked up a Ducati-engined chainsaw in the distance. The racket gets louder, interrupted by brief metallic barks as, apparently, gearchanges are slotted home. A scarlet glow fills the DB7's mirrors. The Ferrari has arrived. On board is this mag's Art Editor Sim, accompanied by Consumer Editor Paul, who's here simply because if you could, you would too. Already, they're both grinning like chimpanzees.
We set the trip meter in each car to zero and are allowed through to the track. The fast, off-camber Paddock Hill bend swoops away before us, the first corner of the 1.2-mile Indy circuit and the spectacular but little used 2.6-mile Grand Prix circuit. A spot of swotting up has revealed that Aston's last attempt at a works-backed racer, the AMR1 Group C car, scored its highest ever placing here, an underwhelming fourth in the 1989 Brands Hatch 480km race. Ferrari, meanwhile, played a role in every British GP staged here in mostly alternate years from 1964 to 1987. They won it in 1976 and 1978.
Brands Hatch's GP circuit was deemed too tight and twisty for modern F1 cars. Now it's going through further changes to meet the safety demands of the World Superbike Championship. We'd hoped to grab a snap at Dingle Dell, the evil kink in the track where cars could be provoked to bounce from one kerb to another. Only we can't, as the diggers are in and it's being turned into a straight line.
Already, our inflexible timetable risks catching us out. We only just make our slot on the Chunnel, after chatting with HM Customs about such matters of national security threatening relevance as just how quickly each of our supercars is capable of going (Ferrari 183mph, Aston Martin 185mph).
SPA-FRANCORCHAMPS
254.2 MILES
The surface is dry, the sun's out and there's little traffic on the autoroute this morning. The few cars that are ambling about wobble swiftly out the way when they see the DB7 GT's twin-vented bonnet and shiny mesh grille closing up fast behind them.
Top Gear
Newsletter
Thank you for subscribing to our newsletter. Look out for your regular round-up of news, reviews and offers in your inbox.
Get all the latest news, reviews and exclusives, direct to your inbox.
Progress is fast but not entirely steady. I find myself regularly relinquishing to the temptation to stomp on the Aston's stomach-squeezingly effective Brembo brakes, before flicking its quick-shift gearbox down a couple of ratios and sending the accelerator to the floor. A snarl can be heard at first, followed by a belligerent bellow as a bypass valve is opened up in the exhaust system. The accompanying surge of power doesn't threaten to end until the fuel tank has been sucked dry.
We're well into Belgium before the first of six refuelling stops is called for. It's my opportunity to wrestle my way into the Ferrari.
A pair of moustachioed gentlemen are waggling their hands up and down near the exit from the services. I think they might be asking me to floor the Ferrari's throttle, so I oblige. The V8 produces a higher-pitched, even more intense wail than the Aston's V12. Just a thin sheet of glass separates the engine's bright red cylinder heads from the driver's ears.
The road twists higher into the Ardennes and whilst the surface remains mostly dry, the countryside surrounding becomes blanketed in snow. Just past Francorchamps village we turn a corner and find ourselves driving onto a Formula One start grid.
F1 won't be paying a visit to Spa this season so we won't get to watch the Williams, McLarens and Ferraris tussling through Eau Rouge, arguably the most spectacular corner to be found on any circuit. It winds off up a massive incline in front of us, with a snowman constructed on its apex.
Once, much of the 4.35-mile track was public road, now only the short section from Blanchimont, past the Bus-Stop chicane to the vicious La Source hairpin can be driven. The locals make use of the smooth, gritted surface and come screaming through here. Currently the rest of the track is snowbound.
The route of much of the old pre-1979 circuit can also still be traced, wiggling for 8.77 miles off into the forest. Rapidly changing weather conditions varying from sunshine to rain and fog, all on different sections of the circuit at the same time, would continuously catch drivers out. Despite the conditions, Jacky Ickx still managed to lap at a ridiculous 163.7mph average in a Ferrari 312PB during the 1973 Spa 1,000km race. In comparison, Michael Schumacher in last year's Belgian GP-winning Ferrari recorded the modern track's highest ever average speed: 150.3mph.
NÜRBURGRING
372.6 MILES
Praying the roads remain passable, we head for a circuit with an equally formidable reputation, the Nürburgring. The DB7's satnav system plots a cross-country course aimed at keeping our mileage down. The roads tighten and the temperature drops rapidly. The Aston is 390kg heavier than the aluminium-bodied and chassised Ferrari, a difference that makes itself felt over these gnarly roads. As the surface becomes slippier, there'll be no nodding off in the Ferrari either, especially as it's 10cm wider than the Aston. Heads thumping from the concentration, we reach the Hotel Zum Wilden Schwein in Adenau within two hours, right next to the 'Ring. Stomachs laden with schnitzels, we're asleep by 9.00pm in readiness for another early start.
Five o'clock and it's minus 10 outside. Richard climbs in and tries to shut the Ferrari's passenger door. It immediately pops back open. After failing to coax it closed, we convince ourselves that he'll have to spend the next 600 miles grimly holding it shut.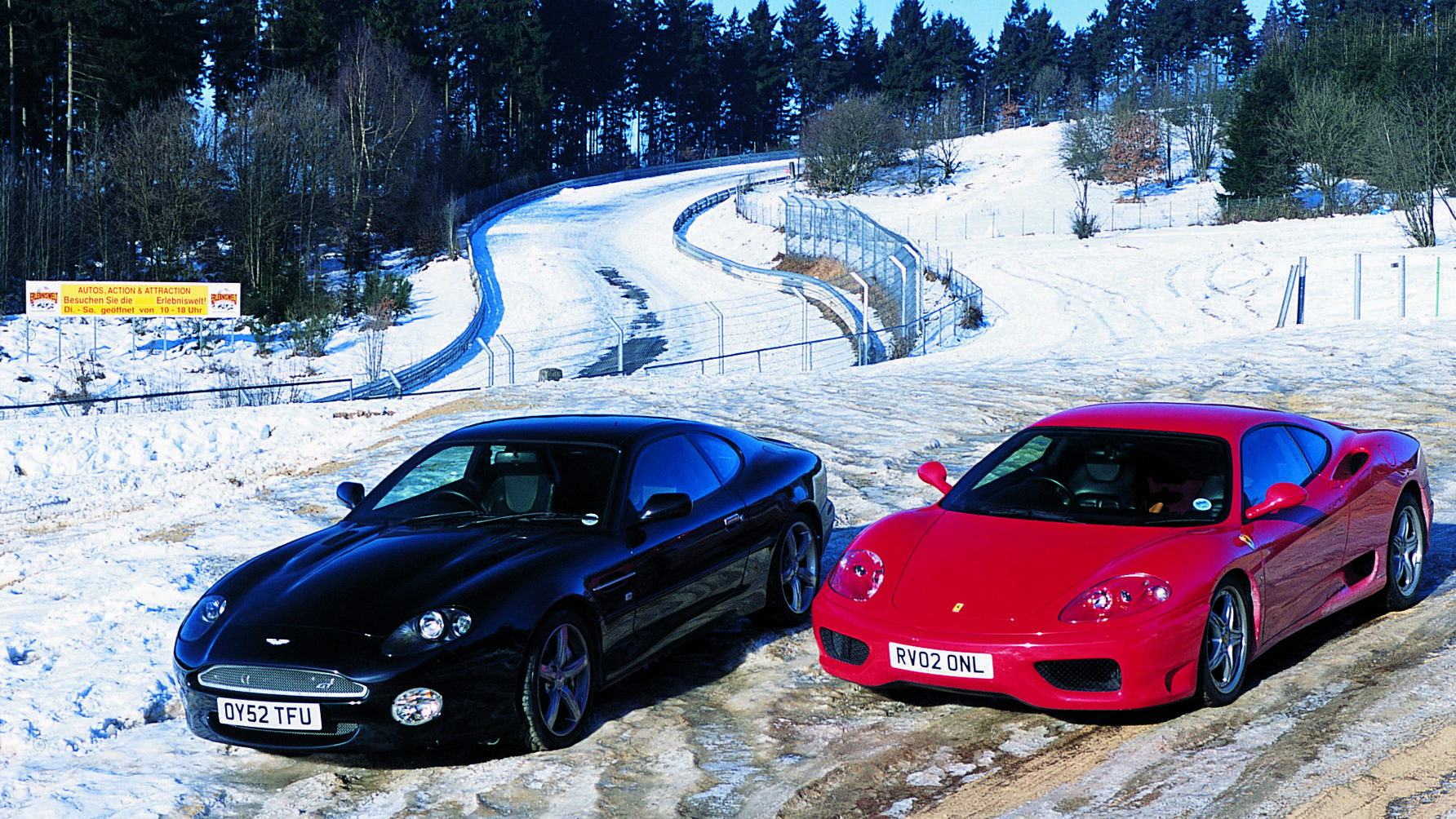 We skirt around the epic Nordschleife, where crowds of over 400,000 used to watch the Nürburgring 1,000km sports car race and the German Grand Prix. The latter was moved to the present, tamer Nürburgring Grand Prix circuit after Niki Lauda's near-fatal crash in 1976. In qualifying his Ferrari for that race, he had completed the first ever sub-seven minute lap of the Nordschleife.
At the time the track was 14.5 miles long and boasted 174 corners; it now covers 12.94 miles and 140 corners. A 24-hour touring car race is still run here, competed by 200 cars and 800 drivers. And it's still possible for members of the public to turn up, pay a few euros and then brave taking their own cars or bikes out on a lap. But unless you arrive in a rally car wearing spiked tyres, it can't be done at this time of year. Just like Spa, the track is concealed by a deep layer of snow and ice.
It's impressive just being here, yet frustrating to be unable to experience driving the Nordschleife in cars like these. I take it all out, Basil Fawlty style, on the Ferrari's door. A couple of swift slaps later, it clicks shut.
REIMS
601.2 MILES
I'm in the Ferrari again, relishing the battering of signals being sent back from its steering and brakes, along with the eagerness of its engine to rev all the way round to a frenzied 9,000rpm. There's even enjoyment to be had from the sound of its gearlever clattering its way through the exposed metal gate.
Pulling away from each junction, the lighter Ferrari initially edges ahead. As the speeds rise, however, the ominously dark shape of the marginally more powerful Aston soon closes in. The 360's adaptive damping system smoothes out undulations and the central air channel running through its underside helps to generate increasing levels of downforce the quicker I go. I convince myself that I can feel the car being sucked to the road surface as the speedo swings round to an indicated 180mph on a briefly de-restricted stretch of autobahn.
Luxembourg is quickly traversed and we enter France. I swap back into the DB7 GT and settle to a saner pace. The Aston would willingly reach identical or even slightly higher speeds than the Ferrari, if without quite the same sense of unshakeable stability, should a lane change or sudden braking manoeuvre be called for. There are greater levels of wind and tyre noise in here too. We spend the next 80 miles being tailed by a gang of goons waving at us from a badly body-kitted Honda Civic. I'm sure that we're completely lost when we stumble on a long straight cutting through open fields next to a village called Thilloix. At the end awaits a crumbling row of pit garages and grandstands, marking the start line of what was once Europe's fastest race track.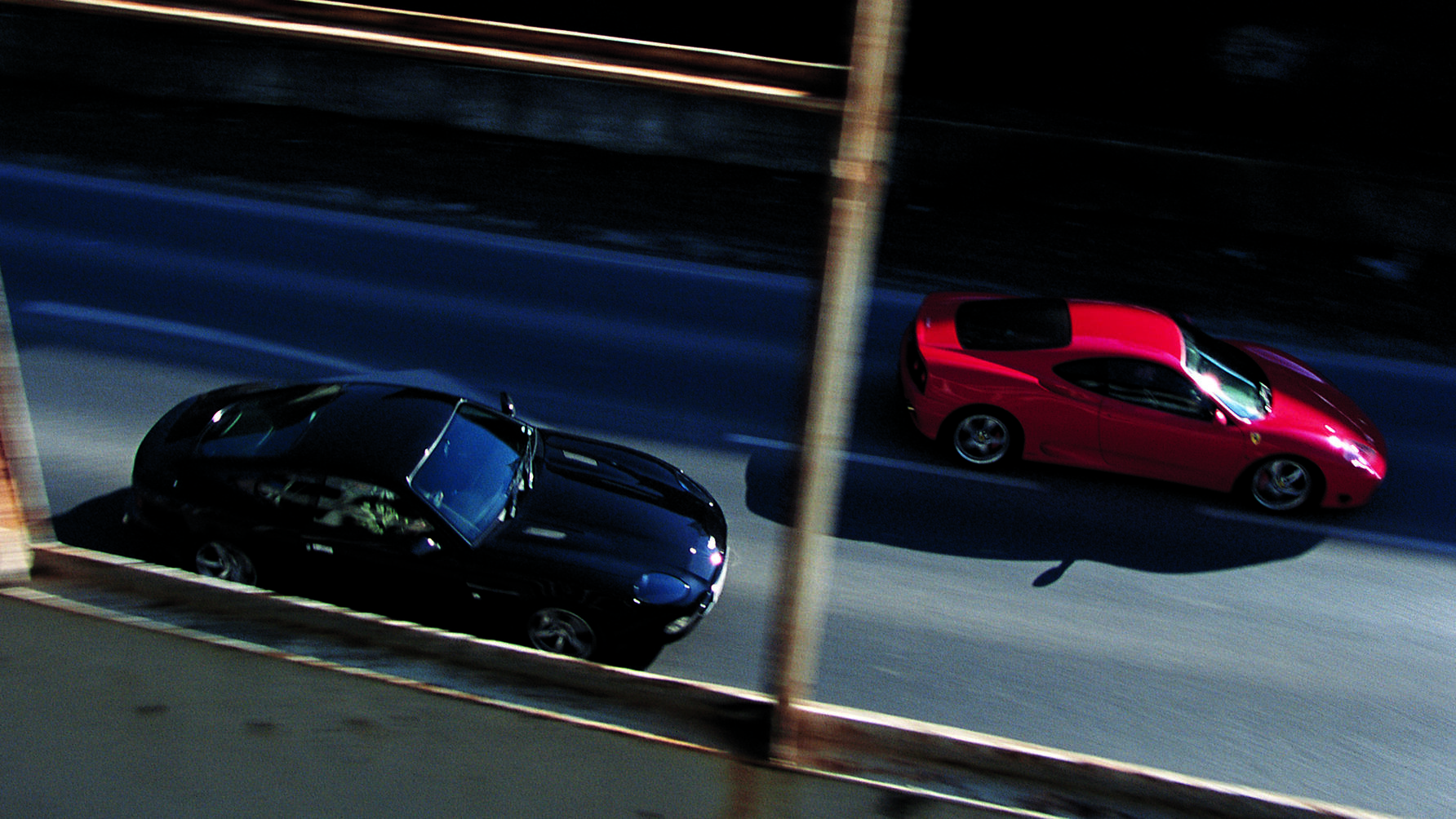 The Reims circuit was a 5.19 mile triangular course laid out on the public roads around us, mostly now occupied by quarry trucks thundering through. Ferraris and Aston Martins battled here in the Reims 12-Hour race through the Fifties and early Sixties, while a World Championship Grand Prix was also held here 11 times. The 1966 French GP was the last, when Lorenzo Bandini's Ferrari 312 was timed reaching a higher top speed than even our 360 Modena can manage as it blasted at maximum revs in between the buildings that we've now stopped to have a nose around. Paul drives past in the DB7 GT, just so we can listen to the yowl of its V12.
Little sentimentality appears to be held locally for the circuit's remains, now strewn with nappies and bottles of pee lobbed out of car windows. The sun has finally got to the advertising slogans once painted on the pit bays, while a Total sign hangs pitifully from the top of the rusted-through score board and subsidence cracks split the walls of the control tower. If you're passing through France this summer then consider stopping off to have a look, while the ruins are still left standing.
LE MANS
817.3 MILES
The prospect of passing Paris in the rush hour reduces the likelihood of us reaching Le Mans in time. The satnav charts a fiendishly complex route south of the capital, where 20-mile tailbacks stretch out before us. We've ridden our luck once more, however, because they're heading in the opposite direction.
After over 700 miles of driving, I'm still at ease in the Ferrari. The seats are supportive, the driving position is ergonomically ideal and there's handsome stitched red-on-black leather and solid aluminium trim to ogle at.
For such a large car, meanwhile, the DB7 GT's interior is surprisingly snug. The part leather, part suede-effect seats look smart enough but are set too high and are intrusively narrow around the shoulders for long-distance relaxation. We take a break so Paul, who's been driving the Aston, can attach himself to a robotic massaging chair set up in the foyer of an autoroute service station.
It's dusk as we find ourselves on the outskirts of Le Mans. Paul and Sim are regular visitors to the 24-Heures du Mans, along with over 60,000 Brits who come here each year to camp out, get drunk, visit the funfair and watch a little on-track action too. Much of the 8.45-mile circuit is still public road and the Mulsanne Straight is beckoning to be driven.
In truth, it's now a succession of straights interrupted by a roundabout and a couple of wiggly bits. In 1972, before the chicanes were put in, Derek Bell's Porsche 917 Longtail was clocked reaching 246mph through here. It managed to avoid becoming airborn, unlike Peter Dumbrek's Mercedes GT1 car in 1999.
The 1959 Le Mans 24-Hours remains Aston Martin's finest motorsport moment, DBR1s taking first and second ahead of the far more powerful Ferrari Testa Rossas. That was Aston's only outright win here. Between 1949 and 1965, on the other hand, Ferrari took nine victories. The Scuderia's attentions were then focused fully on F1 instead.
We manage to blag our way onto the shorter, closed-off Bugatti Circuit running past the paddock, the huge grandstands and the Dunlop Bridge. After a couple of hours of photography, including efforts to persuade the Ferrari and the Aston's brake discs to glow race-car red to brighten up the darkness, we attempt to make our exit. But the gate's been shut and it seems that we're trapped. "Locked in here for the night, you'd have little choice but to keep driving round," Richard suggests, smirking. Unfortunately, help arrives and we're encouraged on our way.
GOODWOOD
952.1 MILES
We make it to the port of Caen an hour before midnight, precisely on schedule to catch the overnight ferry to Portsmouth. For the third morning on the trot I'll be out of bed before 5.00am. Three of us have been tucked up in our cabins, while poor Richard collapsed in the bar after downing a pint and a plate of chips. A cure is on hand for his overtiredness – he requires another spell behind the wheel of the Ferrari.
Even now, the excitement of driving the 360 hasn't dulled. Richard instantly comes round, while Paul and Sim appear happy to leave the DB7 in sixth gear and cruise along behind us. Now it's just a brief 20-mile trip up the A27 to Goodwood.
Having once decayed to almost as sorry a state as Reims, the circuit's now back to its best after being rebuilt in time for the first of the Revival race meetings in 1998. Another welcome sight is the Aston's trip meter, showing that we've managed to complete the round trip in just 952 miles. So we've a few miles to spare and, finally, a fully open circuit that we can use them up on.
Like each of the tracks we've visited on this trip, Goodwood overflows with history. Here Aston Martin sealed their glory year in 1959 by winning the Tourist Trophy with the DBR1 and, simultaneously, the World Sports Car Championship. The TT would later be dominated by such gorgeous Ferraris as the 250GT, the 250GTO and the 330P, before all racing activities went on hold here in '66.
Save for a succession of failed attempts to win at Le Mans again in the Eighties, it's all gone quiet for Aston Martin since. Ferrari, meanwhile, quite obviously continues to sit at the top of the motorsport pile.
It'll be no shock then if the 360 proves to be in its element once unleashed on Goodwood's 2.42-mile circuit. I flick the switch marked 'Sport' to rein in the traction control system to a point where it will only intervene if a huge prang is sensed to be imminent. The 360 despatches the straights and slices through the corners. Where on the long trek behind us it had served up unexpected levels of comfort and refinement, here it's direct, stable, grippy, revvy, raucous, soulful and, in these dry conditions, no more intimidating than a Ford Focus RS.
In a very different manner, the Aston also feels at home around Goodwood. Its higher levels of torque effectively overcome its heftier bulk. Straights are no issue, while it feels built for the task of hammering through fast curves like Madgwick and Fordwater. Its chassis is more softly set up than the Ferrari's, yet it's similarly well balanced. With the traction control switched off, tyre-frying oversteer arrives reassuringly progressively. Despite fatigue fast catching up, I'm finishing off with vivid memories of the DB7 GT.
Understandably, I've briefly allowed myself to become distracted. I glance at the Aston's trip meter and realise that it's now showing 999.7 miles. Our hectic pilgrimage has to be drawn to a close.
A fresh plan is rapidly cobbled together in my sleep-starved head. I feel inspired to revisit Le Mans to witness this year's 24-Hour race, to experience charging past the grandstands at Reims on one final occasion before the bulldozers move in, and to join the bikers and tourists for a handful of heart-mangling laps around the Nordschleife. If I unexpectedly acquire the wealth to choose any car to do it all in, come the summer I'll be setting off in a scarlet 360 Modena.