News
From the archives: the Ford GTX1 prototype
When the prototype Ford GTX1 roars around the streets of über-cool Miami Beach, even hip-hop stars are lost for words
This is far from over. We're back cruising the neon-lit boulevards, back basking in the sultry air in an open-topped supercar, a pulsing Latino beat ever present in the back- ground as nightclub revellers spill out into the road. Surely at this point jet lag should be kicking in, with eyelids collapsing shut like a narcoleptic's and strange hallucinations following soon after?
Only, this is no ordinary night. We're vividly awake, circling Miami Beach in a ridiculously low, dramatically curvaceous piece of exotica, a car even scarcer and more exclusive than a Lamborghini Gallardo Spyder – yet that wears a far humbler badge on its bonnet. This is the one and only convertible Ford GT in existence.
Advertisement - Page continues below
Words:Peter Grunert Photography: Alex P
This feature was originally published in Issue 150 of Top Gear Magazine (2006)
Sitting alongside is Kip Ewing, an engineering supervisor with Ford's Special Vehicle Team and the man behind this silver-striped, sulphurous orangey yellow creation. He has become well used to such sleep deprivation. "This has been my night project, off the radar, carried out in my own time," he says. "In the last three weeks of building the car, I found myself averaging only 16 hours sleep a week."
Advertisement - Page continues below
Away from Ewing's day job of engineering US fast Fords like the existing GT and the new Shelby GT500 Mustang, he donated six months' worth of weekends and evenings to preparing his freshly-decapitated GT project car for its debut at last November's SEMA tuning show in 'Vegas. "Production of the GT as we know it is due to come to an end in September," he explains. "I wanted to see what could be done with it next – and to protect my career prospects. Ford is in survival mode at the moment. Car manufacturers can become very conservative at such times, just when they should be being seen to be bold. There are a lot of engineers banking on keeping Ford in the supercar business."
Ewing's suggested antidote couldn't be much louder, visually or aurally. Alongside the addition of a thunderous Borla low-restriction exhaust system, the ride height has been dropped by 25mm, a nostalgic set of Halibrand-style 19-inch front and 20-inch rear alloys has been bolted on, and a shade of paint chosen that can't be found in any Ford brochure. He says: "I painted four model GTs in non-stock colours and couldn't work out which I preferred, so put them in front of my 15-month-old son Lucas and let him decide."
The showpiece for Ewing Senior's talents is the roof system, a simple arrangement of four panels fixed in place by metal pins, and removed by flipping a single, rear-mounted catch on each. The side pair can also be partially opened to vent out to the rear, or removed to leave a T-top.
Rumbling along late at night, with valet parkers begging us to pull up in front of the restaurants they work for, the only justifiable option is to go fully roofless and soak up the attention.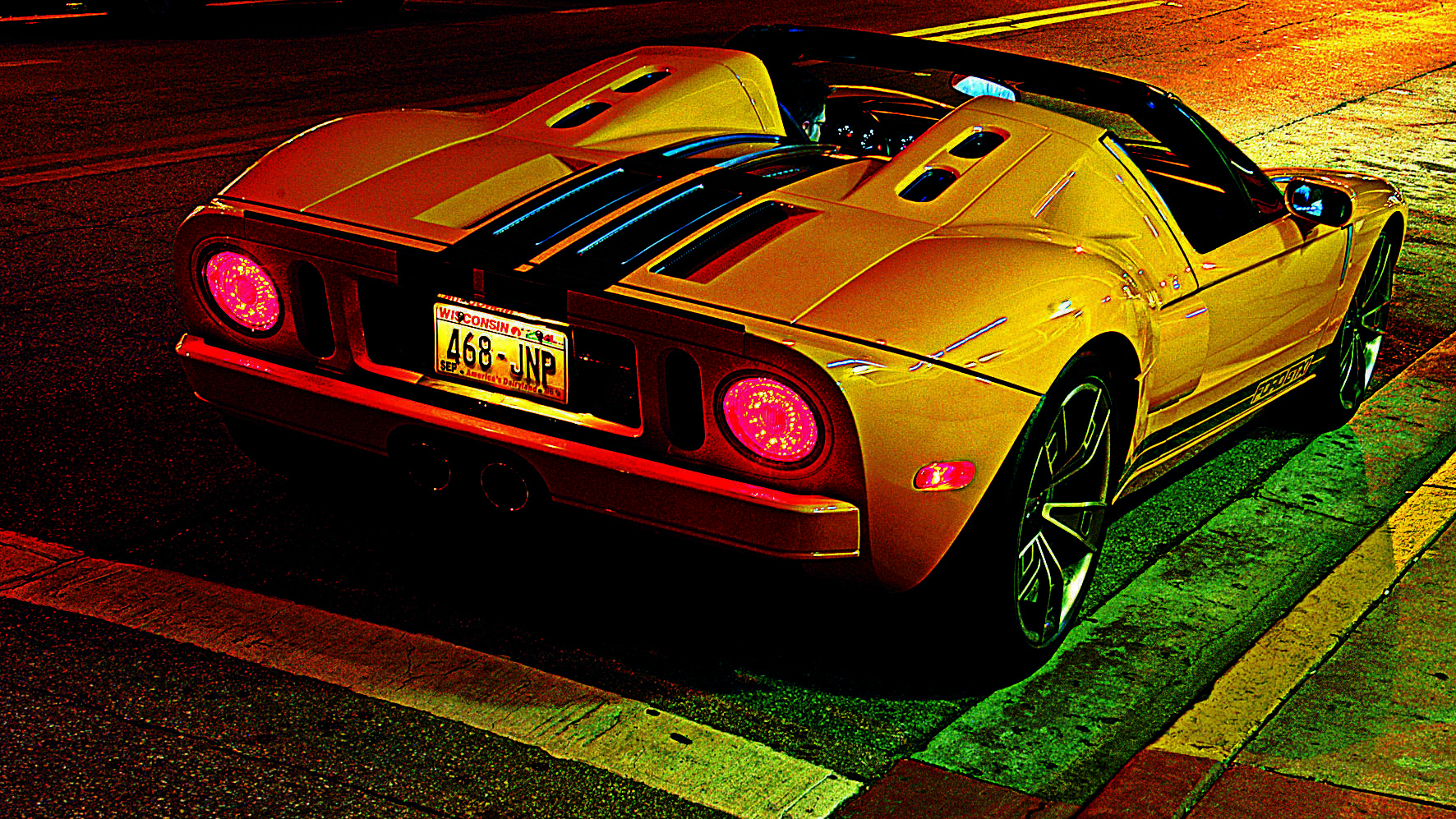 The name chosen for his car is written along its sills: GTX1. This is a homage to a similarly-named open-topped racer that won the Sebring 12-Hours back in 1966, a particularly priceless piece of Ford's heritage. Unfortunately, long-standing rumour suggests that this was broken up soon after its victory and now lies buried in the foundations of an apartment block near Los Angeles International Airport, following questions from customs officers about why import duty had never been paid on it. The choice, this (surely, apocryphal) tale implies, was between stumping up or discreetly disposing of the car.
The new GTX1 is no swift chop job of the other variety, either. Strengthening is built into the header rail and sills, while the carbon-fibre rear clamshell is completely redesigned, with sharply humped twin cowlings maintaining the flow of the car's sleek profile from front to rear, even with the roof removed. Another addition is the pair of see-through panels built in above the 5.4-litre V8 engine, providing a voyeuristic rear view of a supercharger setting about the job of releasing up to 550bhp.
The noise is spectacular in a deeply muscular and unashamedly brash manner; the delivery of performance on a similar scale.
With the roof gone, you're that much closer to the sensations being thrown in your direction. There's the long-hitting, linear surge that an engine delivering 450lb ft of torque from just 1,500rpm is capable of providing, joined by the shriek of a supercharger spinning up and the oddly loud ticking of 16 fuel injectors firing into eight cylinders, immediately behind your ears.
Top Gear
Newsletter
Thank you for subscribing to our newsletter. Look out for your regular round-up of news, reviews and offers in your inbox.
Get all the latest news, reviews and exclusives, direct to your inbox.
The forces are borderline seismic, adding to the loadings the GTX1's cut-down body structure has to be capable of facing up to. Still, somehow, the extra stiffening has worked, the steering retaining its detail, and rattles and shimmies failing to intrude, even over rough surfaces. The ride assists, retaining an edge of suppleness even with this car's lowered suspension in place.
Some of the regular GT's inherent weaknesses remain, including a gearchange so long in its shift action that it forces you to perform the arm movements of a Nordic skier whenever you reach for another of the six ratios. Then there are the cheap, shiny black and aluminium-effect plastics scattered about inside, more US Ford econocar than true thoroughbred in quality. Another special extra for the GTX1 is a set of again retro-influenced, Sparco bucket seats, complete with hard-edged ventilation holes that make them as pleasant to sit on as a case of piles.
Thankfully, the GTX1's glamorous external view is receiving all the stares, even through the bleary, mostly intoxicated nocturnal vision of passers-by. All with the exception of the driver of a Ferrari 360 Spider, who slips out into the road ahead and comes directly our way, fixing his gaze in the opposite direction instead of indulging us in some latter-day version of a medieval joust.
There's good cause for his apparent envy. Even with its roof left in place, the GT40-inspired Ford GT continues to be a car that's more than capable of dropping jaws and opening up the wallets of the rich. "The sticker price here is $149,500 [c.£84,600], but I've yet to see one change hands for less than $175,000," says Ewing. The cost of creating this particular GTX1, meanwhile, can't be easily measured, but it will soon become possible to order something close. The Genaddi Design Group of Green Bay, Wisconsin, who assisted with the construction of the car we're in and now owns it, is planning to offer a similar, officially-sanctioned roof conversion for $38,000, or around £22,000.
The noise is spectacular in a deeply muscular and unashamedly brash manner; the delivery of performance on a similar scale
Tempted by the keys to a Lamborghini Gallardo Spyder, the GTX1's creator briefly bales out. I'm joined now by our fixer for this monumental trip, Johnny Tapanes. We set out on a mission to create maximum impact along Ocean Drive, blatantly ignoring the 'Noise Prevention Area' signs in the process.
Open-mouthed gawps again arrive from most quarters, and more than most from a man jogging by the edge of the beach, accompanied by his personal trainer. Somehow, he seems familiar. "Hey," shouts Tapanes. "This guy wants your autograph for his wife!" It's Pharrell Williams, hip-hop, R&B and alternative-rock recording artist, hit-making super producer and widely acknowledged coolest man on the planet.
As I attempt to curl up in embarrassment and hide in the footwell, Pharrell strides over, sweat dripping in great torrents over the dead-pan expression worn on his face. Pleasantries (and even an autograph) are exchanged. He's been compelled to approach a pair of total strangers by the sight of a car so exclusive, even a man with his level of disposable wealth wouldn't have been able to own it, at least until now.
For the GTX1, that's a case of job done. As Pharrell jogs back off into the night,
Tapanes is close to speechless. "You know that guy is an A-list celebrity, and he came over to speak to us," he says. "That just never happens."