Formula One
From the archives: Honda tries to hit 400kph in an F1 car
Back in 2006, the BAR Honda 007 was let off its leash at the Bonneville Salt Flats, but how fast did it go?
Only Honda could do this. In fact, of all the car manufacturers currently involved in Formula One racing, only Honda could even contemplate doing this.
'Eh? Vot? (you can imagine the bosses at Mercedes-Benz blurting). Take zee highly expensive F1 car to zee American desert at Bonneville and spend hundreds of thousands of euros just to see if it vill run at 400km/h? Vot? For sure are you insane?' 
Advertisement - Page continues below
Well... yes, actually. Crazy. It's a fact not fully appreciated by the outside world, but Honda, as a global corporation, is slightly mad. Ask the top bosses about it and they'd not only agree with the assessment, they'd probably be flattered that you'd noticed. Because to them, it's a huge compliment – we're not talking about a random, destructive madness, obviously, because Honda is in rude financial health. We're talking about a chunky dose of highly encouraged, chaotic, creative insanity that filters down right from the top, through every strand of the business worldwide. 
This feature was first published in Issue 157 of Top Gear magazine (2006)
Anyway, how fast will an F1 car go when released from the constraints of a race track and given its head on a very long straight? A straight like the one on 70,000 acres at the Bonneville Salt Flats in Utah, USA, for instance, the scene of every significant world-record speed run for the last 40 years? As questions go, it's a kinda cool one. 
Advertisement - Page continues below
"There is a degree of madness about it," says Honda F1 sporting director Gil de Ferran. "When you go to a place like Bonneville, it's easy to see why people used to think the world was flat, that you could fall off the edge. To imagine an F1 car running here is bizarre, totally offbeat – but that's what this is all about." 
And, no doubt, with some help from the bucks of British American Tobacco, Honda was happy to give it a try. Several tries, as it turned out. It started in August 2005 and the team had to abort a couple of sessions due to flooding, until the final attempt in mid July this year. 
When the Bonneville 400 project – as it was soon dubbed – first kicked off, the unofficial record speed of an F1 car was 369.9km/h (229.9mph) set by Antonio Pizzonia, at the end of the main straight at Monza, during the 2004 Italian Grand Prix. A couple of Honda practice runs on airstrips showed that peak speeds of 400km/h were easily attainable, but it would need to be done properly, to official FIA speed-record rules. That is, holding the speed, not just peaking – taking the average of two runs through a measured mile, one in each direction, with less than an hour between them. So, all of this effort for a measly 30km/h? Yep, but it was one hell of a difficult challenge. 
The car was a BAR Honda 007, as seen in last year's F1 World Championship, with a 3.0-litre V10 cranking out around 900bhp. Honda supplied an engine capable of running uninterrupted at full throttle in top gear for 40 seconds – that's more than twice as long as required at Monza – with the rev limit dropped from around 19,000rpm to 18,200rpm. The car also had two top gears – the difference between them was only 200rpm, but enough to be useful for runs upwind and downwind. 
This Bonneville 400 special had no rear wing, but there is no rule in the FIA F1 regulations that states that you must run a rear wing. However, removing the rear wing would make the car unstable at maximum speed, so there was a new body shape, with more swaged, sloping radiator ducts and a rear body that was tucked in tighter. The engine air intake was smaller and the front wing endplates were trimmed to improve aero efficiency over the car – the bargeboards were gone, too. The overall effect was to reduce drag and move the centre of aerodynamic balance backwards. To compensate, some 60kg of ballast was added to the nose to improve front-end grip. The tyres were standard Michelin F1 intermediates, with the pressures doubled. Other than a stabilising 'rudder' between the rear wing end plates, and a parachute to comply with Bonneville nationals regulations, the car was completely F1-legal.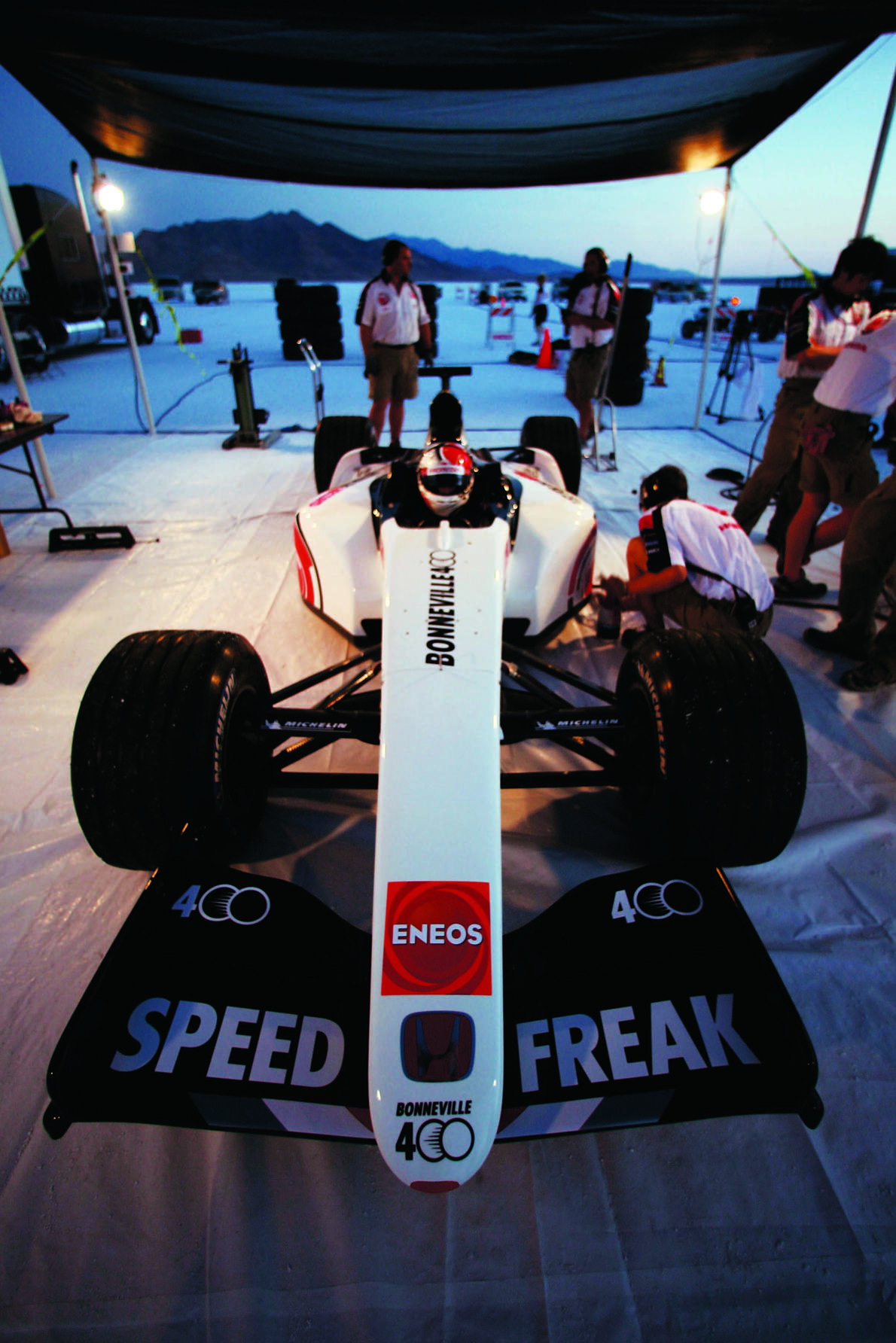 Honda F1 test driver and 2003 British F3 Champion, South African Alan van der Merwe, was the pilot, and he didn't find it easy. He spun more than once on the seven-mile-long track during practice runs, but on the final day the salt conditions and the weather really came to them. 
They failed, of course. With perfect running conditions on 17 July, Van der Merwe clocked an average of 397.360km/h in both directions – with one of the earlier runs hitting 400.454km/h. So they'd hit the magic 400, just not for the official record. Did it matter that they'd fallen 2.64km/h short? Not really. They'd given it a heck of a shot, and to Honda, that's enough.
Top Gear
Newsletter
Thank you for subscribing to our newsletter. Look out for your regular round-up of news, reviews and offers in your inbox.
Get all the latest news, reviews and exclusives, direct to your inbox.