Supercars
From the archives: Nissan GT-R Spec V vs Bentley Continental Supersports
A throwback to 2010, when TG magazine put two fat fighting heavyweights up against each other in the Welsh mountains
So these are the fat fighters. The Bentley Continental Supersports and Nissan GT-R Spec V are slimmed-down, hardcore iterations of standard cars that are, shall we say, no strangers to their respective local pie emporia. 
Not that they look porky, exactly. Parked in a slate quarry up a Welsh mountain, our two combatants have all the subtlety of a pair of bare-knuckle boxers. This place is a major location in the remake of Clash Of The Titans that's just hit the cinemas, and there's a definite hammer of the gods mood even if the weather is unseasonably tranquil.
Advertisement - Page continues below
This feature was first published in Issue 203 of Top Gear magazine (2010)
Photography: Lee Brimble
I may as well give you the key numbers right up front: the Bentley Continental Supersports is 110kg lighter than the titanically heavy near-2.4-tonne regular Conti GT, while the GT-R Spec V manages to shave an even more marginal 60kg off its existing 1,740kg weight.
Advertisement - Page continues below
Wrapped in über-exclusivity and available in minuscule numbers, the Conti SS and Spec V both advance the theory that, even in these difficult times, car manufacturers still know how to rinse money out of their most obliging customers. Given that the Bentley costs £163,000 and the Nissan an eye-watering £124,950, you're paying a whole lot more for less. But forget the economics: does the money matter if they deliver on the road?
Snowdonia National Park, a place of breathtaking, primal beauty, is a fine place to investigate. It mixes fast-flowing open roads with the sort of hard-to-read super-tight stuff that makes an Ariel Atom feel unwieldy. There's nowhere better in the country to give this pair of expensive chancers a proper work-out, not least because the GT-R is currently sitting outside my house, and my house is sitting approximately 250 miles south of Snowdonia. For the rock-hard, rock-star Nissan, the test starts right now, and to be honest the prospect of four or five hours and several chunks of British motorway in this monster is currently leaving my boat unfloated.
On the other hand... It's a GT-R. And it's outside my house. The day I don't feel a ripple of excitement just rolling that piece of information around my mind is the day I get a proper job. Every performance car is freighted with some compelling back-story, but the GT-R is the guv'nor, not least because it looks more like a building than a car. Which isn't to say that this isn't a clever bit of work, all bluntly machined menace and sheer surfaces. Good aero numbers too. I love it.
Only GT-R trainspotters will register the Spec V's visual differences, though. The paint scheme – called Ultimate Opal Black – is unique, and more purple than black in the right light. There's a titanium exhaust, with reprofiled outlets. The moulding under the chin spoiler has grown a couple of new air inlets to cool the brakes, and the front grille and rear wing are made of carbon fibre. The lightweight alloy wheels are from Nissan's ace Nismo race and tuning arm, and if you peer hard enough you'll see the carbon-ceramic discs and silver calipers of Brembo's finest stopping equipment underneath. About 35 grand's worth of stopping equipment, apparently.
The GT-R is a car that demands a rigorous pre-flight check. The front seats – carbon-fibre-backed Recaros – are fantastic. The seats in the rear are gone. The driving position is about as good as it gets this side of a racing car. The multi-function steering wheel isn't (plus it's on the wrong side of this test car). Have a fiddle with the 19-screen dash-top display, all g graphs, braking and acceleration inputs, and yaw measurements. Maybe there's one that records the impact of the accident you'll be having while you're staring at the screen...
Push the start button. The GT-R is not replete with sonic drama at idle. There's a six-cylinder twin-turboed V6 upfront, but it hums and whirrs like a superior piece of industrial machinery rather than a hand-crafted internal combustion engine with plasma-sprayed 0.15mm cylinder liner bores.
Slide the gear lever into 'D', which it does with a degree of well-engineered truculence. The rear transaxle clunks. The first few miles are similarly clunky. This car feels awful at low speed, snuffles out every imperfection in the road, and tramlines worse than anything I've driven since the previous-gen Porsche 911 GT2, which was positively allergic to straight lines. The suspension runs bespoke Bilstein dampers at a fixed rather than variable rate, and from what I can tell there's not a whole of lot of damping actually going on. Basically, the Spec V is screaming 'get me to a circuit, now!'
That's not on the agenda. We're rendezvousing with the Bentley in Snowdonia, and though the journey north is never anything less than raucous and the ride quality remains teeth-shatteringly grim, this is still a GT-R. Which means that it warps forward with sci-fi intensity when you bury the throttle in any gear, redefining the word 'boost' as it goes. In fact, it even has an 'overboost' function, which serves up an extra 14lb ft of torque in the mid-range, torque being a commodity the regular GT-R isn't exactly deficient in. The button that triggers it doubles as the cruise control, which is a bit odd but still, overboost. This car has a button for overboost. I try it on the M6, and then don't bother again. The GT-R has enough boost as it is. Plod are also unlikely to wear overboost as an excuse. 'honestly officer, my thumb just slipped...'
Top Gear
Newsletter
Thank you for subscribing to our newsletter. Look out for your regular round-up of news, reviews and offers in your inbox.
Get all the latest news, reviews and exclusives, direct to your inbox.
By the time I get to the Welsh border, my ears are bleeding and my fingers ache from all the furious flappy paddling, but I also feel as though I've spent three hours head-butting Keith Flint inside an amplifier at a Prodigy gig. The sense of power is addictive and scary at the same time.
At least it's dry. With its sticky Dunlop Sport semi-slicks at full operating temperature, the Spec V enters and exits corners at scarcely believable velocities. Like the Bugatti Veyron, you begin to realise the Nissan GT-R is actively redefining what a car can do. This isn't driving so much as pulling on a piece of hi-tech military ordinance. It's darty, nervous and much less forgiving than the standard GT-R, but if you can handle it, it offers a level of intimacy and interaction that's off-the-scale. The only thing that's missing is our old friend, soul.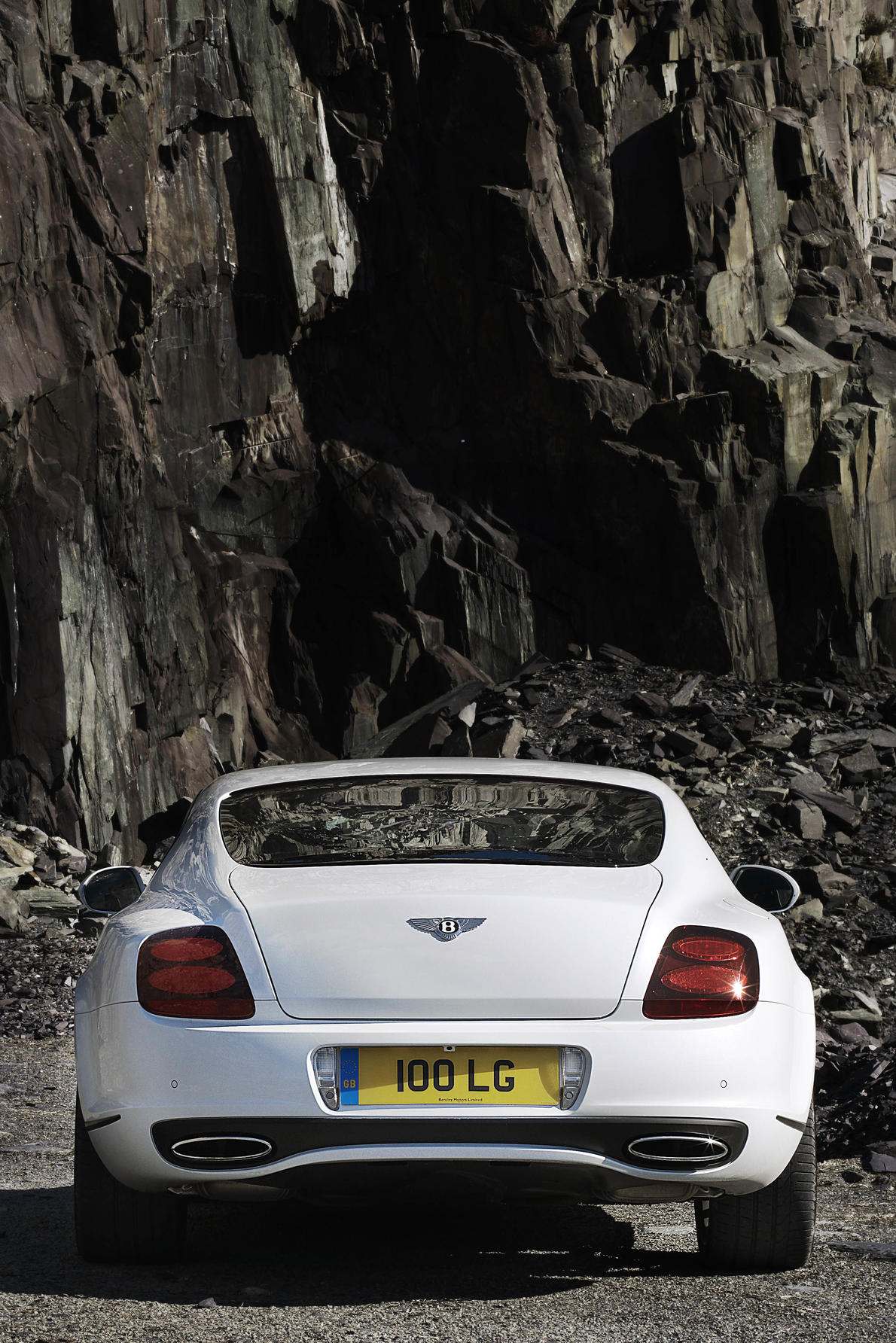 And that, surely, is where the Bentley comes in. Time to 'fess up: although the SS is 110kg lighter than standard, the fat-fighting intro is a bit of a red herring. The Supersports makeover actually goes way further than stripping out weight, and is as clever a reworking of an existing car as I've experienced in a long time. Around 42,000 Contis have been sold since 2003, so its power to shock has pretty much evaporated. The Supersports restores that and then some.
For a start, how good does this thing look? Blinged up Bentleys are all over the place, and they're mostly horrible. The SS dials up the menace by deleting the jewellery. White paint over anthracite wheels and black trim really works, and the SS's wider rear track and reworked front end takes the excess visual weight out of the car. Inside, the transformation is even tastier. There are lean-looking carbon seats with quilted inserts, the steering wheel's ugly to look at but feels terrific thanks to a suede rim, and there's no wood. Like the Spec V, the rear seats have been junked. The fearsome-looking chassis brace across the rear compartment points to some serious structural reinforcing. They're clearly not messing about here.
That much is clear by about the third apex on one of Wales's finest roads. The Conti SS is so good at containing its mass it's almost spooky. Sure, even with 2,240kg to lug, 630bhp is still plenty to be getting on with, and like the GT-R the Bentley doesn't simply accelerate, it indulges in some head-spinning matter transportation. Sixty-two takes 3.9 seconds. Top speed is 204mph.
But never mind that, it's the sheer force and the dramatically undramatic way the Bentley gathers momentum between 60mph and its terminal velocity that makes your eyes pop. There's 590lb ft of torque from just 1,700rpm, and unleashing all that energy makes the SS rumble and snort in a way that's elemental. The W12 engine sounds more like a satanic mill on prole-bashing overtime than a conventional power unit. The Bentley also handles astonishingly well, thanks to a torque-sensing diff that keeps things more rear-drive biased, and adaptive damping that gives the car a more athletic repertoire than before. With its huge front tyres, the Conti SS somehow overcomes the colossal weight of its 6.0-litre engine to deliver the sort of pointiness and turn-in you get in smaller, lighter cars. Here's the thing: it might only have shed 110kg but it behaves like it's lost 1,000.
Then there are the brakes. To be honest, braking is handling and acceleration's ugly step-sister on the pages of TG. Slowing down isn't as exciting, is it? It is in these two. It needs to be to wrestle all that weight to a halt. But the amount of feel and the confidence that both cars' set-ups generate suggests ceramic brakes have finally come of age. I don't think I've ever used anything better. It's the sort of revelation you want up a Welsh mountain.
I was cynical about both the Bentley and the GT-R Spec V before this test. And nothing can alter the fact that they're stupidly expensive evolutions of what are, by anyone's reckoning, pretty desirable standard models. But as storm-clouds gather over the mountains, I can't work out which one to use for the long journey home.
The Bentley wins the prize for most effective makeover, and not just because it had further to go to turn into this awesome behemoth. The Spec V is harder to love because it's so unrelenting, but also because the regular GT-R remains a genuine milestone. They're a reminder of just how exciting properly executed automotive engineering still is.
But it's the Nissan that I want to go into battle with again. Maybe it'll duff me up. Maybe it won't. The fun is not knowing which it's going to be...